Maharashtra Budget: African Safari coming up in Nagpur
In a significant step, Maharashtra plans to set up an African Safari Project in Nagpur with an outlay of Rs 100 crore, besides tiger and leopard safaris, Deputy Chief Minister and Finance Minister Ajit Pawar said here on Friday.
Presenting the state Budget 2022-2023 in the Assembly, Pawar announced a series of tourism-related projects in the state.
"The government intends to conduct the country's first experiment to display wildlife from the African continent. For this, an African Safari is proposed at the Balasaheb Thackeray Gorewada International Zoological Park," he said.
Besides, there are plans for a Tiger Safari on a 171-acre jungle in Chandrapur and a Leopard Safari in Pune, on a 90-hectare forest at a cost of Rs 60 crore, on the lines of similar ones in Rajasthan, Madhya Pradesh and Karnataka, and a Wildlife Rescue Centre in Chandrapur.
Pawar said detailed proposals are being sent to UNESCO to declare Chhatrapati Shivaji Maharaj's forts and his guerrilla warfare as World Heritage.
On the tourism front, he announced a water tourism project of Rs 50 crore in the Shivsagar reservoir, Satara, near the Koyna Dam, with similar projects at Gosikhurd in Bhandara and Jayakwadi in Aurangabad.
Pawar announced an aintegrated development plan for the UNESCO World Heritage sites of Ajanta-Ellora Cave temples comprising a modern convention centre and other facilities.
Grants shall be provided for development of tourist sites in Jawhar in Palghar, Fardapur in Aurangabad, the popular hill-stations of Lonavala in Pune and Mahabaleshwar in Satara.
The government will provide Rs 100 crore during 2022-2023 for development of Raigad Fort and its vicinity, Rs 14 crore for Rajgad, Torna, Shivneri, Sudhagad, Sindhudurg, and Vijaydurg forts, and Rs 7 crore for the preservation of Sewri Fort and St. George Fort in Mumbai.
Giving a major boost to infrastructure development, the government will provide Rs 7,500 crore for 10,000 kms roads under the Mukhya Mantri Gram Sadak Yojana-II, and launch 6,550 kms roads under the Pradhan Mantri Gram Sadak Yojana-III.
The Hindu HridaySamrat Balasaheb Thackeray Super Expressway connecting Mumbai-Nagpur, which is 75 per cent complete, will be extended till Bhandara-Gondiya-Gadchiroli.
Pawar also announced sanction of the Rs 16,000 crore Nashik-Pune medium high speed railway project, and a network of more Metro lines in Pune.
The upcoming Mumbai Metro (3) from SEEPZ-Bandra-Colaba will be extended southwards to Navy Nagar.
Pawar said Maharashtra State Road Transport Corporation will get 3000 new eco-friendly buses and modernise 103 bus stands.
A new airport is under consideration for Gadchiroli, besides making provisions for the airports at Shirdi, Ratnagiri, Amravati and Kolhapur.
The MVA partners including Chief Minister Uddhav Thackeray, Eknath Shinde, Jayant Patil, Nana Patole and other leaders welcomed the budget as "growth and progress-oriented, all-encompassing and visionary" while the Opposition Bharatiya Janata Party's Leaders of Opposition Devendra Fadnavis and Pravin Darekar and others slammed it as "disappointing and direction-less".
Thane Crime: Man Held For Strangling His Mentally-Challenged Daughter To Death In Dombivli
Thane, September 25: A 35-year-old man has been arrested for allegedly strangling his 10-year-old mentally-challenged daughter to death in their house in Thane district of Maharashtra a day before, police said on Monday. The couple has four daughters, aged between 5 to 14, and the youngest of them lives with her grandparents in their native village, a police official said.
Agrahari is an alcoholic and used to beat his wife
The accused Manoj Agrahari allegedly strangled his daughter, Lovely, at their home in Dombivli when other members had gone out, an official said quoting the FIR. Agrahari is an alcoholic and used to beat his wife, he said.
The accused works at a grocery shop while his wife is employed at a company
The accused works at a grocery shop while his wife is employed at a company in the MIDC area of Dombivli. The victim, Lovely, has been mentally challenged and also speech and hearing impaired since her birth.
When the girl rushed home she saw her sister lying dead on bed and alerted her mother
According to the complaint, Agrahari went to the scrap shop where his 14-year-old daughter was working on Sunday and told her that Lovely was dead. When the girl rushed home she saw her sister lying dead on bed and alerted her mother, the official said. Police have registered a case of murder under the Indian Penal Code and conducting further investigation.
Bombay HC To Hear Fresh Plea Challenging Renaming Of Aurangabad, Osmanabad; Case Listed On Sept 29
Mumbai: Bombay High Court has agreed to hear a fresh petition challenging the renaming of Aurangabad, Osmanabad districts, revenue areas. The hearing for the same has been scheduled on September 29. Earlier, a plea was withdrawn as the Maharashtra government said it had not issued final notifications for their renaming.
This is a breaking news. More details are awaited.
'Congratulations Trolling Gang…': Maha BJP Hits Back At Opposition For Sharing Video Of Fadnavis Allegedly Pushing Nagpur Citizen During Floods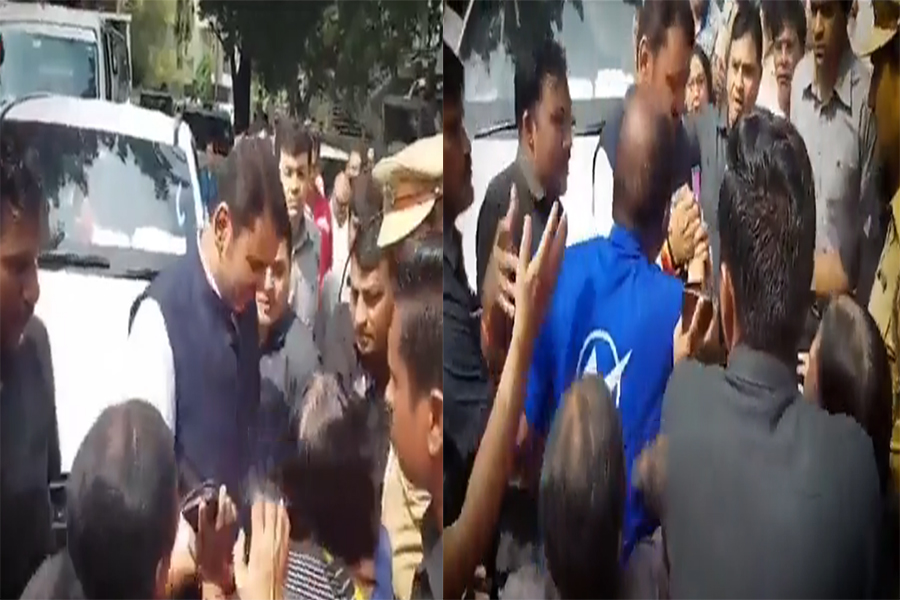 The Bharatiya Janata Party (BJP) has responded to allegations made by the opposition regarding the alleged manhandling of citizens during Deputy Chief Minister (DCM) Devendra Fadnavis' visit to Nagpur on Sunday. Videos were released by the BJP to refute these accusations.
During the visit, it was reported that some citizens wanted DCM Fadnavis to visit their homes, but police appeared to prevent them. However, Devendra Fadnavis took the initiative to visit their homes. The party stated that only a selective portion of the video was circulated by the opposition to support their claims.
BJP's Scathing Response To Opposition
The BJP did not mince words when responding to the opposition's actions. They congratulated former Chief Minister Uddhav Thackeray and the Congress for seemingly prioritising the work of the so-called 'trolling gang' over constructive opposition duties.
Viral Video Sparks Controversy
A video of Devendra Fadnavis engaging with distressed citizens in Nagpur went viral on social media platforms. In the footage, he can be seen talking to residents who were expressing their dissatisfaction with the authorities' response to the city's flooding crisis. The video takes a controversial turn when Fadnavis appears to forcefully push a man who was attempting to communicate with him.
Opposition Criticises Fadnavis
Maharashtra Congress took to social media to criticize the Deputy CM's actions, calling him 'arrogant' for his behaviour toward citizens reporting flood damage. They questioned whether such actions were indicative of an abuse of power.
Shiv Sena (UBT) also condemned DCM Fadnavis' actions, labeling them as 'arrogance of power.' They emphasized the Deputy CM's push to a flood-affected citizen asking for help.
Nagpur Gripped by Flooding
The incident occurred amidst severe flooding in Nagpur, Maharashtra's second capital, caused by relentless rainfall. Thousands of residents were forced to evacuate their homes as floodwaters submerged entire neighbourhoods.
Approximately 10,000 residences were breached by the floodwaters and distressing visuals showed citizens wading through knee-deep water on the streets. Tragically, four lives were lost and at least 400 individuals had to be relocated to safer areas from the affected regions.