Maha CM Eknath Shinde to launch cluster development scheme in Thane today
The launch of the much-talked cluster development scheme will be held on Monday, June 5 in the presence of Maharashtra chief minister Eknath Shinde and deputy chief minister Devendra Fadnavis. The Thane Municipal Corporation (TMC) said that this would be one of the biggest projects in the continent, and it is an ambitious project of CM Eknath Shinde.
The implementation of this plan, which has been on paper for many years, will finally fulfill the dream of the people in Thane who are staying in dilapidated and unauthorised buildings for a long time.The CM and the deputy CM on Monday will inaugurate the Kisan Nagar cluster, which is the home turf of CM Shinde. CIDCO will execute the project said an official from TMC.
Cluster development scheme will change lives
A cluster redevelopment office has also been constructed at Kashish Park near Teen Hath Naka to manage the operations of the cluster development scheme.
The officials from TMC said, "The integrated redevelopment project will be done on the lines of townships. The occupants will get a 323 Sq ft ownership house. Earlier CM said that the government is committed to rapid development of industrial corridors across the state even as the central committee on the National Industrial Corridor praised the infrastructure development work being carried out in Maharashtra at a review meeting last week."
Redevelopment of dilapidated buildings
TMC officials said, "A cluster scheme will be implemented for the redevelopment of dilapidated dangerous unauthorised and official buildings in Thane city with well-planned and complete civic infrastructure. A total of 45 urban regeneration schemes have been prepared with a total area of 1500 hectares. A regulation was prepared from the concept of CM Shinde for the collective redevelopment of unauthorized and official dangerous buildings. The redeveloped township plan includes well-equipped health, educational, sports, recreational, parking, mandi and civic facilities."
Thane Crime: Man Held For Strangling His Mentally-Challenged Daughter To Death In Dombivli
Thane, September 25: A 35-year-old man has been arrested for allegedly strangling his 10-year-old mentally-challenged daughter to death in their house in Thane district of Maharashtra a day before, police said on Monday. The couple has four daughters, aged between 5 to 14, and the youngest of them lives with her grandparents in their native village, a police official said.
Agrahari is an alcoholic and used to beat his wife
The accused Manoj Agrahari allegedly strangled his daughter, Lovely, at their home in Dombivli when other members had gone out, an official said quoting the FIR. Agrahari is an alcoholic and used to beat his wife, he said.
The accused works at a grocery shop while his wife is employed at a company
The accused works at a grocery shop while his wife is employed at a company in the MIDC area of Dombivli. The victim, Lovely, has been mentally challenged and also speech and hearing impaired since her birth.
When the girl rushed home she saw her sister lying dead on bed and alerted her mother
According to the complaint, Agrahari went to the scrap shop where his 14-year-old daughter was working on Sunday and told her that Lovely was dead. When the girl rushed home she saw her sister lying dead on bed and alerted her mother, the official said. Police have registered a case of murder under the Indian Penal Code and conducting further investigation.
Bombay HC To Hear Fresh Plea Challenging Renaming Of Aurangabad, Osmanabad; Case Listed On Sept 29
Mumbai: Bombay High Court has agreed to hear a fresh petition challenging the renaming of Aurangabad, Osmanabad districts, revenue areas. The hearing for the same has been scheduled on September 29. Earlier, a plea was withdrawn as the Maharashtra government said it had not issued final notifications for their renaming.
This is a breaking news. More details are awaited.
'Congratulations Trolling Gang…': Maha BJP Hits Back At Opposition For Sharing Video Of Fadnavis Allegedly Pushing Nagpur Citizen During Floods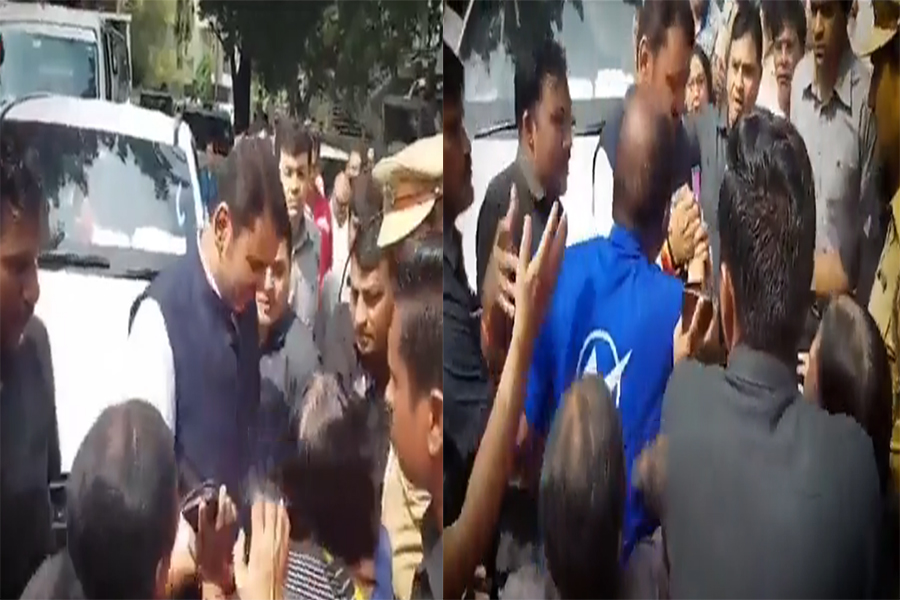 The Bharatiya Janata Party (BJP) has responded to allegations made by the opposition regarding the alleged manhandling of citizens during Deputy Chief Minister (DCM) Devendra Fadnavis' visit to Nagpur on Sunday. Videos were released by the BJP to refute these accusations.
During the visit, it was reported that some citizens wanted DCM Fadnavis to visit their homes, but police appeared to prevent them. However, Devendra Fadnavis took the initiative to visit their homes. The party stated that only a selective portion of the video was circulated by the opposition to support their claims.
BJP's Scathing Response To Opposition
The BJP did not mince words when responding to the opposition's actions. They congratulated former Chief Minister Uddhav Thackeray and the Congress for seemingly prioritising the work of the so-called 'trolling gang' over constructive opposition duties.
Viral Video Sparks Controversy
A video of Devendra Fadnavis engaging with distressed citizens in Nagpur went viral on social media platforms. In the footage, he can be seen talking to residents who were expressing their dissatisfaction with the authorities' response to the city's flooding crisis. The video takes a controversial turn when Fadnavis appears to forcefully push a man who was attempting to communicate with him.
Opposition Criticises Fadnavis
Maharashtra Congress took to social media to criticize the Deputy CM's actions, calling him 'arrogant' for his behaviour toward citizens reporting flood damage. They questioned whether such actions were indicative of an abuse of power.
Shiv Sena (UBT) also condemned DCM Fadnavis' actions, labeling them as 'arrogance of power.' They emphasized the Deputy CM's push to a flood-affected citizen asking for help.
Nagpur Gripped by Flooding
The incident occurred amidst severe flooding in Nagpur, Maharashtra's second capital, caused by relentless rainfall. Thousands of residents were forced to evacuate their homes as floodwaters submerged entire neighbourhoods.
Approximately 10,000 residences were breached by the floodwaters and distressing visuals showed citizens wading through knee-deep water on the streets. Tragically, four lives were lost and at least 400 individuals had to be relocated to safer areas from the affected regions.