IPL 2021: Iyer, Tripathi and bowlers help Kolkata thrash Mumbai by seven wickets
An emphatic batting performance by Venkatesh Iyer and Rahul Tripathi coupled with a comeback effort from bowlers helped Kolkata Knight Riders thrash Mumbai Indians by seven wickets at the Sheikh Zayed Cricket Stadium here on Thursday. Chasing 156, Kolkata reached the target with 29 balls to spare.
With this win, Kolkata have now registered two out of two wins in their UAE leg of the tournament and are now at fourth place in the points table with eight points from nine matches.
Kolkata were off to a flier with Venkatesh Iyer smacking Trent Boult for a six over deep square leg. He then smacked Adam Milne for a six followed by two fours in the second over. With seven boundaries hit in less than three overs, Kolkata were on a rampage, making chances of comeback difficult for Mumbai.
It needed an off-cutter from Jasprit Bumrah which got Gill (13) to chop onto his stumps, ending the opening partnership at 40. Gill's dismissal caused Iyer and Rahul Tripathi to tread cautiously. But after the completion of power-play at 63/1, Iyer danced down the pitch to hit Krunal Pandya for a clean six over deep mid-wicket. Rahul Chahar was taken for eleven in his opening over as Iyer and Tripathi took a boundary each off him.
Tripathi smacked a six over long-on before sweeping between long-on and deep mid-wicket for a boundary off Krunal. Tripathi, put down on 43 by Chahar, reached his half-century with a leading edge on scoop going over third man for six. He followed it up with a boundary slogged through mid-wicket off Bumrah.
Iyer, after reaching his fifty in 25 balls, saw his blitzkrieg end at 55 with his stumps disturbed by a slower delivery from Bumrah. Tripathi was undeterred by Iyer's dismissal and continued to whack Chahar, slog-sweeping over deep mid-wicket followed by an edge which Kishan tried to stop but touched the rope with his leg.
Though Eoin Morgan (7) fell cheaply to become Bumrah's third scalp of the match, Tripathi and Nitish Rana knocked off the remaining runs, with the latter reverse scoring the winning boundary by sweeping Chahar to seal a famous win.
Earlier, after being put to bat first, Mumbai got off to a flying start with the opening pair of Rohit Sharma and Quinton de Kock putting 78 runs for the first wicket. But once Sharma fell on 33, the runs started to dry up for Mumbai.
After 75/1 in ten overs, Kolkata kept picking up wickets at regular intervals. Krishna, after conceding 16 in his opening over, came back to dismiss Suryakumar Yadav (5) edging behind to keeper Dinesh Karthik. De Kock went slow in middle overs but managed to reach his half-century in 37 balls. But the pressure of going big forced de Kock (55) to hoick a slower ball off Krishna straight to mid-wicket.
Ishan Kishan (14) pulled Andre Russell for a six over fine leg. But in a bid to go big, Kishan again went for the pull off Ferguson, only for top-edge to be caught by Russell running from long-on.
Kieron Pollard smacked Krishna for a pull over deep mid-wicket before bottom edge on another pull ran through fine leg in the 18th over which went for 18 runs, including a no-ball and two wides. Pollard's attempt to apply finishing touches ended in a run-out by a throw from Morgan at cover in Ferguson's final over.
One brought two for Kolkata as Krunal Pandya (12) mistimed to long-on. Ferguson's final over went for just six runs as Kolkata conceded 75 runs for five wickets in the last ten overs, ensuring that Mumbai were kept to a score of 155.
Brief scores: Mumbai Indians 155/6 in 20 overs (Quinton de Kock 55, Rohit Sharma 33, Lockie Ferguson 2/27, Prasidh Krishna 2/43) lost to Kolkata Knight Riders 159/3 in 15.1 overs (Rahul Tripathi 74 not out, Venkatesh Iyer 55, Jasprit Bumrah 3/43) by seven wickets.
Ravi Shastri calls for reduction in number of T20Is played to counter scheduling issues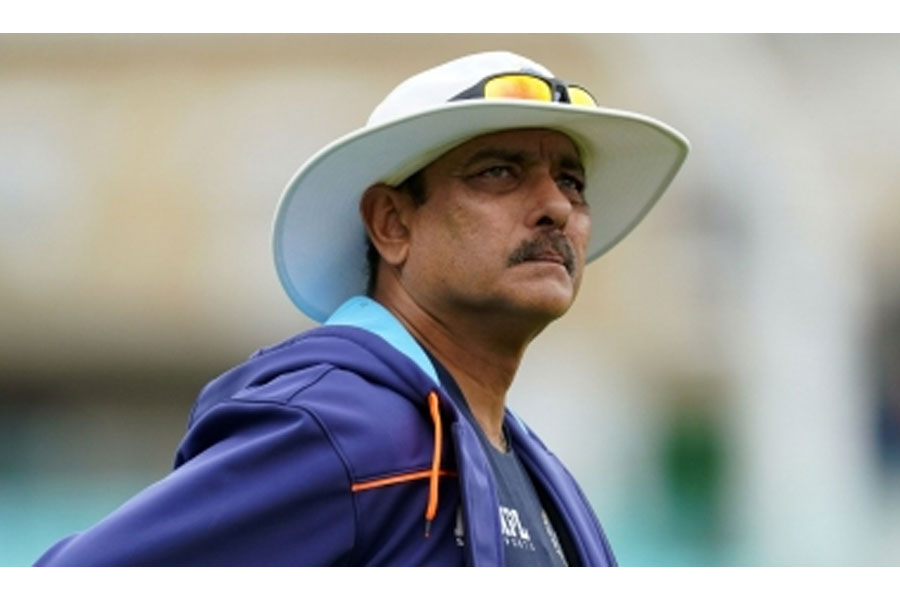 Former India head coach Ravi Shastri has called for a reduction in the number of T20Is played to counter the raging issue of scheduling in international cricket. The month of July 2022 has seen the issue of hectic scheduling in cricket and prioritisation of franchise T20 leagues being reignited.
South Africa chose to pull out of a three-match ODI series against Australia in January 2023 to ensure their players would be available for the upcoming new domestic T20 competition in the country.
Earlier this week, England's Test skipper and all-rounder Ben Stokes announced his retirement from ODI cricket after the first match against South Africa at the age of 31, citing the "unsustainable" workload by playing in all three formats.
With speculations coming that the upcoming Future Tours Programme (FTP) for the 2023-27 cycle will have more of T20I action, Shastri, currently in United Kingdom as a member of the Sky Sports commentary team, feels that bilateral T20Is should be reduced by a huge amount to free up the hectic international calendar.
"I would be a little careful of the number of bilateral splits, especially in T20 cricket. There's a lot of franchise cricket which can be encouraged, whichever country it's in – India, West Indies, or Pakistan. You play less bilaterals and then you get together for the World Cups. So, the emphasis on ICC World Cup events becomes paramount. Then people look forward to them," said Shastri in an episode of the Vaughany and Tuffers podcast.
Shastri, a former India all-rounder and member of the 1983 Cricket World Cup winning team, further asked for creation of two divisions in Test cricket in a bid to safeguard the future of the longest format of the game.
"I think two tiers are needed, otherwise Test cricket will die in 10 years time. You need six teams at the top, and then six teams in the second and then you qualify. And those top six play against each other more often because of the corridor you open up by having less bilateral T20 cricket and just franchise cricket. That's the way all formats of the game can survive."
Nation needs President who can protect constitution: Yashwant Sinha
Joint opposition candidate for Presidential poll, Yashwant Sinha on Friday said the nation needs a president who can protect the Constitution of the country.
Sinha was in Gujarat to seek support for himself. He appealed to the MLAs and MPs to vote for the candidate "who can protect the Constituency of India".
He said the nation was passing through a serious constitutional and economic crises and at such a point of time the nation needs a president who does not toe the party line at the cost of national interest.
"There is an undeclared emergency in the country, even the media does not have the liberty to practice the profession freely when a check and balance is must for the country. So MLAs and MPs should vote in accordance with their conscience," said sinha.
The former minister said he was confident of getting votes of the MLAs and MPs belonging to the Congress, BTP and NCP in the state.
He said he disagreed with the political theory that if a person is from a specific community and one holds a constitutional post it helps in uplifting the community. Citing the example of NDA presidential candidate Draupadi Murmu, he said,"They are projecting her as a tribal representative, she was the Governor of Jharkhand for six year, yet tribals' conditions have not improved."
"Though Ram Nath Kovind was president, see the condition of the community in his state. Nothing has changed, on the contrary they have suffered a lot," said Sinha.
He, however, made it clear that he did not mean that a person should confront the central government.
He said, "Communalism is spreading because the state is backing it because communalism is consolidating the vote bank for them."
Sinha said he was shocked to find that even today section 144 is implemented in Gujarat and questioned the state who it was afraid of. He said, "Even for social functions or events the people of Gujarat are asked to seek permission which is anti democracy."
I have seen glimpses of what this hockey team can achieve: Women's coach Schopman
India women's hockey team chief coach Janneke Schopman has said she has "seen glimpses" of what her players can achieve following her side's 3-4 loss in a hard-fought Pool B match of the FIH World Cup 2022 against New Zealand here late on Thursday.
Despite going down to the Kiwis, India are still in contention for a quarterfinal spot after finishing third in their pool. They will face Spain, who finished second in Pool C, in the crossover match on July 10 for a place in the last-eight.
Schopman also attributed the loss to New Zealand to defensive frailties and the rivals' clinical finishes.
"I am proud of our fight as we worked really hard to stay in the game. Unfortunately, we made some defensive mistakes and New Zealand were very clinical in their finish," said Schopman.
"There are a lot of things to learn from this game but I have seen glimpses of what we can do. Especially, our performance in the second half showed that we can play some good hockey," she added.
For India, Vandana Katariya (4th munite), Lalremsiami (44th) and Gurjit Kaur (59th) were on target. The Indian team started the game aggressively and put pressure on their opponents in the opening minutes of the match.
But the Kiwis fought back after they earned a penalty corner and Olivia Merry didn't miss out on the opportunity of slotting the ball into the goal in the 12th minute.