India reports 5,383 new Covid cases, 20 deaths
India reported 5,383 new Covid-19 cases and 20 deaths in the last 24 hours, the Union Health Ministry said on Friday.
The new fatalities increased the nationwide death toll to 5,28,449.
The active caseload stood 45,281, accounting for 0.10 per cent of the country's total positive cases.
The recovery of 6,424 patients in the last 24 hours took the cumulative tally to 4,39,84,695. Consequently, India's recovery rate stands at 98.71 per cent.
Meanwhile, the daily and weekly positivity rates stood at 1.68 per cent and 1.70 per cent, respectively.
Also in the same period, a total of 3,20,187 tests were conducted across the country, increasing the overall tally to over 89.30 crore.
As of Friday morning, India's Covid-19 vaccination coverage exceeded 217.26 crore.
Over 4.08 crore adolescents have been administered with a first dose of Covid-19 jab since the beginning of vaccination drive for this age bracket.
BR Ambedkar Mahaparinirvan Diwas: Mumbai Traffic Police Announces Diversions & Closure At Dadar Till Dec 7; Details Inside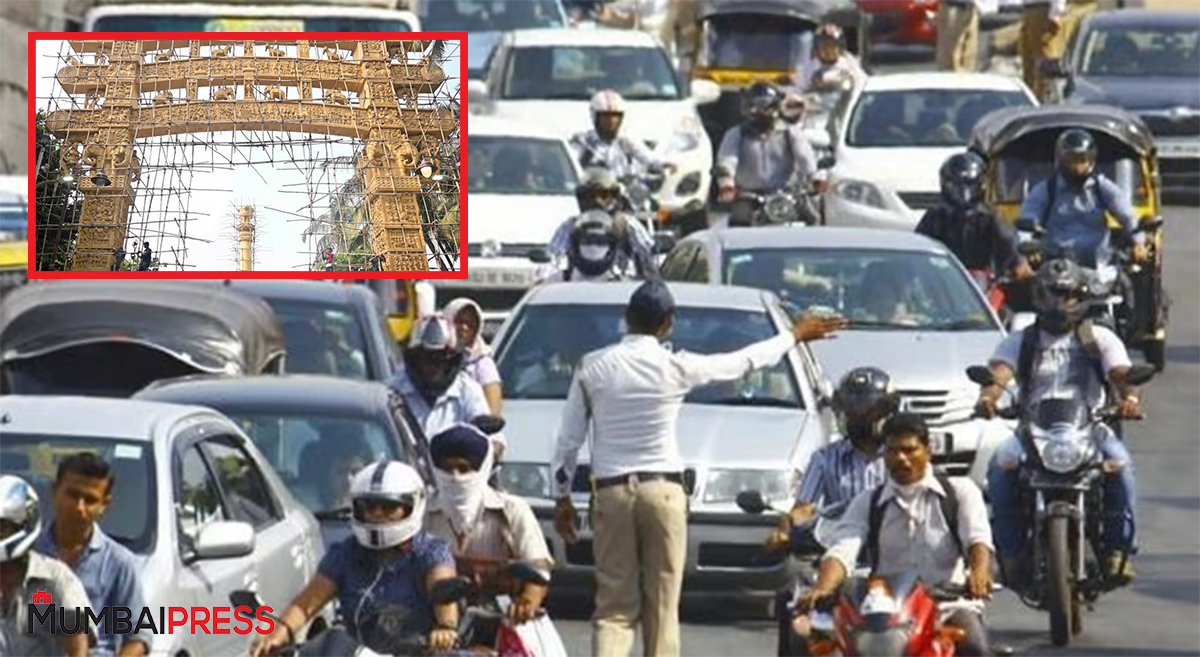 The Mumbai Traffic Police has announced new traffic diversions for Dadar starting Tuesday till December 7, for the 67th death anniversary of Dr. Babasaheb Ambedkar, which will be observed on December 6 at Dadar's Chaitya Bhoomi as "Mahaparinirvan Divas".
According to the notification, a large number of followers of Ambedkar is expected to visit Dadar from various parts of the state which will in-turn cause traffic congestion, at and around the Shivaji Park area.
Several roads will be closed for vehicular traffic, or be made into a one-way road. The ones closed are Swatantryaveer Savarkar Road – from Siddhivinayak Temple Junction to Hinduja Hospital. Ranade Road, Dnyaneshwar Mandir Road, Jambhekar Maharaj Road, Keluskar Road (both bonds), M.B Raut Road will all be closed for vehicular traffic. TH Katariya Road shall be closed from LJ Road Shobha Hotel Junction to Aasavari Junction. The north bound of S.K Bole Road will be closed from Siddhivinayak Temple junction to Portuguese Church junction.
The roads which will be a 'no-entry' for heavy vehicles are S.V.S Road from Mahim to Hardikar Junction, L.J Road from Mahim junction to Gadkari junction, Gokhale Road from Gadhkari junction to Dhanmil Naka, Senapati Bapat Road from Mahim railway station to Vadacha Naka, and Tilak Bridge from Dadar TT Circle to Veer Kotwal Udyan to all of the N.C Kelkar Road.
Way of Traffic
South Bound Traffic – Vehicles coming from Western Express Highway are to take left turn from Kalanagar Junction, proceed towards Dharavi T Junction to Sion Railway station or 60 feet road via Kumbharwada to Sion Hospital – and turn right to Dr. BA Road or use Bandra-Worli Sea Link to reach through L.J Road or Senapati Bapat Road.
North Bound Traffic – Vehicles coming from Colaba and CST through B.A Road or Annie Besant Road shall use P D'Mello Road, Barrister Nath Pai Road, Zakaria Bunder Road, R.A.K Marg up to Matunga, take right under Arora Bridge and proceed along Dr. B.A Road further via Sion Hospital or the Worli-Bandra Sea Link towards north Mumbai.
North Bound vehicular traffic coming from Mahalaxmi Railway station via Dr E Moses Road, are to proceed via Rakhangi Chowk, take right towards Senapati Bapat Road and proceed to their destination.
Eastern Express Highway = Vehicles coming from EEH on way to south shall use Wadala bridge, Barkat Ali Naka, BPT Colony and Eastern Freeway for their further destination.
The pre-declared no-parking zones are as follows:
Swatantra Veer Savarkar Road, Dnyaneshwar Mandir Road
Jambhekar Maharaj Road
Ranade Road
Keluskar Road (south and north)
M.B Raut Road
Pandurang Naik Road
N.C Kelkar Road
Dr. Vasantrao J Raath Road from SVS Road up to Amego Hotel
S.H Palarkar Road from S.S Road to Millerniyam Building
D.S Babrekar Road from Suryavanshi Hall junction to Vision Crest Building
Kirti College lane from Kirti College signal to Miramar Society
Kashinath Dhuru Road – from it's junction to Aagar Bazar Circle
L.J Road from Shobha Hotel to Gadkari junction
Karariya Road from Gangavihar junction to Shobha Hotel and Aasavari Junction
Hindu Colony Road No. 1 to 5 along Rajgruha Premises
Lakhamshi Nappu Road Shubham Hotel to Ruia College up to Dadkar Ground
Khareghat Road no. 05 to Patkar Guruji Chowk
Lady Jehangir Road – from Ruia College junction to Five Gardens to St. Joseph School
RA Kidwai Road from Arora Junction to Lijjat Papad Junction
Nathala Parekh Road from St. Joseph School to Khalsa College
Swami Gyan Jivandas Road from Swami Narayan Temple to Pritam Hotel
Parking Places Available
Senapati Bapat Marg, Mahim and Dadar West
Kamagar Stadium
India Bull International Center, Senapati Bapat Road, Elphinstone
India Bills 1 Center, Jupiter Mill Compound, Elphinstone West
Kohinoor Square, Kohinoor Mill Compound
Lodha, Kamala Mill Compound, Senapati Bapat Road, Lower Parel
Five Garden Lady Jehangir Road, Matunga East
Adenwala Road, Matunga East
Nathalal Parekh Road, Matunga East
RAK CHaar Road Wadala West
Reserve lanes will be made available for emergency vehicles on the south bound from Siddhivinayak Junction to Kapad Bazar Junction.
Nagaland State Lottery Result 05-12-2023, 1 PM Live: Watch Streaming Of Winners List Of Dear Godavari Sambad Morning Tuesday Lucky Draw
The Nagaland State Lottery results for today's draws, Dear Godavari Morning at 1 PM, Dear Desert Evening at 6 PM and Dear Pelican Night at 8 PM will be announced on Monday, December 04, 2023. The top prize for each of these lotteries is a whopping Rs 1 Crore.If you have bought a lottery ticket and want to know the winners, you can find the list here.
You can view the results for the Dear Godavari Nagaland State Lottery Sambad Live for Tuesday, December 05, 2023, here:
Playing lottery is legal in only 13 states in India
Lottery is legal in 13 states in the country. These countries consists of Kerala, Goa, Maharashtra, Madhya Pradesh, Punjab, West Bengal, Assam, Arunachal Pradesh, Meghalaya, Manipur, Sikkim, Nagaland and Mizoram. Among these states, the lotteries of West Bengal State Lottery and Nagaland State Lottery are highly reputed as the prize money in these state lotteries are high. The first prize in the Nagaland State Lottery and West Bengal State Lottery amounts to Rs 1 crore. The poor can also afford to buy the tickets of Sikkim State Lottery, Nagaland State Lottery and West Bengal State Lottery as the prize of the ticket is as low as Rs 6 and the winning prize is huge.
Official websites to check the lucky draw
The users can also check the results on the official website of the Nagaland State Lottery on www.nagalandlotteries.com, www.lotterysambad.com and www.nagalandlotterysambad.com and follow the steps.
The prizes of the Nagaland State Lottery are as follows:
1st Prize: Rs 1 Crore
2nd Prize: Rs 9,000
3rd Prize: Rs 450
4th Prize: Rs 250
5th Prize: Rs 120
Cons Prize: Rs 1,000
How to claim the prize money
The winners of the lottery can claim the prize money by logging in on the official website and download the claim form. The winners should also be aware about the tax policy on the winning amount before claiming the prize money.
Disclaimer:
FPJ does not support or encourage playing the lottery. It's important to be careful because playing lotteries too much can be addictive and this involves financial risk. The information provided here is just to share updates and should not be seen as advice or encouragement to play.
Maharashtra: PM Modi To Witness Navy Day 2023 In Sindhudurg, Unveil Chhatrapati Shivaji Maharaj Statue
Maharashtra: Prime Minister Narendra Modi will reach Sindhudurg this afternoon to participate in the 'Navy Day-2023' celebrations being held off the picturesque Tarkarli Beach, officials said here on Monday.
The Prime Minister is expected to land at the Chipi Airport here around 3.45 p.m. and then proceed to the Rajkot Fort where he will inaugurate an equestrian statue of the legendary Maratha warrior-king, Chhatrapati Shivaji Maharaj.
Then he will proceed to the Sindhudurg Fort and pay respects at the sole temple of Chhatrapati there before moving to Tarkarli Beach.
PM Modi To Attend Navy Celebrations
He will attend the display of the Indian Navy's muscles and readiness as part of the 'Navy Day-2023' celebrations, including live demonstration by naval ships, aircraft, submarines with the men and women in dazzling whites.
The Maharashtra and Sindhudurg Police have made elaborate security arrangements for the PM's visit here with major markets in Tarkarli, Malvan and surroundings remaining closed for the day.
Traffic restrictions have been implemented on the route from Chipi Airport to Tarkarli Beach and other places which have been given a facelift and other necessary amenities created.
Various Dignitaries To Attend Event
Governor Ramesh Bais, Chief Minister Eknath Shinde, the Deputy CMs and other ministers, local elected representatives, top brass of Indian Navy and other dignitaries will be present for the events.