I strongly believe that health and happiness go hand in hand: Anushka Sharma
Actress Anushka Sharma is known to be particular about nutrition, lifestyle and the impact of products on the environment. The actress and entrepreneur has now invested in and become the brand ambassador of Slurrp Farm, a brand that is reviving the use of super grains, driven by a strong vision of providing healthy snacks and mealtime options for young children and adults.
Through its innovative portfolio of millet, ragi and oats-based packaged food products (devoid of preservatives, artificial flavours and colours), it is successfully contributing towards inculcating healthy eating habits among children and adults alike. The actress and new mommy will be making her rap debut in the campaign with three films, each of which depicts a family situation involving children with funky lyrics and groovy mood.
Q&A session was conducted
Q: What does a healthy lifestyle mean to you
A: For me, a healthy lifestyle is one where you are prioritising both physical and mental health. It's also about being consistent — we all have those days where we don't want to work out or feel like indulging in a sweet treat but it's important to do it in a way that still allows us to be consistent with the lifestyle goals we've set out for ourselves — for example, switch out the gym for a refreshing swim or have the sweet treat you want but make it using a natural sweetener like jaggery powder instead of using refined sugar. At the end of the day, the most important part of a healthy lifestyle is doing things that make you feel happy.
I strongly believe that health and happiness go hand in hand.
Q: Your body plays a big part in determining your mental health and happiness … Do you agree and why?
A: Absolutely. In fact, the reverse is also true — mental health and physical health cannot exist in isolation. And we've seen the proof of this in the last two years more than any other time. A healthy body enables you to feel good and a healthy, active mind pushes you to be physically healthy as well.
Q: When you choose to eat healthy what do you choose and why?
A: For me, eating healthy is a way of life. So even if I want to indulge myself on a 'cheat day', I will always make sure I pick a healthier version of the food.
One of the things I have always consciously included in my diet are millets like ragi and jowar. These millets truly are supergrains — they are easy to make, taste incredibly yummy and do not need a complete overhaul of your existing recipes. And they are literally power packed with proteins, carbohydrates and fibres.
Millets are my go-to grains — I tend to use millet flour for my chapatis, substitute rice with ragi when we're eating idlis and even use ragi in the porridge my daughter eats.
In fact, millets are at the centre of Slurrp Farm's mission to change the way children eat and that was one of the key factors for me to come on board as a strategic partner, investor and brand ambassador at the company. Through the partnership and the new 'Yes Ka Time Aa Gaya' campaign, I hope to help nurture India's rich heritage of millets, and enable today's generation to leave behind a healthier lifestyle and planet for those to come.
Q: Please tell us about the 'Yes Ka Time Aa Gaya' campaign with Slurrp Farm?
A: I'm happy about Slurrp Farm's 'Yes Ka Time Aa Gaya' campaign. It's based on the powerful insight that mothers have to constantly fight a battle with the world to feed their children right. Mothers deal with a flood of opinions and options on giving their children the right kind of nutrition. Yet, they are compelled to constantly say 'No' so that their children can have an early start to eating healthy.
And honestly, it's never easy to say no — more so when it's to people who have your best interests at heart. 'Yes Ka Time Aa Gaya' brings this exact predicament to life and offers a wholesome, and convenient solution. As a mother, I identify strongly with this message and I am so thrilled to take it to homes across India in this fun manner.
I am confident that the campaign will inspire not just mothers, but families, to dig a little deeper and pay attention to the food their kids are eating.
Q: Many celebrities are self-confessed food snobs, are you one too and what is your favourite food?
A: I wouldn't call myself a food snob but I do get genuine joy from eating good food. And for me, good food doesn't mean fancy dishes or eating out. Wholesome, home-cooked food made using local ingredients will always be my go-to.
To date my favourite foods are those that I grew up eating — 'khichdi and palleyo', which is this yummy dish made with millets that we would have whenever we went to my nani's home in Uttarakhand, are my top picks.
Q: It's often said that Indian meals are extremely well balanced and nutritious because of the diversity of items we have on the plate. Do you agree and what do you think is lacking?
A: The Indian meal plate definitely ranks high when it comes to nutrition. But I do think that we have forgotten some of the ancient superfoods that are true to our roots. Like millets!
Our parents grew up eating these incredible grains and so did most of us — bajre ki roti, raggi mudde, jowar bhakri — we were familiar with these dishes but somewhere along the way, we slipped into eating only wheat and rice and forgot the incredible benefits of these grains. It's heartening to see that millets are slowly coming back into the spotlight and people are rediscovering their benefits — I do think that we need to bring these supergrains back to the centre of our plates to have truly well-balanced and nutritious meals.
Ayushmann Khurrana's Wife Tahira Kashyap Redes Out Hard-Hitting Poem Supporting Wrestlers' Protest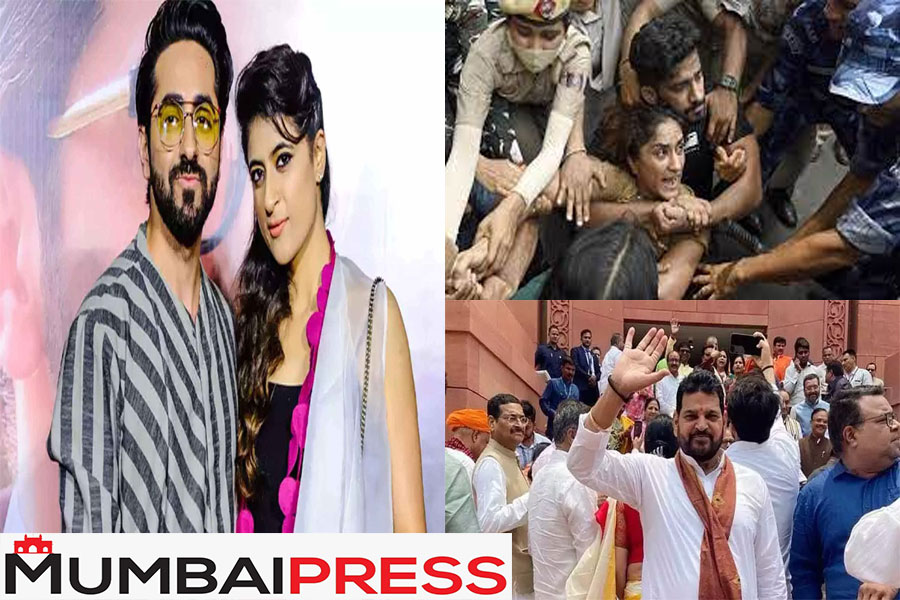 Tahira Kashyap, the wife of actor Ayushmann Khurrana, read out a powerful and hardhitting poem on Thursday morning, in support of the ongoing wrestlers' protest in Delhi. She is among the first ones from the film industry to break her silence on the raging debate that has gripped the nation.
Celebrities from Bollywood, who are otherwise quite vocal on issues of national interest, have remained tightlipped about the ongoing wrestlers' protest in the country.
Several Olympic and other world championship-winning wrestlers, including Sakshi Malik, Vinesh Phogat and Bajrang Punia, have taken to the streets of Delhi demanding the arrest of former Wrestling Federation of India chief Brij Bhushan Sharan Singh, who has been accused of sexual harassment by nearly 10 women.
Tahira Kashyap voices her support for protesting wrestlers
On Thursday morning, Tahira penned down a poem on the wrestlers' protest and read it out in a video which she shared on her social media handle.
"Handing over the papers and then snatching back in shame, the headlines of our women wrestlers struggling to be heard just changed the game," a part of her poem stated.
In the poem, she also said how she never differentiated between her daughter and son, and that they look up to the wrestlers, whom she addressed as "national heroes".
Speaking of her daughter, she said, "She too has an aspiration to win medals for the nation. I snatched and clenched the papers hard for I never want her to know what awaits is a warped situation."
"The women whom my son also looks up to, have been mistreated and told 'shut up you'," she added.
Celebs slammed for staying mum
Meanwhile, celebs are being slammed on the internet for not voicing out their opinion over the wrestlers' protest. Netizens pointed out that while the celebs put out posts when the same wrestlers had won medals for the country, they have now decided to remain tightlipped when they actually need support.
A few celebs, however, condemned the Delhi Police's brutal action on the wrestlers on the day of the new Parliament building's innauguration.
Swara Bhasker shared a video and wrote, "Shameful that our top International athletes are forced to protest on streets against sexual harassment but accused BJP MP is being consistently shielded by the govt. Sack & investigate #BrijBhushanSharanSingh."
Tovino Thomas, Kamal Haasan, Prakash Raj and Sonu Sood too condemned the police action.
Simplicity or Publicity? Aamir Khan's daughter Ira Khan gets mixed reactions over her auto ride in Mumbai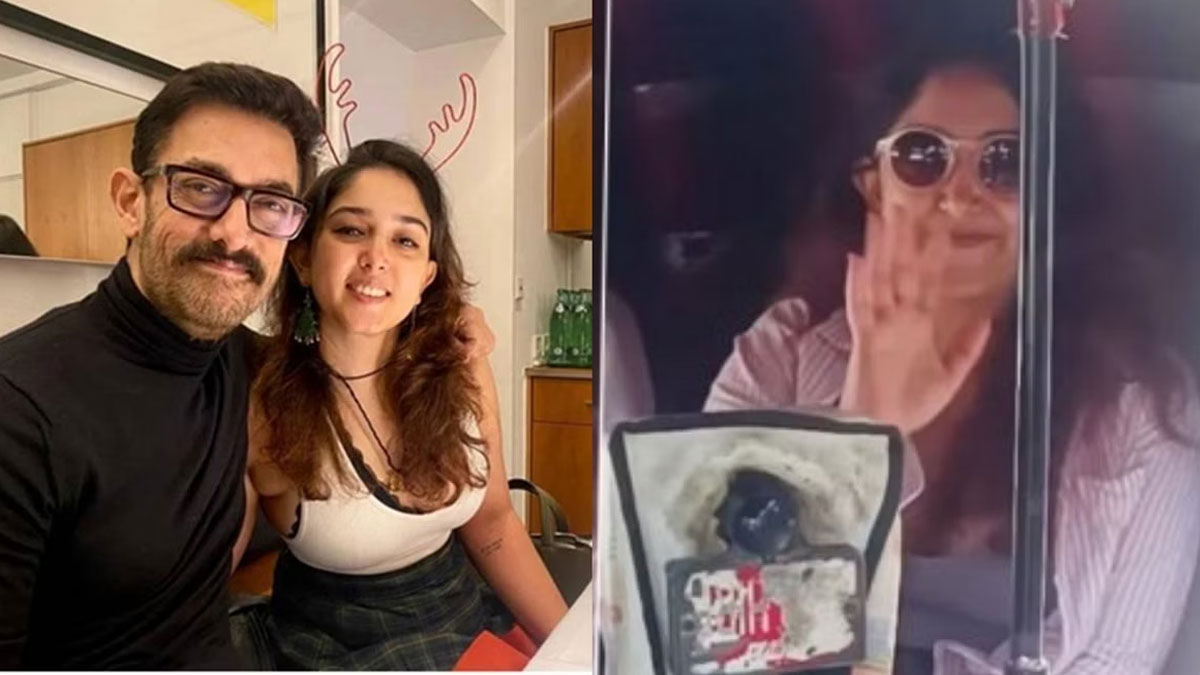 Ira Khan, the daughter of Bollywood superstar Aamir Khan and his first wife Reena Dutta, has captured media attention and made headlines, this time by being spotted travelling in an auto-rickshaw.
The star kid has always chosen to carve her own path instead of following in her father's footsteps as an actor. With a strong presence on social media, particularly Instagram, she keeps her followers engaged by sharing glimpses of her life through photos and videos.
Despite staying away from the acting world, Ira manages to stay in the limelight due to her personal life.
Ira Khan travels in an auto-rickshaw
Recently, Ira Khan decided to forgo a luxurious car and opt for a fun auto-rickshaw ride in the bustling city of Mumbai.
Accompanied by a friend, she was captured on camera by a paparazzo, who later shared the video on Instagram.
Throughout the clip, Ira can be seen wearing a charming smile as she waves to the onlookers and expresses her gratitude with a heartfelt "Thank You." Her casual attire consisted of a white and pink striped shirt layered over a grey top, paired effortlessly with olive shorts. She completed the look with a stylish pair of sunglasses.
Netizens have mixed reaction
The video quickly caught the attention of netizens, resulting in a flurry of reactions across social media platforms. Many fans praised Ira for her down-to-earth nature, describing her as the "one and only simple star kid" and showering her with clapping emojis.
Others echoed the sentiment, referring to her as a genuinely sweet and unpretentious person. However, not everyone shared the same viewpoint. Some sceptics dismissed her auto-rickshaw ride as a mere publicity stunt, calling her the "talentless kid" of Bollywood and their alleged thirst for attention. A particularly disillusioned user claimed that such tactics were deployed when no one paid attention, suggesting a decline in the industry.
About Ira Khan
Earlier this month, Ira Khan celebrated her 25th birthday in a unique and personalized manner. She hosted a delightful Ted Lasso-themed party at her home, which was attended by her father Aamir Khan's ex-wife Kiran Rao, her brother Azad, and her fiancé Nupur Shikhare.
The event also saw the presence of Aamir's cousin Imran Khan and actress Mithila Palkar. Notably, Ira got engaged to Nupur Shikhare, a professional gym trainer, last year, further adding to the excitement surrounding her personal life.
Salman Khan HUGS Vicky Kaushal at IIFA 2023 day after snub, latter says 'There is no point…'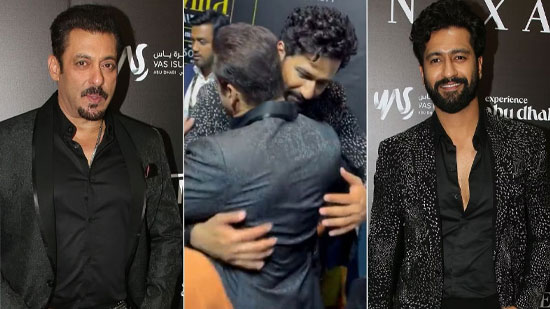 Bollywood superstar Salman Khan grabbed eyeballs and invited criticism after his guards were recently seen pushing actor Vicky Kaushal aside while he was speaking at the International Indian Film Academy (IIFA) Awards 2023. Netizens even claimed that the star ignored Vicky and walked away and labelled him as "rude and arrogant".
Within no time, the video of Vicky being shoved aside by Salman's guards went viral on the internet, and fans of the former rallied by his side.
However, Salman made sure to put the controversy to rest after he was seen hugging Vicky only a day after allegedly snubbing him.
Salman Khan hugs Vicky Kaushal
As the IIFA Awards 2023 kickstarted in Abu Dhabi, celebs made sure to put their best feet forward as they arrived for the Day 1 of the gala event.
They also tried to interact with the media for a bit, and while Vicky was doing the same, he was spotted by none other than Salman.
In another video which has gone viral, Salman can be seen himself approaching Vicky while he was busy speaking to the media, and greeted him cordially. Not just that, but he even hugged Vicky and exchanged pleasantries before proceeding for the event.
Vicky Kaushal reacts to video of him being pushed away
While interacting with the media, Vicky was obviously questioned about the video of him being pushed aside by Salman's guards which was pasted all over the internet.
However, the 'Uri' actor seemed to be unbothered by it and instead said that the entire incident was just blown out of proportion.
"A lot of times it happens that things are just blown out of proportion and a lot gets written about it. There is unnecessary chatter about many things. Things are not actually as they seem sometimes in the video. There is no point talking about that," Vicky told.
Vicky-Abhishek turn hosts for IIFA 2023
Meanwhile, the IIFA Awards 2023 will be hosted by none other than Vicky Kaushal and Abhishek Bachchan.
Salman, who has been a regular at the gala event, made sure to accommodate it in his busy schedule this year as well. In the past, he had been seen hosting the event numerous times, but this time, he decided to hand it over to Vicky and Abhishek.
Among the other celebs who attended IIFA 2023 were Rajkummar Rao, Rakul Preet Singh, Varun Dhawan, Nora Fatehi, Badshah, Nushrratt Bharuccha, Sunny Singh, Radhika Madan, Urvashi Rautela, and others.