Goods Train Derails In Raigad District; Operations On Panvel-Vasai Route Hit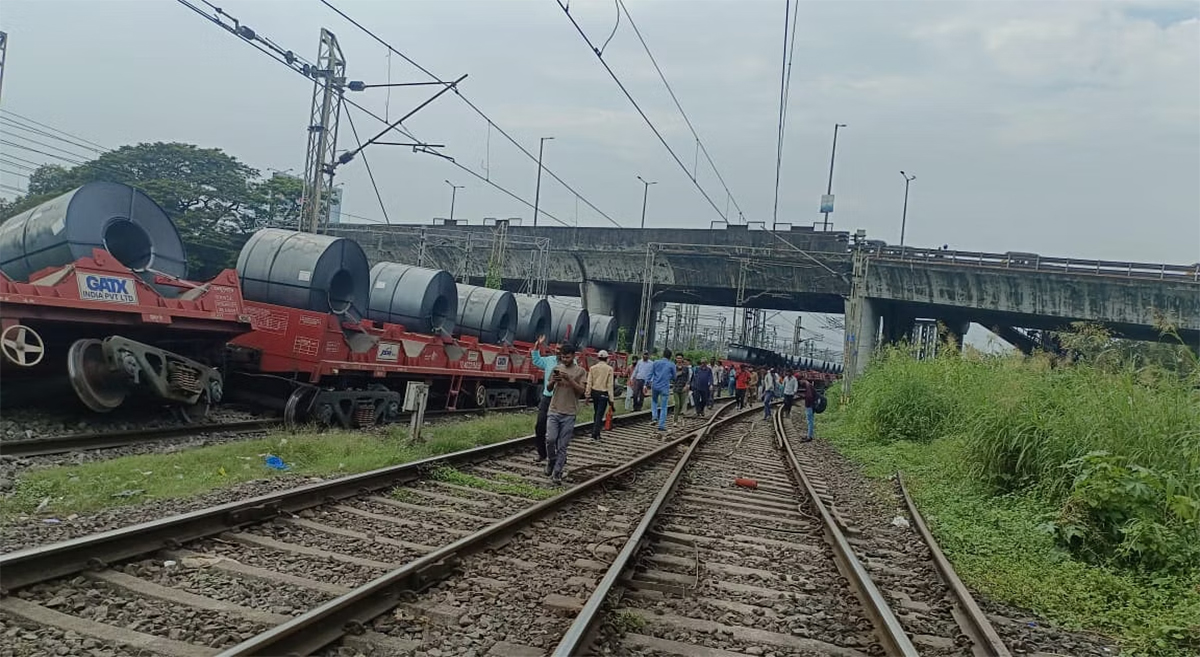 Raigad: A goods train derailed on Saturday afternoon in Maharashtra's Raigad district, disrupting operations on the Panvel-Vasai route, the Central Railway said.
Nobody was injured in the incident, as per the preliminary information.
Central Railway Chief Public Relations Office (CPRO) Shivraj Manaspure said four wagons, including a brake van, of the freight train, headed to Vasai (in Palghar district) from Panvel (in Raigad district), derailed on the Panvel-Kalamboli section at around 3.05 pm.
Restoration work to start soon
"ART (Accident relief train) from Kalyan and Kurla stations is being sent to the accident site," Manaspure said, adding that a Road ART has been sent from Panvel to the accident site.
He said the restoration work will start soon. 
After the incident, at least five passenger trains were detained at various spots on the Konkan-Mumbai route. 
However, Navi Mumbai suburban services between the Panvel-CSMT section were unaffected as the incident occurred on the Panvel-Kalamboli railway line, which further leads to Mumbai and Vasai.
Notably, Railway authorities have planned a 38-hour mega block between Panvel and Belapur stations of Harbour and Trans-Harbour corridors beginning Saturday night for laying two new lines under the Dedicated Freight Corridor.
Mumbai: With Focus On Global Warming & Climate Change, Indian Nuclear Society To Organise Global Conference From December 12 To 15 At DAE Convention Centre
Mumbai: "Nuclear for Clean Energy Transition" will be the theme of a global conference being organised by the Indian Nuclear Society from December 12 to 15 at the Department of Atomic Energy (DAE) Convention Centre, Anushakti Nagar in Mumbai.
The theme is closely related to the issue of global warming and climate change caused by the unchecked use of fossil fuels. The world has recognized the unique role of nuclear energy in achieving net-zero carbon emission to keep the global rise in temperature to 1.5 degree C by 2050. The conference is being organized to highlight these issues through talks, panel discussions and poster presentations. The spirit of the conference is in line with the declaration to triple nuclear energy by 2050 made at the COP-28 summit at Dubai recently.
List of topics to be discussed
The conference will bring together all stakeholders of nuclear energy viz technologists from India and abroad, policy makers, academia, industries and media on one platform. The topics to be covered in the conference include future energy mix for net zero emission, accelerated growth of nuclear power, life extension and management of aging nuclear reactors, emerging technologies in support of nuclear power, safety and security, nuclear hydrogen, small modular reactors, nuclear waste management, industry preparedness for the clean energy transition, accelerator- based futuristic technologies and policy frameworks.
The conference will have 23 talks to be delivered by experts from India, International Atomic Energy Agency, France, USA, South Korea, Russia, Japan and the UK.
Panel discussions
There will be three panel discussions, over 100 contributory papers and a technical exhibition with participation from 18 organisations connected with nuclear power. The meet was inaugurated on December 12 2023 by Dr. Ajit Kumar Mohanty, Chairman, Atomic Energy Commission in the presence of B.C. Pathak, Chairman & MD, Nuclear Power Corporation, Vivek Bhasin, director, Bhabha Atomic Research Centre and Prof. B.N. Jagtap, president of the Indian Nuclear Society.
Special message form Rafael Grossi
Director General of International Atomic Energy Agency Rafael Grossi has sent a special video message which will be played during the inaugural session. On the sidelines of the conference, there will be discussions with the French Nuclear Energy Society and European Nuclear Society on signing cooperation agreements with the Indian Nuclear Society.
Mehbooba Mufti To Ghulam Nabi Azad: Here's What Kashmiri Leaders Said About SC's Historic Verdict On Article 370
Mumbai: The Supreme Court on Monday announced the verdict of Article 370 and upheld the Centre's decision to abrogate the provisions of Article 370. In its historic verdict, the apex court upheld the decision which granted special status to Jammu and Kashmir.
'Hold Elections by September 30 in J&K'
CJI DY Chandrachud, while announcing the verdict, asked the Election Commission of India to hold elections in the Union Territory by September 30, 2024. CJI Chandrachud also directed the Centre that the statehood to the Union Territory of Jammu and Kashmir to be restored at the earliest.
PM Narendra Modi, HM Amit Shah welcomed the decision
The Supreme Court's verdict was welcomed by Prime Minister Narendra Modi, Home Minister Amit Shah and BJP President JP Nadda. However, the decision received a mixed reaction from the leaders of Jammu and Kashmir.
Ghulam Nabi Azad termed the decision as disappointing
Democratic Progressive Azad Party (DPAP) Chairman and Former Chief Minister of Jammu and Kashmir Ghulam Nabi Azad termed the decision as disappointing and said, "It was a mistake to abrogate Article 370. J&K political parties should have been also asked. We are disappointed with this judgment".
Omar Abdullah's reaction
Omar Abdullah, Jammu Kashmir National Conference Vice-President, said that the struggle for Jammu and Kashmir will continue. He said, "Disappointed but not disheartened. The struggle will continue. It took the BJP decades to reach here. We are also prepared for the long haul."
'J&K are not going to lose hope', Mehbooba Mufti
People's Democratic Party President Mehbooba Mufti who claimed that she was put on a house arrest before the announcement of Supreme Court verdict on Article 370 said, "The people of J&K are not going to lose hope or give up. Our fight for honour and dignity will continue regardless. This isn't the end of the road for us."
Sajad Lone said the verdict is disappointing
Jammu and Kashmir's Peoples Conference Chief Sajad Lone said, "The Supreme Court verdict on Article 370 is disappointing. Justice yet again eludes the people of J and K. Article 370 may have been legally obliterated but will always remain a part of our political aspirations.
He further said, "In the case of statehood the Supreme Court sidestepped even commenting on it, thus protecting the entire country from any future misuse, by citing precedence. Yet the same misuse was subtly endorsed in J & K. Let us hope at a future date Justice wakes up from its slumber of pretence."
Maharaja Hari Singh's son Karan Singh's reaction
Senior Congress leader and Maharaja Hari Singh's son Karan Singh, on Supreme Court constitutionally validating the removal of Article 370 in Jammu and Kashmir told ANI, "A section of people in J&K who will not be happy with this judgment, my sincere advice is that they should accept the inevitable and they should accept the fact that now this has been done and the Supreme Court has upheld the action and therefore there's no point now unnecessarily hitting their head against the wall. Now my suggestion is that they should turn their energies towards fighting the next elections. That is where the people should now be motivated instead of developing any negativity."
PM Narendra Modi's reaction to SC verdict
Prime Minister Narendra welcomed the decision and said, "Today's Supreme Court verdict on the abrogation of Article 370 is historic and constitutionally upholds the decision taken by the Parliament of India on 5th August 2019; it is a resounding declaration of hope, progress and unity for our sisters and brothers in Jammu, Kashmir and Ladakh. The Court, in its profound wisdom, has fortified the very essence of unity that we, as Indians, hold dear and cherish above all else."
PM Modi also said, "I want to assure the resilient people of Jammu, Kashmir and Ladakh that our commitment to fulfilling your dreams remains unwavering. We are determined to ensure that the fruits of progress not only reach you but also extend their benefits to the most vulnerable and marginalised sections of our society who suffered due to Article 370."
He further said, "The verdict today is not just a legal judgment; it is a beacon of hope, a promise of a brighter future and a testament to our collective resolve to build a stronger, more united India."
'Don't Let Bhujbal Create Rift Between Marathas & OBCs': Manoj Jarange-Patil Hits Out At NCP Leader
The row over the Maratha reservation in Maharashtra escalated as quota activist Manoj Jarange-Patil on Sunday accused Maharashtra minister Chhagan Bhujbal of trying to trigger unrest by creating a rift between the Marathas and Other Backward Classes (OBCs) and asked people not to allow the NCP leader to 'fulfil his dream'.
Jarange was addressing a rally at Ausa town in the Latur district. Victory in the fight for reservation for Marathas in education and government jobs is not far, said Jarange. "We will have to win the fight. The community has been waiting for reservation for the last 70 years," he said.
Jarange vs Bhujbal War
Jarange and Bhujbal are locked in a bitter war of words since the NCP minister opposed the former's demand to accommodate Marathas under the Other Backward Classes (OBC) category by identifying them as Kunbis.
Bhujbal should not vitiate the atmosphere because Marathas and OBCs extend a helping hand to each other whenever required and they live in harmony, said Jarange.
"The dream of the minister is to create a rift between the two communities and spark riots. People should not allow him to fulfil his dream," said the activist.
Jarange has been demanding that blanket Kunbi (OBC) caste certificates be given to members of the Maratha community. He has set December 24 as the deadline for the state government to act on his main demand for the reservation in government jobs and education.
Appealing to members of the Maratha community to remain alert and have patience, he said, "Over 150 members have been martyred in the fight for quota so far. We can't let their sacrifice go in vain. Stay away from addiction so that nobody can stop your progress. This way, the community will be known for its success in the world," he said.
Jarange Hits Out At State Govt
Referring to some alleged controversial remark of an OBC leader recently, Jarange said, "Do not teach us the language of sickle because we also have something."
He also hit out at the state government, accusing it of hatching conspiracies to derail their quota movement. For instance, Jarange said, a team of doctors had earlier declared that he had no kidneys. It was nothing but a conspiracy, he added.
Bhujbal has been opposing the Eknath Shinde-led government's plan to include Marathas in the OBC community to give the benefit of reservation to them. The minister, who belongs to the NCP group led by Deputy Chief Minister Ajit Pawar, has said that he is not opposed to quota for Marathas, but it should not be given at the cost of other communities.