Fake post on Shraddha Walkar-like case goes viral in Assam; police clarifies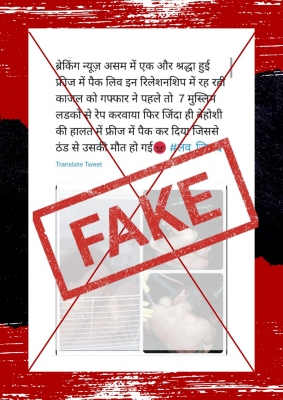 With an aim to disturb communal harmony in Assam, a group of unidentified miscreants on Wednesday shared a post on Shraddha Walkar-like case on social media.
Taking swift action, the state police termed it "fake" news and said that it was taken from a Portuguese blog.
The miscreants claimed about a Shraddha-like incident in Assam and termed it 'Love-Jihad'.
"A girl named Kajal who was in a live-in relationship was first raped by seven Muslim boys and then packed alive in a fridge where she died of hypothermia. Her live-in partner Ghaffar and his companions used to take the body out of the fridge and indulge in necrophilia daily."
The cyber cell of Assam police quickly jumped into action and found the post to be fake.
In a Twitter post, Assam police wrote, "An image from a Portuguese blog of 2010 is being shared with a completely false context on Social Media. Appropriate action will be taken against those found sharing such messages."
Meanwhile, a senior police officer urged the netizens for staying extra cautious while reacting to this kind of social media posts.
An investigation is underway.
Tamil Nadu: Smugglers dump gold worth ₹20 crore in sea in Gulf of Mannar, Coast Guard divers recover it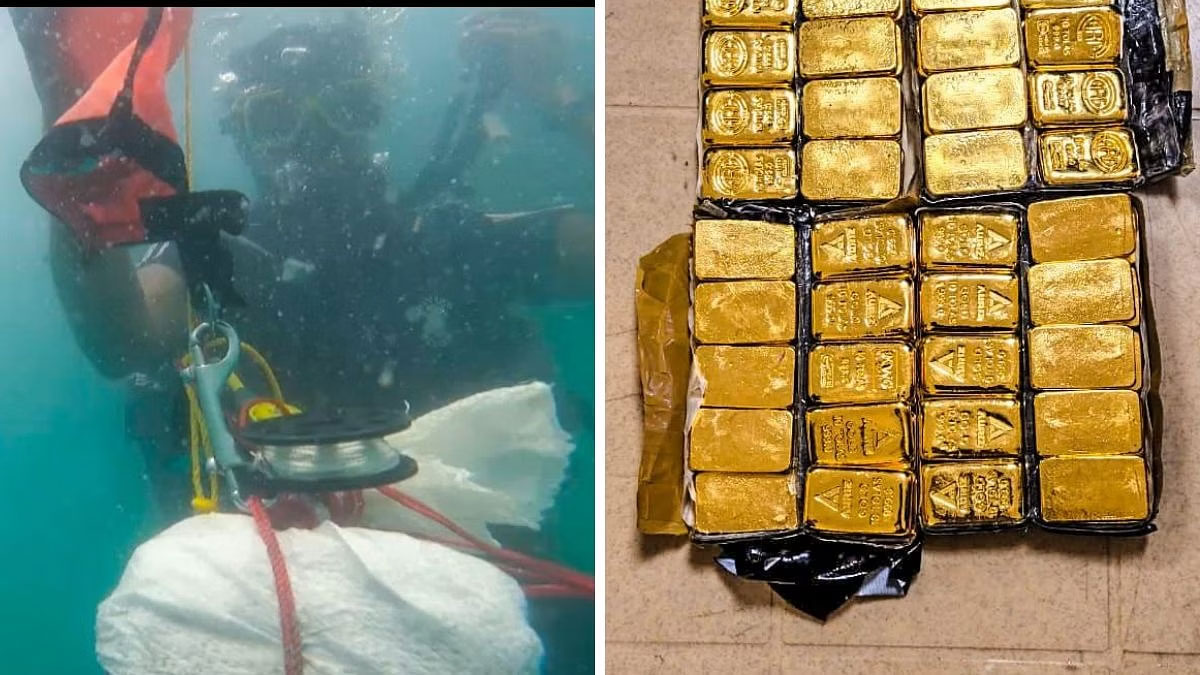 Chennai: Smugglers on board a fishing boat dumped gold worth Rs 20.2 crore crore in the sea in Gulf of Mannar in Tamil Nadu during a joint operation launched by Indian Coast Guard with DRI and customs to intercept them.
Based on a specific input from DRI regarding illegal smuggling of contraband from Sri Lanka to India, a joint operation was launched by Indian Coast Guard and DRI on May 30. The joint teams deployed by both agencies kept a close surveillance on fishing vessels operating in the Gulf of Mannar, especially near Indo-Srilanka International Maritime Boundary Line (IMBL).
3 smugglers were held along with their boat
Defence sources said on the morning of May 30, the joint team from Indian Coast Guard and DRI, detected a suspicious boat approaching Mandapam fishing harbour. "When challenged, the boat tried to evade apprehension but was finally apprehended in north Gulf of Mannar. While being chased, the suspects threw the consignment into water. The boat along with three suspects were apprehended and taken into custody for investigation. Simultaneously, a major diving operation was launched by Indian Coast Guard to search for the illegal gold dumped at sea," officers said.
Meanwhile, a separate team from DRI apprehended a second suspicious boat off Vadalai village south of Mandapam. The boat had about 21. 269 Kgs of smuggled Gold, which was seized by DRI along with two suspects who were taken into custody.
Gold discovered after 2 days of search
"After relentless diving operation off the coast of Mandapam for two days, the ICG diving team in coordination with local divers successfully recovered the gold consignment from the sea bed in the morning of June 1. This consignment was found to carry gold bars weighing 11.600 kg," a Defence press release said.
The joint operation by Indian Coast Guard and DRI resulted in total seizure of about 32.869 kg of illegal Gold valued at approx. Rs.20.20 Crores. The seized contraband and suspects are in custody of DRI for further legal action.
Mumbai News: FIR against 2 websites for allegedly publishing defamatory content against Savitri Bai Phule
Mumbai police have registered an FIR against two websites for allegedly publishing defamatory content against social reformer Savitri Bai Phule. "The websites IndicTales and Hindupost are alleged to have published defamatory content against Savitri Bai Phule. The FIR is registered at Azad Maidan police station under sections 500 and 505(2) of the Indian Penal Code (IPC)," read an official statement by Mumbai Police.
Further, according to the release, the FIR was registered on a complaint lodged by Nationalist Congress Party (NCP) leaders against these websites. The NCP leaders met the Mumbai police commissioner and filed the complaint, the release added.
NCP's Plea for Police Intervention
In a move to counter the defamation of Savitribai Phule's image, the NCP has sought police involvement. The party has highlighted the need for action against websites that are spreading false and derogatory information about Phule, tarnishing her reputation. By urging the police to intervene, the NCP aims to safeguard the legacy of Phule and prevent the dissemination of misleading content that could harm her well-deserved reputation.
Delhi: Retd AIR official, her daughter found dead inside flat in Krishna Nagar; police probe on
New Delhi: A retired official from All India Radio's Akashvani and her daughter were found dead in their apartment in Delhi's Krishna Nagar neighbourhood. The Delhi Police said that their bodies were discovered by them after they got a PCR call at 8 pm reporting a bad smell coming from the flat. Rohit Meena, DCP Shahdara, the callers informed of a foul smell that was coming out of a first-floor flat in Krishna Nagar E block around 8 pm.
Subsequently, a police team was rushed to the apartment where the bodies of a 65-year-old woman and her 36-year-old daughter were found. The police suspect that a third known person was with the deceased inside the flat and that they are investigating all possible angles. The deceased were identified as Rajrani and her daughter Ginni Karar.
Police register case, hunt to nab accused on
The home where the victims were discovered had two locking systems, one at the main entrance gate and the other at the main door, which could only be opened with authorization, according to the authorities.
The DCP further added that they have obtained some important clues and an investigation in on. Raids are being conducted in multiple locations and the case is being probed from all angles.
According to the reports, Ginni was in school while Rajrani had left Akashvani. The woman's husband had passed away a few years before, and the family had been residing on the first level of the structure. The police have registered a case under the relevant sections of the Indian Penal Code (IPC) and are trying to nab the accused.