Ed Sheeran 'nearly killed' Sir Elton John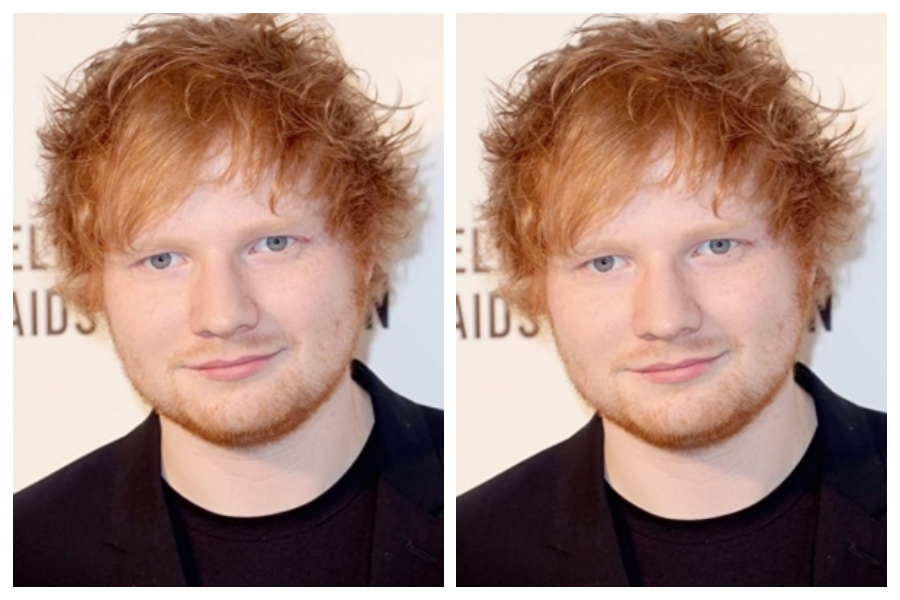 Grammy winning-singer Ed Sheeran "almost killed" legendary English singer-songwriter Elton John while shooting their festive music video after he kicked a "big metal bell" and it came close to hitting his friend on the head.
Speaking to Apple Music's Zane Lowe about the track, Sheeran said: "We just shot a Christmas music video. Oh, mate. I almost killed him with a bell.
"On the video, there's footage of… I'm dressed up as sort of sexy Santa Claus and I kick a present, but the present had a big metal bell on top of it. I showed him the footage of it today, because we slowed it down and the bell flew past his head and would've cracked him in the head.
"Oh my God, the horror that went through my body when it was flying through the air."
Despite the incident, the 'Perfect' singer is delighted with the video.
He added: "But, man, the music video is wild. We've parodied all the great British music videos that came at Christmas."
Sheeran said he'd never expected to record a Christmas single at this stage of his career, but it "made sense" to team up with his friend and mentor.
He said: "It is always the type of thing that I thought I would do when I was 60. My manager said he would retire if I made a Christmas album. I've always wanted to work with (Elton) and this made most sense."
The 'Shivers' singer earlier shared that John calls him every day and it was during a chat on Christmas Day last year that the idea for a festive single was sparked.
He said: "Elton rung me on Christmas Day to say Merry Christmas. He rung me on Christmas Day, and he said, 'Step Into Christmas' is number six in the charts, and I'm 74, and I'm still having f****** chart hits, this is great! I want to do another Christmas song, will you do it with me?' "
Ravi Teja all set to explore the Hindi market with 'Khiladi'
Ravi Teja, who was last seen in 'Krack', will soon be seen playing a double role in his upcoming film 'Khiladi'.

With an intent to explore the existing craze for Telugu movies in Hindi, the makers of 'Khiladi' are eyeing to release the movie in Hindi as well.

A report says that the producers of 'Khiladi' have sold the Hindi-dubbed version rights to Pen Studios. Since the Allu Arjun starrer 'Pushpa' has become a big hit in the Hindi market, 'Khiladi' might make a good impression as well.

The movie's Hindi-dubbed release rights have reportedly been bought by Pen Marudhar. Pen Studios, who has previously been associated with several Bollywood movies, is currently producing the Alia Bhatt starrer 'Gangubai Kathiawadi'.

As there aren't any notable Hindi movies releasing in the near future, the Ravi Teja starrer might be received well, the makers believe.

'Khiladi' will head to theatres on February 11. Starring Meenakshi Chaudhary and Dimple Hayathi, Ravi Teja will be seen in a dual role in 'Khiladi. Helmed by Ravi Shankar, the movie is said to be a commercial action drama.

After 'Khiladi', Ravi Teja will be seen in 'Ramarao On Duty' followed by 'Dhamaka', 'Ravanasura' and 'Tiger Nageshwarao'.

Ravi Teja is the only actor with back-to-back movies in his kitty even during the pandemic.


Lata Mangeshkar shows 'marginal improvement', still in ICU
Legendary singer Bharat Ratna Lata Mangeshkar is showing 'marginal improvement' and continues to be in the Intensive Care Unit (ICU), according to a statement shared by the Mangeshkar family.
The statement reads: "There is a marginal improvement in Lata Didi's health and she continues to be in the ICU under treatment of a team of doctors, headed by Dr Pratit Samdani."
"It's not possible to give updates daily as that is a direct intrusion in the privacy of the family. We request each one of you to be sensitive to this issue."
Mangeshkar, 92, was admitted to Breach Candy Hospital near her home in south Mumbai with Covid-19 and related health issues.
"India's Nightingale" had tested positive on Tuesday (January 11) after reportedly contracting the virus from one of the house helps.
Bigg Boss 15: Tejasswi Prakash calls Shamita Shetty an 'aunty'
As the 'Bigg Boss 15' finale is just around the corner, the contestants were given one last task 'BB Hotel', where Tejasswi Prakash and Shamita Shetty got into a heated fight.

In the upcoming task, Tejaswwi and Shamita were the hotel staff. Other contestants were hotel guests. A live audience was also seen entering the 'Bigg Boss 15' and are supposed to vote out one member from the show in the new episode.

During the task, Tejasswi was supposed to give a massage to co-contestant and beau Karan Kundrra, who was not impressed by her skills and said: "Aesi kaunsi hotel staff hoti hai Yeh bakwaas massage kar rahi hai (Which hotel staff does this. This is such a bad massage she is giving me)."

Moments later, Shamita is seen giving Karan and Tejasswi pulls her by her leg.

Tejaswwi gets insecure and says: It's Karan Kundrra and not Raqesh Bapat. Isse pahele aapne apne task ko kabhi nahi liya tha (You have never taken any task seriously.)"

Shamita defends herself by saying it's just a massage. She later is seen giving a back massage to Prateik Sahajpal.

An angry Tejasswi, said: "That aunty is on top of this one too."

This bothers Shamita, who retaliates saying: "There is an audience here, we are doing it for them — respect the audience."

"It's a task and you have no business calling me an aunty (Pointing at Karan) You should be ashamed that you did not take up for me."

"She is crossing her lines and because of you I keep my mouth shut.. Karan, she has pulled me — Something in the outer world I would have handled very differently . How Dare she touch me and pull me," Shamita said on the Colors show.