Developed INDIA with efforts of every single individuals by:PM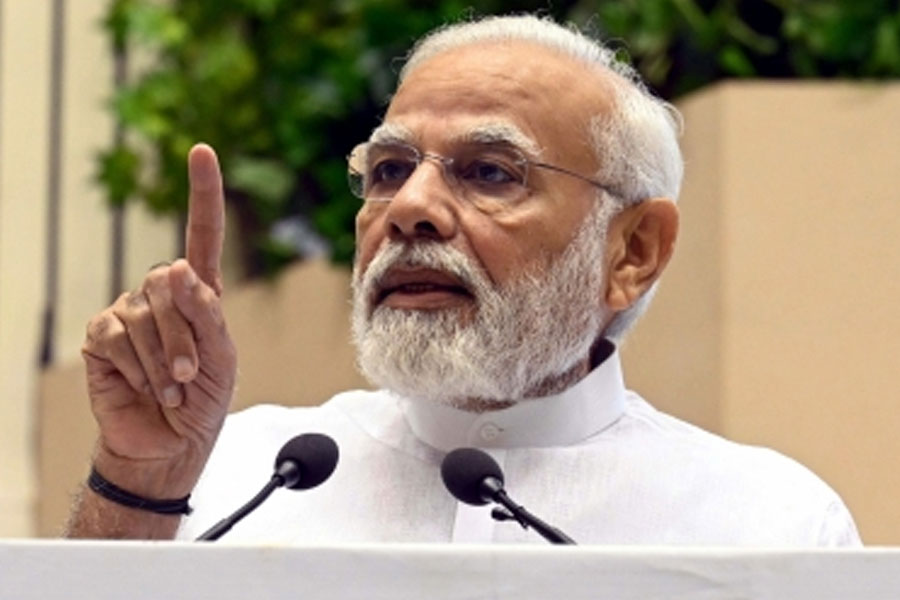 India will emerge as a "developed" nation by 2047 with efforts of every single individual, Prime Minister Narendra Modi said here on Saturday.
He was addressing a gathering after inaugurating Madhusudan Sai Medical Sciences and Research Institute of Satya Sai Ashram at Muddenahalli here.
"People ask how will India progress to become a developed nation within a short period by 2047, which marks the 100th year of independence? The answer with conviction and commitment would be "sab ka prayason se" (with the efforts of all).
The dream will turn into a reality with the hard work of every single individual of the country. The government is encouraging collective efforts. The role of social and religious institutions in this regard is also important, PM Modi stated.
There were less than 380 medical colleges in the country and after BJP took over, the number has increased to 650. Among them, 40 are located in the aspirational districts. The number of medical seats have been increased in the country considerably, PM Modi said.
Number of doctors who passed out in 75 years, will now graduate in 10 years. There are 70 medical colleges in Karnataka and a double engine government has established one in Chikkaballapur, he noted.
The previous governments were engaged in enacting games over languages. No step was taken to ensure medical and engineering education in Kannada language. No interest was shown. "Now, provision has been made to pursue medical education in all Indian languages, including Kannada," PM Modi explained.
The opposition has treated the poor as their vote bank. But, BJP made it the highest objective to uplift the poor. The BJP is providing them with medicines at a cheaper price through Pradhan Mantri Janaushad outlets. The poor did not dare to go to hospitals and the government has made arrangements to get free treatment up to Rs 5 lakh, PM Modi stated.
Will stand with wrestlers till justice is not delivered: Cong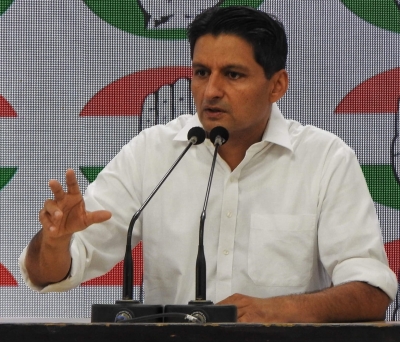 Hours after Union Sports Minister Anurag Thakur called the wrestlers for a meeting, the Congress on Wednesday took swipe at the BJP government for remaining silent on the harassment of the players, and said that the grand old party "will stand with the daughters till the time justice is not delivered".
Addressing a press conference here, Congress leader Deepender Singh Hooda, when asked about the Union Sports Minister calling wrestlers for a meeting, said, "Congress will support the daughters till justice is not delivered to them. It is unfortunate that the government is treating the daughters with step motherly treatment as the wrestlers have to knock on the Supreme Court doors for registering an FIR."
Hooda said that it's been one and half months and the government and the Delhi Police have not made any arrest.
"Isn't it the first case where the accused have not been arrested. In such an FIR with serious charges, it is the first example that no arrest has been done as one BJP MP is named as an accused. What kind of example the government is setting. What kind of standard they are laying?"
The Rajya Sabha MP said that the government remained silent when the wrestlers went to immerse their medals in the Ganga in Haridwar.
"Why was the sports Minister silent and no one from the government issued any statement urging them to stop their act of immersing their medals? And even selective leaks are being made in the media to harm their protest," he said.
"Whatever stand our daughters take after the meeting we will listen to that and will ensure that we stand with them for justice," he added.
His remarks came after Thakur on Wednesday invited the wrestlers for a meeting to have discussion.
Sakshi Malik, Bajrang Punia at Minister Anurag Thakur's residence for talks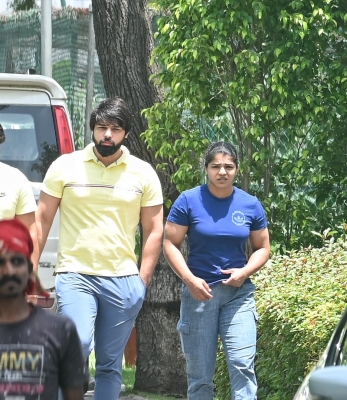 Protesting wrestlers Bajrang Punia and Sakshi Malik arrived at the residence of Sports Minister Anurag Singh Thakur on Wednesday.
Sakshi came along with her husband Satyawart Kadian, an Arjuna awardee. Olympian Vinesh Phogat was missing though her husband Somveer Rathi was seen entering the minister's residence.
The protesting wrestlers have been invited by the government for the second time days after they met Home Minister Amit Shah.
In January, too, the wrestlers met Anurag Thakur at his residence and called off their protest after a committee was formed. At that time, former wrestler and BJP leader Babita Phogat played the mediator's role.
Earlier, talking to Wednesday, Sakshi Malik said, "We will keep everything open. We won't take any decision behind closed doors. We will discuss the proposal given by the government with our seniors and supporters and only when everyone gives their consent that the proposal is fine, then will we agree."
Protesting wrestlers to discard their medals in Ganga river today at 6pm, sit on hunger strike at India Gate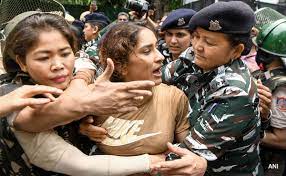 The protesting wrestlers demanding the arrest of Wrestling Federation of India (WFI) chief Brij Bhushan Singh over sexual allegations have threatened to discard their coveted medals in Ganga river in Haridwar on Tuesday at 6 pm. Their announcement came as the Delhi Police cleared all the signs of the wrestlers' month-long protest.
The likes of Sakshi Malik, Bajrang Punia, Vinesh Poghat, and Satyawart Kadian have been protesting for over a month, asking for Brij Bhushan Singh's arrest over sexual allegations of female athletes, including a minor. On May 28th, all the wrestlers suffered ill treatment from the police officials as they were dragged relentlessly, prompting an outrage among social media users over the behaviour towards the athletes.
On the same day, the police officials entered the wrestlers' tents at Jantar Mantar in Delhi to destroy them. Sakshi Malik, an Olympic Bronze medalist and one of the protestors condemned it by posting a clip on Twitter. She wrote on Twitter, stating 'After arresting all the wrestlers and old people, the cops have started to destroy our march. Our things have been started lifting. What kind of hooliganism is this?'
Hence, Malik, on Tuesday, issued a lengthy statement on Twitter in Hindi, announcing to dispose of their medals in Ganga river. 'These medals are our lives, our souls. There would be no reason to live after throwing them in the Ganga today. So, we will stage a hunger strike until death at India Gate after that.'
While Malik has an Olympic bronze medal won in 2016, wrestler Vinesh Poghat has two commonwealth golds, one Asian Games gold medal. She was also crowned Asian Champion in 2021 and won the World Championships Bronze in 2021. Meanwhile, Bajrang Punia won a bronze in the Tokyo Olympics in 2020. He also went on to win bronze in 2013, silver in 2018, and bronze in 2019.
Police officials blocked the wrestlers' march towards the parliament on Sunday:
On the day of the new Parliament building's opening, the protest produced devastating images as Delhi Police cracked down on them in the middle of their march.
Hundreds of police officers and paramilitary people obstructed the wrestlers' protest march as they attempted to progress towards the new Parliament House. A violent altercation between wrestlers and police officers occurred as the demonstrators attempted to break through the security perimeter.
Leading members of the opposition, such as Rahul Gandhi of the Congress, Priyanka Gandhi Vadra, Arvind Kejriwal of Delhi, and Mamata Banerjee of West Bengal, have criticised the central government for staying mum over Brij Bhushan Singh.