Delhi CM bans firecrackers on Diwali to fight pollution
In a move to fight pollution, Delhi Chief Minister Arvind Kejriwal on Wednesday announced a complete ban on the storage, sale and usage of firecrackers for the third year in a row.
"In view of the dangerous level of pollution during Diwali in Delhi witnessed in the last three years, we are again imposing a complete ban on the storage, sale and usage of any kind of firecracker to save people's lives," Kejriwal tweeted, appealing traders to avoid buying or keeping stocks of crackers this year.
The decision has been made keeping Delhi traders in mind as last year the same announcement at the eleventh hour had left many sellers in confusion for they had already purchased huge stocks weeks ahead of the festival.
With the onset of winter, the capital starts gasping for fresh air as pollution level due to burning of crop-residue in the neighbouring states of UP, Punjab and Haryana starts during the same time. Bursting of firecrackers adds to the problem, leaving the air highly toxic and its citizens with severe breathing problems for at least a week.
Only recently, the chief minister, citing a WAPCOS report, urged the central government to encourage farmers in Uttar Pradesh, Punjab and Haryana to use a Pusa-made bio-decomposer which will resolve the issue of stubble-burning by proving a greener and better alternative to get rid of crop residue.
Other than that, the Delhi government is also working on a Winter Action Plan. All the departments from environment to transport to MCDs have been asked to come up with a plan by September 21 so that a conclusion can be reached by this month end.
Gujarat rejected those who engage in politics of empty promises and appeasement: Amit Shah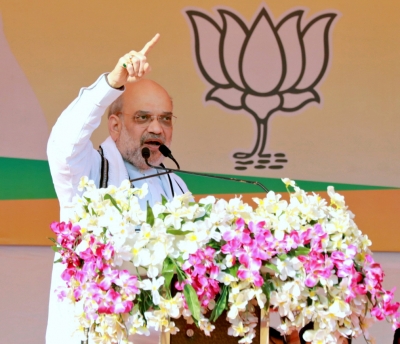 Reacting to the BJP registering a historic victory in Gujarat, Union Home Minister Amit Shah tweeted that Gujarat had rejected those who engaged in the politics of empty promises and appeasement.
Shah said that he salutes the people of Gujarat for the historic win.
He tagged Chief Minister Bhupendra Patel and state BJP president CR Patil in a tweet and congratulated them and all the BJP workers who worked tirelessly for the victory under the leadership of Prime Minister Narendra Modi and the chairmanship of JP Nadda.
Shah said that Gujarat had given an unprecedented acceptance to Modi's BJP, which worked for development and public welfare.
The Home Minister said that the massive victory showed that every section of the society, be it women, youth or farmers, was wholeheartedly with the BJP.
He said that Gujarat had always created history, adding that, the party broke the records of development in the state under Modi's leadership in the last two decades, which is why the people blessed the party.
This is the victory of the people's unwavering faith in Modi's Gujarat model, tweeted Shah.
Fake post on Shraddha Walkar-like case goes viral in Assam; police clarifies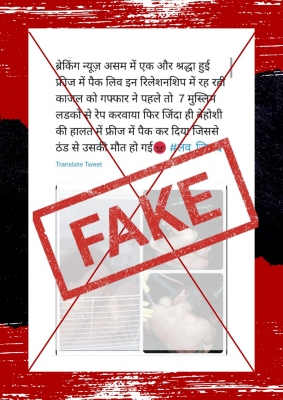 With an aim to disturb communal harmony in Assam, a group of unidentified miscreants on Wednesday shared a post on Shraddha Walkar-like case on social media.
Taking swift action, the state police termed it "fake" news and said that it was taken from a Portuguese blog.
The miscreants claimed about a Shraddha-like incident in Assam and termed it 'Love-Jihad'.
"A girl named Kajal who was in a live-in relationship was first raped by seven Muslim boys and then packed alive in a fridge where she died of hypothermia. Her live-in partner Ghaffar and his companions used to take the body out of the fridge and indulge in necrophilia daily."
The cyber cell of Assam police quickly jumped into action and found the post to be fake.
In a Twitter post, Assam police wrote, "An image from a Portuguese blog of 2010 is being shared with a completely false context on Social Media. Appropriate action will be taken against those found sharing such messages."
Meanwhile, a senior police officer urged the netizens for staying extra cautious while reacting to this kind of social media posts.
An investigation is underway.
EC reviews preparations for counting of votes on Dec 8
The Election Commission on Wednesday reviewed preparations for the counting of votes across 116 Counting Centres in respect of Assembly polls of Himachal Pradesh, Gujarat and by-elections to 6 Assembly constituencies and one Parliamentary constituency.
While the counting of votes will begin from 8 a.m. on Thursday, one Counting Observer per Assembly Constituency has been deputed in Himachal Pradesh, Gujarat and those constituencies where bypolls were held.
Two Special Observers each in Himachal Pradesh and Gujarat will be on ground to ensure the smooth counting process.
A senior official said that the Commission from time to time has issued detailed instructions and SoPs related to counting of votes, which shall also be applicable during counting of votes in respect of the above-mentioned constituencies.
Elaborate and foolproof arrangements have been made at all the counting centres.
All strong rooms, where polled EVMs are kept, are under three-layered security with inner cordon manned by Central Armed Forces.
Provision of 24×7 CCTV coverage of strong room arrangements is available.
Besides, political parties or candidates are involved at each stage related to EVM deployment during elections.
At each stage, the serial number of each EVM (including polled) is shared with the political parties/candidates.
The district administration has imposed section 144 CrPC around the counting halls to ensure that peace and tranquility is not disturbed.
As per SoPs, counting of votes shall be taken up for postal ballots at 8 a.m. and shall continue till its completion.
After a gap of 30 minutes from the commencement of counting of postal ballot papers, counting of votes for EVM shall commence at 8.30 a.m.
After each round of counting, tabulation of results in a prescribed format is done.
This is signed by RO and Observer, and a copy will be shared with the candidates.