Delhi CM bans firecrackers on Diwali to fight pollution
In a move to fight pollution, Delhi Chief Minister Arvind Kejriwal on Wednesday announced a complete ban on the storage, sale and usage of firecrackers for the third year in a row.
"In view of the dangerous level of pollution during Diwali in Delhi witnessed in the last three years, we are again imposing a complete ban on the storage, sale and usage of any kind of firecracker to save people's lives," Kejriwal tweeted, appealing traders to avoid buying or keeping stocks of crackers this year.
The decision has been made keeping Delhi traders in mind as last year the same announcement at the eleventh hour had left many sellers in confusion for they had already purchased huge stocks weeks ahead of the festival.
With the onset of winter, the capital starts gasping for fresh air as pollution level due to burning of crop-residue in the neighbouring states of UP, Punjab and Haryana starts during the same time. Bursting of firecrackers adds to the problem, leaving the air highly toxic and its citizens with severe breathing problems for at least a week.
Only recently, the chief minister, citing a WAPCOS report, urged the central government to encourage farmers in Uttar Pradesh, Punjab and Haryana to use a Pusa-made bio-decomposer which will resolve the issue of stubble-burning by proving a greener and better alternative to get rid of crop residue.
Other than that, the Delhi government is also working on a Winter Action Plan. All the departments from environment to transport to MCDs have been asked to come up with a plan by September 21 so that a conclusion can be reached by this month end.
Expedite progress under ECRP-II to strengthen health infra: Mandaviya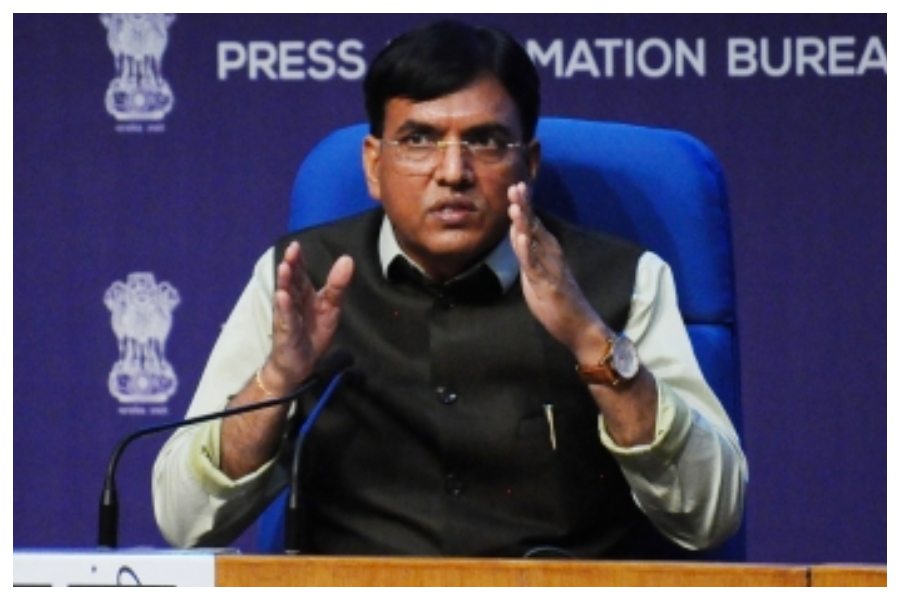 Union Health Minister Mansukh Mandaviya has asked the states to review and expedite implementation of activities under ECRP-II package for strengthening the health infrastructure, in a virtual meeting held with 9 states and UTs on Tuesday.

Mandaviya urged the health ministers and the state authorities to plug the existing gaps by efficiently utilizing the amount sanctioned for various infra projects.

With strengthened health infrastructure, we can meet any health emergency and public health crisis with better preparedness, said Mandaviya, while interacting with the health ministers and other state officials of – Jammu & Kashmir, Himachal Pradesh, Punjab, Chandigarh, Uttarakhand, Haryana, Delhi, Ladakh and Uttar Pradesh – virtually on Tuesday.

"In view of a substantial number of active Covid-19 cases across the country, it is important to focus on expanding the reach of tele-consultation services for providing timely quality healthcare to the beneficiaries", Mandaviya said.

He said further that it will prove a game-changer and will be of immense value and importance for the hard-to-reach and far flung areas, and especially in the northern regions in the current winter season.

"States and UTs need to ensure that these centres work 24X7 and ensure convenience for both the common public and health experts. To ensure minimum hassle and travelling, such expert advice can be provided at the block levels, secondary or primary health centre levels tool", he asked the states.

The states were advised to ensure regular updation of availability, occupancy and use of infrastructure like hospital beds, PSA plants, oxygen equipment. The Union Health Minister re-emphasised the need for ramping up testing. The states and UTs reporting a lower share of RT-PCR testing were requested to ramp up tests. States and UTs were also reminded to keep a close watch on the emerging clusters and hotspots and monitor the trend of hospitalised cases along with the deaths in the state.

"Vaccination remains a potent tool to fight COVID-19. Vaccinated people are less prone to severity and hospitalisation as seen in India and globally. Higher hospitalisation is being seen in unvaccinated people and hence it becomes crucial to vaccinate the unvaccinated", Mandaviya underlined while urging to promote vaccination among 15-18 years age group and ensure full coverage in the districts that have shown a lower coverage of the first and second doses.

Union Minister of State for Health, Dr Bharati Pravin Pawar stressed on the need for vigilance and alertness during the ongoing upsurge. She urged the states and UTs to ensure availability of essential medicines for any evolving situation and ensure timely purchase orders in case of shortages.


Can reduce Juhi Chawla's 5G suit fine, but on one condition: Delhi HC
The Delhi High Court on Tuesday said it will consider reducing actress-environmentalist Juhi Chawla's fine – slapped for abuse of the process of law in relation to a lawsuit challenging 5G wireless network technology – from Rs 20 lakh to Rs 2 lakh on the condition she does some service for the public.
A division bench of Justice Vipin Sanghi and Justice Jasmeet Singh said: "We will make it Rs 2 lakh but that comes with another condition. Considering that your client is a celebrity, she should do some public work. Her status should be implied for some good of society. She could do a programme for the Delhi Legal Services Authority (DLSA)."
Representing Chawla, senior advocate Salman Khurshid, argued that the petitioner had raised a genuine concern on the impact of 5G technology on the human body. If the cost amount could be waived, his client could go back to pursue the cause, he said.
Later, he said he would seek her instructions on the suggestion made by the court.
Further, issuing notice to the DLSA Secretary, the court listed the case for further hearing on January 27.
On January 21, the DSLSA approached the court seeking the execution of the order, in which Chawla and two others were directed to deposit Rs 20 lakh fine imposed in relation to a lawsuit challenging 5G wireless network technology.
On June 4 last year, Justice J.R. Midha had dismissed her lawsuit against the setting up of 5G wireless networks in the country. Her plea stated the levels of RF radiation are 10 to 100 times greater than the existing levels. It also claimed that the 5G wireless technology can be a potential threat to provoke irreversible and serious effects on humans and it could also permanently damage the earth's ecosystems.
The court had held that the suit filed by Chawla and two others were defective, non-maintainable, and also contained unverified and vexatious assertions and also imposed the fine.
After resigning from Cong, RPN Singh joins BJP
Former Union Minister and senior Congress leader R.P.N. Singh on Tuesday joined the BJP here.
He joined the BJP in presence of Union Ministers Dharmendra Pradhan, Anurag Thakur and Jyotiraditya Scindia, deputy Chief Ministers of Uttar Pradesh Dinesh Sharma and Keshav Prasad Maurya, state BJP president Swatantra Dev Singh and party national media head Anil Baluni at party headquarters here.
Welcoming Singh in party, Pradhan said, "Election process is on in Uttar Pradesh and BJP has been continuously winning the confidence of Uttar Pradesh for the last eight years. Once again we are goinig with the issues of development, better law and order, welfare schemes to seek people's support. Singh has joined to make Uttar Pradesh number one state. Many times I told Singh that he is the right man in the wrong party. Today, I welcome him in BJP."
Singh thanked Prime Minister Narendra Modi, BJP chief J.P. Nadda, Union Home Minister Amit Shah and party leadership for inducting hime in the BJP family.
"I worked hard for 32 years in Congress but it is no longer what it used to be. Many asked me to join the BJP for a long time, but I can only say 'Der aaye durust aye (better late than never)'. I will work as a 'Karyakarta' (worker) towards fulfilling Prime Minister Modi's dream for nation building," Singh said.
The former Union minister said that the way the BJP government has worked hard to improve the law and order situation in the state is commendable.
"I will do everything that is assigned to me as a small party worker for the development of Uttar Pradesh and country," Singh added
Before officially joining the BJP, Singh tweeted, "This is a new beginning for me and I look forward to my contribution to nation building under the visionary leadership & guidance of the Honourable Prime Minister Shri @narendramodi, BJP President Shri @JPNadda ji & Honourable Home Minister @AmitShah ji."
Earlier in the day, Singh resigned from the primary membership of Congress a day after being named as one of the party's star campaigners for Uttar Pradesh.
Tweeting his resignation letter, Singh said, "Today, at a time, we are celebrating the formation of our great Republic, I begin a new chapter in my political journey. Jai Hind."
The former Union Minister of State for Home, Singh has been MLA and MP from the party and also was in-charge of the party in Jharkhand.
The Congress has been facing a major exodus of its leaders in Uttar Pradesh. Recently, three candidates named by the party switched sides to other parties.
Singh will be a high profile exit from the Uttar Pradesh Congress after Jitin Prasada, who quit the party and now is a minister in the Yogi government. Singh is an influential leader in his area, but could not win two consecutive elections on the Congress ticket.
Sources said that he is likely to be fielded on a BJP ticket from the same seat against Samajwadi Party's Swami Prasad Maurya, who recently left the saffron party.