Congress seeks BJP's response on terrorists' alleged links with BJP
The Congress on Tuesday came down heavily on the BJP over its alleged links with apprehended LeT terrorists in Jammu and Kashmir and killers of Kanhaiya Lal whose pictures with BJP leaders.
Addressing a press conference here, Congress Communication In charge, Pawan Khera sought answers from the BJP.
He said: "Two incidents in the past week have exposed the two-faced BJP. First, we learned that one of the accused in Kanhaiya Lal's horrific murder in Udaipur was a BJP worker. Then it emerged that a captured Lashkar-e-Taiba terrorist in Jammu and Kashmir was not only a BJP office-bearer who had previously been captured in photos with Home Minister Amit Shah but was also planning to attack the Amarnath Yatra."
It is "shocking" that the BJP, a party that loses no opportunity to preach about nationalism, has members and office-bearers who are deeply implicated in violent anti-national activities, he added.
He alleged that there is long list of BJP functionaries who have been caught participating at the behest of Pakistani agencies in terrorism and espionage.
Former BJP leader and ex-sarpanch Tariq Ahmad Mir was arrested two years ago for procuring weapons for Hizbul Mujahideen commander Naveed Babu, he alleged. In 2017, the Madhya Pradesh Anti-Terrorism Squad (ATS) arrested the BJP IT Cell member Dhruv Saxena along with ten accomplices for spying for the Inter Services Intelligence (ISI) Directorate, Balram Singh, a Bajrang Dal leader from Madhya Pradesh, was arrested in a terror funding case.
He added that in 2017, a special court of the NIA sentenced Assam BJP leader Niranjan Hojai to life imprisonment for participating in a Rs 1,000 crore scam to divert government funds to support a militant group.
The BJP has also knowingly given a ticket to Masood Azhar's acolyte Mohammad Farooq Khan to contest the Srinagar municipal election from Ward 33. Khan was previously a member of the Jammu and Kashmir Liberation Front and the Harkatul Mujahideen.
Khera said they appeal to the people to India to see through the BJP's fake nationalism and its disturbing willingness to flirt with anti-national forces.
"What kind of an ideology finds place for both Nupur Sharma and Riyaz Attari? And accommodates radicals like Talib Hussain? Is the BJP inspired by the alliance between the Hindu Mahasabha and the Muslim League in which extremists of all religions banded together to prevent nationalist forces like the Congress to come to power?" he added
Denying any such links, the BJP accused the Congress of playing politics on the recent incidents.
BJP MP Ramesh Bidhuri Abuses, Calls BSP's Danish Ali 'Pimp', 'Terrorist' in Lok Sabha; Rajnath Singh Expresses Regret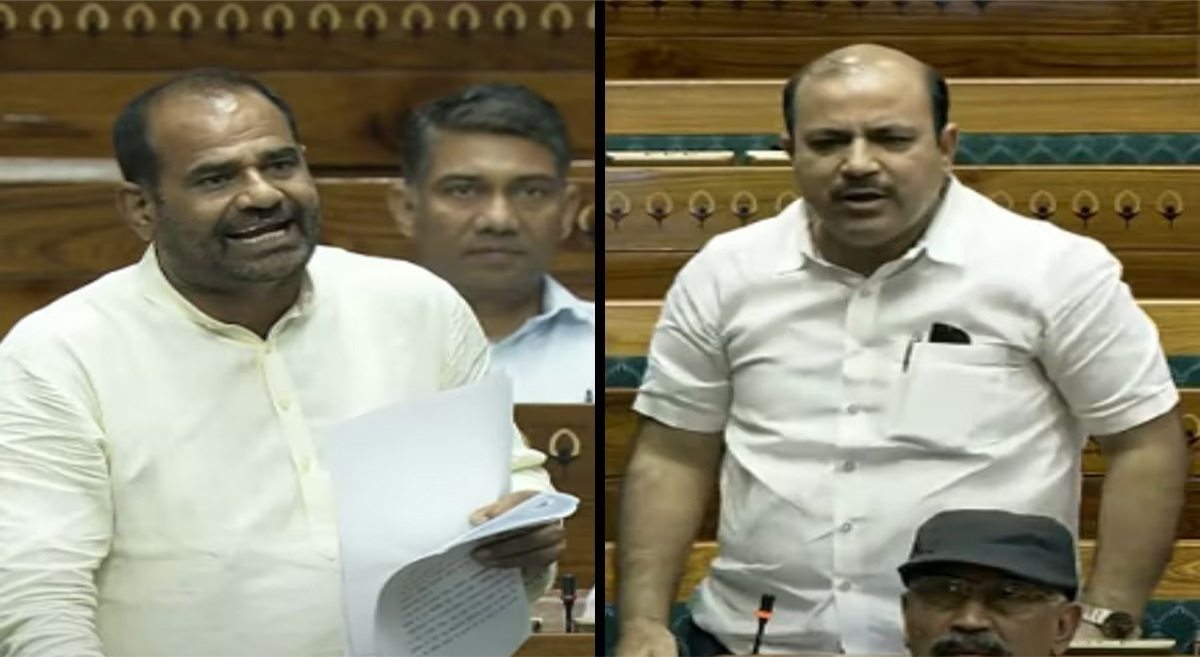 New Delhi: In a shocking use of unparliamentary language used in the Lok Sabha, BJP MP from Delhi, Ramesh Bidhuri, abused and used foul language on record against BSP MP Danish Ali. In the video which is being shared by parliamentarians of Opposition parties, it is evident that BJP MP Bidhuri used abuses and highly objectionable language for the BSP MP when he tried to reply to the BJP MP. Bidhuri made the remarks while participating in a discussion on the Chandrayaan-3 mission in the Lok Sabha and started his tirade after saying that "PM Modi was not trying to steal credit of the scientists…"
BJP MP Ramesh Bidhuri used words such as "extremist", "pimp" and "terrorist" and abused BSP MP Danish Ali while speaking in the Lok Sabha. "Ye Mulla aatankwadi hai (This cleric is a terrorist)" and "bahar pheko naa iss mulle ko (throw this cleric outside)," said the BJP MP even as Opposition raised objections against the filthy language used by Ramesh Bidhuri.
Shockingly, former Union Health Minister Dr Harshvardhan of the BJP was seen laughing and grining on Ramesh Bidhuri's highly objectionable remarks in the Lok Sabha. BJP MP Dr Harshvardhan was seated a row behind Ramesh Bidhuri.
Massive outrage across party lines
The comments by Bidhuri created massive outrage across MPs from across the party lines.
"Filthy language used by a BJP parliamentarian for fellow MP from BSP @KDanishAli. No shame left. This is sickening. Will speaker LS take note and take action?" posted UBT leader Priyanka Chaturvedi on X, tagging TMC MP Mahua Moitra.
Chairman, Media & Publicity Deptt of Congress party, also commented on the objectionable language used by Ramesh Bidhuri.
National Conference (NC) leader and former Jammu and Kashmir CM Omar Abdullah also criticised the MP for the language used against a fellow parliamentarian.
Rajnath Singh expresses regret over remarks
Raksha Minister Rajnath Singh on Thursday (September 21) expressed regret in the Lok Sabha for the "objectionable" remarks made by BJP MP Ramesh Bidhuri.
Congress member K Suresh, who was in the Chair when the episode played out in the Lok Sabha, said that he had already instructed the officials to expunge the remarks.
"I express regret if the opposition is hurt by the remarks made by the member," Raksha Mantri Rajnath Singh said in his comments.
Canada High Commission Calls On Indian Govt To Ensure Safety & Security Of Diplomats, Staff Following Threats On Social Media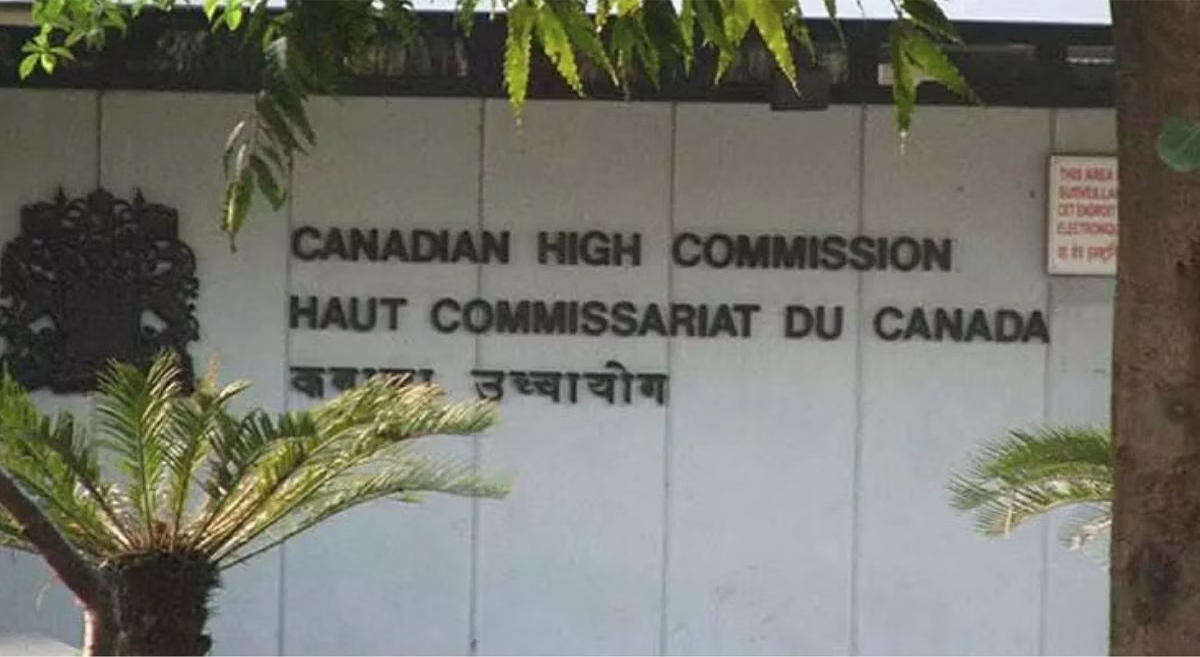 New Delhi: Amid growing tensions, the Canadian High Commission in New Delhi on Thursday called on the Indian government to ensure safety and security of diplomats and staff after they received threats on social media. The Canada High Commission in Delhi said, "Our High Commission and all consulates in India are open and operational and continue to serve clients. Global Affairs Canada continuously monitors the safety and security of our missions and personnel as we maintain a strict security protocol to respond to any events."
Canada High Commission Statement
It said: "In light of the current environment where tensions have heightened, we are taking action to ensure the safety of our diplomats. With some diplomats having received threats on various social media platforms, Global Affairs Canada is assessing its staff complement in India. As a result, and out of an abundance of caution, we have decided to temporarily adjust staff presence in India. All of our locations are staffed by diplomats and locally-engaged staff to ensure business and operational continuity." It said that Global Affairs Canada will continue to take all appropriate measures to protect the health and safety of all our personnel, including locally-engaged staff, and to protect our operations in India. "Decisions are made based on a number of factors including the professional profile of an employee or personal circumstances," it said.
Obligations under the Vienna conventions
"In the context of respect for obligations under the Vienna conventions, we expect India to provide for the security of our accredited diplomats and consular officers in India, just as we are for theirs here," the statement added.
The diplomatic tension between the two nations nosedived on Tuesday over the killing of Khalistani terrorist Hardeep Singh Nijjar.
New Delhi on Tuesday expelled a senior Canadian diplomat based here in a tit for tat move giving similar reply to Canada. The High Commissioner of Canada to India (Cameron Mackay) received summons on Tuesday during which the Government of India conveyed its decision to expel a senior Canadian diplomat currently stationed in the country. The concerned diplomat has been officially instructed to depart from India within the next five days, a statement issued by the MEA said.
"The decision reflects the Government of India's growing concern at the interference of Canadian diplomats in our internal matters and their involvement in anti-India activities," the statement said.
The decision came after Canada had earlier expelled a high ranking Indian diplomat. These developments have occurred after Canada Prime Minister Justin Trudeau on Monday in an emergency statement in Parliament accused the Government of India of involvement in the fatal shooting of Nijjar. India has rejected claims by the Canadian government that it had an involvement in the killing of Khalistani terrorist Hardeep Singh Nijjar. India has dubbed the charges as "absurd and motivated."
Rahul Gandhi Arrives At Delhi's Anand Vihar Railway Station, Dons Coolie Attire & Carries Luggage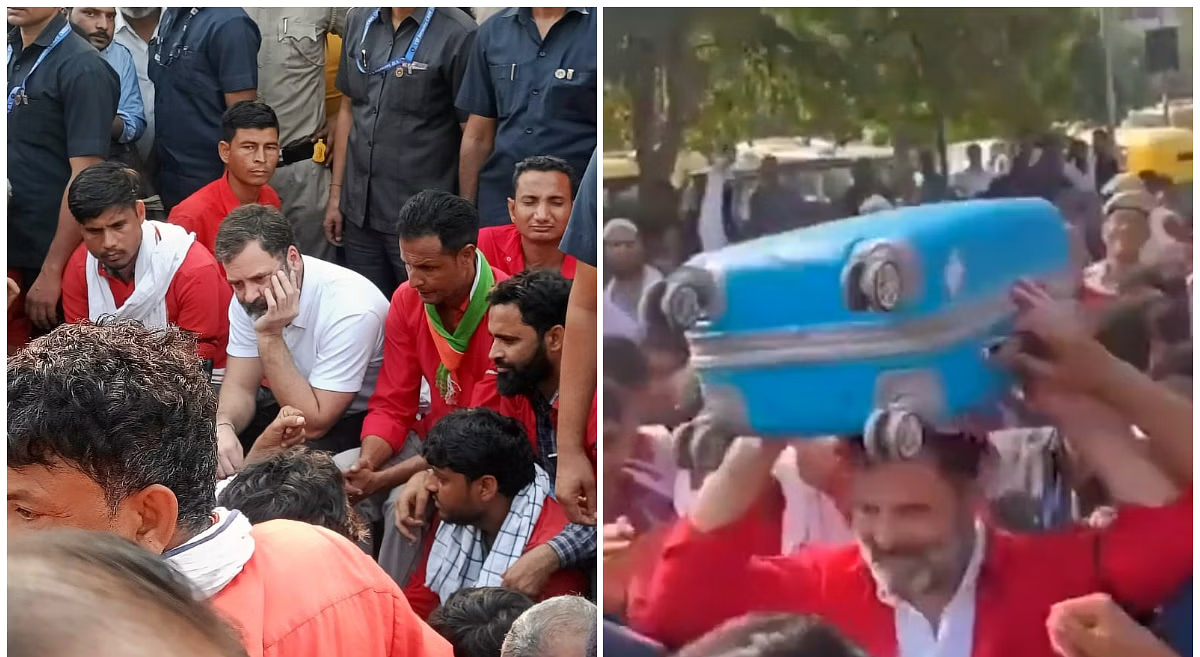 New Delhi, September 21: Former Congress President Rahul Gandhi on Thursday once again surprised people by visiting a Railway station here and interacting with the porters to know their concerns. According to party sources, the Congress leader arrived at Anand Vihar Railway station to talk to the coolies. Gandhi spoke at length with them and discussed the issues they face, the source said.
Rahul Gandhi's visit comes months after a few porters urged him to meet them
The Congress leader's visit comes months after few porters urged him to meet them to understand their issues and work for their uplift. The Congress leader, in the last few months, has surprised people with his visits among people. Rahul Gandhi had visited Bengali Market, Jama Masjid area to have food and then visited Mukherjee Nagar area to interact with the UPSC aspirants.
Earlier, He visited Delhi University's PG Men's hostel
He had also visited Delhi University's PG Men's hostel to have lunch with the students and then took a truck ride from Haryana's Murthal to Ambala to understand their pain.
He also visited the farmlands during the paddy sowing season
Gandhi had also visited the farm lands during the paddy sowing season and interacted with farmers in Haryana Sonepat, visited bike mechanic shops in Delhi's Karol Bagh area, visited Azadpur Mandi amid skyrocketing prices of vegetables.
He had also invited the farmers of Sonepat and a vegetable vendor Rameshwar separately over lunch
He had also invited the farmers of Sonepat and a vegetable vendor Rameshwar separately over lunch at his residence here. Recently, he also undertook motorcycle rides in Ladakh, Leh and Kargil region to interact with the people.