Bombay High Court grants interim protection to NCP MLA Hasan Mushrif for two weeks in ED case
Mumbai: The Bombay High Court on Tuesday granted interim protection to former minister and NCP MLA Hasan Mushrif for two weeks and meanwhile asked him to approach the special court seeking pre-arrest bail in the alleged money laundering case related to a sugar mill.
The court was hearing a petition filed by Mushrif seeking quashing of the ECIR (akin to a First Information Report) registered by the Enforcement Directorate (ED) against his three sons officially related to the Sar Senapati Santaji Ghorpade Sugar Factory Ltd.

Judges say all contentions on merits open
While asking Mushrif to approach the special court, a bench of Justice Revati Mohite-Dere and Sharmila Deshmukh has asked the special judge hearing cases under the Prevention of Money Laundering Act (PMLA) to hear his plea, if filed, at the earliest. "Petition is filed. No coercive action is sought. The petitioner to approach the trial court. We protect him for two weeks," noted the bench in its order. The judges said they have kept all contentions on merits open and posted Mushrif's plea seeking quashing of the case after four weeks.
During the hearing on Tuesday, Mushrif's Advocates Aabad Ponda and Prashant Patil argued that the HC, on May 2, 2022, stayed the special court order initiating criminal proceedings in a cheating case registered in Kolhapur. The matter was considered a predicate offence; meaning it was a part of the money laundering case.
Mushrif premises searched on March 11
The counsels argued that Mushrif premises were searched on March 11, a day after the HC granted him relief. On March 10, the HC, directed that no coercive action be taken against Mushrif in the Kolhapur case till further order. The court also remarked that there was a "deliberate attempt" to take action against him in the ED cases.
The judges asked Additional Solicitor General Anil Singh, appearing for the ED, whether the central agency intends to arrest Mushrif. Singh replied that if the MLA wants protection he can file for pre-arrest bail before the special court. He can't seek protection from arrest under the guise of quashing proceedings, he said.
"ED's investigation is dependent on the predicate offence"
Ponda contended that ED's investigation is dependent on the predicate offence. The ED's malafide (intention) is already under the HC's judicial scrutiny and the same FIR (in the Kolhapur case) is being investigated. Hence, it's only fair that his client is granted relief, Ponda said.
Mushrif's plea said the ED's real intention was to target him. Therefore, despite having no case and the matter pertaining to the predicate offence being stayed, the agency was trying to arrest him possibly at the behest of BJP's Kirit Somaiya. "It is common knowledge as to how in recent times the ED office is being used to wreck political vengeance and either severely damage or completely destroy political careers," the plea alleged.
Urfi Javed Gets Death Threats For Dressing Up As Rajpal Yadav's Chhota Pandit, Shares Screenshots
Actress and social media sensation Urfi Javed recently claimed that she received several death threats after she uploaded photos and videos of herself dressed up as Chhota Pandit, a character which was played by actor Rajpal Yadav in the 2007 film, Bhool Bhulaiyaa.
Urfi took to her X handle (formerly known as Twitter) to share screenshots of the messages which she received from people after she shared the post.
In one of the screenshots, a man can be seen to have mailed Urfi that it wouldn't take him long to end her life if she did not delete the post.
Another man e-mailed the actress that she will be shot dead in the middle of the road for insulting Hindu religion.
Along with the screenshots, Uorfi also shared a picture of herself dressed up as Chhota Pandit, and a photo of Rajpal Yadav himself dressed up as the character.
"I'm just shocked and appalled by this country mahn , I'm getting death threats in recreating a character from a movie where as that character didn't get any backlash," she wrote.
The actress is yet to say if she will take any action against the threats.
Police complaints against Urfi
This is not the first time that the actress has received threats or hate for her sartorial choices. Uorfi is often seen grabbing eyeballs with her quirky and out-of-the-box fashion choices.
A few days ago, she was seen visiting the Bandra police station in Mumbai after a complaint was filed against her for wearing "objectionable outfits" in public.
Earlier too, several complaints and FIRs have been lodged against the actress for clothes and for "obscene acts in public and social media".
However, Urfi remains unfazed by the hate and she has time and again stated that she will continue dressing up as she likes and that she will not be bogged down by trolls.
Mumbai Viral Video: Cop Picks Up Father And His 5-Month-Old Son In Police Vehicle Amidst Ganpati Visarjan-Led Traffic, Wins Hearts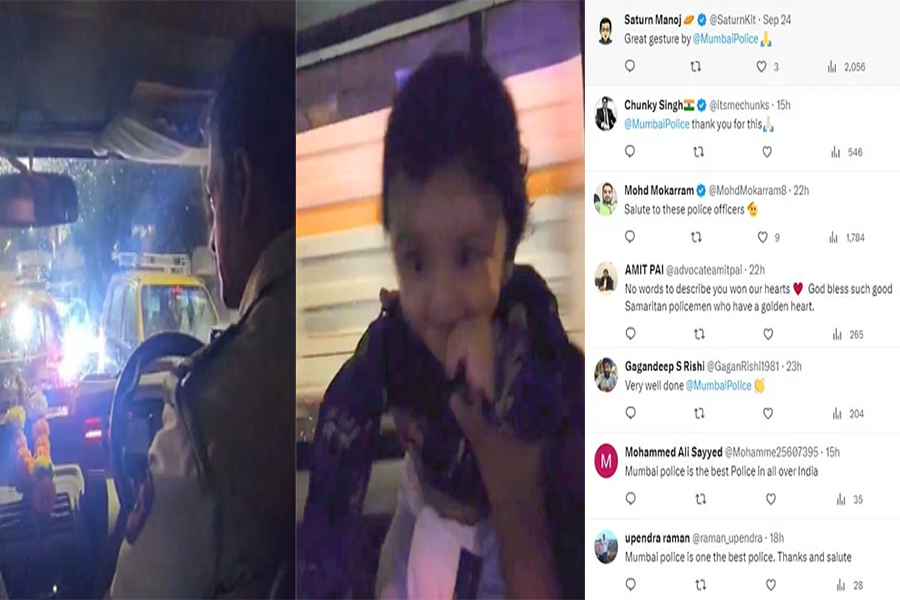 The official picked up the father-son duo in his police vehicle after they were refused a trip by several taxi drivers. It was learned that the police extended assistance after the other mode of transport refused a drive due to Ganesh Visarjan-led traffic in the area. 
Mumbai Police is known for its friendliness towards the public, not only due to their creative social media posts but also for their helping hand on the ground level. In an adorable case that has gone viral and left netizens impressed, a cop was seen providing a lift to a father and his five-month-old child in the city's Charni Road area.
Father thanks Mumbai Police
Identified as father Aman Vora shared the incident on X (formerly Twitter) and said, "We were at Charni Rd Station and it was raining. No taxi driver was ready to come because of Ganesh Visarjan and my 5 month old son was crying but @MumbaiPolice helped us to reach our destination. (sic)" He also thanked the police for the kind deed as he added, "My sincere gratitude❤️ Jay Maharashtra. Jay Hind."
Video goes viral & wins hearts
The clip was retweeted by the official X handle of Mumbai Police with a caption that read: "A child's happiness is a statement of its own. Words cannot adequately describe it." No sooner, the video caught the attention of netizens and attracted more than 340K views on the social media platform. The gesture was saluted by people as they hailed the cop for the help.
Mumbai: 'Don't Disrespect Our Father' Supriya Sule Warns BJP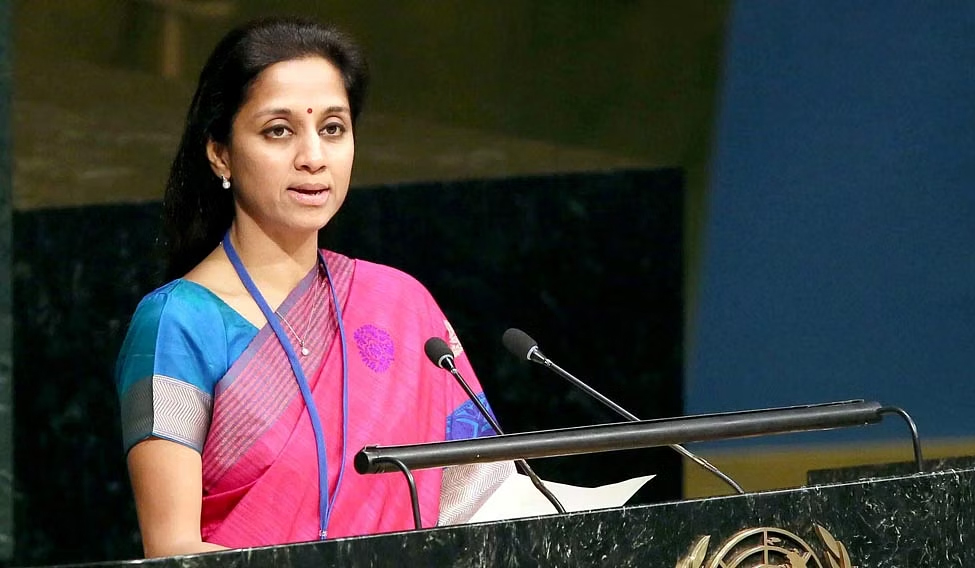 NCP Working President Supriya Sule issued a warning saying 'disrespect us, but not our father' while addressing the party gathering in Mumbai on Wednesday.

Slamming the BJP and referring to it as the most corrupt party in the country, she said, "Disrespect us, but not our father (Sharad Pawar). This fight is against the BJP government. BJP is the most corrupt party in the country."
Supriya Sule hits out at state govt
She also hit out at BJP, Ajit Pawar, and Eknath Shinde-led government and alleged that BJP is using Income Tax, CBI, and Enforcement Directorate to threaten the party MLAs. However, she claimed NCP will give an appropriate answer very soon.

Referring to Ajit Pawar's advise to Pawar Sr to retire while mentioning his age, Supriya Sule said, "Age is just a number." She also cited Ratan Tata, Amitabh Bachchan and Cyrus Punawala to prove her argument that a person can be active and work for the society if he has the will to do so.
Striking an emotional chord, Sharad Pawar's daughter also said that daughters are the best support for a father when it is required.

"Instead of asking them to sit at home and give blessings, daughters are better. They become the support system for their fathers when the house is in danger," she said.