Amit Shah's Ganeshotsav trip to Maharashtra may be devotional-cum-political
Over two months after the alliance government of Shiv Sena rebel faction leader and Chief Minister Eknath Shinde and Bharatiya Janata Party's Deputy Chief Minister Devendra Fadnavis took charge, Union Home Minister Amit Shah is slated to visit Mumbai on September 5, at the height of the Ganeshotsav festival.
Shah's customary annual visit to the state's biggest festival for the past few years used to be a largely religious affair – visiting the Lalbaugcha Raja and other important venues, and taking 'darshan' of Lord Ganesha at the homes of several BJP bigwigs in the city.
This year, however, the devotional menu may be laced with a subtle political docket intended to strengthen the Shinde-Fadnavis regime – currently bedevilled by internal, external and legal hassles, plus other political ghosts.
Fadnavis acknowledged all the possibilities with a grin, indicating "there will be a political agenda" during Shah's visit on Monday, but declined to elaborate.
The Shinde-Fadnavis government has been struggling to attain credibility among the masses after it toppled the Maha Vikas Aghadi (MVA) of Shiv Sena-Nationalist Congress Party-Congress, led by Uddhav Thackeray.
The MVA has viciously targeted and vituperatively lampooned them for the manner in which the government came to power, with embarrassing choruses of "Khoke Ok" (boxes, implying Rs 50 crore), "traitors", etc. haunting the "ED sarkar" and needling the 40-odd legislators of the rebel group who sneaked out from June 10 onwards.
The Thackeray-led Shiv Sena even went a step ahead comparing them with a famous Arabian Nights tale of 40 dubious characters, attracting howls of protests and bitter counter-attacks from the "turncoats".
Shinde faced flak for the massive delays in the cabinet expansion with 18 Ministers – which took place 41 days after he and Fadnavis took oath on June 30 – followed by the hiccups in allocating portfolios, and the hanging swords of the legal tussle in the Supreme Court.
Now, he confronts discontent afresh with many MLAs from his and BJP side clamouring for ministerial berths, and while a second round of expansion may take a while, Shah may cast a benign "glance" and placate the restless legislators.
There is the pending issue of the proposed tie-up with Maharashtra Navnirman Sena President Raj Thackeray, which the BJP has been hoping for since the past over a couple of years.
Once a sharp BJP-baiter, Raj Thackeray apparently sobered up his pilgrimage to the Enforcement Directorate (ED) in August 2019, and now the "ED sarkar" is "after" him for a much-anticipated partnership, ahead of the upcoming crucial civic polls.
After recovering from a hip surgery, Raj Thackeray has been the flavour of the season for the BJP with a host of leaders calling on him, like Shinde, Fadnavis, state and city party heads Chandrashekhar Bawankule and Ashish Shelar, respectively, and others.
There's intense speculation that Shah may home in on the reluctant Raj Thackeray and nudge him into a cooperative alliance – for the mutual benefit of MNS-BJP-Shinde Group – in the civic elections, to begin with, and get a "Thackeray" on the BJP side.
In recent weeks, some prominent Congressmen like ex-CM Ashok Chavan, have been doing multiple rounds of several BJP leaders, rattling the party's state unit.
However, Congress leaders and Chavan have been claiming that these meetings pertain to "official or constituency-related works", but the political grapevine is furiously spreading into a vineyard!
It is not immediately clear whether Shah will devote any attention to this new political development – that may well spell further doom for the MVA.
Mumbai: Property registration in city up 7% to over 8,500 units in January, reports Knight Frank
New Delhi: Mumbai is witnessing an up in registration of properties. A 7 per cent year-on-year rise during this month (January 2022 vs January 2023) was reported by Property consultant Knight Frank India which comes to 8,694 units on better demand.
Knight Frank India said that Mumbai city (area under BMC jurisdiction) saw property sales registration of 8,694 units in January 2023, contributing over Rs 658 crore to the state revenues. The registration figure is till 12 noon and will increase slightly by end of the day.
Residential & non-residential split
Of the total properties registered, 84 per cent were residential while 16 per cent were non-residential properties.
The data pertains to transactions in both primary (fresh sales) and secondary (re-sale) markets of all types of properties — residential, commercial and others.
However, the registration of properties fell 7 per cent in January when compared to December, which saw 9,367 units registration.
Shishir Baijal, Chairman and Managing Director, Knight Frank India, said, "Despite strong headwinds consumer inclination toward home purchase has driven residential property sales in Mumbai." The demand has persisted despite rising house loan rates, absence of state government concessions, and increases in property price over the past year, he said.
"Maharashtra government continues to be a major beneficiary of demand. While the repo rate is likely to increase soon, we anticipate the positive demand sentiment to largely stay unchanged as Indian economic growth prospects remain strong," Baijal said.
The registration of properties in Mumbai city rose 9 per cent year-on-year during 2022 calendar year to 1,22,035 units — highest in the last one decade — on better demand.
As many as 1,11,913 units were registered during the 2021 calendar year.
Registration of properties stood at 64,242 units in 2013; 63,636 units in 2014; 67,400 units in 2015; 63,255 units in 2016; 68,659 units in 2017; 80,746 units in 2018; 67,863 units in 2019; and 65,633 units in 2020.
Mumbai: 'Illegal office razed' – Shiv Sena (UBT) confronts BJP ex-MP
Shiv Sena (UBT) leader Anil Parab, whose alleged "illegal" office here was razed, on Tuesday challenged Bharatiya Janata Party's ex-MP Kirit Somaiya to prove his charges that the premises were unauthorised.
Addressing the media at the MHADA Colony in Bandra east, Parab said the structure was demolished by the society members on Monday after MHADA last week refused permission to regularise it.
Dismissing Somaiya's claims, he hit back to accuse the BJP leader of "working against the interests of the poor Marathi people" especially since the MHDA complex is now going for a redevelopment.
"By targeting me like this, Somaiya – who has taken a 'supari' (contract) from the builders – will try to misuse the notice and pressurize the society members here against asking for additional area (of the flats) in the redevelopment project," claimed Parab.
Along with some society members, Parab emphatically said that after the MHADA declined permission to regularise the office due to Somaiya's coercion, the society on its own flattened the office.
Somaiya – who first raised the issue before the Lokayukta in September 2021 – claimed that the MHADA brought the axe on Parab's "illegal office", which the Society and the Sena (UBT) leader rejected.
Parab, who was a minister then, said that he had informed MHADA of having nothing to do with the land or the structure or the demolition orders then, and Somaiya's false allegations were intended to discredit him.
The society members said that they had asked Parab to base his office here for the benefit of the people in the MHADA complex to which he had agreed.
"Fake news is being spread on this issue. I challenge Somaiya to come and view the demolished office and we shall give him a proper areception'," declared Parab.
As Somaiya drove to the venue, Mumbai Police stopped his vehicle near Bandra Kurla Complex ostensibly to prevent any law and order issue.
Mumbai: CM Eknath Shinde chairs pre-Budget session; Uddhav faction gives it a miss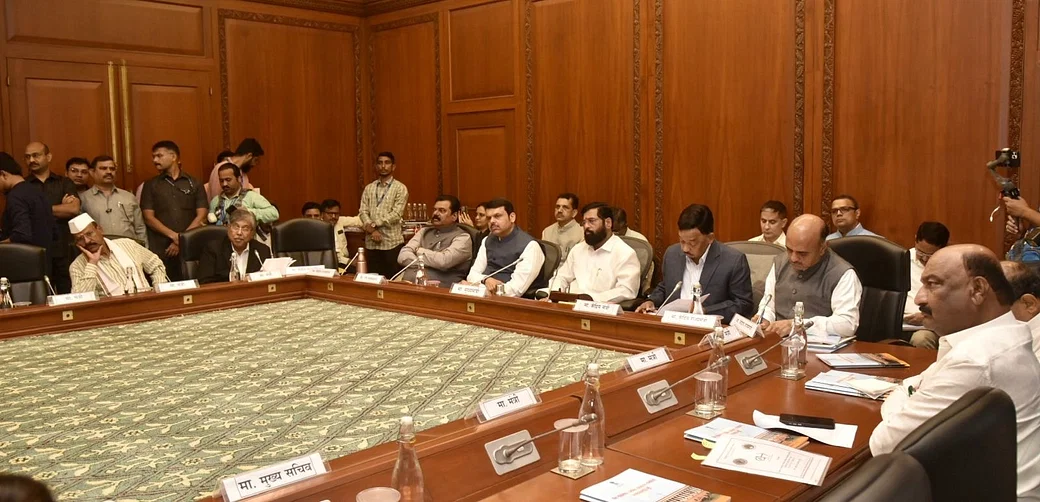 Mumbai: Maharashtra Chief Minister Eknath Shinde on Monday called a special meeting of all the MPs of Maharashtra at Sahyadri guest house in Mumbai for discussions ahead of the Union Budget.
Chief Minister Eknath Shinde, Deputy Chief Minister Devendra Fadnavis, Navneet Rana MP, Dhananjay Mahadik BJP MP, Imtiaz Jaleel MP MIM, Narayan Rane MP BJP, Poonam Mahajan MP BJP, Amol Kole MP NCP were all present in the meeting at Sahyadri guest house in Mumbai.
Sena [UBT], Congress MPs amiss from the do
Meanwhile, the Sena MPs from the Uddhav Thackeray faction, as well as those of the Congress skipped the Union Budget discussion called for by CM Eknath Shinde.
Discussion on development needed in Maharashtra
Discussions at the meeting centered on the kind of development that is needed more in Maharashtra, and the type of development projects that need to be implemented, and the kind of schemes that are lacking presently.
The MPs put forward their suggestions and opinions on various issues, ranging from a flyover bridge or a dam to be built on a river to a medical college or other such things.
Missing MPs not concerned about Maharastra, BJP leader
BJP MP Dhananjaya Mahadik said, "The Uddhav Thackeray group and Congress MPs did not come to the meeting as they are not concerned about the state." Mahadik said all the MPs were allowed to raise issues pertaining to their respective constituencies at the meeting.
Despite being a part of the Opposition MVA, NCP MP Amol Kolhe attended the meeting. He said, "I opposed my party's decision and attended the meeting so that I can put forward my views on the Budget for my region." A total of 64 development issues of the state were discussed at the meeting.