'Adipurush' teaser out; most precious film, says Prabhas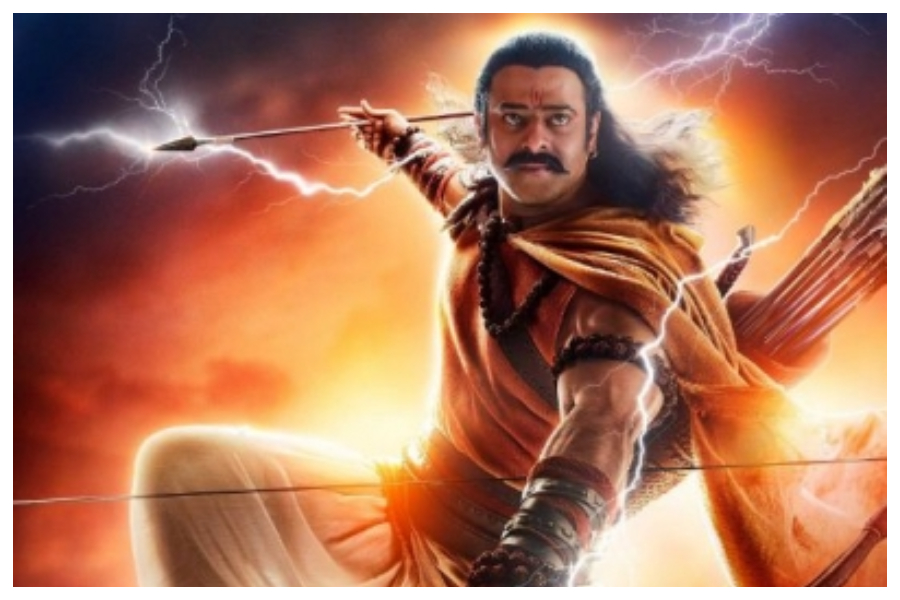 "Adipurush", one of the most anticipated Indian films of 2023, whose first teaser was released here on Sunday, unites the talents of Prabhas (of the "Baahubali" franchise) and Om Raut, who directed the Ajay Devgn-starrer "Tanhaji: The Unsung Warrior", the biggest Indian box office hit of 2020, reports 'Variety'.
"Adipurush" is Raut's take on the 'Ramayana' by Valmiki. The film is set 7,000 years ago and in the film, Prabhas's character is not called Lord Ram, he is Raghav, which is another name for Ram.
Sita, played by Kriti Sanon, is called Janaki (as in King Janaka's daughter), while Saif Ali Khan's Ravana is Lankesh (lord of Lanka), which are also derivatives of their 'Ramayana' names, notes 'Variety'.
Adipurush literally means 'first man', but here the interpretation is that of 'best man'.
Post "Tanhaji", Raut could have called any Indian A-lister for his next film but he chose Prabhas. "I always had Prabhas in my mind when I was writing Raghav's character — it became so compelling for me," Raut said in a conversation with 'Variety'. "If it was not him, I would have not made the film."
Raut made it to Hyderabad from Mumbai in the middle of India's first Covid-19 lockdown to discuss the film with Prabhas in person. The actor describes the meeting as a "super exciting day".
"After three days, I got a little stressed because I thought it's the most precious film for the country — can I do it?" Prabhas told 'Variety'. "Om said not to worry and so it was a beautiful thing that happened. I think it's the most prestigious film in my life."
Prabhas says he signed on because of Raut's intriguing screenplay and how it integrates the history and culture of India. "The way he designed the film was amazing, huge. And I think he made it very well," Prabhas said.
SRK's Mumbai bungalow Mannat gets a diamond-studded nameplate
Superstar Shah Rukh Khan, who is known as the king of Bollywood, has added more jewels to his crown – quite literally. His bungalow, Mannat is one of the iconic places in Mumbai, and now he has cranked it up a notch by getting a diamond studded nameplate for his residence.
Several fan clubs of the 'Chak De! India' star recently shared the pictures of the nameplate on their social media as they swarmed to the King's castle to take a glimpse of the shimmery nameplate, which surfaced roughly two months after the previous nameplate.
In the pictures, two diamond nameplates could be seen with Mannat written on the left side and Landsend written on the right. Previously, it was a blackboard with Mannat Landsend embossed on it.
Landsend because the sea-facing bungalow is situated in the land's end part of Bandstand in Bandra.
SRK often greets his fans from his balcony as he did recently on his birthday on November 2. Fans now have all the more reason to put the camera shutter sound in action with the installation of the new nameplate.
On the work front, SRK has three big-ticket releases in the pipeline first of which is 'Pathaan' from the YRF spy universe. The film will mark SRK's return to the silver screen after a hiatus of 4 years. Additionally, he also has Rajkumar Hirani's 'Dunki' in which he will share the screen with Taapsee Pannu and south director Atlee's 'Jawan'.
Alia Bhatt, Ranbir Kapoor bring home their baby girl
Bollywood star couple Alia Bhatt and Ranbir Kapoor were seen bringing home their baby girl on Thursday.
The new proud parents reached their home Vastu on Thursday morning. Alia was glowing in an all black outfit while Ranbir was seen sitting in the car cradling their bundle of joy as they travelled from Sir HN Reliance Hospital to their home.
Alia, who delivered her first baby on November 6, had announced the birth of her first child in a joint note by her and Ranbir on Instagram.
It read: "And in the best news of our lives: Our baby is here.. and what a magical girl she is. We are officially bursting with love – blessed and obsessed PARENTS!!!!! love, love, love. Alia and Ranbir."
The couple, who started dating in 2018 on the sets of 'Brahmastra Part One: Shiva', got married earlier this year in April.
Khan Squared: SRK to appear in Salman Khan's 'Tiger 3' as Pathaan
The daredevilry of 'Pathaan' is going to spill into 'Tiger 3'. That Salman Khan will appear in 'Pathaan' in his Tiger avatar had been confirmed some time back, but now comes the news that Shah Rukh Khan will show up in 'Tiger 3' to enact a thrilling sequence.
'Pathaan' as well as the 'Tiger' and 'War' franchises ('War' being the superhit film where Hrithik Roshan plays RAW agent Major Kabir Dhaliwal) are three important pieces of the spy universe unspooled by Yash Raj Films.
"Shah Rukh Khan will shoot for 'Tiger 3' immediately after the release of 'Pathaan', thus confirming his presence in the Tiger franchise. In Aditya Chopra's spy universe, the paths of SRK, Salman and Hrithik will constantly cross to build up the grand finale of the spy universe," a well-placed source reveals.
SRK's shoot schedule for 'Tiger 3' is being planned immediately after January 25, 2023.
The source added: "This will be a massively mounted action sequence where Pathaan and Tiger come together for a very crucial scene. This will also be a huge cinematic moment for audiences to love."
"The spy universe is turning out to be deliciously thrilling because it brings the biggest superstars together in a riveting, edge of the seat sequences that are important for the plot to move forward. Now, all eyes are on when Hrithik Roshan will enter the spy universe."