Adani Group hits back with detailed responses to Hindenburg's unsubstantiated accusations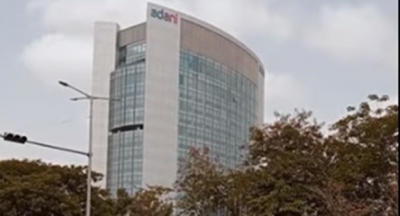 On Sunday, Adani Group responded to unsubstantiated allegations and misleading narrative peddled by Hindenburg Research at length in an over 400-page response backed by relevant documents.
Adani Group's response also raises the questions against the ulterior motives and modus operandi of Hindenburg that has conveniently ignored the Indian judiciary and regulatory framework.
The detailed response from Adani Group covered its governance standards, credentials, creditworthiness, best practices, transparent conduct, financial and operational performance and excellence.
The Hindenburg report has been made with a clear intent to profiteer at the cost of our shareholders and public investors. Its report is neither "independent" nor "objective". It is a manipulative document that is rife with conflict of interest and intended only for creating a false market in securities to book wrongful gain, which clearly constitutes securities fraud under Indian law.
Of the 88 questions posed by Hindenburg, it is pertinent to note that 68 refers to the matters that have already been duly disclosed by Adani Group companies in their respective annual reports, offering memorandums, financial statements and stock exchange disclosures from time to time. Sixteen out of 20 questions are pertaining to public shareholders and their sources of funds, while the balance four are simply baseless allegations.
Needless to say that Hindenburg has created these questions to divert the attention of its target audience while managing its short trades to benefit at the cost of investors. The report claims to have undertaken a "2-year investigation" and "uncover evidence", but comprises nothing other than selective and incomplete extracts of disclosed information which has been in the public domain for years.
"We take serious objection to Hindenburg that chose to mislead the investors, watchdogs and policy makers at a time when Adani Group has launched country's largest FPO. Adani Group is deeply committed to its stakeholders, and it is thankful to them for standing with us over the past 30 years. Shockingly, Hindenburg Research's attack on the trust of Adani Group's stakeholders undermines its commitment for the 'Growth with Goodness'," Adani Group said.
Hindenburg Research has come up with a document covering selective and twisted extracts of already disclosed information to raise questions in the minds of Indian and global investors to mislead them about Indian growth story. It is an attack on the trust of Adani Group's stakeholders undermines its commitment for the 'Growth with Goodness'.
Adani Portfolio companies have successfully and repeatedly executed an industry beating expansion plan over the past decade. While doing so, the companies have consistently de-levered with portfolio net debt to EBITDA ratio coming down from 7.6x to 3.2x, EBITDA has grown 22 per cent CAGR in the last 9 years and debt has only grown by 11 per cent CAGR during the same period.
Equity Injection in the Adani Portfolio Adani Portfolio has raised $16 billion equity under a systematic capital management plan for all the Portfolio companies over the last 3 years as a combination of primary, secondary and committed equity from marquee investors like TotalEnergies, IHC, QIA, Warburg Pincus etc.
The portfolio has developed deep bank relationships with institutions such as JP Morgan, Bank of America Merrill Lynch, Citi, CreditSuisse, UBS, BNP Paribas, Deutsche Bank, Barclays, Standard Chartered, MUFG, DBS and Emirates NBD among others. This has strengthened access to diverse funding sources and structures.
Adani Portfolio companies have demonstrated successful syndication of the banking transactions, resulting in de-risking of the banks in volatile markets. Case in point being Holcim's Indian cement business acquisition with international banks, and Navi Mumbai Airport and Kutch Copper refinery with domestic banks Adani Group companies also have a very strong audit process in order to prevent any deviations from the regulatory obligations and highest legal standards.
The Audit Committee of each of the listed verticals is composed of 100 per cent of Independent Directors and chaired by Independent Director.
The Statutory Auditors are appointed only upon recommendation by the Audit Committee to the Board of Directors. Adani Portfolio company's follow a stated policy of having global big 6 or regional leaders as Statutory Auditors.
Hindenburg has deliberately and repeatedly trivialised the change of CFOs to twist this into a narrative.
The fact is that many of the CFOs are still part of the organisation in other capacities to take on larger responsibilities as part of our growth stories.
Others have left post retirement or to pursue their own entrepreneurial endeavours and continue to work in our association.
None of the resignations have ever been made pursuant to any alleged concerns and Hindenburg's baseless narrative.
Maharashtra: IPS IGP, Krishna Prakash, creates Guinness record swims from Gateway of India to Elephanta Caves
Maharashtra's senior IPS IGP, Krishna Prakash, has added another feather to his cap with another achievement of swimming against the tide literally to complete the daunting task of swimming from the Gateway of India to Elephanta Caves in the Arabian Sea.
Contrary to the popular swimming route from Elephanta Caves to the Gateway of India, in which competitive swimmers ride the waves of the high tides towards the gateway, Ironman Krishna Prakash took the challenge to swim against the waves and complete a distance of 16.20 km in 5 hours, 26 minutes from the Gateway of India to Elephatnat to beat the early Monday morning blues.
Drowning Prevention Awareness
Krishna Prakash, currently posted as IGP VIP Security, dedicated the expedition to 'Drowning Prevention Awareness'. Trust and hopes to inspire young Indians to try their best to bag an Olympic medal in 10-kilometer open water swimming.
The event was organized by the National Institute of Swimming and recognized by the World Open Water Swimming Association is certified by the Swimming Association of Maharashtra, which is affiliated with the Maharashtra Olympic Association. Jayaprakash Duble, President, JD Sports Foundation, and Jayant Duble, an internationally renowned swimmer, supervised the swim, with flag off by Olympian Suraj Karkera, and Olympian Dhananjay Mahadik presided over the felicitation ceremony after the end of the swim.
After completing his swim, Krishna Prakash gave a powerful message to the youths – "Build Strong Health, Build Strong Nation" with emphasize on the important role of health and fitness in building a prosperous and vibrant nation.
The senior IPS officer displayed remarkable physical and mental strength to prove that anything is possible with dedication and persistent efforts. "It is a testimony to his commitment to promote the importance of fitness and health, not only for the youth and sports enthusiasts, but for the entire nation, said Olympian Dhananjay Mahadik, praising Krishna Prakash for discipline and dedication
Guinness World Book of Records
The 1998 batch IPS, which already holds the Guinness World Book of Records, became the first Indian Government Servant, Civil Servant and Uniformed Services Officer, including Armed Forces and Para Military Forces, to earn the Iron Man title for completing the Ironman Triathlon in 2017. Prakash had finished Ironman Triathlon, one of the most competitive and difficult sporting events in the world, in 2017. Participants are required to complete a 3.8-kilometre swim, a 180.2 kilometre-long bicycle ride, and a 42.2-kilometre run within a set time frame of 16 to 17 hours as part of the triathlon.
Krishna Prakash, a health and sports fitness enthusiast, has served in many capacities, including as Pimpri Chinchwad Police Commissioner and Additional Police Commissioner, Mumbai Police South Region.
He is passionate about tribal welfare and deeply involved in the rehabilitation of the nomadic Phase Pardhis tribal community, denotified by the British rulers as brutal and ruthless dacoits, to dissuade them from illegal and criminal activities.
.
Jammu and Kashmir: World's highest railway bridge, taller than Eiffel Tower, to open soon
Taller than the Eiffel Tower in Paris, Jammu and Kashmir will soon get a 1.315-km long bridge built at a dizzying height of 359 metres. The first track mounted vehicle (trolley) run was successfully conducted on Sunday in the presence of Ashwini Vaishanaw, minister of railways
Worlds highest railway bridge over Chenab river in Jammu, almost ready, Track linking activity over the Chenab Bridge has been completed.
Some track and overhead wire-related works remain, which will be likely to complete by end of this year. The bridge is part of Udhampur – Srinagar – Baramulla Rail Link Project (USBRL). Railway minister also travelled on the track mounted trally with railway officials and inspected the iconic bridge  having the height of 359 meters from the bed of river Chenab.
Foundation of hte bridge equal to half of a football field
Vaishnaw said that the decision has been taken to set up Vande Bharat Express train maintenance facility at Badgam in Kashmir Vally and in the first go Vande Bharat Metro will be run between Jammu-Shringar cities once this important railway link, which will connect Kashmir Vally with railway network, in the rest of the country will be completed
Vaishnaw said that the iconic bridge having foundation equal to half of the football field is a "subject of pride" and it was "difficult challenge of engineering", while over 28,000 metric tons of steal used for the bridge structure that is built in highly active seismic zone.
Construction of the bridge started in 2005
According to Northern railway officials, the arch bridge was constructed at a cost of ₹1,486 crores. Construction work of the bridge was started in 2005. Its consumes over 13 million man work hours till the date.
The deck height of the bridge is 359 meters, while the length of it is 1.315 km. The arch bridge has 17 spans and the linear length of main arch span is 460 meters and curvilinear, they said. The codal life of the bridge is 120 years and the bridge can withstand the wind speed of 266 kmph, but the train can cross the bridge at the speed of 100 kmph.
Overarch of the deck completd with golden joint in August 2022
Prior to the construction of the Bridge, 260 meter approach roads and 400 meters long tunnel was built to reach the site. Cable crane was commissioned in 31st August 2013 for erection of steel arch, trestle and piers. Incremental launching over 2.74 degree circular and transition curve of 268 meter length was successfully done for the first time in Indian Railways in November 2017.
The overarch deck of the bridge was completed with a 'Golden Joint' in August last year, marking the bridge's major achievemnet and further making way for the laying of the track. The construction of this highest railway bridge of the world was one of the biggest civil-engineering challenge faced by any railway project in India in the recent past.
TN Congress MLAs arrive in Assembly wearing black shirts
Congress MLAs arrived at the Tamil Nadu Assembly on Monday wearing black shirts to protest senior leader Rahul Gandhi's disqualification from the Lok Sabha.
Leader of the Tamil Nadu Congress Legislative Party, K. Selvaperunthugai led the MLAs and held placards outside the House.
Assembly Speaker M. Appavu denied permission to the legislators to carry their placards inside the House.
The Congress has 18 legislators in the Tamil Nadu Assembly and of these, 11 reached the house wearing black clothes.
The newly-elected Erode East MLA E.V.K.S. Elangovan is absent from the House after being hospitalised for Covid-19.
Selvaperunthugai told that the legislators would conduct an all-night protest dharna against the disqualification of Rahul Gandhi.
However, Appavu has denied permission for the dharna within the Assembly premises and that the legislators will now conduct the sit-in protest outside the Assembly.