89% Indians wish to switch to 5G, most to change service provider to do so
As India gears up to usher in the 5G era, 89 per cent of consumers wish to upgrade to 5G network in India while 48 per cent would upgrade to 5G even if it calls for switching service providers, a new report showed on Monday.
5G adoption would boost video content streaming, gaming, and social messaging on smartphones.
According to the report by network intelligence and connectivity insights provider Ookla, 20 per cent of the Indian respondents would wait for their service providers to upgrade to the 5G network.
While 14 per cent of respondents intend to avail the services after upgrading to a 5G enabled handset, 7 per cent would wait for their current contract period to end.
Those that aren't sure about the new technology will likely wait to see how attractive it is once others start using it.
Only 2 per cent stated that they don't intend to upgrade to 5G.
"While mobile users in India are among the most data-intensive users in the world, India's 4G/LTE networks have become a bottleneck for demand," said Sylwia Kechiche, principal analyst, enterprise at Ookla.
"Now, that operators have acquired 5G spectrum, they start their race to become the first operators to go to market with 5G, with some already hinting that 5G deployments will begin in the next few months," Kechiche added.
The findings showed that if mobile Internet connections were better, 70 per cent of respondents would increase their use of video streaming, while 68 per cent stated they would boost their mobile gaming.
Operators acquired a total of 44,960 MHz of spectrum in the 26 GHz spectrum band (mmWave), which due to its high throughput, is particularly useful for streaming and gaming.
Nearly 42 per cent of respondents believe that faster speeds would most improve service currently being provided to them.
The good news is that the operators' spectrum holdings in the C-band will help them do just that, said the report.
Both Airtel and Jio splurged on C-band spectrum at auction, acquiring spectrum in all of the 22 telecom circles, while Vodafone acquired spectrum only in its priority circles.
In addition to faster speed, 24 per cent of respondents desire a more reliable connection, while 21 per cent want better indoor coverage.
Following the spectrum auction, Bharti Airtel has already contracted Ericsson, Nokia, and Samsung to deploy 5G services in August.
"Indian operators' move to embrace Open RAN will drive network costs even lower. Another key factor is the 5G device ecosystem, with 5G smartphone prices falling since the technology launched," the report mentioned.
Indian operators are already voicing their plans regarding network rollout, with Reliance Jio targeting a pan-Indian rollout coinciding with the "Azadi ka Amrit Mahotsav" on Independence Day, while Airtel plans to start 5G services in key cities across the country.
The report also revealed that the key reason for not upgrading to 5G is the perceived cost of the 5G tariff.
Just over a quarter of those who don't plan to upgrade said that they think the 5G tariff cost would be too expensive, followed by 24 per cent stating lack of 5G knowledge as an issue, and 23 per cent not having a 5G capable phone, said the Ookla report.
CII lauds launch of 5G technology
The new 5G technology will help India achieve the next phase of digital transformation, president of industry body CII, Sanjiv Bajaj said.
In a statement issued by CII, Bajaj said: "The nation is relying heavily on 5G to be a game-changer in enabling new use cases and improving efficiency across every industry. With this launch (of 5G), we are moving towards an inclusive digital transformation ensuring that digital technologies are universally available, accessible, and adoptable, enabling meaningful and safe use of the Internet and digital services for all."
5G technology in India was launched last week during the the sixth edition of India Mobile Congress (IMC) by Prime Minister Narendra Modi.
Airtel, Reliance Jio and Vodafone Idea – the three major telecom operators of the country had demonstrated the use of 5G technology to him during the event.
Government of India approve an 26000 crores for installation of 5G network tower in 500 days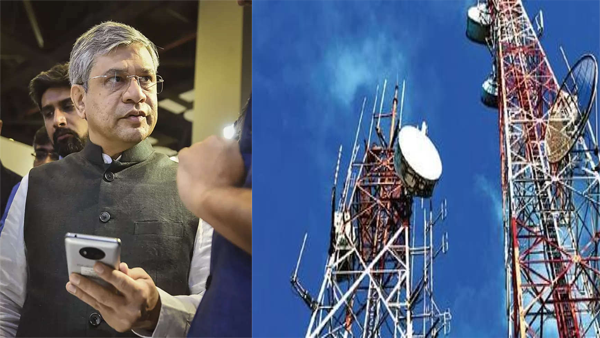 The government has approved Rs 26,000 crore to install 25,000 mobile towers over the next 500 days, Communications Minister Ashwini Vaishnaw said at the Digital India Conference of State IT Ministers at the India Mobile Congress. Through this, the government aims to provide last-mile internet connectivity to the far flung areas.
The project will be implemented by state-owned Bharat Broadband Network Ltd, which was recently merged into the Bharat Sanchar Nigam Ltd. The cost of the project will be born out of the Universal Service Obligation Fund (USOF), which has a balance of Rs 59,736 crore as of August end. USOF is a fund set up by the government to provide internet connectivity to rural and far flung areas.
The state-run telecom operator is expected to launch its 4G services in November now and then target to cover pan-India with 4G in next 18 months. Simultaneously, the company is also targeting to launch 5G services by August 2023, as recently announced by telecom minister Ashwini Vaishnaw.
Recently, the government also approved a Rs 1.64 trillion revival package from BSNL. The revival package will help BSNL to fasten rollout of its 4G network, de-stress its balance sheet, and improve network services, among other things.
"The current approval to install 25,000 towers is in addition to the BSNL revival package and the expenses will be covered through USOF," the official said.
The telecom operators, however, may not be in favour of the government giving BSNL additional incentives above the revival package.
"If this 25,000 is over and above the BSNL bailout package announced recently then it is more harming as it is against the level playing field," an executive from a telecom company said, adding that BSNL has been given USOF related rollout without going for the tendering process.
"Denying the telecom service providers to bid is against the spirit of USOF as bidding would have resulted in best price to government and lower the government's cost overall," the telecom company executive said.
Currently, telecom operators pay 8% of their adjusted gross revenue as license fee. Of this 5% goes into the universal service obligation fund (USOF) and balance 3% to the exchequer.
As of August 31, about 47% of USOF is unutilised, and telecom operators want the government to either reduce or remove this levy till the funds are fully utilised.
Airtel showcases 5G ambulance, smart agri 5G solutions to PM Modi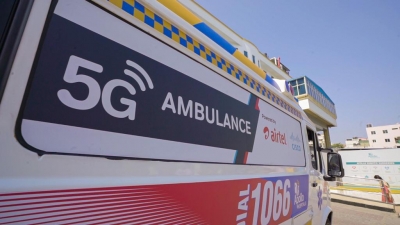 Bharti Airtel on Saturday showcased a 5G-connected ambulance to transform primary health care in emergency situations, along with smart farming solutions to Prime Minister Narendra Modi at the 5G official launch in the country.
The 5G ambulance, that can be built for around Rs 7-7.5 lakh, brings a hospital's emergency care to the patient.
Airtel, Apollo Hospitals and Cisco have joined hands to build the 5G-connected ambulance.
The state-of-the-art 5G ambulance is equipped with the latest medical equipment, patient monitoring applications, and telemetry devices that transmit the patient health data to the hospital in real-time.
In addition, it is also equipped with onboard cameras, camera-based Headgear, and 'Bodyc Cams' for paramedic staff — all connected to the ultra-fast and low latency Airtel 5G network.
It will be further enabled with technologies like AR/VR, said the company.
"Healthcare is one of the most promising use cases for 5G, and we are delighted to deepen our partnerships with Apollo Hospitals and Cisco to bring some innovative use cases for the Indian market," said Ajay Chitkara, Director & CEO, Airtel Business, Bharti Airtel.
With real-time camera feed available, the paramedics in an ambulance can use the cameras to collaborate with the ER doctors at the hospital who are equipped with technologies like AV/VR to undertake basic procedures, if necessary.
The doctors can virtually guide the paramedic to carry out the procedure and save precious lives.
The Airtel's 'Ambupod' technology provides health testing, immunisation and the doctor's connectivity in difficult-to-reach areas.
"Doctors can do a virtual examination of the patient through a video call and view their reports. Medical services can be provided to many villages at the same time," according to the telecom provider.
The company also showcased smart farming solutions to Modi during his visit to the Airtel pavilion.
Airtel, along with its partners L&T and CDAC, has made an effort to make the agriculture sector more productive with the help of 5G technology.
"If every farmer in the country gets the necessary information like soil moisture, atmospheric moisture and temperature information in advance to improve the productivity of agriculture, then he can make a better decision," the company said.
Camera-based analytics can suggest to the farmer according to the colour and nature of the crop, at what time and how much pesticide to use.