We now only have a few real fast bowlers around the world: Shoaib Akhtar
Former Pakistan speedster Shoaib Akhtar feels pacers of today do not bowl fast anymore as the laws of the game and the rigours of it don't provide that space.
Shoaib was the first bowler to break the 100mph mark. He retired in 2011 having taken 444 international wickets across the three formats.
"Ten years ago, bowlers would bowl 155kph (96.3mph) and now they're all of a sudden bowling 135km/h (83.9mph). We now only have a few real fast bowlers around the world. Back in the day, South Africa alone had six.
"The cricket laws don't allow you to bowl fast now: two new balls, too much restriction, too much cricket, too many Twenty20 leagues, too much money, too many TV rights," Shoaib told BBC's TMS commentator Isa Guha and Aatif Nawaz on the BBC's Doosra podcast.
"Players are now getting smarter and more focused on money; they want to save their careers and legs and play for 10 years — whereas I would fight for that specific series only, I fought for the day.
"The laws were more relaxed back then. When they banned us from bowling more than two bouncers I was gutted. I was like: "How do you trap the batsman? Where is the bodyline bowling?
"Please allow me to hit the guy and let him hit me back. This is what you want to see in international cricket. I'm sick of seeing this lame, prim and proper cricket," said the 'Rawalpindi Express' who made history by becoming the first bowler to officially bowl at 100mph during the 2003 World Cup.
"Breaking the 100mph barrier wasn't a big deal to me. It was just media hype, an international cricket gimmick. I wasn't getting paid for this — to break my bones trying to bowl that fast," said Shoaib.
"I just thought: "For heaven's sake, I need to finish this and just do it." So I planned it all out, I started training for it.
"I ran with 170kg weights on my back, taking 20kg off after every 100 metre sprint. I also used to bowl from 26 yards with something much heavier than a cricket ball. When I came back to the 22 yards, I was about 6km/h (3.7mph) quicker.
"I planned to bowl it against Nick Knight. I said to him: "I'm going to hurt you, so make sure you stay out of the way.' I told him I'd bowl 100mph in that over, on that exact ball," he added, throwing light to his preparation.
The Ashes, 5th Test: Australia 37-3 at stumps on Day 2, lead England by 152 runs
Australia were 37-3 in their second innings at stumps, leading England by 152 runs on the second day of the fifth and final Ashes Test, here on Saturday.

Steven Smith (17 not out) and night watchman Scott Boland (3 not out) were at the crease when play ended on Day 2 of the day-night Test.

After bowling out England for 188 in their first innings, Australia lost the wickets of David Warner (0), Usman Khawaja (11), Marnus Labuschagne (5) in the third session.

Earlier, resuming the day at 241/6, Australia added 62 more in the morning session, getting bowled out for 303 in their first innings.

Brief scores: Australia 303 & 37-3 in 19 overs (Steven Smith 17 not out, Usman Khawaja 11; Mark Wood 1/9) vs England 188 (Chris Woakes 36, Joe Root 34; Pat Cummins 4/54, Mitchell Starc 3/53) lead by 152 runs.


Virat Kohli steps down as Test captain of India, day after losing series against South Africa
A day after India lost the series 1-2 to South Africa with a seven-wicket defeat at Cape Town, Virat Kohli has stepped down as the Test captain.

Kohli, who first captained India at the Adelaide Test in 2014 against Australia, was appointed to the full-time role after MS Dhoni announced his retirement from the format ahead of the fourth Test at Sydney in January 2015. It also means that the Cape Town Test was the last match of Kohli as India captain.

"It's been 7 years of hard work, toil and relentless perseverance everyday to take the team in the right direction. I've done the job with absolute honesty and left nothing out there. Everything has to come to a halt at some stage and for me as Test Captain of India, it's now. There have been many ups and also some downs along the journey, but never has there been a lack of effort or lack of belief," said Kohli in his statement posted on his social media accounts on Saturday.

Kohli stepped down from Test captaincy as the most successful skipper in the longest format of the game for India and fourth overall. Under his time as the captain, India played 68 Tests, winning 40, losing 17 and drawing 11 matches, having a win percentage of 58.82 while registering memorable wins in overseas and home conditions.

"I have always believed in giving my 120 percent in everything I do, and if I can't do that, I know it's not the right thing to do. I have absolute clarity in my heart and I cannot be dishonest to my team. I want to thank the BCCI for giving me the opportunity to lead my country for such a long period of time and more importantly to all the teammates who bought into the vision I had for the team from day one and never gave up in any situation. You guys have made this journey so memorable and beautiful," added Kohli.

The most notable victories from the time under Kohli will be the 2018/19 Border-Gavaskar Trophy win, where India won a Test series in Australia for the first time and leading 2-1 in England in the 2021 series apart from reaching the World Test Championship (WTC) final at Southampton in the same year. He also took the Indian team to the number one ranking in Tests apart from overseeing the development of the pace-attack reaching a world-class level and fitness being given prime importance.

"To Ravi Bhai and the support group who were the engine behind this vehicle that moved us upwards in Test Cricket consistently, you all have played a massive role in bringing this vision to life. Lastly, a big thank you to MS Dhoni who believed in me as a Captain and found me to be an able individual who could take Indian Cricket forward," concluded the 33-year-old Kohli.

In September 2021, Kohli had announced that he would be leaving the T20I captaincy after the Men's T20 World Cup in the UAE. He had also stepped down as the captain of IPL side Royal Challengers Bangalore (RCB) after the completion of the second half of the tournament in the UAE. Two months later, in December, Kohli was replaced by Rohit Sharma as the ODI captain.

It will be interesting to see who becomes the next Test captain of India. The team's next Test assignment will be against Sri Lanka in a two-match series at home in February-March.


SA batters taking responsibility meant they valued their wicket: Elgar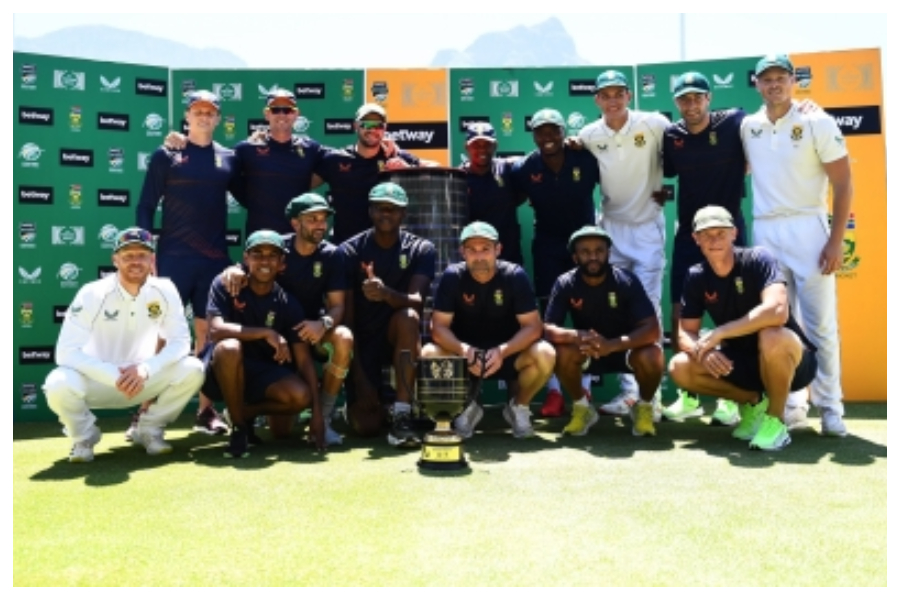 South Africa batters taking responsibility ahead of the second match at the Wanderers meant valuing their wicket a lot more, reckons captain Dean Elgar.
After the first Test at SuperSport Park in Centurion, where South Africa couldn't cross 200 in both innings and lost by 113 runs, the hosts came back strongly to chase 240 and 212 twice to win the three-match series against India 2-1. It was also the fifth time South Africa won a series after being 1-0 behind.
"It's the guys taking the responsibility, that ties into the conversations I had with the team prior to the second game. Guys taking responsibility meant they valued their wicket a lot more. Soft dismissals and lapse of concentration are kinds of errors which hinder your series and ultimately got us loss in the first game. I am very, very happy that the guys responded well and responded to what's being given to them and have to fulfil those roles, especially from a batting point of view," said Elgar in the virtual press conference.
"It just shows the characters within out set-up and are willing to learn still. They don't play with ego, which is a great thing for me. Being able to speak to them openly knowing that they will take on board and it will be constructive chats. Ultimately, it's them taking a lot more responsibility, respecting their batting positions and valuing their wicket lot more," added Elgar.
It was also the fifth time South Africa won a series after being 1-0 behind. Talking about the highs and lows in the series for the hosts, Elgar remarked, "I think there were so many lows with regards to the first game. Losing the first game of a home Test series is never ideal. I think it's a South African trait that you always start slow and almost have to be 1-0 down to actually wake up and realise that our backs are against the wall.
"Lows will be the few little disciplined things on-field that we needed to rectify. Giving extras was something that was a massive concern for me. Luckily, that didn't bite us on the back side. I think I will take a few days to actually sit down and break everything up to reflect and try to be better in those areas."
But it was the bounce-back ability of South Africa which delighted Elgar.
"The guys responded beautifully to that. Highs are obviously the performances of Keegan (Petersen), Marco Jansen, KG (Kagiso Rabada), Lungi (Ngidi) at times brought his part as well. Guys like Temba showed a great lot of qualities with regards to batting, composure, calm and gave you a peace of mind knowing that he is at the crease and things are under control and will be okay."
Amongst the gains for the Proteas was the emergence of Jansen, who picked 19 wickets in his debut Test series at an average of 16.47. Jansen, brought in for an injured Anrich Nortje, was impressive in taking the wickets of the Indian batters on a consistent rate after his figures of 1/69 in the first innings at Centurion.
Elgar was understandably happy with the all-rounder's show in the series.
"He was always a bit of a doubtful selection with regards to if he will play in the final eleven. With the attributes he has, the strengths, his tall height and can bowl at 135 and a lot quicker than how old he is, which is huge strength for him. His bounce, presence and intimidation he has without saying a word, is a massive strength."
The 34-year-old Elgar signed off by predicting Jansen to be a big asset for South Africa in future.
"I see him going in only one direction and that is up. Hopefully, he understands and respects what he has achieved throughout this Test series because his career has come along in a massive nature. He was brilliant for us, first Test series against India can be daunting for a guy. He tends to operate in a little bit more of mature manner.
"He's only 21 years old but the way he conducts himself on the field, speaks and communicates with me is one of someone who's played quite a few Tests and has been around for quite a few years, which is another great attribute to have as a young player. He is also a great team man and always ready to have a laugh with the guys. I don't think he takes himself seriously, which is a tick in the right box and would like to think that he has a bright future for South Africa."