Virat Kohli criticised for sending Sundar, Dube ahead of AB de Villiers against KXIP
Royal Challengers Bangalore (RCB) captain Virat Kohli's decision to send AB de Villiers in at No. 6 against Kings XI Punjab (KXIP) was slammed by former cricketers as the Bengaluru-based franchise lost their IPL 2020 match by eight wickets on Thursday.
de Villiers, who batted at No. 4 against Kolkata Knight Riders and smashed 73 off 33 in his 100-run stand with Kohli in their last game, was surprisingly demoted while Washington Sundar and Shivam Dube were sent ahead of him.
Both Sundar and Dube did nothing spectacular as RCB managed to get to 171/6 in 20 overs, thanks only to Chris Morris's late-order hitting.
At the innings break, former England batsman and Kohli's former RCB teammate Kevin Pietersen questioned the decision.
The decision may have been made due to AB's recent weakness against spin bowling, away turning ones in particular. Most of his dismissals in T20 cricket have come against this kind of bowling, delivered by leg-spinners and left-arm orthodox.
Whatever be the reason, it didn't go down well with Pietersen who thought being an experienced batsman, the former Proteas captain should have been sent up.
"AB de Villiers has been playing cricket for 15 years. He has faced all kinds of bowlers. Your best batsman should be facing the maximum deliveries. If he had faced the 24-25 balls that those two batsmen (Dube and Sundar) had faced, the ball he got out to would've gone out of the ground," Pietersen said during the innings break.
Sundar, who batted at No. 4, made 13 off 14 whereas Dube, who came in at No. 5, made 23 off 19 deliveries.
de Villiers could come in only in the 17th over and ended up with two off five balls as pressure to up the tempo on arrival mounted.
Former India captain Sunil Gavaskar said during commentary, "He (Dube) has scored eight off 10 balls. He has taken away two overs of AB de Villiers's mayhem."
"It was a bizarre decision to hold back de Villiers and send Sundar and Dube ahead of him," said former Indian cricketer Aakash Chopra in a video on his YouTube channel.
Kohli conceded after the match that the decision did not come off.
"We had a chat, it (AB batting at no. 6) was a message about the left-hand, right-hand combination. Sometimes these decisions you take, don't come off. But I think 170 was a decent score," Kohli said.
The RCB captain said that he wanted Sundar and Dube to go after the bowling attack with big shots. "That's the idea, get your eye in and start hitting. But we were not able to put them under pressure," the 31-year-old added.
RCB have so far won five games of the eight matches in the ongoing tournament and will next take on Rajasthan Royals in Dubai on Saturday.
Eighth season of Pro Kabaddi League to begin from December 22 in Bengaluru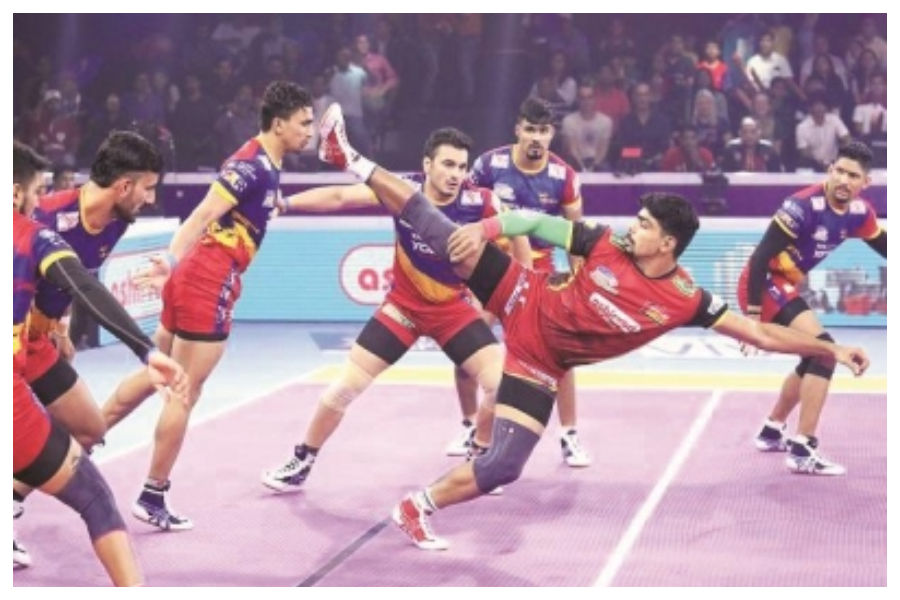 The organisers of the Pro Kabaddi League announced on Wednesday that the eighth edition of the league will be held here from December 22. It also said that the entire season will be conducted without the presence of spectators for the matches.
Mashal Sports, the organisers of the league, have scheduled triple headers on the first four days. The season will kick-start with U Mumba facing Bengaluru Bulls. The second match will be the league's 'Southern Derby' as Telugu Titans lock horns with Tamil Thalaivas while UP Yoddha will be squaring off against the defending champions Bengal Warriors in the last match of the opening day.
The triple-headers will be only-Saturday affairs throughout the whole duration of the league, starting at 7:30pm, 8:30pm and 9:30pm respectively. The schedule of the first half of season 8 has come while the organisers say that the second half of the league's schedule will come in mid-January next year.
Keeping the health and safety of players in mind amid COVID times, the organisers have converted the entire venue at Sheraton Grand Bengaluru Whitefield Hotel & Convention Centre into an integrated and secure bio-bubble.
All 12 teams will be staying and playing at the same venue in order to follow and adhering to the safety protocols set by the authorities.
Laxman finally agrees to head NCA: Sources
The Board of Control for Cricket in India (BCCI) has managed to convince former cricketer VVS Laxman to head the National Cricket Academy (NCA) in Bengaluru, sources said.
After Rahul Dravid took over the post of Indian team's head coach, there were reports that Laxman might be appointed as a new head of NCA.
However, later it was said that the former batter "is uninterested". But now he is ready to take the charge after the BCCI officials held a meeting with him in Dubai.
"There were some issues and it has been sorted out. The board wanted him to take the reponsibility and he is the right man to come in place of Dravid," sources said.
It is also learnt that Laxman has also agreed to leave the lucrative commentary career for the NCA.
"Laxman is currently mentor of IPL team Sunrisers Hyderabad, apart from being a commentator and cricket analyst. And he will leave it all for NCA now."
Everyone had written us off; we are here to rectify that: Finch
Australian captain Aaron Finch has conceded that not winning the ICC T20 World Cup title so far has been a sore point with the Kangaroos and the final against New Zealand later on Sunday is the "best opportunity to rectify that".
The closest Australia came to winning the T20 World Cup was during the 2010 edition held in the West Indies, where they lost to England by seven wickets.
"It's one that's eluded us in the past, and the fact that we are here in the final gives us the best opportunity to rectify that. Yeah, I think it will be a great game against New Zealand. They are a great side and they have been in all the finals over the last six years. Looking forward to it," said Finch ahead of the title clash.
Finch added that despite critics writing his team off, the way the players had gone about their business was heartening.
"Everyone had written us off but we had a lot of confidence within. We're really confident the way that we were preparing, the way that our strategy was coming together. Yeah, I think it hasn't defied expectation. I think we came here with a really clear plan to win the tournament, and we still feel as though we've got the squad to do that.
"Well, I think the spirit among the team… and that's been really impressive the way we've gone about our business. Everyone has prepared really well. Everyone has had a really defining match or match-defining performance at some point. The guys are really up and about for the final," said Finch.
Finch added that batting stalwart Steve Smith's form wasn't a concern despite the fact that the former skipper has been unimpressive so far in the tournament, and the team management has drawn flak for persisting with him.
"No, not concerned one bit about his (Smith) form. He's a world-class player and he's someone in big games has showed how valuable he is. He's been hitting the ball as well as I've seen for a long time, so no, no concerns there whatsoever."