Violent protesters not to be eligible for government jobs in Bihar: Police
The Bihar police has said that any person disturbing the law and order situation, holding violent protests, blocking roads and indulging in criminal activities will be strictly dealt with. They will also not be eligible for any government job or contract.
This order comes days after the Bihar government's decree of legal action against people making objectionable remarks against ministers, public representatives and officials on social media, which had led to a massive uproar in the state.
Bihar Director General of Police S.K. Singhal has said in an order that if a person disturbs the law and order situation, blocks roads, indulges in any criminal act and is charged by the police for this act, then there should be a specific and clear mention of such acts in that person's character verification report.
Such people would have to be prepared to face serious consequences as they will not be able to get government jobs or contracts.
Character verification has now been made mandatory for getting government contracts.
This order by the Bihar DGP has led to a major political row in the state. The Opposition Grand Alliance considers it to be a violation of the democratic right of the people to protest against the state government while the ruling JD(U) is terming the decision as a step taken in the interest of maintaining law and order.
Rashtriya Janata Dal (RJD) leader Tejashwi Yadav, while sharing a copy of this order on his official Twitter account, wrote, "Nitish Kumar challenging the likes of Mussolini and Hitler says that if someone exercises their democratic right to protest against the ruling party in power then you won't get a job. This means they won't even give jobs and will also not allow dissent. This shows how afraid is the poor Bihar Chief Minister Nitish Kumar only left with 40 Assembly seats?"
Former Chief Minister and Hindustani Awam Morcha (HAM) Chief Jitan Ram Manjhi retorted to Tejashwi's tweet, saying that it is the democratic right of all to protest and holding agitations. The people spreading anarchy feel uncomfortable if there is talk of taking action against the subversive elements who indulge in vandalism and criminal acts. He said that now the people have to decide whether they believe in democracy or anarchy.
2 held, 6 cops suspended after clash with 'job aspirants' in Prayagraj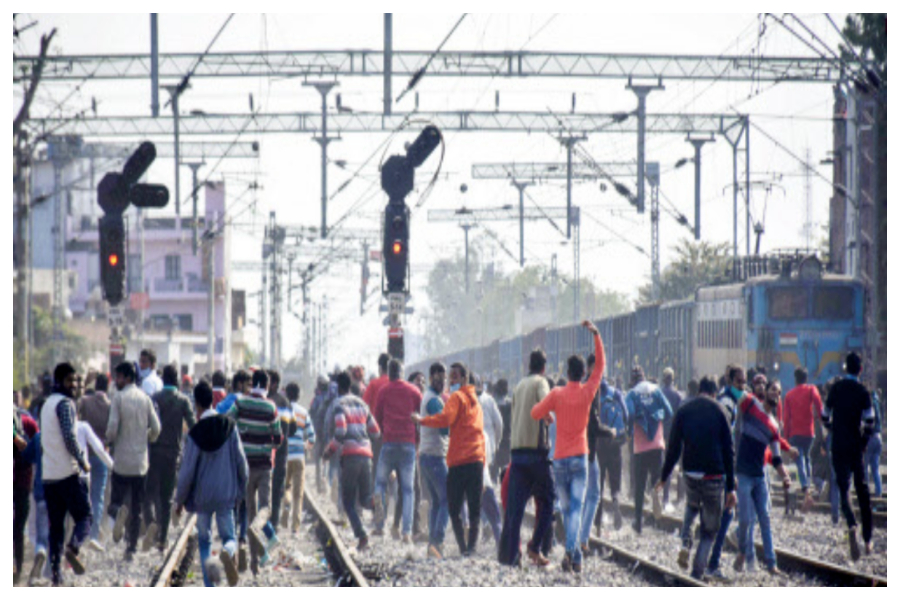 Two persons have been arrested and a case has been lodged against around 1,000 unidentified persons in connection with the alleged rioting and blocking of the rail track at the local railway station by some job aspirants.
Scores of students preparing for competitive exams had made an abortive bid to stop a passenger train. However, alert GRP and RPF personnel foiled their attempt to stop the train.
Six policemen have also been suspended with immediate effect for using unnecessary force during the incident which took place on Tuesday.
A letter petition has been filed in the Allahabad High Court by five lawyers, seeking a judicial probe in the lathi charge on students.
Meanwhile, the search is on for another accused who allegedly made provocative remarks on social media.
A senior police official told reporters that it appears that the accused had taken 'money from some political parties' to create unrest. A police team has been constituted to probe the incident from this angle.
A video of the incident had surfaced on social media, following which Congress general secretary Priyanka Gandhi Vadra had condemned the use of force against job aspirants, who had gathered there in protest against alleged irregularities in a railway recruitment exam.
The two people arrested in connection with the case have been identified as Pradeep Yadav and Mukesh Yadav while the search for another suspect, Rajesh Sachin, is on, the police said.
Rajesh Sachin had made "inflammatory remarks" on social media.
Senior Superintendent of Police (SSP) Ajay Kumar said a video of the incident had surfaced on social media, in which some policemen were seen using unnecessary force.
Those policemen have been identified as sub inspectors Rakesh Bharti, Shailendra Yadav, Kapil Kumar Chahal and constables Mohammad Arif, Achhe Lal and Durvesh Kumar.
They have been suspended with immediate effect and departmental action is being taken against them, he said.
The SSP said there is no quarrel between police and students and those who play with students' future will not be spared.
He said that they have registered a case against 1,000 unidentified people under 13 serious sections.
Meanwhile, a Congress candidate from Prayagraj, Anugrah Narayan Singh, condemned police action against students.
Singh said the unemployed youth are demanding their rights and seeking one's rights is not crime.
Around 1.24 lakh students had applied for railway jobs under Group D since March, 2019. The government suspended recruitment for three years and in such a situation, their anger is justified, the Congress leader said.
A large number of students had gathered on the railway track but were chased down by police. During this, some students allegedly pelted stones on policemen.
Imam held for raping 8-yr-old girl in UP district
An eight-year-old girl was allegedly raped by the Imam of a mosque in Mainpuri district.
After committing the crime, the accused made the victim swear by the Quran that she would not tell anyone about it.
When the girl reached home, profusely bleeding, her family members came to know of the incident and lodged a case with the police.
The police arrested the Imam on Wednesday night and sent the girl for treatment and medical examination.
The Incident took place in a village in Kisni police circle of Mainpuri.
Jamal Ahmed, 52, has been in charge of the mosque since the past ten years and also teaches children here. The girl used to go to the mosque to study.
She used to return home by 4 p.m but on Wednesday, she reached home late crying. Her clothes were stained with blood and when her mother asked her, she narrated her ordeal.
Two injured after drone falls on them during R-Day celebration
Two persons were injured after a drone camera fell on them during the Republic Day celebrations in Madhya Pradesh's Jabalpur on Wednesday.
A large number of people had gathered to witness the Republic Day function at Pandit Ravi Shankar Shukla stadium. While the programme was underway, a drone camera fell on two spectators.
Those sustained injuries during the event have been identified as Indu Kunjam (38) and Gangotri Kunjam (18). They have been admitted at local district hospital for medical assistance, the police said.
The injured individuals had come to participate in a tribal dance in the Republic Day function when the incident occurred at the stadium.
"They have received minor injuries and are undergoing treatment at a hospital," said Additional Superintendent of Police Rohit Kashwani.
Both belong to the tribal community from Dindori district, and had travelled to Jabalpur to participate in the Republic Day function.