Vijay Hazare Trophy: Shreyas Iyer to lead Mumbai, Shaw named his deputy
Middle-order India batsman Shreyas Iyer will lead Mumbai in the upcoming Vijay Hazare Trophy. Prithvi Shaw will serve as Iyer's deputy in the tournament which will take place across six cities — Surat, Indore, Bengaluru, Jaipur, Kolkata and Chennai — from February 20 to March 14.
The 22-man squad also consist players like Yashasvi Jaiswal, Suryakumar Yadav, and Tushar Despande.
Mumbai is placed alongside Delhi, Maharashtra, Himachal Pradesh, Rajasthan, Pondicherry in Elite Group D and will be playing all their matches in Jaipur.
Thirty-eight teams will compete in the tournament and they have been split into six groups — Elite A, B, C , D , E and Plate group.
As per the scheduled announced by the Board of Control for Cricket in India (BCCI), players will have to assemble at their respective venues a week before the start of the tournament. The players will undergo quarantine and there will be three Covid-19 tests on February 13, 15 and 17 while the practice session will be held on February 18 and 19. The league phase of the tournament is scheduled to take place from February 20 until March 1.
The knockout stages will start with a pre-quarterfinal on March 7 followed by quarterfinals on March 8 and 9. The semi-finals will be taking place on March 11 and the final will be held on March 14. The venues for the knockouts have not yet been announced by BCCI while the teams qualifying for the knockouts have to undergo another two Covid-19 tests on March 2 and 4.
Mumbai squad: Shreyas Iyer (c), Prithvi Shaw, Suryakumar Yadav, Yashasvi Jaiswal, Akhil Herwadkar, Sarfaraz Khan, Chinmay Sutar, Aditya Tare, Hardik Tamore, Shivam Dube, Aakash Parkar, Atif Attarwala, Shams Mulani, Atharva Ankolekar, Sairaj Patil, Sujit Nayak, Tanush Kotian, Prashant Solanki, Dhaval Kulkarni, Tushar Deshpande, Siddharth Raut, and Mohit Awasthi.
Suryakumar becomes highest run-scorer for India in a calendar year in T20Is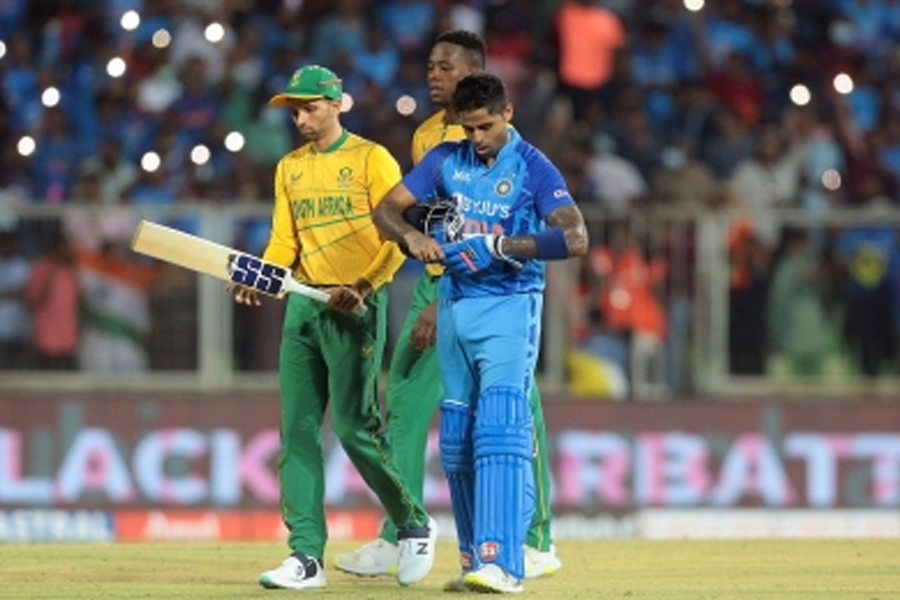 Charismatic India batter Suryakumar Yadav's string of fine performances in the last few series has seen him became the highest run-scorer for India in a calendar year in T20Is, which bodes well for Rohit Sharma's team as it aims to reclaim the T20 World Cup crown it won nearly 15 years back.
During the opening T20I against South Africa at Thiruvananthapuram on Wednesday, Suryakumar smashed another unbeaten half-century (50 off 33 balls) as India defeated the visitors by eight wickets with 20 balls to spare in a low-scoring game.
Chasing 107 for victory, opener KL Rahul's 51 followed by Surya's unbeaten 50 made the task of achieving the win a cakewalk and take a 1-0 lead in the three-match series.
Suryakumar continued his incredible run in T20Is this year, completing more than 700 runs in the format in the year, according to ICC. His tally of runs in T20Is in 2022 is a record for an Indian batter with Surya going past Shikhar Dhawan's 689 runs in 2018 in the format.
What makes his record even more glorious is the fact that the batter has scored these runs at a strike rate of more than 180 and an average more than 40.
Coming in at No.4 on Wednesday, with India reeling at 17/2 in the seventh over, Surya slammed two maximums off the first three balls he faced to ease the pressure and give the Indian innings a change in momentum after a sluggish start.
He remained unbeaten on 50 off 33 balls as India scaled the target with more than three overs to spare.
With the two sixes early in the innings, Surya also went past Pakistan's Mohammad Rizwan to record the most sixes in any calendar year in T20Is. Rizwan held the record for his 42 sixes in 2021 with Martin Guptill also smashing 41 sixes in 2021.
Surya has taken his tally of sixes to 45 in 2022 already, a record in all T20Is, with three more months to widen the gap with Rizwan. While Rizwan took 26 innings to make 42 sixes, Suryakumar has broken the record batting five times fewer.
Surya is up to second position in the latest ICC Men's T20I Player Rankings with 801 rating points after his half-century in the third and final T20I against Australia in Hyderabad.
1. Suryakumar Yadav 732 runs, 40.66 average, 180.29 strike rate, 2022.
2. Shikhar Dhawan 689 runs, 40.52 average, 147.22 strike rate, 2018.
3. Virat Kohli 641 runs, 106.83 average, 140.26 strike rate, 2016.
4. Rohit Sharma 590 runs, 36.87 average, 147.5 strike rate, 2018.
5. Rohit Sharma 497 runs, 29.23 average, 131.48 strike rate, 2016.
6. Rohit Sharma 497 runs, 26.15 average, 146.17 strike rate, 2022.
2nd T20I: Rain threat looms large over India v Australia clash in Nagpur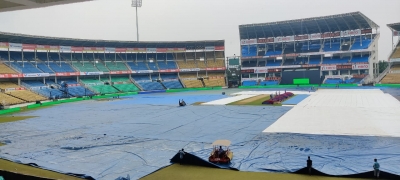 Friday's second T20I match between India and Australia at the Vidarbha Cricket Association Ground in Jamtha is likely to be impacted with rains that lashed the city overnight and early morning.
With Nagpur under a wet spell for the last few days, the bosses at the Vidarbha Cricket Association are spending their days in trepidation as rain is predicted for the match day too. The match tickets at the 45,000-capacity stadium is already sold out and they will have to refund the buyers in case the match does not go ahead.
Both the teams landed in Orange City on Wednesday afternoon and were greeted by heavy rain in the evening and the intervening night. There were showers early on Thursday morning and though the rain has abated around 10 am, heavy cloud cover over the city means, there is always a threat of more rain.
In such conditions, the sun did not bother to even take a peek at the City, thus further reducing the chances of the ground getting dry on Thursday itself.
The morning spell of rain forced both Australia and India to cancel their scheduled practice session in the afternoon and evening. The players did not travel to the stadium, engaging in a light gym session at the team hotel.
The groundsmen removed the covers around noon to check but with the threat of a drizzle looming, put them back soon. According to VCA officials, they are running the super sopper and ensuring there no leakage, hoping that there is no further rain on Thursday and Friday.
Nagpur is hosting its first international match in three years and there is lot of enthusiasm among fans, who purchased the tickets online within a few minutes. Even then the telephone at the VCA's oid stadium in the City is ringing off the hook with people still enquiring whether tickets were available offline.
The stadium is more than 20km far from the City and the VCA is facing some lots of issues regarding providing parking spaces for the spectators that take their own vehicles.
Focusing on situational awareness for better ball control: Hockey forward Navneet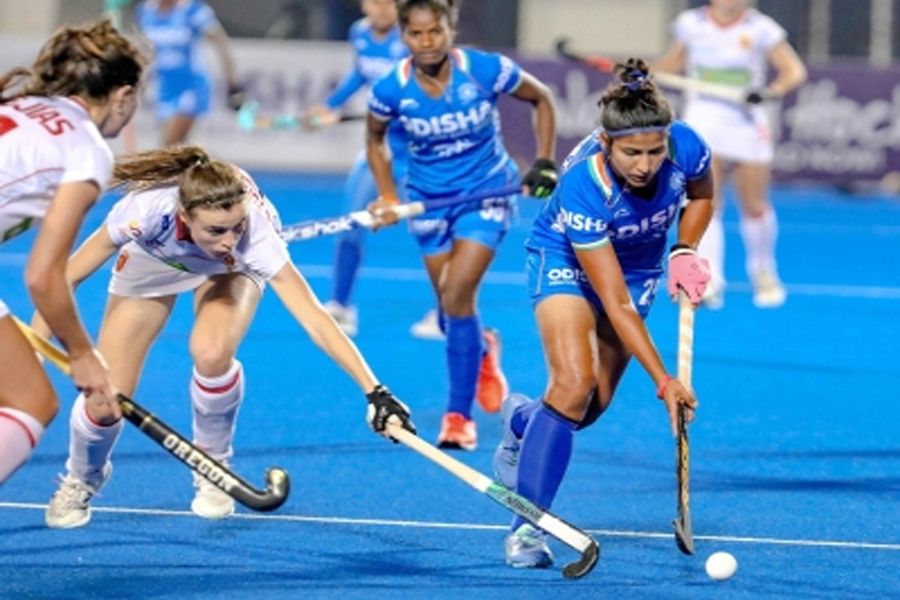 Indian women's hockey team forward Navneet Kaur is looking to improve her "situational awareness" in order to control the ball better ahead of a busy season, which also includes the Asian Games in Hangzhou, China next year.
Navneet said the 2022 Birmingham Commonwealth Games was a historical campaign for her side as they clinched bronze after a 16-year drought. The 26-year-old, who was instrumental in the attack during the memorable campaign, added she is keen to see herself playing a bigger role in the squad moving forward.
"I need to improve my situational awareness, so that I get better at controlling the ball and in turn get better at controlling the tempo of the game, because then I can play at my pace and choose moments in the game to either slow the tempo down or raise it according to the situation," said Navneet on Monday.
Speaking about the CWG campaign, she said, "The medal brought us great joy, even though our team was feeling a little down after the loss in the semifinal. It was special to see everyone in the squad motivating each other to concentrate on the bronze-medal game and you could feel the togetherness of the squad as we got laser focused for the bronze-medal tie. That moment was really surreal, especially for me."
Navneet also said the squad is looking at better team coordination as major events beckon.
"We are working on improving our team coordination. We are also working on our finishing as a squad so that we are extremely clinical when the chances come our way which was the only area, we lacked in at the World Cup and CWG 2022. As a squad we have identified these areas and have already started working on improving them so that we are ready before the next tournament comes around."
Speaking about the upcoming tournaments and new faces in the side, she said, "The team's performances have been great recently. Now we are fully focused on the upcoming competitions and I am sure we will perform in the same unrelenting manner. The young players have settled into the team really well and their integration in the squad is going smoothly, the best part of which is that young players are getting so many opportunities in international competitions which will help them improve drastically in very little time, which I feel we should continue doing because it it future proofs helps our young players in the team settle and gain much needed competitive experience at the highest level.
"As a senior player now, I look to help the youngsters with everything and anything on and off the field. We talk freely off the field and encourage open discussions and there is no such obligation of 'senior' and 'junior' players," Navneet added.