Vi Business unveils Integrated IoT Solutions
Vi Business, the enterprise arm of Vodafone Idea Ltd (VIL), has launched 'Integrated IoT Solutions' for enterprises.
"With this industry first initiative, VIL has become the only telecom company in India to offer a secure end-to-end IoT solution offering that comprises connectivity, hardware, network, application, analytics, security and support," the company said in a regulatory filing.
The offering is designed to simplify and accelerate the digital transformation journey for enterprises.
With the pandemic induced digital disruption, businesses are increasingly transforming to digital means, opting for Internet of Things (IoT) to bridge the need gap, adapt to market dynamics, and the evolving consumer needs.
The company said that Vi IoT is transforming the way businesses operate by reinventing processes, operations, customer experience and developing newer business models and revenue opportunities.
Recognising the challenges faced by enterprises in conceptualising, designing and deploying IoT as a strategic driver, with Vi Integrated IoT solutions, the telco will adopt a consulting-led engagement to support businesses in identifying their needs, design and develop the right IoT solution and implementation, it said.
It will also provide them with a tailored solution to be integrated with the best-in-class enterprise-grade IoT framework.
The company said that Vi has further strengthened its portfolio by providing a comprehensive range of IoT solutions across industries for — smart infrastructure, smart mobility and smart utilities, on its 5G-ready network.
With Vi Integrated IoT Solutions, an enterprise can now focus on its core strength, thus simplifying and accelerating IoT Innovation.
Commenting on the launch, Ravinder Takkar, MD & CEO, Vodafone Idea Limited, said: "A trusted and valued IoT partner in the nascent industry, and with its strong foundation, Vi is helping enterprises succeed in IoT, thereby paving the way for a digitally enhanced market in India."
"The launch of Vi Integrated IoT Solutions is a strategic step towards making Vi Business — an IoT ecosystem integrator for Indian enterprises and positioning Vi to have an Ecosystem Play driving our transformation from a 'Telco' to 'TechCo'."
Under the Vi Integrated IoT Solutions portfolio, the smart Infrastructure IoT solutions will connect intelligently with assets like heterogeneous machines, energy systems and range of applications like ERP, factory applications for industries.
The smart mobility IoT solutions will offer automotive OEMs, logistics and associated industries with connected vehicle and fleet management solutions which is based on real-time vehicle and environmental parameters.
"With the Smart Utility IoT solutions, Vi Business will empower utility companies and DISCOMs to remotely monitor the performance of the transformers and other energy consuming machines or provide an integrated system of smart meters (Advanced Meter Reading, Advanced Metering Infrastructure) for improved customer experiences," the filing said.
SpiceJet plane lands in Mumbai with cracked outer windshield
A SpiceJet flight landed safely in Mumbai with its outer windshield of the cockpit cracked, an airline spokesperson said on Monday.
The incident took place on SpiceJet flight SG-3324 operating from Kandla (Gujarat) to Mumbai by a turboprop Q400 aircraft.
At around 23,000 feet height, the outer pane of the windshield on the co-pilot's side cracked but the cabin pressurisation was observed to be normal.
The flight landed safely at Chhatrapati Shivaji Maharaj International Airport later, said the spokesperson, but the cause of the accident – the second on Monday for the low-cost carrier – is not clear yet.
Nepal's economy not like Sri Lanka's, but can go that way: Former central bank Guv
Dipendra Bahadur Chhetri, the former Governor of Nepal Rastra Bank (NRB), has said that the situation of Nepal's economy is not like that of Sri Lanka.
However, if the political rights are given to the wrong persons like in Sri Lanka, there is a possibility of Nepal becoming the next Sri Lanka, he said, Republica reported.
Speaking at an interaction programme on the current economic situation in Nepal held in Kathmandu, Chhetri said the present situation in Sri Lanka is due to arbitrary tax rates imposed by the same family as the president, prime minister and finance minister.
He also mentioned that Nepal should not be associated with Sri Lanka as it has just held local elections and is now preparing to hold federal and provincial elections, Republica reported.
Similarly, the former central bank Governor said that Nepal's foreign exchange reserves, SDRs and gold in foreign currency accounted for seven months of imports to meet the growing imports and consumption of petroleum products.
Likewise, he doubted that the forthcoming monetary policy to be introduced by the NRB would be as extensive as in the past. He said that the loans given by the banks to expand the capacity of the industry were used for import.
Turkey increases minimum wage amid soaring inflation, currency volatility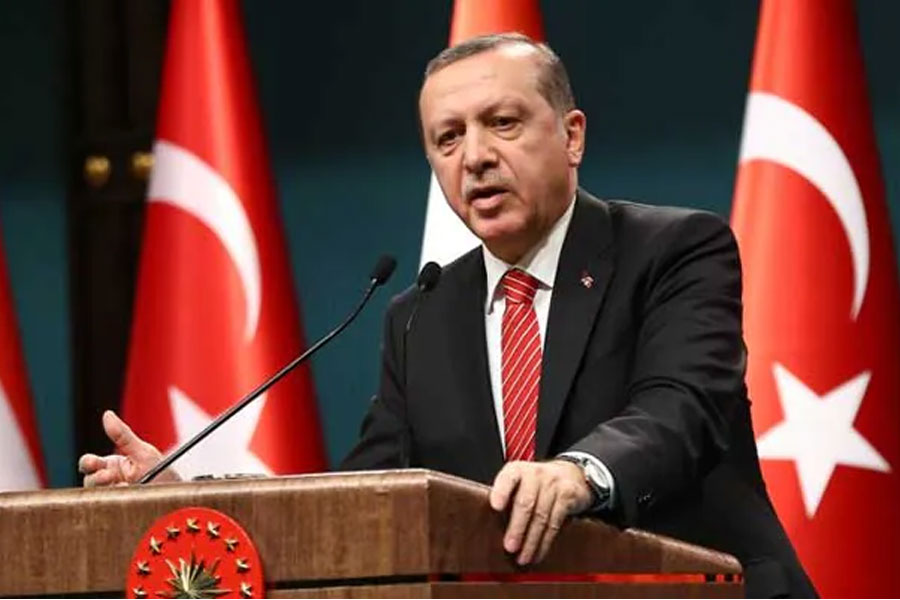 Turkish President Recep Tayyip Erdogan announced that the country's minimum wage would be hiked up in the face of soaring inflation and volatile currency rates.
"The minimum wage will be 5,500 Turkish liras ($328) with an interim increase of 30 percent, effective immediately starting on July 1," Erdogan said.
At the beginning of this year, the government increased the monthly minimum wage by 50 per cent to alleviate the financial burden on workers, reports Xinhua news agency.
Turkey has long been struggling against ever-increasing inflation.
In June, the total losses of the Turkish lira against the US dollar amounted to almost 100 per cent in one year.
Erdogan has long been focusing on a low-interest policy to increase exports and production for a stabilised lira, asking for patience from his voters.