Uttar Pradesh ministers to camp in districts in a damage control exercise
In a major damage control exercise, all ministers in the Yogi Adityanath government in Uttar Pradesh have been asked to reach out to people ahead of the 2022 assembly elections in the state.
The ministers have been asked to camp in development blocks in districts under their charge in June and July 2021, connect with party workers at the grassroots level, obtain feedback about government schemes, attend International Yoga Day programmes there on June 21 and join the booth level workers in listening to Prime Minister Narendra Modi's "Maan Ki Baat" programme at booths on June 27.
The directives were communicated to them at a meeting of the council of ministers, chaired by Yogi Adityanath.
UP BJP president Swatantra Dev Singh, who was present at the meeting, briefed the ministers about the details of the outreach programme.
The ministers have also been asked to review the preparations for the speculated third wave and visit the families of those who may have died of Covid-19. He said ministers would take feedback whether the government relief had reached them.
The exercise is also being seen as a move to muster support for the BJP in the upcoming zila panchayat elections.
According to UP minister Siddhartha Nath Singh, "Minister in charges will camp at the blocks in districts under their charge in June and July 2021. The ministers will try to cover most of the blocks in the districts under their charge and will cover about two blocks every day. The ministers will visit ration shops, PHCs (primary health centres), CHCs (community health centres) and hospitals, attend plantation drives, along with making spot visits, and reviewing implementation of development schemes."
Singh said ministers have been asked to hold organisational meetings in smaller groups, keeping in view the Covid protocol. He said there would also be programmes, especially plantation drives from June 23 to July 6.
During the meeting, minister for medical education Suresh Khanna and minister for health Jai Pratap Singh made a presentation on the state government's Covid management.
Animal husbandry minister Chaudhary Laxmi Narain spoke about the arrangements made at the cow shelters in the state.
Make farmers aware of use of chemical-free fertilisers: PM to BJP workers from Varanasi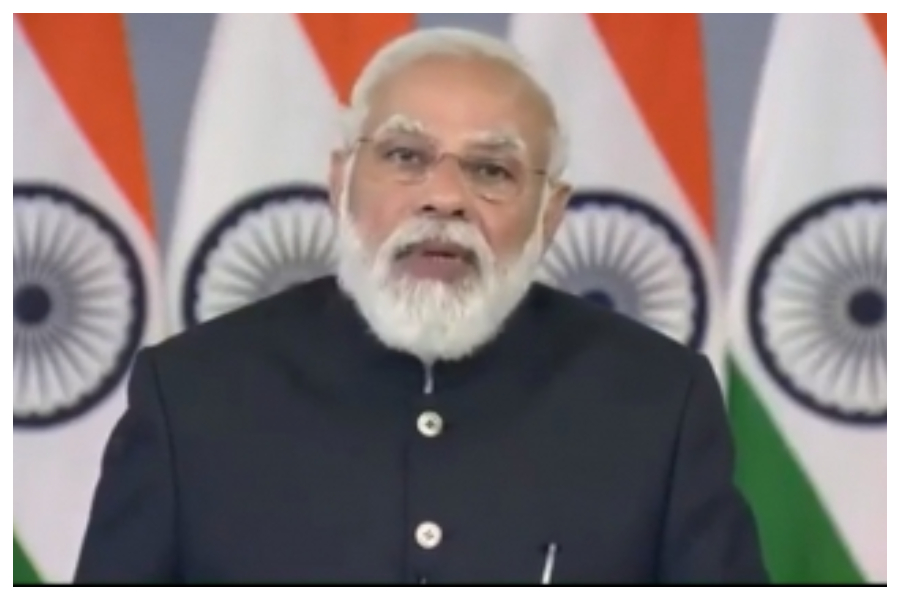 Prime Minister Narendra Modi on Tuesday interacted with BJP workers from his parliamentary constituency Varanasi and urged them to make farmers aware of the use of chemical-free fertilisers.
In an audio interaction with BJP booth level workers, the Prime Minister reaffirmed the BJP's commitment towards development. While interacting with party workers, he discussed several topics including, restoration of Kashi Vishwanath Dham corridor, women empowerment, infrastructure, healthcare development and other issues.
Interacting with one of the BJP workers, Prime Minister Modi asked him to expand the reach of the government's welfare schemes to farmers. The Prime Minister said, "They (workers) should make farmers aware of the use of chemical-free fertilisers."
The Prime Minister, also, talked about the several central schemes which are benefiting the people of Kashi at large.Prime Minister Modi urged people to contribute to a section, Kamal Pushp, in his NaMo app that features some inspiring party members.
"The NaMo App has a very interesting section known as 'Kamal Pushp' that gives you the opportunity to share and know about inspiring party workers," he said.
The Prime Minister further talked about the BJP's special micro-donation campaign, seeking to raise funds through small contributions from its members and others.
It is learnt that about 10,000 BJP workers participated in the interaction. It will be the first interaction of the Prime Minister with the party workers after the announcement of Assembly poll dates in five states.
It will also be the first virtual address with the party workers after the Election Commission of India (ECI) banned physical rallies and road shows till January 15 while announcing the poll dates. On January 15, the ECI extended the ban on the physical rallies and road shows till January 22.
The Uttar Pradesh Assembly polls will be held in seven phases in February-March starting from February 10. Counting of votes will be held on March 10.
BJP takes dig at AAP for procuring 1 electric bus in 7 yrs
As Delhi gets its first electric bus, BJP took a dig at the Aam Aadmi Party-led state government for procuring just a single bus during their last seven years of rule.

"It took 7 years to buy 1 electric bus by AAP government which resulted in Delhi breathing bad air," BJP MP Manoj Tiwari said on Tuesday.

Tiwari blamed the Kejriwal-led government of being "visionless" and "department less". He urged the people of Delhi to look after their well-being as air pollution during winters is dangerous.

Terming it a "beginning of a new-era in the transport sector of Delhi", Chief Minister Arvind Kejriwal had flagged off the first electric bus on Monday.

"We aim to bring in 2,000 electric buses in the coming years. Since 2011, not a single new bus had been procured by the DTC; this is the first new bus being added to its fleet in a decade. The public should also contribute to this war against pollution by switching their vehicles to electric," he said as he flagged off the bus from the Indraprastha depot.

While launching the environment-friendly bus, Transport Minister Shri Kailash Gahlot said that along with promoting environment-friendly transport, the government was committed to providing a world class and smooth transport service to the people of Delhi.

These state-of-the-art buses are 100 per cent electric with zero tailpipe emissions. They are among the 300 electric buses that will be inducted under DTC. The total fleet of 300 buses will run from Mundela Kalan (100 buses), Rajghat (50) and Rohini Sector 37 (150 buses).

The electric air conditioned buses have kneeling ramps for differently abled passengers, and special pink seats for women passengers. They are also equipped with CCTV cameras, connected to a two-way Central Command and Control Centre (CCC) at Kashmere Gate, 10 panic buttons in each bus and a hooter.


Nitish Kumar govt likely to relax liquor prohibition law
Facing criticism over poor implementation of the liquor ban, the Nitish Kumar government in Bihar is likely to give some relaxation to the violators.

According to a top official of the JDU, the state government is ready to review this issue and a proposal is likely to be put on table in the upcoming budget session of the Bihar Vidhan Sabha.

As per the proposal, the violators who are caught in drunken state can be let off after paying penalty on the spot. Though, it is not applicable on repeat offenders. A person repeatedly violating the norms of liquor prohibition law would be liable to face jail term.

Such a relaxation would allow liquor consumption at home and would also promote the home delivery concept, which is already popular among habitual drinkers in Bihar.

The JDU official further said that the vehicle used for smuggling of liquor could be released after paying a fine.

He said that the Chief Minister is under huge political pressure after a series of spurious liquor tragedies in different districts in the last four months that have taken the lives of more than 80 persons and many others have lost their eyesight.

Reacting to it, Danish Rizwan, the chief spokesperson of HAM said: "Chief minister Nitish Kumar, instead of bringing amendment or review of liquor prohibition law, should do a survey on this issue. If common people of the state are satisfied with the amendment or review, our party will not go against it. If people of Bihar are in favour of withdrawal of the liquor ban, we also respect that decision."

The liquor tragedies occurred in Muzaffarpur, Gopalganj, Bettiah, Samastipur, Vaishali, Nawada and now CM's district Nalanda.

This issue is severely affecting Nitish Kumar government especially after its alliance partners BJP and HAM are extremely vocal. They want a review of the liquor prohibition law. The liquor ban was enforced in Bihar in April 2016.

The government also came under criticism by the Patna High Court recently. The court said a large number of liquor related cases are pending which has led to a huge burden on the judicial system. Keeping this in view, the Nitish Kumar government should establish more courts in all 38 districts for speedy trials of liquor related cases.

Though, this would not be the first case of amendment in liquor prohibition act. In 2018, the state government made a provision to grant bail to normal offenders at the police station level. The offenders have to pay Rs 50,000 as fine. In case of offenders unable to give a penalty, they would be liable to face jail term. Under the liquor prohibition law, the maximum jail term is 10 years.