Uttar Pradesh girl paralysed after failed suicide attempt
In a tragic incident in Uttar Pradesh's Moradabad, a young girl was paralysed after an alleged failed suicide attempt.
The girl allegedly jumped off a bridge on Tuesday evening after being blackmailed by her boyfriend and his friends.
Yusuf Tyagi, an orthopaedic doctor at a private hospital where the girl is being treated, said, "Her upper lumbar vertebrae has collapsed. Because she jumped off a height of nearly 40 feet, the lower level of her spinal cord was also compressed. Her legs have turned lifeless. She is paraplegic."
The girl in her statement to the police said she was in a relationship with a man Shadab since the past four months and both met at his cousin's house.
"Then suddenly he started blackmailing me. He had taken objectionable photos and videos and shared them with three of his friends. He asked me to either have sex with his friends or pay Rs 50,000 else he would upload her videos on the internet," she added.
Moradabad Superintendent of Police (rural), Vidya Sagar Mishra said after the girl's statement and her family's complaint, an FIR has been registered against four accused — Shadab and his three friends Saddam, Rashid and Arif — for abetment to suicide.
The police have set up teams to arrest the four accused who are absconding after the incident.
Fake post on Shraddha Walkar-like case goes viral in Assam; police clarifies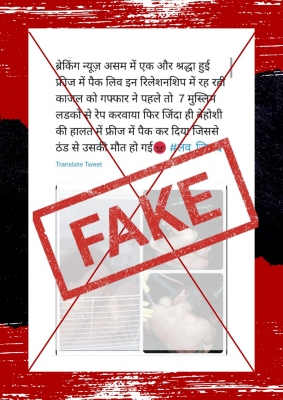 With an aim to disturb communal harmony in Assam, a group of unidentified miscreants on Wednesday shared a post on Shraddha Walkar-like case on social media.
Taking swift action, the state police termed it "fake" news and said that it was taken from a Portuguese blog.
The miscreants claimed about a Shraddha-like incident in Assam and termed it 'Love-Jihad'.
"A girl named Kajal who was in a live-in relationship was first raped by seven Muslim boys and then packed alive in a fridge where she died of hypothermia. Her live-in partner Ghaffar and his companions used to take the body out of the fridge and indulge in necrophilia daily."
The cyber cell of Assam police quickly jumped into action and found the post to be fake.
In a Twitter post, Assam police wrote, "An image from a Portuguese blog of 2010 is being shared with a completely false context on Social Media. Appropriate action will be taken against those found sharing such messages."
Meanwhile, a senior police officer urged the netizens for staying extra cautious while reacting to this kind of social media posts.
An investigation is underway.
Maharashtra: Man kills mother in Palghar; arrested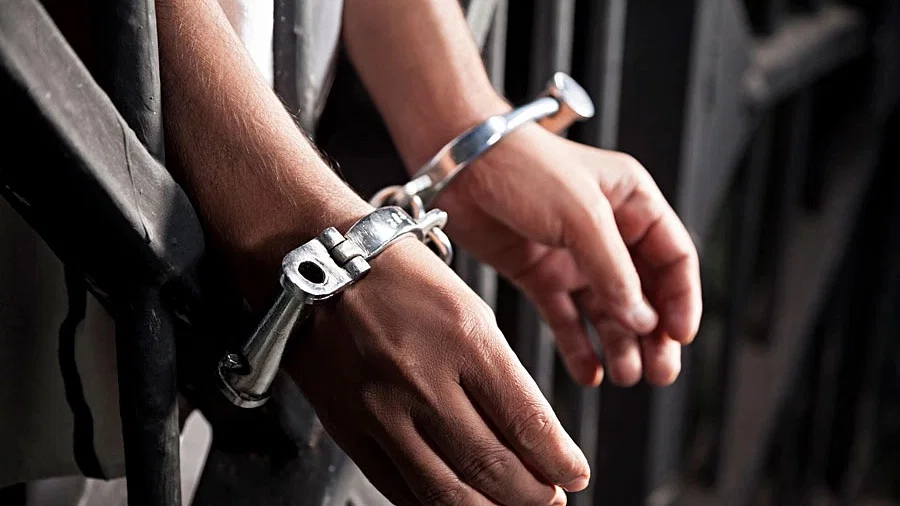 A man allegedly killed his 50-year-old mother after a dispute in Maharashtra's Palghar district, police said on Wednesday.
The incident took place on Tuesday evening in Vikramgad area and the 30-year-old accused was arrested on Wednesday, they said.
The accused had a dispute with his father over the construction of their house under a government scheme.
On Tuesday, the accused beat up his father over the issue. When his mother intervened to save her husband, the accused allegedly attacked her with a roof tile and killed her, police spokesperson Sachin Navadkar said.
Their neighbours alerted local police who rushed to the spot and sent the body to a government hospital for post-mortem, he said.
Based on a complaint by the deceased woman's husband, the police arrested the accused and registered a case against him under relevant provisions, the official said.
In another incident from the district, a mob brutally assaulted a man they suspected was a thief. A gruesome video of the same went viral on social media.
The police said that the mob had allgedly caught him when he broke into a gold jewellery shop and was stealing valuables. The locals beat him with rods, kicked him and punched him.
The police then booked a five persons for assault and the victim has been booked for theft.
Maharashtra: State govt forms committee to curb crime against women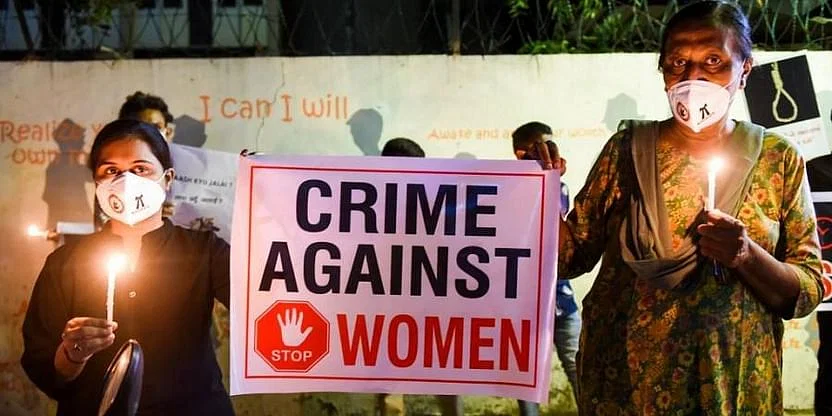 Amid incidents of atrocities on women, the Shinde Fadnavis government on Monday formed a 7-member Women Development Advisers Committee of Government/ Non-Government expert persons.
The committee, which will be headed by the Commissioner Women and Child Welfare will probe incidents of atrocities and cheating in the last one year reported in the media and make recommendations to curb them in future. The committee will submit its report to the state government in the next two months.
The women and child welfare department desk officer Ms Khadija Naikwade in a government resolution released today said that the committee will also suggest amendments to the schemes and programmes of the state and the central governments implemented by the department of women and child welfare in Maharashtra in order to make their implementation more effective.
The members will not be entitled for honorarium as the committee has been established to make recommendations to the government.
The government's move is important as Maharashtra has ranked third trailing behind Uttar Pradesh and Rajasthan in the total number of cases of crimes against women in 2021 as per the National Crime Records Bureau (NCRB) data. A total of 428278 crimes were registered against women of which Uttar Pradesh was ranked on top with 56,083 cases followed by Rajasthan 40,738 and Maharashtra 39,526.
The government's decision comes when it anxiously awaits the Presidential assent to the Shakti Act which has proposed capital punishment in rape cases. The Act requires the trial in these cases to be conducted on a day-to-day basis and completed within 30 working days from the date of filing of the chargesheet.