US to rush vaccine raw materials, anti-Covid supplies to India
In a break from the America First policy, President Joe Biden's administration is "working round the clock" to immediately send India raw material needed for making Covishield and other products needed in the fight against the COVID-19 surge overtaking the nation, according to National Security Adviser Jake Sullivan.
Recalling the assistance sent by India to the US in the early phase of the pandemic last year, he told India's National Security Adviser Ajit Doval in a phone call on Sunday that "the United States is working around the clock to deploy available resources and supplie", Sullivan's Spokesperson Emily Horne said.
Sullivan told Doval that Washington "also is pursuing options to provide oxygen generation and related supplies on an urgent basis," she said in a readout of their conversation.
The US will also send India anti-COVID supplies like test kits, ventilators, medications and personal protective equipment used by frontline workers.
The National Defence Production Act invoked by former President Donald Trump banned the export of vaccine raw materials and some other COVID-related products and have continued under Biden.
The decision to lift the embargo for India on the export of vaccine raw materials comes after nearly two weeks of requests from Adar Poonawalla, the CEO of vaccine-maker Serum Institute of India, and others in India.
But as recently as Friday various US government spokespersons would not say if the Biden administration would lift the embargo.
State Department Spokesperson Ned Price said on Thursday that the "first obligation" was to the American people and added, "It's in the interests of the rest of the world to see Americans vaccinated".
But as calls grew for helping India, Secretary of State Anthony Blinken gave a hint on Saturday that India may get the material to fight the pandemic surge.
He tweeted, "We are working closely with our partners in the Indian government, and we will rapidly deploy additional support to the people of India and India's health care heroes."
Horne said in the readout, "Just as India sent assistance to the United States as our hospitals were strained early in the pandemic, the United States is determined to help India in its time of need."
After some physicians had said that hydroxychloroquine (HCQ) could be a treatment for COVID-19, last April Trump had personally asked Prime Minister Narendra Modi to lift his ban on its exports and supply the drug to the US.
India sent about 50 million doses of HCQ to the US and thanking Modi, Trump said, "We will remember it."
Now the next president's administration is remembering it, even though the emergency use authorisation for HCQ's in hospital settings in the US was withdrawn and a huge cache of it sits unused while Modi's decision was crticised in India.
India has been sharing its vaccine production with countries around the world, sending nearly 65 million doses to 86 countries.
Horne said, "Sullivan affirmed America's solidarity with India, the two countries with the greatest number of COVID-19 cases in the world" and they both "resolved that India and the United States will continue to fight the global COVID-19 pandemic together."
The readout, listing what India will receive, said, "The United States has identified sources of specific raw material urgently required for Indian manufacture of the Covishield vaccine that will immediately be made available for India. To help treat COVID-19 patients and protect front-line health workers in India, the United States has identified supplies of therapeutics, rapid diagnostic test kits, ventilators, and personal protective equipment (PPE) that will immediately be made available for India."
The US is also deploying an expert team of public health advisors from the Center for Disease Control (CDC) and USAID to work with the embassy in Delhi, India's Health Ministry, and India's Epidemic Intelligence Service, the readout said.
USAID, which is the international assistance arm of the US, "will also quickly work with CDC to support and fast-track the mobilization of emergency resources available to India through the Global Fund," it said. The Global Fund is an international collaboration to fight epidemics and serious diseases.
Looking ahead, the readout said, "The U.S. Development Finance Corporation (DFC) is funding a substantial expansion of manufacturing capability for BioE (Biological E), the vaccine manufacturer in India, enabling BioE to ramp up to produce at least one billion doses of COVID-19 vaccines by the end of 2022."
Biological E, a Hyderabad-based company, is set to conduct Phase 3 trials for a vaccine developed by Baylor University and Dynavax Technologies Corporation in the US.
At the March summit of Quad, Biden and Modi, along with Prime Ministers Yoshihide Suga of Japan and Scott Morrison of Australia agreed on a joint plan to help other countries with vaccines that would be made in India with US and Japanese finance and distributed using Australian logistics.
Democratic members of the House of Representatives Raja Krishnamoorthi and Ro Khanna asked Biden to open the spigot on the excess vaccines for India, but from the readout of the Sullivan-Doval meeting it did not appear that as yet there was an agreement on the vaccines.
Krishnamoorthi pointed out that the US had about 40 million doses of the AstraZeneca vaccine, which is distributed in India under the Covishield brand name, and had begun supplying some of it to Canada and the US.
He said that he would "strongly call on the Biden Administration to release millions of AstraZeneca vaccine doses to countries hardest-hit by the spread of COVID-19, including India, Argentina, and potentially others."
"I applaud the Biden Administration's decision to put people over profits," Khanna said welcoming the decision to give India the raw materials and other supplies, and added, "The Biden Administration can still do more, like give India our stockpile of AstraZeneca vaccines that won't be used in the US."
Biden's chief adviser on the COVID-19 pandemic, Anthony Fauci, said on a TV programme on Sunday that sending vaccines to India was under consideration.
US: Apple, Lululemon, Foot Locker & Other Stores Looted After Riots In Philadelphia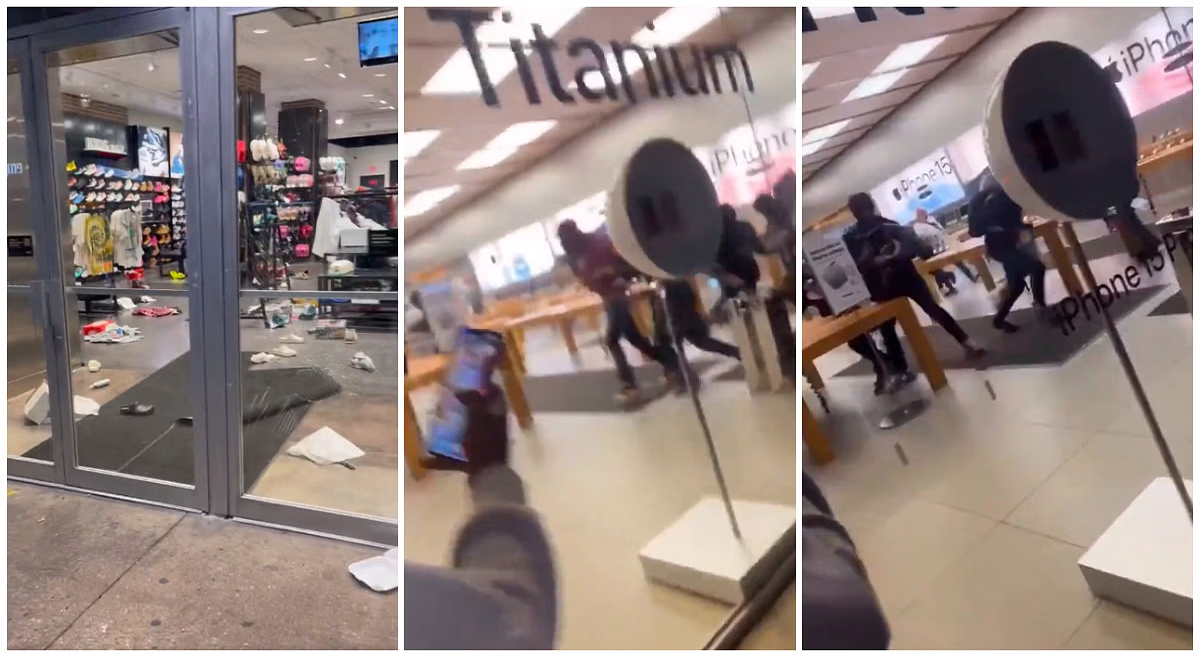 Philadelphia: In a shocking incident several stores including popular stores were looted by a crowd of juveniles on Tuesday (September 26) in Pennsylvania's largest city. Several videos of the loot are doing rounds on social media. It can be seen in the video that a large crowd of juveniles barge into the stores and loot expensive items from the stores. An Apple Store was also looted by the juveniles in Philadelphia's Center City.
The stores that were looted include famous stores like Apple, Lululemon and Footlocker
The stores that were looted include famous stores like Apple, Lululemon and Foot Locker. There are reports that the watchman at the Foot Locker store was assaulted by the mob. The Philadelphia Police have denied the claims that the robberies has any connection with the demonstrations and protests held over the death of Eddie Irizarry.
Crowd looting several stores one by one in Philadelphia
The videos that are going viral on social media shows crowd looting several stores one by one in Philadelphia. A video shows that youngsters barge into the Apple store and steal iPhones, iPads and other Apple devices from the store and flee from the store. There are videos that show that the stores are ransacked and the front glass of the Footlocker store is broken and all the accessories are lying on the floor after the crowd left the store after looting it.
Police said that it has activated Citywide Rapid Response
Police said that it has activated Citywide Rapid Response after the incident of riot and loot in the City Centre area. The police said that it had activated the Citywide Rapid Response after the large crowds of people were gathering and rioting and engaging in extensive looting. The Police further said that incidents of multiple stores have been broken into were reported. The Police have also advised people to refrain from going to the City Center area.
Indian Woman Anju Celebrates Pakistan's Independence Day With Husband Nasrullah, Cuts Cake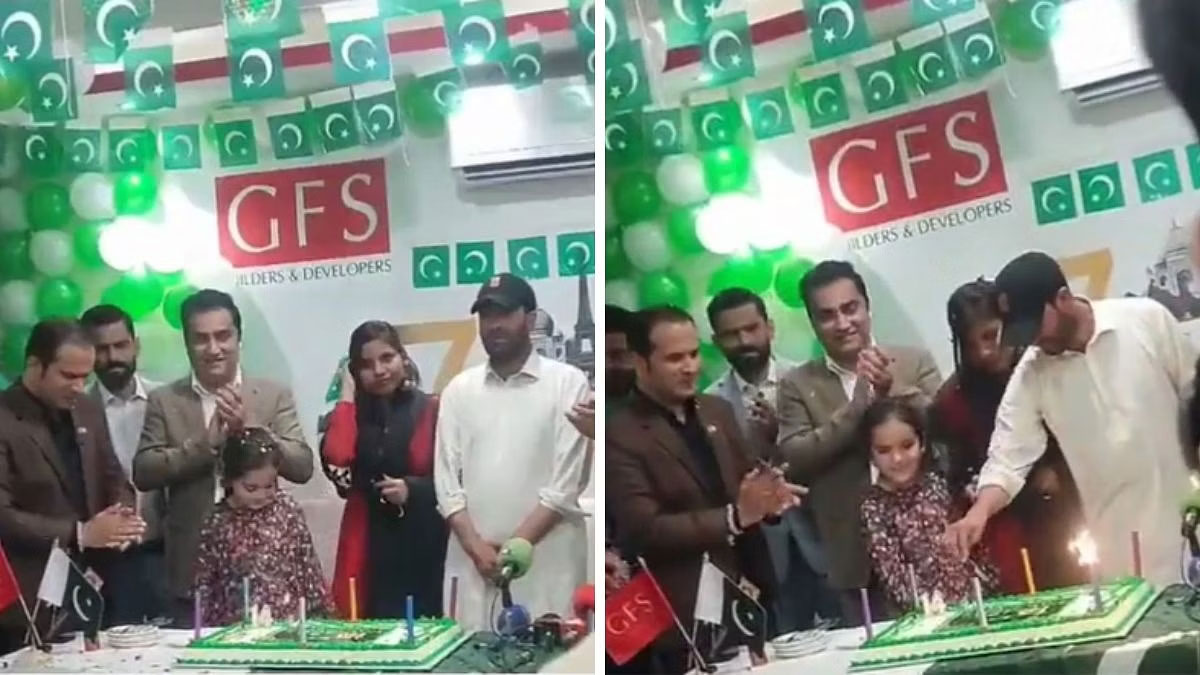 Indian woman Anju, who went to Pakistan to meet her Facebook friend Nasrullah, was seen celebrating Pakistan's independence day on Monday (August 14). Pakistan marks its independence day on August 14 every year, a day ahead of India's Independence Day. In a video shared on social media, Anju can be seen during the cake cutting along with Nasrullah to celebrate Pakistan's independence day.
Anju's story made headlines
Anju, a married woman with children, got to know Nasrullah of Pakistan on Facebook. As friendship grew between the two, Anju tried to get a visa for close to two years in India, said reports. Anju recently went to Pakistan after getting the visa. Reports claimed that she converted to Islam in Pakistan and also got married to Nasrullah. However, she denied the claims in a video she released and said she wanted to return to India.
Anju's father disowns her
Recently, Anju's father, fed up of constant media presence at this house had castigated Anju for her decision to cross borders for love and marrying Nasrullah, as reports claimed. Anju's father had said that he wished for her daughter not to return and said, 'Let her die there'.
Anju's husband in India was shocked when he learnt about Anju having gone to Pakistan to meet her Facebook friend Nasrullah. The husband had said that Anju had told her she was going to Jaipur and that she would return back in a few days. However, he was shocked when police came calling after reports that Anju had gone to Pakistan went viral.
Anju and Seema Haider, tale of two women
Anju's story emerged even as news about Pakistani woman Seema Haider's dramatic and suspicious entry into India along with her four children dominated news space. Seema Haider, a Pakistani woman, had entered India from Nepal and an investigation was carried out in the case. She married Sachin Meena who lives in Greater Noida.
Asains found guilty of smuggling migrants to UK
A 38-year-old Asian-origin man has been found guilty of being part of an organised crime group linked to the prolific smuggling of migrants, including minors, to the UK.
Najib Khan, 38, from Ilford was identified as being part of the network by the UK's National Crime Agency (NCA), following the arrest of his co-conspirator Waqas Ikram, 40, in March 2021.
Ikram, who was caught red-handed attempting to break into a heavy goods vehicle to put migrants inside, worked for a people smuggling organised crime group headed by Mokter Hossain.
An iPhone belonging to Ikram, seized following his arrest, contained numerous conversations with Khan outlining their involvement in a separate people smuggling network, charging migrants up to 7,000 pounds a head to bring them to the UK, the NCA said in a statement.
Phone evidence showed that Khan and Ikram had been involved in a successful crossing involving five migrants being transported into Harwich in March 2019, and two other attempts that had been foiled by border agents.
The first of these was in May 2019, when 15 Vietnamese and one Afghan migrant were found in a lorry at the Hook of Holland as it prepared to board a ferry to Harwich.
In the same year in August, 16 migrants including 11 minors, were rescued from a purpose built concealment in a lorry carrying 2,000 loose tyres.
The lorry was preparing to board a ferry from Dieppe to Newhaven, and officers reported the heat and the nature of the concealment made breathing difficult.
The lorry drivers involved in both would later be jailed in the Netherlands and France, but the NCA was able to prove Ikram's crime group had been involved in both attempts.
Further conversations between Khan and Ikram showed they were using GPS trackers to follow lorries that they had arranged to be broken into without drivers' knowledge to stow migrants.
One of the trackers was found at Khan's house when he was arrested by the NCA. In 2020, Khan and Ikram purchased a rigid hull inflatable boat for the purpose of smuggling migrants, and Ikram attended a course for piloting powerboats that June, the NCA said.
In July, the pair were encountered by Border Force off the coast of Suffolk in their RHIB.
They told officers they were scouting for scuba diving sites, and returned to Walton-on-the-Naze.
"Ikram and Khan had no regard for the safety and security of those they were transporting, they were only interested in making money from them," NCA branch commander Andy Noyes said in a statement.
"In at least one case it was only the fact that the migrants were discovered by border agents that prevented them being left in what could have been an incredibly dangerous, and potential fatal, situation," Noyes added.
Ikram was arrested by the NCA in 2021, charged with people smuggling offences and released on bail by the court. Both he and Khan were detained in connection with further offences by the NCA in July 2022 and charged with three counts of conspiring to facilitate illegal immigration.
While Ikram pleaded guilty to the charge, Khan went to trial, following which a jury at Reading Crown Court on Friday found him guilty on all three counts.
They will be sentenced on October 30.