Sweets are distributed Before IPS gets transfer order… Uddhav Govt is under docs over transfers
Shivsena Govt in Maharashtra is under shadow over transfers of Govt Officials. The opposition is continuously attacking Shivsena Govt on transfers and placement of Govt officials they say that there is big nexus of Govt Officials and Political leaders in power and everything is happening under this nexus. Possibly big money involvement is also there. However, there have been cancellations of transfer orders in Udhav Govt and this suggests that someone is holding the remote for the Govt.
This time also similar case is seen in the post of SP of Raigarh it is said that many IPS are in a queue for the post and on the other side, politicians are also up as they want their officers to be appointed and that why there is a delay in coming up of the order and there is a twist that an officer named Ashok Dudhe has been confirmed for the post before any order. NCP leader and MP Sunil Tatkare have been vouching for Mr. Dudhe as Tatkare wants him to be appointed in Raigarh.
Now the question arises that why Merit is cornered in this Govt and posting and transfers are happening at the behest of political leaders. And now if Mr. Dudhe is appointed then it is confirmed that it happened coz of Tatkare and there is an element of corruption and political interference is there and what Udhav Govt does to curb this.
Post-surgery, Maharashtra CM discharged from hospital after 22 days
After undergoing a spinal surgery 20 days ago, Maharashtra Chief Minister Uddhav Thackeray was discharged from the Sir HN Reliance Foundation Hospital, here on Thursday, officials said.

The CM's condition is described as fit and fine, but he has been advised to continue work from home for a few days.

Thackeray was admitted to the HNRFH on November 10 and was successfully operated upon on November 12 for solving problems pertaining to the cervical spine, besides a minor procedure for removing a blood clot later.

Thereafter, he was assigned for physiotherapy sessions which are expected to continue for some more weeks and he may not attend office till then.

However, the CM has been attending to important files, holding online meetings with cabinet colleagues or officials and chaired a couple of cabinet meetings, including those pertaining to the Covid-19 variant Omicron threats, during his hospitalisation.


Maharashtra: Congress livid as Didi writes UPA's epitaph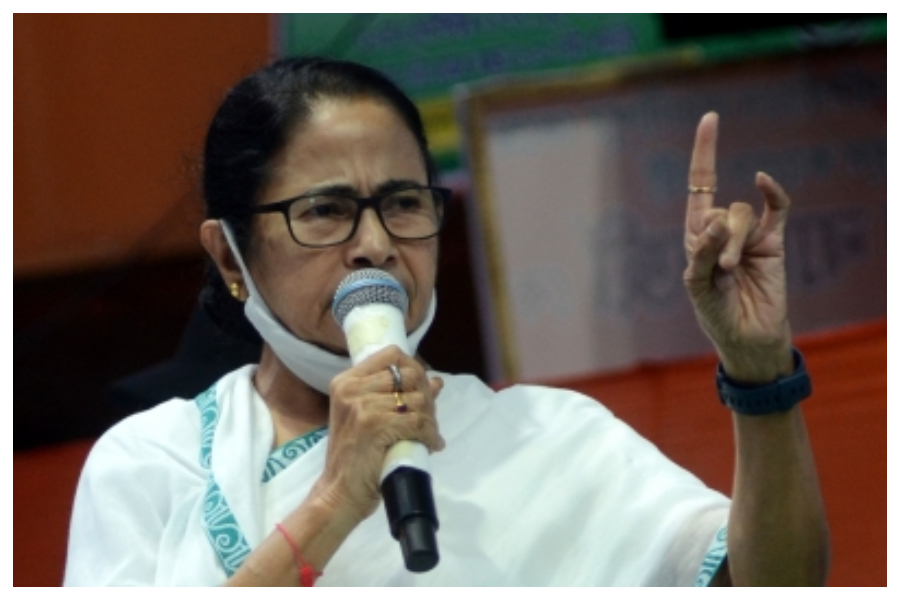 Relegated to the political pavement as West Bengal Chief Minister Mamata Banerjee stormed Mumbai in her 2-day-long high-profile trip which ended on Thursday, the Maharashtra Congress unitedly slammed her for her 'RIP'-ping comments spelling doom for the UPA.
Banerjee met leaders of two of the 3 ruling allies – Nationalist Congress Party President Sharad Pawar and Shiv Sena's MP Sanjay Raut and Tourism Minister Aditya Thackeray, met civil society members, some industrialists, film personalities, but obviously she had no love lost for the state Congress.
The visiting leader's shocker came during her brief media interaction, when she virtually blurted out – "What UPA? There's no UPA now…" stunning the Congress and momentarily even the NCP supremo Pawar seemed dazed but kept his legendary cool.
An enraged Congress top brass hit back, though diplomatically – to avoid antagonising the Sena-NCP leaders or even remotely appear siding with the BJP – and harked on the grand old party's contributions, the Gandhis' leadership while blaming Banerjee's "personal ambitions and ego" and painting the BJP as the real villain.
"The BJP is a threat to the Constitution and Democracy. Congress President Sonia Gandhi and Rahul Gandhi are constantly challenging the dictatorial attitude of the BJP," said State Congress President Nana Patole.
The Congress Legislature Party Leader Balasaheb Thorat dismissively said, "no individual party can fight the BJP if that party only thinks of its own political gains and personal ambitions" and the Congress remains the sole viable option before the country.
AICC Secretary Sanjay Dutt said, "if there is one party which has been fighting fascist forces and standing up for the people of India, it's the Congress", and others are now posturing only to grab the 'chair' (power).
"If any other party leader makes any baseless, sarcastic or malafide comments about Rahul Gandhi, we will give a befitting reply and show them the mirror of their past stance and statements," hissed Dutt.
State PWD Minister Ashok Chavan hit back at Banerjee saying the "Congress and its leadership needs no certification for its commitment to Democracy and Constitution, or its tireless struggle against the BJP's policies".
"Since before Independence, Congress has been fighting for the commoners, the rights of the people… The (BJP) central government is using the 'divide-and-rule' policy on the opposition parties. In such a scenario, it becomes the responsibility of all non-BJP parties not to indulge in politics that supports this policy of the Centre," said Chavan sharply.
Patole pointed out how Rahul Gandhi has stood firm against Prime Minister Narendra Modi and BJP, on the land acquisition law and the three black agriculture laws, the BJP's divisive policies, inflation, unemployment, etc.
"The country is more important than personal ambitions or egos… A political party restricted to one state cannot provide an alternative to the BJP. Given the gravity of the situation, all like-minded parties must come together in the national interest," urge Patole, adding only Congress is the viable option to the BJP.
Thorat cautioned that criticising Rahul Gandhi would only help the BJP which he has fearlessly challenged, plus the Congress and the entire Gandhi family has borne the oppression of the BJP, but they were not cowed down.
Some political commentators have claimed that despite the All India Trinamool Congress (AITC) venturing into uncharted territories where it is barely known or has any base, ultimately they will need Congress support to form the government as it happened during the tenures of the former prime minister H.D. Deve Gowda or I.K. Gujral.
Besides Congress, even the Opposition BJP leaders attacked Didi, questioning her 'private' meeting with Shiv Sena leaders and asked whether Maharashtra would go the West Bengal way.
Omicron concerns: Mumbai, Pune, Nashik postpone schools' reopening
Amid concerns of the Covid-19 variant Omicron, the reopening of schools from Class 1 to 7 has been postponed by 10-15 days in Mumbai, Pune and Nashik, officials said here on Tuesday.
The BrihanMumbai Municipal Corporation Commissioner I.S. Chahal and Pune Municipal Corporation Mayor Murlidhar have said that schools in the two cities — both among the worst-hit in the Covid-19 two waves in 2020 and 2021 — will now reopen from December 15.
Similarly, the Nashik Municipal Corporation, which was also among the badly-hit cities in the past two years of the pandemic, has also postponed the schools reopening plan to December 10.
However, all schools in the rest of Maharashtra are likely to reopen from December 1, for Class 1 to 5 in the rural areas and 1-7 in the urban areas with full Covid protocols, as announced earlier by School Education Minister Prof. Varsha E. Gaikwad.
Taking precautions, the BMC is currently tracking all passengers who have arrived in the city from the 12 Omicron-hit nations since November 10 to detect if any of them are infected by the new strain.
The state government has also sought information on all passengers landing at the three international airports in the state in Mumbai, Pune and Nagpur, besides those arriving from other states, by flights originating from the 12 nations.
The BMC has already announced that a 14-day institutional quarantine regime will be compulsory for all such passengers and home isolation will not be permitted under any circumstances.
The state, major cities and district health authorities are gearing up to face the challenge of Omicron by readying hospitals, beds, ICUs, liquid medical oxygen stocks, medicines, doctors, para-medical and non-medical staff, and other health infrastructure to cater to a possible patient rush in the coming weeks, even as Covid-19 vaccination drive has gained momentum.