Strict action against those who destroyed film set: Kerala CM Pinarayi Vijayan
Reacting sharply to the vandalising of a film set by "fanatics", Kerala Chief Minister Pinarayi Vijayan on Monday said strict action will be taken against the culprits.
The Perumbavoor Police has registered a case. Five people have been charged and a probe has begun.
"Kerala will never be a place where fanatics of any kind would be allowed to go scot free. All of you can be rest assured that all those who destroyed the film set near Kochi will be tackled as per law. What's wrong if a film set remains there, as we all know that due to Covid-19, all film shooting came to a sudden halt. These acts will not be tolerated and of late, some fanatics are creating issues in movie halls and other places," said Vijayan.
Hari Palode, general secretary of a group called Antharashtra Hindu Parishad (AHP) had posted on Facebook that the film set of a church was erected despite several complaints against it.
Palode had also thanked activists of Rashtriya Bajarang Dal who helped to take it down and had posted photos of the film set being pulled down.
The film set was put up for the shooting of the movie 'Minnal Murali,' starring actor Tovino Thomas when the Covid-19 pandemic struck forcing all film activities to a standstill.
Condemning the act, acclaimed film director Shaji N.Karun who is also president of the Progressive Kalasahitya Sangh, said this act was in no way acceptable.
"During Covid times, these fanatics are trying to drive a wedge in society that is united. Moreover this has taken place at a time when the film industry is passing through its toughest times. We demand that strict action should be taken against these elements," said Karun.
Post-surgery, Maharashtra CM discharged from hospital after 22 days
After undergoing a spinal surgery 20 days ago, Maharashtra Chief Minister Uddhav Thackeray was discharged from the Sir HN Reliance Foundation Hospital, here on Thursday, officials said.

The CM's condition is described as fit and fine, but he has been advised to continue work from home for a few days.

Thackeray was admitted to the HNRFH on November 10 and was successfully operated upon on November 12 for solving problems pertaining to the cervical spine, besides a minor procedure for removing a blood clot later.

Thereafter, he was assigned for physiotherapy sessions which are expected to continue for some more weeks and he may not attend office till then.

However, the CM has been attending to important files, holding online meetings with cabinet colleagues or officials and chaired a couple of cabinet meetings, including those pertaining to the Covid-19 variant Omicron threats, during his hospitalisation.


Maharashtra: Congress livid as Didi writes UPA's epitaph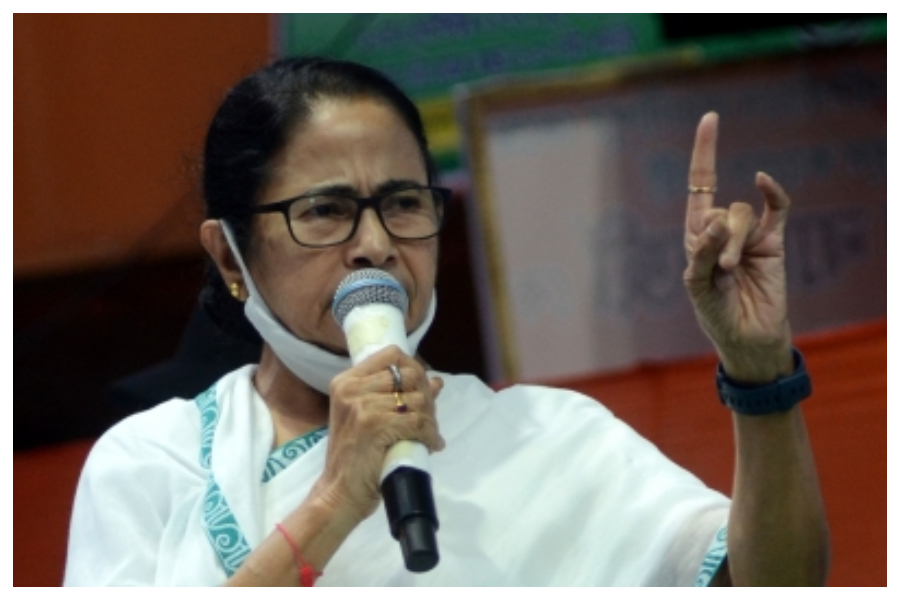 Relegated to the political pavement as West Bengal Chief Minister Mamata Banerjee stormed Mumbai in her 2-day-long high-profile trip which ended on Thursday, the Maharashtra Congress unitedly slammed her for her 'RIP'-ping comments spelling doom for the UPA.
Banerjee met leaders of two of the 3 ruling allies – Nationalist Congress Party President Sharad Pawar and Shiv Sena's MP Sanjay Raut and Tourism Minister Aditya Thackeray, met civil society members, some industrialists, film personalities, but obviously she had no love lost for the state Congress.
The visiting leader's shocker came during her brief media interaction, when she virtually blurted out – "What UPA? There's no UPA now…" stunning the Congress and momentarily even the NCP supremo Pawar seemed dazed but kept his legendary cool.
An enraged Congress top brass hit back, though diplomatically – to avoid antagonising the Sena-NCP leaders or even remotely appear siding with the BJP – and harked on the grand old party's contributions, the Gandhis' leadership while blaming Banerjee's "personal ambitions and ego" and painting the BJP as the real villain.
"The BJP is a threat to the Constitution and Democracy. Congress President Sonia Gandhi and Rahul Gandhi are constantly challenging the dictatorial attitude of the BJP," said State Congress President Nana Patole.
The Congress Legislature Party Leader Balasaheb Thorat dismissively said, "no individual party can fight the BJP if that party only thinks of its own political gains and personal ambitions" and the Congress remains the sole viable option before the country.
AICC Secretary Sanjay Dutt said, "if there is one party which has been fighting fascist forces and standing up for the people of India, it's the Congress", and others are now posturing only to grab the 'chair' (power).
"If any other party leader makes any baseless, sarcastic or malafide comments about Rahul Gandhi, we will give a befitting reply and show them the mirror of their past stance and statements," hissed Dutt.
State PWD Minister Ashok Chavan hit back at Banerjee saying the "Congress and its leadership needs no certification for its commitment to Democracy and Constitution, or its tireless struggle against the BJP's policies".
"Since before Independence, Congress has been fighting for the commoners, the rights of the people… The (BJP) central government is using the 'divide-and-rule' policy on the opposition parties. In such a scenario, it becomes the responsibility of all non-BJP parties not to indulge in politics that supports this policy of the Centre," said Chavan sharply.
Patole pointed out how Rahul Gandhi has stood firm against Prime Minister Narendra Modi and BJP, on the land acquisition law and the three black agriculture laws, the BJP's divisive policies, inflation, unemployment, etc.
"The country is more important than personal ambitions or egos… A political party restricted to one state cannot provide an alternative to the BJP. Given the gravity of the situation, all like-minded parties must come together in the national interest," urge Patole, adding only Congress is the viable option to the BJP.
Thorat cautioned that criticising Rahul Gandhi would only help the BJP which he has fearlessly challenged, plus the Congress and the entire Gandhi family has borne the oppression of the BJP, but they were not cowed down.
Some political commentators have claimed that despite the All India Trinamool Congress (AITC) venturing into uncharted territories where it is barely known or has any base, ultimately they will need Congress support to form the government as it happened during the tenures of the former prime minister H.D. Deve Gowda or I.K. Gujral.
Besides Congress, even the Opposition BJP leaders attacked Didi, questioning her 'private' meeting with Shiv Sena leaders and asked whether Maharashtra would go the West Bengal way.
Oppn stages walkout from Rajya Sabha over inflation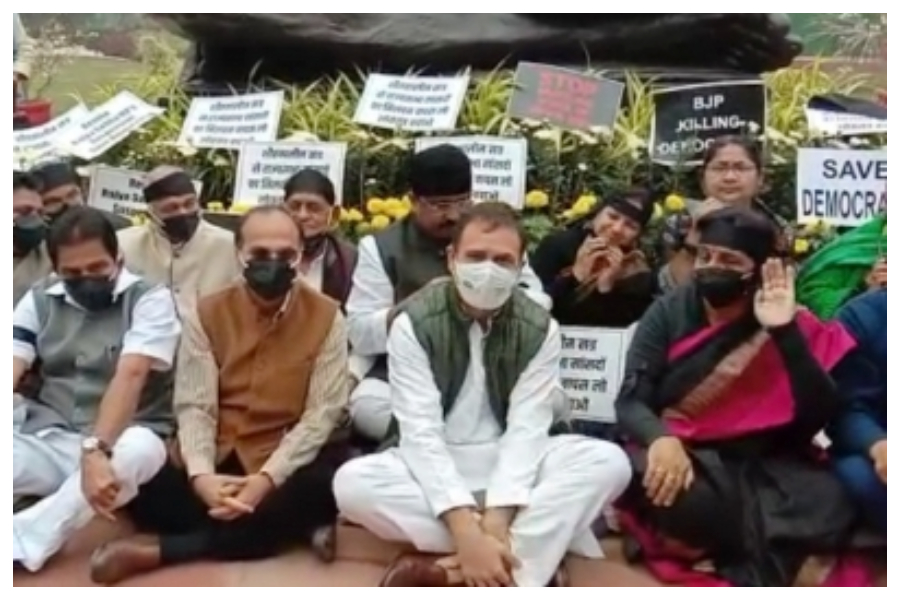 The opposition parties resorted to sloganeering after the Rajya Sabha assembled for question hour and later walked out from the house after they were denied permission on discussion over inflation.
Congress MP K.C. Venugopal had given suspension of business notice under rule 267 to discuss the rising prices of essential commodities, which the chair did not permit.
Leader of opposition Mallikarjun Kharge urged the chair, "its an important issue."
Earlier, the chair denied point of order to be raised by Anand Sharma.
Shakti Singh Gohil of the Congress said, "We have walked out in protest."
The house was earlier adjourned till 12 noon after opposition forced the adjournment.
The Congress has given notices in both houses of the Parliament on the issue of inflation, and has demanded discussion on the price rise of essential commodities.
In his notice, Congress MP Manish Tewari said, "The high rate of inflation has hurt the economically weaker sections of the country. Prices of oil and vegetables have skyrocketed and fuel is breaking new records almost everyday with petrol going way beyond the 100 rupee mark and LPG cylinders having more than doubled in price since 2014, now cost more than Rs 900."