SSR's death 'mystery' unsolved after a year, like unending soap
Almost like an unending daily soap, the so-called 'mystery over the death of Bollywood actor Sushant Singh Rajput continues, as it remains unsolved a year after he was found dead in his Mumbai home.
On June 14, 2020, at the height of pandemic induced lockdown, Sushant, 34, the man who moved audiences with movies like "M.S. Dhoni: The Untold Story" (2016), "Kedarnath" (2018) and "Chhichhore" (2019), was allegedly discovered hanging from a ceiling fan at his rented home in Mont Blanc Apartments, triggering one of the biggest controversies in Bollywood in recent years.
Soon, it erupted into a political dogfight involving the ruling Maha Vikas Aghadi (MVA) government and the opposition Bharatiya Janata Party in Maharashtra, plus the then poll-bound Bihar regime and the Centre.
Multiple probe agencies like Central Bureau of Investigation (CBI), Enforcement Directorate (ED), and Narcotics Control Bureau (NCB), jumped into the cauldron that reeked of a riveting Bollywood potboiler — intrigues, oodles of love, girlfriends, 'dhokha' (deceit), drugs, hints of lesbianism, alleged big money scam, nefarious links, et al.
A year later, the social media is overflowing with fan memories, obits, tributes and demands for justice, as the ruling MVA allies Shiv Sena-Nationalist Congress Party-Congress leaders slam the CBI and the Centre.
Shiv Sena Spokesperson and MP Priyanka Chaturvedi said the Sushant episode was not about a probe into what went wrong, but was more about "hounding the (MVA) government, casting aspersions, launching a smear campaign" as a lot of stories have turned out to be fake.
NCP National Spokespserson and Minister Nawab Malik termed it as "a conspiracy hatched" to discredit the Maharashtra government, and demanded that if Sushant did not commit suicide, then the CBI should reveal who is his killer.
"It has been 310 days since the CBI started probing and 250 days since an AIIMS panel ruled out murder. When will the agency declare the final conclusion? Why has CBI kept the lid on it? CBI is under immense pressure from its political bosses," said Congress State Spokesperson Sachin Sawant.
"After a year, nobody knows what happened to the CBI probe. This was not for justice to Sushant, but to target the government on an issue which was clearly an open-and-shut case," said Chaturvedi sharply.
"The Mumbai Police was investigating Sushant's suicide case, but for political reasons, the Bihar government lodged the case and handed it over to the CBI. Now, the CBI should reveal who killed him," Malik said.
Sawant added: "The BJP government at the Centre is using CBI, ED, NIA as political weapons to target and defame the MVA, these agencies are no more independent — but truth always prevails."
The Bandra police had lodged an accidental death report in the case, but after the first information report registered by Sushant's father, Krishna Kishore Singh in Patna, the Bihar government sought a CBI probe, which was ordered by the Supreme Court.
On August 19, 2020, the CBI formally took over the case investigation, then the ED entered to probe the financial angles, followed by the NCB to unravel the drugs angle.
Sushant's family squarely blamed his live-in partner and actress Rhea Chakraborty, her brother Showik and other friends or aides, leading to the arrest of around 33 persons by the NCB.
As the CBI-ED probes seem to have faded in the background, the NCB marched on relentlessly, ostensibly to "uproot the drugs citadel" in Mumbai, especially Bollywood and many of its high-profile players.
The CBI recorded statements of Sushant's family members and other witnesses, while Rhea contended that the late actor used to take drugs and was being treated for certain mental health issues.
Revelling in the fresh exposes virtually daily, like a TV soap, the BJP state leaders spared no opportunity to take jabs at Chief Minister Uddhav Thackeray and his son and Tourism Minister Aditya Thackeray.
Later, in the Bihar elections, Sushant's death proved to be a political windfall and AIIMS, New Delhi, ruled out any foul play, concurring that he died by hanging.
Now, the ball is in the CBI court to draw the curtains for the final word on Sushant's end.
Yaariyan 2 director duo not paying salaries, allege film crew
Several technicians and crew working for directors Vinay Sapru and Radhika Rao have claimed that the couple has not paid them for their work on the upcoming film Yaariyaan 2. Sources at Naigaon Police Station have confirmed that they have got a complaint from a man named Sumitkumar Mishra, who has alleged that people like him who worked as technicians and workers have not been paid for almost a year. He has alleged that the director duo now avoid even talking about payments.
Villagers await payments
The filmmakers have also not paid locals at a Versova village whose boats they hired for the shoot. According to Raju Kathin, one of the fishermen, 12 to 13 people are awaiting payments.
"They rented four of our boats and used 13 people for their shoot. When we asked for money, they denied even meeting us. We are owed lakhs of rupees at this point. We are waiting for the man who connected us to Sapru and Rao. Once that happens, we will go to Versova police to register a complaint," Kathin said.
Matter to be dealt with by courts
Meanwhile, according to Naigaon police, the matter is a civil issue, which means it will be dealt with by the courts. The police did try to contact Sapru and Rao, but they did not respond to any calls or messages, an official said. "We have summoned them to be present at our police station on June 5. We will take it forward from there," the official said.
The News Agency contacted Sapru to know his side of the story. He told that he would call back, but did not do so. Meanwhile, Rao, when contacted said: "I really can't talk about it." Yaariyan 2 is produced under the banner of T-Series and will be released on October 20.
Pregnant Ileana D'Cruz enjoys 'babymoon' with mystery man; Is it Katrina Kaif's brother Sebastian Laurent Michel?
Actress Ileana D'Cruz is currently enjoying the best phase of her life as she is all set to welcome her first child. While the actress has been flaunting her baby bump on her social media, the mystery around who her partner and the father of her child is continues to remain a mystery.
At present, Ileana is enjoying her babymoon at some undisclosed location with her partner while the eagerly wait for the arrival of their little one.
For those unversed, Ileana is rumoured to be dating Sebastian Laurent Michel, who happens to be the brother of Bollywood diva Katrina Kaif.
Ileana's beachside babymoon
On Friday, the 'Barfi!' actress took to her Instagram to share a series of pictures from her babymoon, and also gave glimpses of her partner, but did not reveal his face or identity.
The actress shared a picture of the blue sea and wrote, "Babymoon". In the next picture, she can be seen enjoying a date night with her partner, and added the song, the lyrics of which said, "I wanna be alone, alone with you… Does that make sense?"
She also dropped another picture in which she can be seen holding her partner's hand while he ate. "My idea of romance clearly can't let him eat in peace".
Who is Sebastian Laurent Michel?
Ileana is reportedly in a steady relationship with Sebastian and the two have been dating for almost a year now.
Reports of the two dating went viral after the actress was seen accompanying him and other close friends and family members of Vicky Kaushal and Katrina to Maldives. The duo posed with the rest of the group for several pictures.
They were later also spotted together at the Mumbai airport, however, both of them have remained tightlipped about their equation.
Sebastian is a model based out of London.
Ileana was earlier in a relationship with photographer Andrew Kneebone, but the two went their separate ways after dating for about two years.
Ayushmann Khurrana's Wife Tahira Kashyap Redes Out Hard-Hitting Poem Supporting Wrestlers' Protest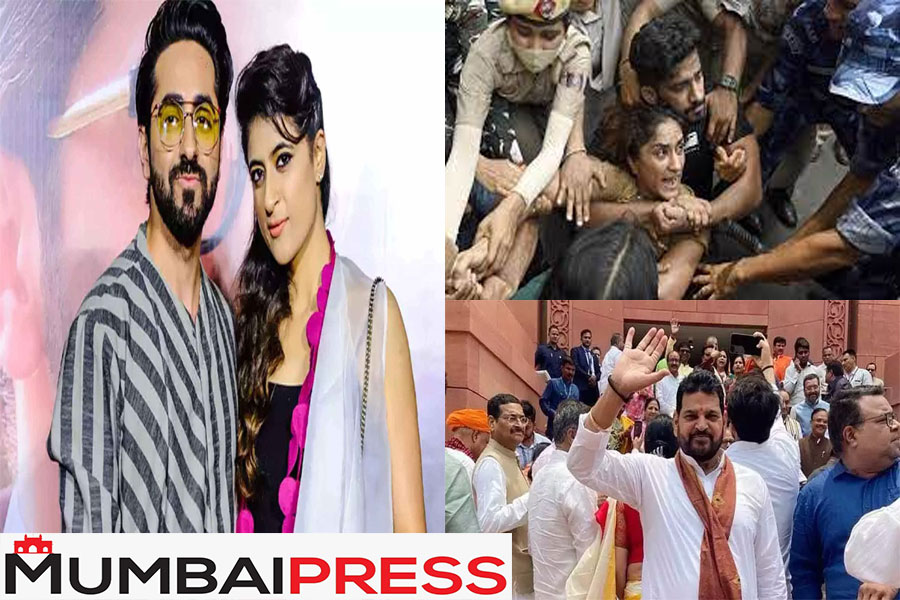 Tahira Kashyap, the wife of actor Ayushmann Khurrana, read out a powerful and hardhitting poem on Thursday morning, in support of the ongoing wrestlers' protest in Delhi. She is among the first ones from the film industry to break her silence on the raging debate that has gripped the nation.
Celebrities from Bollywood, who are otherwise quite vocal on issues of national interest, have remained tightlipped about the ongoing wrestlers' protest in the country.
Several Olympic and other world championship-winning wrestlers, including Sakshi Malik, Vinesh Phogat and Bajrang Punia, have taken to the streets of Delhi demanding the arrest of former Wrestling Federation of India chief Brij Bhushan Sharan Singh, who has been accused of sexual harassment by nearly 10 women.
Tahira Kashyap voices her support for protesting wrestlers
On Thursday morning, Tahira penned down a poem on the wrestlers' protest and read it out in a video which she shared on her social media handle.
"Handing over the papers and then snatching back in shame, the headlines of our women wrestlers struggling to be heard just changed the game," a part of her poem stated.
In the poem, she also said how she never differentiated between her daughter and son, and that they look up to the wrestlers, whom she addressed as "national heroes".
Speaking of her daughter, she said, "She too has an aspiration to win medals for the nation. I snatched and clenched the papers hard for I never want her to know what awaits is a warped situation."
"The women whom my son also looks up to, have been mistreated and told 'shut up you'," she added.
Celebs slammed for staying mum
Meanwhile, celebs are being slammed on the internet for not voicing out their opinion over the wrestlers' protest. Netizens pointed out that while the celebs put out posts when the same wrestlers had won medals for the country, they have now decided to remain tightlipped when they actually need support.
A few celebs, however, condemned the Delhi Police's brutal action on the wrestlers on the day of the new Parliament building's innauguration.
Swara Bhasker shared a video and wrote, "Shameful that our top International athletes are forced to protest on streets against sexual harassment but accused BJP MP is being consistently shielded by the govt. Sack & investigate #BrijBhushanSharanSingh."
Tovino Thomas, Kamal Haasan, Prakash Raj and Sonu Sood too condemned the police action.