Sona Mohapatra: Am a misfit of an artiste in Bollywood
Singer-songwriter Sona Mohapatra believes that even though her choice of 'living life on her own terms' and speaking her heart out made her journey as an artiste tougher, it has also liberated her as an artiste.
Sona told IANS: "I am a little strange and misfit of an artiste in Bollywood or in the Mumbai music industry because I am always doing everything on my own terms. So naturally, my work opportunity in film music is less. Therefore I am not in a rat race. From the time I started my journey as a musician, I always focused on putting out original songs as opposed to counting on the number of Bollywood songs I lend my voice to. For me, it is not an ultimate achievement to have 100 Bollywood songs in my kitty, I would rather have original, independent songs. Yes, it is time-consuming, but these are original work."
Since the pandemic, like all the other industries, the music industry has also got affected especially film music.
Highlighting how her choices of working on original songs back in the day hold so much relevance in the present time, Sona mentioned, "you see, during the pandemic, as the opportunity is shrinking in film music and the streaming audio platforms are coming, every musician is trying to put out an original song. They are also now acknowledging the fact that I was ahead of my time because, throughout my career, I have released my original songs while singing songs for films. I invested money to build my own studio, a proper set up because I believe that an artist has to be the in-charge of her own story."
Sona's self-produced docu-feature 'Shut Up Sona', directed by Deepti Gupta, has been selected as one of the films to be screened at the Indian Film Festival of Melbourne, after travelling to several other festivals, where it won awards, including a National Film Award for best editing.
The story of the film encapsulates the journey of Sona as an artist who is labelled as a 'trouble maker' for voicing her opinion on matters that curtail the freedom of expression of female artistes, and how she navigates her ways to find her own space.
The best part of her journey is while Sona is loved by her fans for her songs like 'Ambarsariya', 'Jiya Laage Na', 'Naina', 'Dil Aaj Kal', 'Bolo Na', 'Mujhe Kya Bechega Rupaiya' among many others, she often gets criticised for being outspoken. As 'Shut Up Sona' will soon release on an Indian OTT platform, it would be interesting to look out for the audience's response after knowing the person behind the artiste that we get to see 'on-camera'.
Asked about why she produced the film herself instead of looking for a producer, Sona replied, " Firstly in India, this kind of feature-length documentary on an artist has never been made. Secondly, people have a preconceived notion that docus are made only 'on serious issues', 'it's boring', activism and does not have a wider audience. It was not a docu-feature made sitting in one room. We shot it by travelling to 17 cities…so it was quite an expensive affair. For me, as an artist, why am I doing this, what exactly it would be, was hard to explain to an investor, because I had no reference point, it was first of its kind."
She further added, "When we finally made it, travelled in festivals and the audience watched it during screening in collective, those moments of laughter, silence, reactions and post-screening Q&A – made me realise 'Shut Up Sona' has broken those stereotypes of 'docus are boring'! No, it wasn't. When it comes to investing money, I think instead of putting money to buy social media followers to become a social media star, I would put money to make a film, feel liberated as an artiste to tell my story in my way."
"Nothing, really nothing gives me more of a high than when a stadium full of thousands of audience is singing along with me in my live concerts. I belong there," Sona signed off.
Yaariyan 2 director duo not paying salaries, allege film crew
Several technicians and crew working for directors Vinay Sapru and Radhika Rao have claimed that the couple has not paid them for their work on the upcoming film Yaariyaan 2. Sources at Naigaon Police Station have confirmed that they have got a complaint from a man named Sumitkumar Mishra, who has alleged that people like him who worked as technicians and workers have not been paid for almost a year. He has alleged that the director duo now avoid even talking about payments.
Villagers await payments
The filmmakers have also not paid locals at a Versova village whose boats they hired for the shoot. According to Raju Kathin, one of the fishermen, 12 to 13 people are awaiting payments.
"They rented four of our boats and used 13 people for their shoot. When we asked for money, they denied even meeting us. We are owed lakhs of rupees at this point. We are waiting for the man who connected us to Sapru and Rao. Once that happens, we will go to Versova police to register a complaint," Kathin said.
Matter to be dealt with by courts
Meanwhile, according to Naigaon police, the matter is a civil issue, which means it will be dealt with by the courts. The police did try to contact Sapru and Rao, but they did not respond to any calls or messages, an official said. "We have summoned them to be present at our police station on June 5. We will take it forward from there," the official said.
The News Agency contacted Sapru to know his side of the story. He told that he would call back, but did not do so. Meanwhile, Rao, when contacted said: "I really can't talk about it." Yaariyan 2 is produced under the banner of T-Series and will be released on October 20.
Pregnant Ileana D'Cruz enjoys 'babymoon' with mystery man; Is it Katrina Kaif's brother Sebastian Laurent Michel?
Actress Ileana D'Cruz is currently enjoying the best phase of her life as she is all set to welcome her first child. While the actress has been flaunting her baby bump on her social media, the mystery around who her partner and the father of her child is continues to remain a mystery.
At present, Ileana is enjoying her babymoon at some undisclosed location with her partner while the eagerly wait for the arrival of their little one.
For those unversed, Ileana is rumoured to be dating Sebastian Laurent Michel, who happens to be the brother of Bollywood diva Katrina Kaif.
Ileana's beachside babymoon
On Friday, the 'Barfi!' actress took to her Instagram to share a series of pictures from her babymoon, and also gave glimpses of her partner, but did not reveal his face or identity.
The actress shared a picture of the blue sea and wrote, "Babymoon". In the next picture, she can be seen enjoying a date night with her partner, and added the song, the lyrics of which said, "I wanna be alone, alone with you… Does that make sense?"
She also dropped another picture in which she can be seen holding her partner's hand while he ate. "My idea of romance clearly can't let him eat in peace".
Who is Sebastian Laurent Michel?
Ileana is reportedly in a steady relationship with Sebastian and the two have been dating for almost a year now.
Reports of the two dating went viral after the actress was seen accompanying him and other close friends and family members of Vicky Kaushal and Katrina to Maldives. The duo posed with the rest of the group for several pictures.
They were later also spotted together at the Mumbai airport, however, both of them have remained tightlipped about their equation.
Sebastian is a model based out of London.
Ileana was earlier in a relationship with photographer Andrew Kneebone, but the two went their separate ways after dating for about two years.
Ayushmann Khurrana's Wife Tahira Kashyap Redes Out Hard-Hitting Poem Supporting Wrestlers' Protest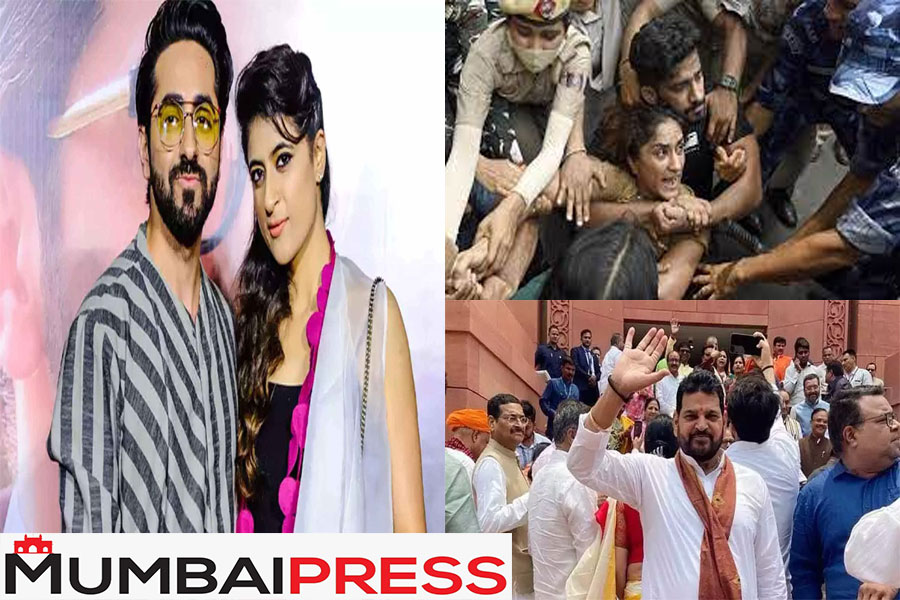 Tahira Kashyap, the wife of actor Ayushmann Khurrana, read out a powerful and hardhitting poem on Thursday morning, in support of the ongoing wrestlers' protest in Delhi. She is among the first ones from the film industry to break her silence on the raging debate that has gripped the nation.
Celebrities from Bollywood, who are otherwise quite vocal on issues of national interest, have remained tightlipped about the ongoing wrestlers' protest in the country.
Several Olympic and other world championship-winning wrestlers, including Sakshi Malik, Vinesh Phogat and Bajrang Punia, have taken to the streets of Delhi demanding the arrest of former Wrestling Federation of India chief Brij Bhushan Sharan Singh, who has been accused of sexual harassment by nearly 10 women.
Tahira Kashyap voices her support for protesting wrestlers
On Thursday morning, Tahira penned down a poem on the wrestlers' protest and read it out in a video which she shared on her social media handle.
"Handing over the papers and then snatching back in shame, the headlines of our women wrestlers struggling to be heard just changed the game," a part of her poem stated.
In the poem, she also said how she never differentiated between her daughter and son, and that they look up to the wrestlers, whom she addressed as "national heroes".
Speaking of her daughter, she said, "She too has an aspiration to win medals for the nation. I snatched and clenched the papers hard for I never want her to know what awaits is a warped situation."
"The women whom my son also looks up to, have been mistreated and told 'shut up you'," she added.
Celebs slammed for staying mum
Meanwhile, celebs are being slammed on the internet for not voicing out their opinion over the wrestlers' protest. Netizens pointed out that while the celebs put out posts when the same wrestlers had won medals for the country, they have now decided to remain tightlipped when they actually need support.
A few celebs, however, condemned the Delhi Police's brutal action on the wrestlers on the day of the new Parliament building's innauguration.
Swara Bhasker shared a video and wrote, "Shameful that our top International athletes are forced to protest on streets against sexual harassment but accused BJP MP is being consistently shielded by the govt. Sack & investigate #BrijBhushanSharanSingh."
Tovino Thomas, Kamal Haasan, Prakash Raj and Sonu Sood too condemned the police action.