Shiamak Davar recalls choreographing 'coolest dancers' Hrithik, Aishwarya
Ace choreographer Shiamak Davar has shared his experience of choreographing Hrithik Roshan and Aishwarya Rai Bachchan in the 2006 hit, Dhoom: 2.
"In 'Dhoom: 2', I had Aishwarya Rai and Hrithik Roshan. Being probably the coolest dancers ever, it wasn't very difficult for me to make them look cool because they are cool, and I love the fact that I was given a chance to work. I am very grateful that people consider it a benchmark in the industry for dance. I think I owe a lot to my dancers because when your dancers and the stars look good, then I, as a choreographer, look good," Shiamak said.
He also shared how the two stars took to his style of dancing in the film, which had released 14 years ago on this day.
"I had worked with Aishwarya in 'Taal' and before she became Miss World I had worked with her in a Sufi jazz piece, so she was already close to understanding my style and delivering it really well. Hrithik was very new to what I do, but the best part about Hrithik was that he is just so natural and my kind of style worked well on him," he added.
Shiamak continued: "I think Hrithik was also quite excited with the fact that he could do such a different, unusual kind of work from what he was normally doing, which is very strong Bollywood dance. Suddenly, we were to put a little bit of jazz and contemporary. It was quite a thought process to see him and Aishwarya interpret the song. I was very, very happy that they both did a good job. I was very proud of them because when they both came in together and it was electrifying!"
Director Acharya, too, shared his experience working on the film. "Hrithik's character was again in the tradition of what we think is the 'Dhoom' antihero. For me, the idea was someone who exists within society and yet on the fringes. Yes, he is a criminal but he is somebody who is also looking for things that are only special. He is someone exceptionally good at his craft. Those things went into the making of the character and that helps the actor embody something. It helps the director visualise something," hesaid.
Opening up on Aishwarya's character, the director added: "Aishwarya had never done something like this before. She had played much more traditional characters, more complex, dramatic characters. Light-heartedness is always something exciting in an actor. So, this geometry of Hrithik and Aishwarya was an important sort of a milestone in the film and I think in the world of mainstream entertainment in India. It was a good and solid paring, which has stood the test of time."
NCB 'visits' SRK, Ananya Pandey's homes; conducts raids in Andheri
In a major development, teams of Narcotics Control Bureau (NCB) paid a formal 'visit' to the residences of Bollywood megastar Shah Rukh Khan in Bandra west, and actress Ananya Panday in Khar west, and raided a location in Andheri on Thursday as part of the ongoing probe into the October 2 luxury cruiser rave party.
"The NCB Mumbai Zonal Unit officials visited 'Mannat', the residence of Aryan Khan in connection with the (Cr.94/21 case) for seeking certain material related to the investigation of the case from Shah Rukh Khan, by following due procedure of notice, etc.," said NCB Zonal Director Sameer Wankhede in a statement later.
He also dismissed reports in sections of the media dubbing the NCB trip to the superstar's sea-facing bungalow as a 'raid'.
The development, which grabbed national attention, came shortly after the Bombay High Court this morning decided to take up his son Aryan Khan's bail plea on next Tuesday, October 26.
Simultaneously, Ananya Panday — daughter of Bollywood actor Chunky Panday and granddaughter of the renowned heart surgeon, the late Dr. Sharad Panday — has been summoned to the NCB offices this day for the probe and the actress.
The NCB has claimed that her name apparently figures in some WhatsApp chats of Aryan Khan recovered by the agency, along with others.
As part of its probe into the cruise ship party raids, the NCB has arrested a total of 20 persons so far, and more arrests are not ruled out.
It may be recalled that Nationalist Congress Party National Spokesperson and Minister Nawab Malik had last week claimed that among various Bollywood bigwigs targeted, Shah Rukh Khan was also on the radar of the central probe agency with sleuths keeping a watch on 'Mannat' in recent weeks.
Bombay HC to hear Aryan Khan's bail plea on Oct 26
The Bombay High Court on Thursday posted to October 26 the hearing of the bail application of Aryan Khan, arrested in a drugs case by the Narcotics Control Bureau.
The matter came up before Justice N.W. Sambre with Khan's lawyer Satish Maneshinde seeking urgent hearing on Friday or Monday.
However, Justice Sambre decided to take up the matter on Tuesday next, and Aryan Khan may have to spend five more days in custody.
Khan, the son of Bollywood superstar Shah Rukh Khan, has challenged a ruling of the Special NDPS Court on Wednesday, rejecting his bail plea, along with co-accused Arbaaz Merchant and Munmun Dhamecha.
NCB drugs case: No bail for Aryan Khan, 2 others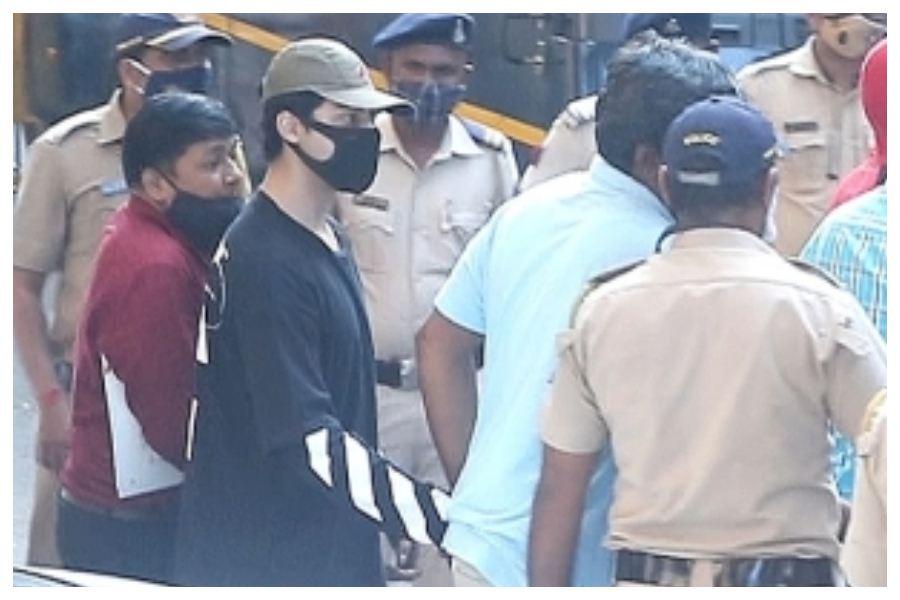 Mumbai Special NDPS Court on Wednesday rejected the bail plea of Aryan Khan, the son of Bollywood superstar Shah Rukh Khan.
The court also declined the bail applications of Arbaaz Merchant and Munmun Dhamecha, the two accused in the same case.
Khan's lawyer said that though the detailed order of Special Judge V.V. Patil is awaited, they plan to "appeal to the Bombay High Court today or tomorrow seeking bail".