Sharad Pawar protecting Deshmukh, not speaking truth: Devendra Fadnavis
Challenging Nationalist Congress Party President Sharad Pawar's contentions regarding state Anil Deshmukh, BJP Leader of Opposition Devendra Fadnavis on Tuesday hit back alleging that the NCP chief is trying to protect the Maharashtra Home Minister and not speaking the truth.
Refuting Pawar's statements on Monday that Deshmukh was in home quarantine in Nagpur during the relevant dates mentioned in the letter by former Mumbai Commissioner of Police Param Bir Singh, Fadnavis exhibited a flight manifesto, police VIP movements records and other papers and declared that Deshmukh was actually in Mumbai and not in quarantine.
"This is an attempt to protect Deshmukh. Pawar Saheb is not being briefed properly and hence not speaking the truth. They are getting exposed in the process," Fadnavis claimed, addressing the media.
He further announced that he would be meeting the Union Home Secretary to provide full details of the 'letter-bomb' and related issues and request a probe by Central Bureau of Investigation (CBI) as very big names are involved.
Fadnavis' statements came in the wake of the raging political controversy over Singh's 'letter-bomb' accusing Deshmukh of making alleged Rs 100-crore 'collection' demand from an arrested-suspended Assistant Police Inspector (API) Sachin Vaze from Mumbai bars, eateries and hookah joints.
Now Nawab Malik celebrates 'nikaah' of 'sweet couple Sameer Dawood Wankhede-Shabana Quraishi'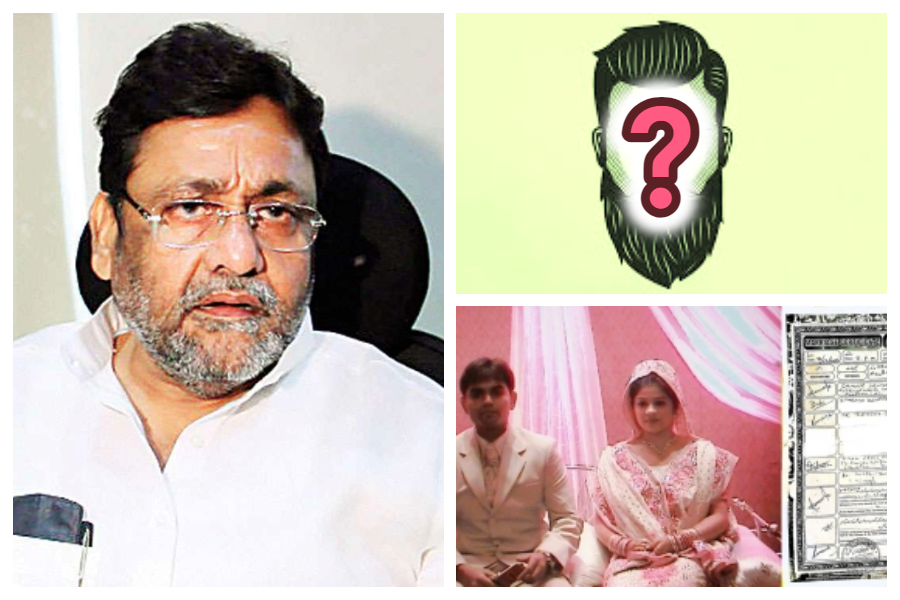 In another shocker, the Nationalist Congress Party Minister Nawab Malik on Wednesday presented the purported 'nikaah' (Muslim marriage certificate) of Narcotics Control Bureau Zonal Director Sameer Wankhede, a day after the latter's wife and sister rubbished all allegations.
In a series of tweets, Malik posted the wedding photo of the 'Sweet Couple' and the 'nikaah-nama' of Sameer Dawood Wankhede's first marriage with Dr. Shabana Quraishi, performed on December 7, 2006 at 8 p.m. in Lokhandwala Complex in Andheri west.
"The 'mehr' amount was Rs 33,000… The witness No. 2 was Aziz Khan, husband of Yasmeen Dawood Wankhede, the sister of Sameer Dawood Wankhede," Malik said.
He reiterated that the exposures about Sameer Dawood Wankhede were not about his religion, as is being portrayed in some quarters, including the Opposition Bharatiya Janata Party.
"I want to bring to light the fraudulent means by which he has obtained a caste certificate to get an IRS job and has deprived a deserving Scheduled Caste (SC) person of his future," Malik declared.
Wankhede has earlier stated that he and Dr. Qureishi divorced with mutual consent and he later married Marathi actress Kranti Redkar-Wankhede.
The latest revelations came a day after Redkar-Wankhede and Yasmeen Wankhede-Wankhede's wife and sister, respectively — slammed the minister for the personal attacks and resorting to 'kitchen politics', and challenging him to prove his allegations before the courts.
Their ire stemmed from the serial exposes by Malik over the past three weeks on Wankhede, topped off Tuesday with a stunning claim that the over Rs 1,000-crore has been extorted from Bollywood people in Mumbai and Maldives.
The NCP Minister's contention is that Wankhede had allegedly submitted forged caste certificates to get a central government job under SC quotas even though he is a Muslim — a charge vehemently denied by the Wankhede's father, sister and others.
The NCP leader now plans to forward all the documents to the Caste Verification Committee for probe and necessary action.
Malik's independent investigations into Wankhede's background and the allegations of corruption plaguing the NCB has both rattled and regaled many in the central probe agency, besides triggering a massive political row with a series of accusations and counter-accusations hurled.
The NCB is sending a team to investigate and verify the charges against Wankhede after a 'Panch-Witness' Prabhakar Sail's purported affidavit making startling allegations of an extortion bid from Shah Rukh Khan to release his son Aryan Khan, accused in the cruiser party raid.
Rs 1000-crore 'extorted' from Bollywood in Mumbai, Maldives, claims Nawab Malik
In another sensational disclosure, Nationalist Congress Party (NCP) national spokesperson and Minister Nawab Malik on Tuesday said at least an amount of Rs 1,000-crore has been 'extorted' in Mumbai and Maldives from Bollywood personalities.
Pointing the needle against the Narcotics Control Bureau (NCB) Zonal Director Sameer Wankhede, Malik released a 4-pager purported letter he received from a whistleblower within the agency.
The Minister said he received the letter which has been copied to Chief Minister Uddhav Thackeray, state Home Minister Dilip Walse-Patil, Director-General of Police Sanjay Pandey, Congress President Sonia Gandhi and MP Rahul Gandhi.
"My fight is not against the NCB… They have done a good job in the past 35 years… I am fighting against a person who has extorted money from people…My estimate is over Rs 1,000-crore. The NCB has already started a probe and they must look into the points raised in the 4-page letter," Malik demanded.
Reacting promptly to the purported letter, the NCB Deputy Director-General, South West Region Mutha Ashok Jain said: "I have seen the letter. We will take necessary action."
Dismissing the charges by Wankhede and his family on the birth certificate which he revealed on Monday, Malik issued an "open challenge" to them to file any case or criminal defamation, he would face arrest and put the matter before the Courts.
Hitting back, a Bharatiya Janata Party activist Mohit (Kamboj) Bharatiya slammed Malik and said the 4-pager letter was a fake, even the affidavit submitted by a NCB 'Panch-witness' Prabhakar Sail was bogus and demanded the Minister's immediate resignation for misusing his ministerial status.
"The Minister has been lying since day one… Sail's affidavit was made at Malik's behest… All this is done to malign the NCB and the BJP. I fear for my life and I demand security. I am filing a defamation case against him today," Bharatiya told mediapersons.
Making another grave accusation, the Minister said that Wankhede has been illegally tapping the phones of two persons, one in Mumbai and another in Thane.
"I have their full details… and will disclose more at the appropriate time. How did the officer ask for the CDR details of my daughter Nilofer Malik from the Mumbai Police? Is she a criminal? The police have rejected Wankhede's demands," Malik said.
The Minister reiterated his charge that Wankhede has allegedly submitted a bogus caste certificate to get a central government job in a reserved category and vowed to bring out more dope on this.
"The BJP has been trying to portray it as a Hindu-Muslim fight… In my 45 years in public life, I have never played politics in the name of religion and the people know this well. But Wankhede has deprived a poor Dalit boy by grabbing his job in the reserved quota on the basis of fake documents," said Malik.
The Minister further said that since his first expose in early-October, many people have been coming to him with information on the NCB, including a witness who said that the agency made him sign 50 blank papers.
On the contents of the 4-pager, Malik said that it has alleged details of about 26 different cases in which people have been deliberately framed by the agency, and how money was extorted.
"I am forwarding it to the NCB Vigilance Committee for proper investigations and hope the truth will come out," he said.
Shiv Sena's ill MP skips ED hearing, seeks fortnight's time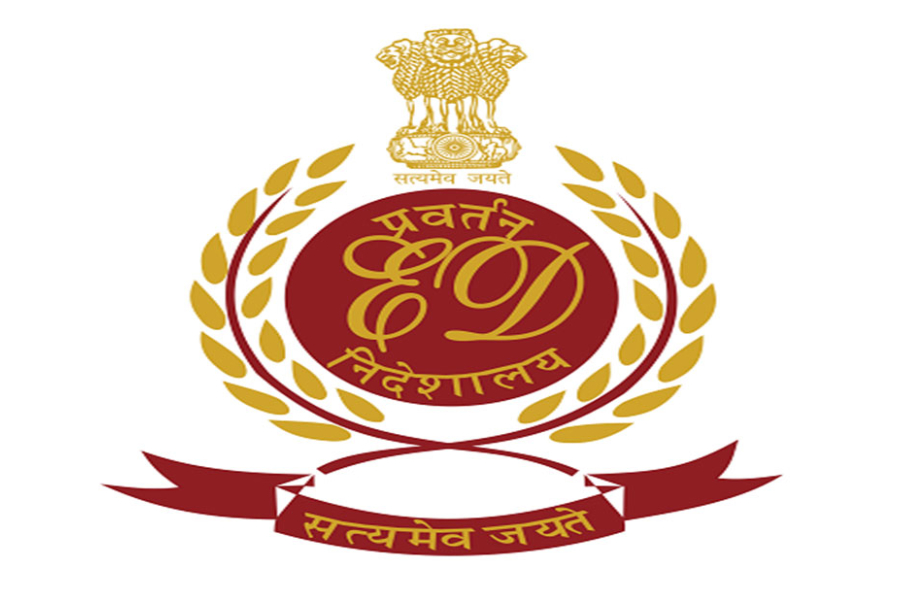 Yavatmal-Washim Shiv Sena MP Bhavana Gawali skipped a hearing by the Enforcement Directorate (ED) on grounds of ill health, here on Wednesday.
Instead, a team of her lawyers went to the ED and submitted a letter seeking another 15 days' time to enable the MP to appear before the central probe agency.
Political sources said that Gawali – who was first summoned on October 4 but did not attend the ED office owing to prior commitments – is suffering from chickenpox and has sought more time to go and answer the ED's queries.
The ED is probing allegations of money laundering indulged by Gawali and her associates for criminal conspiracy to fraudulently convert a trust into a private company.
Later, the ED arrested one of the aides Saeed Khan, under the Prevention of Money Laundering Act, and wants to quiz Gawali about her links with him and certain misappropriation of funds amounting to around Rs 25 crore.
While denying the allegations against her, Gawali has accused the ED of targeting her solely because she belongs to a state party, Shiv Sena.
The ED entered the picture after the Risod Police in Washim registered a complaint of cheating and criminal breach of trust against various persons including the trustees, and later the ED carried out multiple raids at her premises in Yavatmal, Washim, and Mumbai.