Record blood donation in Rajasthan on Sachin Pilot's 43rd birthday
Former Rajasthan Deputy Chief Minister and ex-PCC chief Sachin Pilot's 43rd birthday has been celebrated in a different manner as around 45,000 people donated blood, witnessing the highest number of donors turning out to donate blood following a call by any public leader in the state, to date.
Pilot's birthday on Monday was, in fact, more like a show of strength as hoardings were put along the roads, plantation programmes were organised, animal fodder was arranged, eye donation camp was set up in different parts of the state, food and fruits were distributed among the poor, and books were distributed to the poor children in all districts of the state.
Prior to his birthday, Pilot had himself appealed to people to not come to Jaipur and crowd in times of the Covid-19 pandemic, asking party workers and supporters to come forward and donate blood instead.
"I have made an appeal to everyone to not congregate in Jaipur in order to wish or greet me on my birthday on September 7. The health and safety of the people is of paramount importance and we all have to follow the protocol and guidelines issued by the authorities," he said in a statement ahead of his birthday.
Following his advice, his supporters and activists did not come to Jaipur but donated blood at different places of the state to script history.
According to the data received from the districts, 7,222 units of blood were donated in Jaipur city, 6,151 units in Jhalawar, 3,453 units in Jaipur Rural, 3,182 units in Sikar, 3,181 units in Ajmer, 2,390 units in Alwar, and 2,211 units were donated in Dausa.
This massive blood donation drive organised in Rajasthan in all 200 Assembly seats have left a mark on Pilot's 43rd birthday.
Though the drive comes as a gesture of social service to mark his birthday, it is also seen by many as political messaging conveying that Pilot still enjoys the support of party cadres and youngsters throughout the state, said one of the Congress workers citing the recent political crisis where Pilot's posters were taken off from PCC office soon after he opened revolt against the present leadership of the state and went to Delhi with his 18 supporting MLAs.
On Monday, Pilot thanked his supporters in a video message and said: "Donation of blood is the most humane gesture in Covid-19 times, The support of people of Rajasthan has been a great source of strength for me and am thankful for blessings of people who wished me on my birthday as well as donated blood for a noble cause."
Rajasthan Chief Minister Ashok Gehlot's camp, however, was not active during the blood donation drive and wished Pilot on Twitter.
TV actress Kamya Panjabi joins Congress in Mumbai
The Congress got a fresh dose of glamour with well-known television actress Kamya Panjabi joining the party here on Wednesday.
Mumbai Congress President Bhai Jagtap and other leaders like Charan Singh Sapra welcomed Panjabi to the party fold.
Shooting to popularity with her appearance in the reality show "Bigg Boss-7" (2013), Panjabi has been working in the entertainment industry for over two decades and had expressed a desire to join politics and serve the masses.
Congress activist Niraj Bhatia and other leaders shared pictures of her joining the party on the social media.
Kamya, 42, has worked in several teleserials including "Banoo Main Teri Dulhann", "Maryada: Lekin Kab Tak", "Shakti – Astitva Ke Ehsaas Ki", "Rethi", Astitva… Ek Prem Kahani", "Piya Ka Ghar", and "Kyun Hota Hai Pyaar".
Besides, she has acted in Bollywood films like "Na Tum Jaano Na Hum", "Yaadein", "Phir Bhi Dil Hai Hindustani", "Koi.. Mil Gaya", and music videos like "Mehndi Mehndi" and a play "Pajama Party"
Amarinder to meet Shah on farmers' stir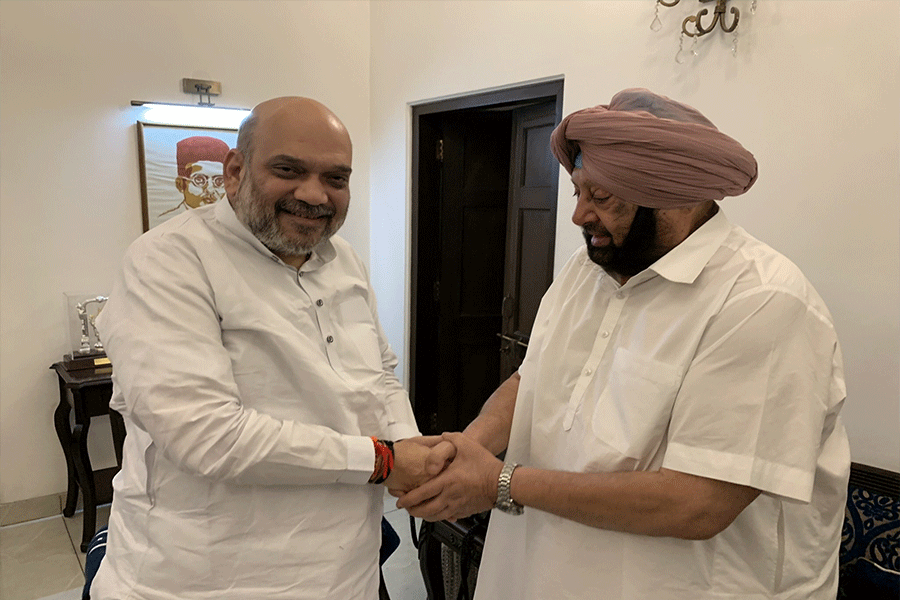 Former Punjab Chief Minister Amarinder Singh will lead a non-political delegation of agricultural experts to meet the Union Home Minister to discuss possible solutions to the ongoing farmers' agitation on Thursday.
Disclosing this here on Wednesday, Amarinder Singh, who announced to float a new political party with seat sharing with parties, including the BJP, said he had been discussing various options with Home Minister Amit Shah, whom he will be meeting in Delhi again on Thursday, and others.
"I think I can help in finding a solution as I have been the Chief Minister of Punjab and am also an agriculturist," Amarinder Singh told a press conference.
While there could be no pre-decided formula for resolution of the farmers' stir, something will emerge during the talks as both sides — the Central government and farmers — want a resolution to the crisis triggered by the farm laws, he said.
Making it clear that he had not met any farmer leaders, the former Chief Minister said he had deliberately not interfered in the matter as the farmers did not want politicians involved.
The farmer leaders had four inconclusive meetings with the Centre but back channel talks have been going on, he added.
Amarinder Singh had earlier said any seat arrangement he made with the Bharatiya Janata Party (BJP) would be subject to a resolution of the farmers' issue in their interest.
TN CM announces Rs 5L as relief to kin of victims killed in fire
Tamil Nadu Chief Minister M.K. Stalin announced a financial compensation of Rs five lakh to the family of all five persons killed due to an alleged fire in a firecracker shop in Kallakurichi district.
Eight others were reportedly injured in the incident, which occurred on Tuesday evening and are in a serious condition.
Stalin announced a relief of Rs one lakh to the injured persons admitted in the Kallakurichi government hospital.
The deceased victims include Khaleed (23), Shah Alam (25), Shaikh Basheer (67) and Ayyasamy (62). The police said it is yet to identify the fifth deceased victim.
Police sources told IANS that the mishap occurred due to a short circuit in an electric line and further investigation is on to ascertain the exact cause. A grocery shop was allegedly converted into a firecracker shop ahead of Diwali and was doing brisk business when the incident occurred.
The whole building was engulfed in fire and the police and fire personnel from Sankarapuram and Kallakurichi arrived at the spot to douse the fire.
Kallakurichi District Collector, P.N. Sridhar told media that the fire was doused after nearly three hours of intense efforts by the team of fire personnel and the police units that rushed to the spot.
The team cordoned off the area and started rescue operations as well as saved the grievously injured from the fire engulfed building.
State Minister, E.V. Velu reached the spot and visited the injured persons at the Kallakurichi government hospital on the same day of the incident.
The police said further investigation is on and whether the grocery shop that was converted into a firecracker shop had the mandatory license to conduct business. Whether the shop had the precautionary measures required to conduct a firecracker business, the police added.
The state government had issued warnings to the people and the firecracker manufacturers and traders to be safe during the Diwali season.