Ravichandran Ashwin wants to be the best, compete against the best: V.V.S. Laxman
Ravichandran Ashwin works out the weaknesses of batsmen and plans his deliveries accordingly which is why he is so difficult to face, said former India batsman V.V.S. Laxman.
"I think he's a very intelligent person. When you're playing at the highest level, then it's not only about your skill, it's about your preparation, your planning and execution is so critical," Laxman said on Star Sports.
"He works out what are the weaknesses of the batsman. He plans those dismissals and that's why I think he is reinventing himself. We saw recently in the Australia series how he troubled, someone as great as Steve Smith and that's another thing that makes Ashwin or any champion player special, that he wants to be the best and compete against the best," he further said.
Ashwin, 34, has been in stellar form since India's Test calendar restarted with their tour of Australia. He played a crucial role with both bat and ball as India won the series 2-1, which included them becoming the first team since 1988 to beat Australia in a Test match at the Gabba in Brisbane.
In the series against England, Ashwin took eight wickets in the second Test and scored a century and then went on to take seven wickets in the third which India won by 10 wickets inside two days. In the process, Ashwin also became the fastest Indian, and only the fourth overall from the country, to take 400 wickets in Test cricket.
"78 Test matches for 400 Test wickets. Let the naysayers be, he's been absolute phenomenal with the craft that he has displayed over a period of time and as he's growing as a bowler he's picking a lot of wickets," said former batsman Akash Chopra.
"I feel that he's an absolute rockstar. He's one of the biggest match winners India has ever produced, of course Anil Kumble will still remain at no. 1," he further said.
Laxman finally agrees to head NCA: Sources
The Board of Control for Cricket in India (BCCI) has managed to convince former cricketer VVS Laxman to head the National Cricket Academy (NCA) in Bengaluru, sources said.
After Rahul Dravid took over the post of Indian team's head coach, there were reports that Laxman might be appointed as a new head of NCA.
However, later it was said that the former batter "is uninterested". But now he is ready to take the charge after the BCCI officials held a meeting with him in Dubai.
"There were some issues and it has been sorted out. The board wanted him to take the reponsibility and he is the right man to come in place of Dravid," sources said.
It is also learnt that Laxman has also agreed to leave the lucrative commentary career for the NCA.
"Laxman is currently mentor of IPL team Sunrisers Hyderabad, apart from being a commentator and cricket analyst. And he will leave it all for NCA now."
Everyone had written us off; we are here to rectify that: Finch
Australian captain Aaron Finch has conceded that not winning the ICC T20 World Cup title so far has been a sore point with the Kangaroos and the final against New Zealand later on Sunday is the "best opportunity to rectify that".
The closest Australia came to winning the T20 World Cup was during the 2010 edition held in the West Indies, where they lost to England by seven wickets.
"It's one that's eluded us in the past, and the fact that we are here in the final gives us the best opportunity to rectify that. Yeah, I think it will be a great game against New Zealand. They are a great side and they have been in all the finals over the last six years. Looking forward to it," said Finch ahead of the title clash.
Finch added that despite critics writing his team off, the way the players had gone about their business was heartening.
"Everyone had written us off but we had a lot of confidence within. We're really confident the way that we were preparing, the way that our strategy was coming together. Yeah, I think it hasn't defied expectation. I think we came here with a really clear plan to win the tournament, and we still feel as though we've got the squad to do that.
"Well, I think the spirit among the team… and that's been really impressive the way we've gone about our business. Everyone has prepared really well. Everyone has had a really defining match or match-defining performance at some point. The guys are really up and about for the final," said Finch.
Finch added that batting stalwart Steve Smith's form wasn't a concern despite the fact that the former skipper has been unimpressive so far in the tournament, and the team management has drawn flak for persisting with him.
"No, not concerned one bit about his (Smith) form. He's a world-class player and he's someone in big games has showed how valuable he is. He's been hitting the ball as well as I've seen for a long time, so no, no concerns there whatsoever."
It's been happening for long; India don't have mental strength: Gambhir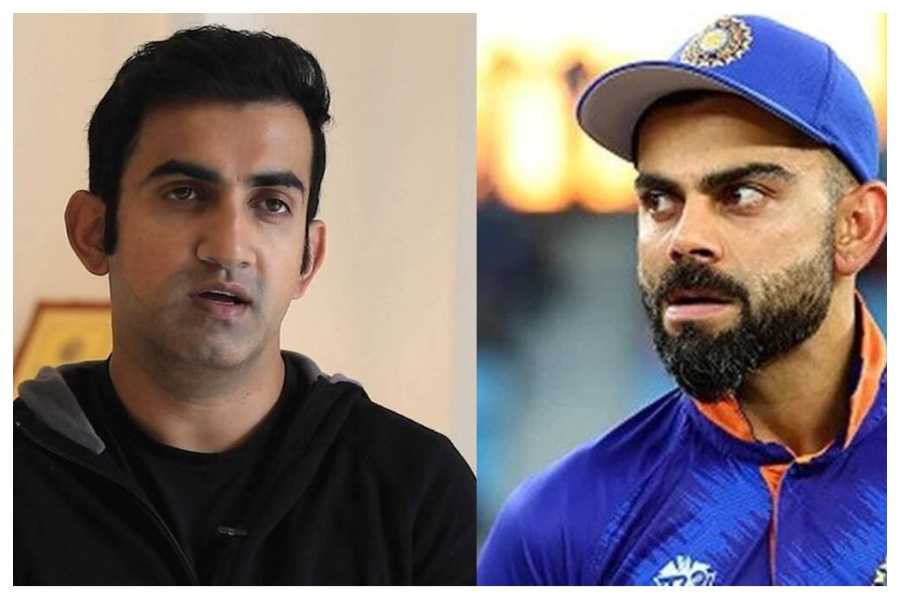 After the crushing eight-wicket defeat against New Zealand, former India opener Gautam Gambhir has slammed the Virat-Kohli-led side, saying that they have the skills but lack the much-needed mental toughness to win big knockout games in ICC tournaments.
India have succumbed to pressure and lost two successive matches, against Pakistan and New Zealand, in the ongoing 2021 Men's T20 World Cup.
According to Gambhir, the Indian team has the skills but they lack the mental strength to win important games in ICC events.
"Yes talent is one thing; you've got all the skills and do really well in bilaterals and stuff. But when it comes to these kinds of games and tournaments, this is when you have got to stand up and perform," said Gambhir on ESPNCricinfo.
"This game was literally like a quarterfinal. The problem is with the mental toughness of the side. Suddenly when you know you have got to win the game and can't make mistakes, in bilaterals it's different because you can make mistakes there. But in these kinds of games, I don't think India has got that mental strength," he added.
The former opener, who is often remembered for his two match-winning knocks for India in the finals of the 2007 T20 World Cup and 50-over mega-event in 2011, felt that someone should have put his hand up when it mattered most for the team.
"They have the skill and are a very dangerous side. But, unfortunately, we can keep talking about it that we need to stand by our team when it's not doing well but it's been a trend and it's been happening for a very long time in most of these ICC tournaments, whether it's the semifinals or the game (against New Zealand on October 31) as well. When it mattered the most for someone to put his hand up, they just couldn't," said Gambhir.
Meanwhile, Gambhir's opening partner Virender Sehwag mentioned that India's body language wasn't great in the game against New Zealand and they need some serious introspection.
"Very disappointing from India. NZ were amazing. India's body language wasn't great, poor shot selection and like few times in the past, New Zealand have virtually ensured we won't make it to the next stage. This one will hurt India and time for some serious introspection #IndvsNZ, " Sehwag said in a tweet.
India have three matches remaining in the tournament and another loss will confirm their early exit from the competition. The Men in Blue will have to win their remaining matches by big margins to ensure their net run rate can be improved and they stand a chance at qualifying.
They will next face Afghanistan in their third match on November 3 in Abu Dhabi in the hope of turning their campaign around in the mega event.