Railways suspend arrested star wrestler Sushil Kumar until further orders
Two-time Olympian Sushil Kumar, who was arrested by the Delhi Police on Sunday in connection with the death of wrestler Sagar Dhankar, has been suspended until further orders, officials said on Tuesday.
Northern Railway spokesperson Deepak Kumar said, "A case against Sushil Kumar, (Adhoc)JAG/ IRTS, on premature repatriation to Northern Railway from NDMC, in respect of a criminal offence, is under investigation. He was detained in police custody on May 23 for a period exceeding forty-eight hours."
"Now, therefore Sushil Kumar JAG/ (Adhoc) IRTS is deemed to have been suspended with effect from the date of detention i.e. May 23, 2021 in terms of Rule 5 (2) of (D&A) Rules, 1968 and shall remain under suspension until further orders," he said.
Kumar was arrested after staying on the run for 18 days after the death of wrestler Dhankar.
According to Delhi Police officials, Kumar had travelled to Punjab, Uttar Pradesh, Uttarakhand and Haryana during the 18-day-long cat and mouse chase game.
He was finally arrested from Delhi's Mundka area on Sunday morning, when he had come to collect some cash and also borrowed a scooty from a national level player. The Delhi Police had also announced a reward of Rs 1 lakh on Kumar and Rs 50,000 on his aide Ajay.
Kumar was sent to six days' custody by a Delhi court.
On May 18, Kumar had moved an anticipatory bail plea in New Delhi's Rohini court, but the court rejected it.
On May 4, two groups of wrestlers clashed with each other at Chhatrasal Stadium leading to the death of 23-year-old Dhankar due to injuries he sustained during the brawl. A Delhi court had also issued a non-bailable warrant (NBW) against Kumar.
The Delhi Police had also issued a lookout notice for Kumar who won a bronze medal in the 2008 Beijing Olympic Games and silver in the 2012 London Olympic Games.
NCB 'visits' SRK, Ananya Pandey's homes; conducts raids in Andheri
In a major development, teams of Narcotics Control Bureau (NCB) paid a formal 'visit' to the residences of Bollywood megastar Shah Rukh Khan in Bandra west, and actress Ananya Panday in Khar west, and raided a location in Andheri on Thursday as part of the ongoing probe into the October 2 luxury cruiser rave party.
"The NCB Mumbai Zonal Unit officials visited 'Mannat', the residence of Aryan Khan in connection with the (Cr.94/21 case) for seeking certain material related to the investigation of the case from Shah Rukh Khan, by following due procedure of notice, etc.," said NCB Zonal Director Sameer Wankhede in a statement later.
He also dismissed reports in sections of the media dubbing the NCB trip to the superstar's sea-facing bungalow as a 'raid'.
The development, which grabbed national attention, came shortly after the Bombay High Court this morning decided to take up his son Aryan Khan's bail plea on next Tuesday, October 26.
Simultaneously, Ananya Panday — daughter of Bollywood actor Chunky Panday and granddaughter of the renowned heart surgeon, the late Dr. Sharad Panday — has been summoned to the NCB offices this day for the probe and the actress.
The NCB has claimed that her name apparently figures in some WhatsApp chats of Aryan Khan recovered by the agency, along with others.
As part of its probe into the cruise ship party raids, the NCB has arrested a total of 20 persons so far, and more arrests are not ruled out.
It may be recalled that Nationalist Congress Party National Spokesperson and Minister Nawab Malik had last week claimed that among various Bollywood bigwigs targeted, Shah Rukh Khan was also on the radar of the central probe agency with sleuths keeping a watch on 'Mannat' in recent weeks.
NCB drugs case: No bail for Aryan Khan, 2 others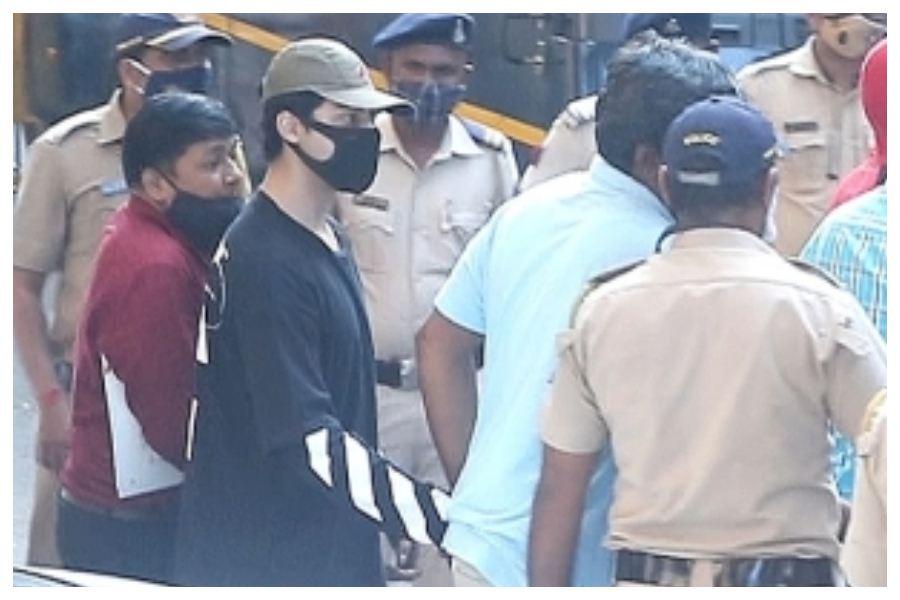 Mumbai Special NDPS Court on Wednesday rejected the bail plea of Aryan Khan, the son of Bollywood superstar Shah Rukh Khan.
The court also declined the bail applications of Arbaaz Merchant and Munmun Dhamecha, the two accused in the same case.
Khan's lawyer said that though the detailed order of Special Judge V.V. Patil is awaited, they plan to "appeal to the Bombay High Court today or tomorrow seeking bail".
All eyes on Mumbai special court, suspense over bail or jail for Aryan
The Special NDPS Court in Mumbai is the focus of national attention as the bail plea of Aryan Khan — son of Bollywood megastar Shah Rukh Khan — and 7 other youths come up for hearing later on Wednesday.
The arguments in the bail pleas of Aryan Khan, Arbaaz Merchant and Munmun Dhamecha were completed last week and Special NDPS Judge V.V. Patil had deferred the verdict till Wednesday, but the hearing of the remaining accused is pending.
The hearing comes under the backdrop of a senior Shiv Sena leader Kishore Tiwari filing a plea before the Supreme Court Chief Justice N.V. Ramana demanding a high-level probe into the affairs of Narcotics Control Bureau (NCB) and the 'violation of Aryan Khan's fundamental rights'.
Meanwhile, the NCB has reportedly found the mention of a heroine in one of the WhatsApp chats of Aryan — who has been inside the lockup or custody for 19 nights continuously since his detention on October 2 and arrest on October 3.
The NCB has reportedly counselled him and other co-accused, offered them their religious holy books like Bhagwad Gita, Quran or Bible, Aryan reportedly is full of remorse and has promised to 'reform' himself after release.
However, Nationalist Congress Party National Spokesperson and Minister Nawab Malik has challenged these claims and demanded the NCB should release videos of the purported counselling sessions instead of indulging in selective leaks.
In one of the most high-profile operations, Aryan Khan, along with 7 others was caught when the NCB team led by Mumbai Zonal Director Sameer Wankhede swooped on an alleged rave party aboard a cruise ship on October 2 evening.
During subsequent investigations, another 12 persons, including a foreigner have been nabbed in the same case, while some others have been raided or questioned.
Simultaneously, fingers have been raised at the NCB's style of working, the involvement of a fugitive and a politician, friends of the sleuths as 'independent witnesses', capped by the unprecedented plea to the CJI seeking a probe into the central narcotics agency's alleged 'mala fide doings'.