Producer Ekta Kapoor resumes 'Naagin 4' shoot post lockdown
Producer Ekta Kapoor has resumed shooting for her daily soap "Naagin 4" as the lockdown opens up.
Ekta shared a few pictures from the set of the daily soap on her Instagram story and wrote: "And it begins! #Shootstarts #Unlock1 #shootmode.'
From the pictures shared by Ekta, the crew can be seen wearing masks, gloves and headgears. The actors stand at a considerable gap as they deliver dialogues and wear masks while rehearsing lines in between shots.
The photographs also reveal thermal scanning is being done to every cast and crew member before entering the set. Makeup artists and hairstylists can be seen wearing personal protective equipment (PPE).
The actors associated with the daily soap are also super excited to resume shoot.
"Feels so good to be back at the set and most important shoootinggg.. With utmost amount of safety. #SafetyFirst #Naagin4 @BTL_Balaji @MuktaDhond @ektarkapoor," Rashami Desai tweeted on Saturday afternoon.
Her co-star Nia Sharma shared a photo of herself in her vanity van. "Cut to- 3 months later… back to set, my Vanityyyyyyyyyyyyy!! #naagin4 Jaan hatheli pe lekar (risking my life)," Nia wrote on Instagram.
Nia Sharma, Rahul Vaidya on 'Zee Comedy Show' to promote 'Garbe Ki Raat' video
Renowned music composer and singer Anu Malik will be seen as the special guest on 'Zee Comedy Show' over the weekend, while singer Rahul Vaidya and television actress Nia Sharma make a guest appearance to promote their recently launched music video – 'Garbe Ki Raat'.
After some really entertaining acts, Sanket Bhosale in his 'Sanjay Dutt' avatar took over the stage and kickstarted his 'Baba Ka Darbar' chat show with Farah Khan and Anu Malik being his special guests. Midway through the act, Rahul and Nia also made a surprising entry and made everyone dance on their new song – 'Garbe Ki Raat'. The duo along with Sanket and Anu Malik also danced on 'Aaila Re' as well.
Talking about her experience on the show, Nia Sharma mentioned: "It was a short and sweet visit, but we had a great time promoting our song with 'Baba' – Sanket Bhosle, who was fantastic, and Farah Ma'am, who is the sweetest. Navratri is going on and the trend of music videos is on the rise, and I got the chance to dress up, so I had a great time making 'Garbe Ki Raat' and promoting it on 'Zee Comedy Show'."
Anu Malik added: "Farah and I are having deja vu as Rahul started his journey in front of us and from there till here, when he is sitting beside me and promoting his song, his journey has been commendable. He is one of the nicest and most talented human beings that I've ever met, and I really wish him all the best in his career and for 'Garbe Ki Raat'."
'KBC 13': Ramesh Sippy reveals how dream cast of 'Sholay' was assembled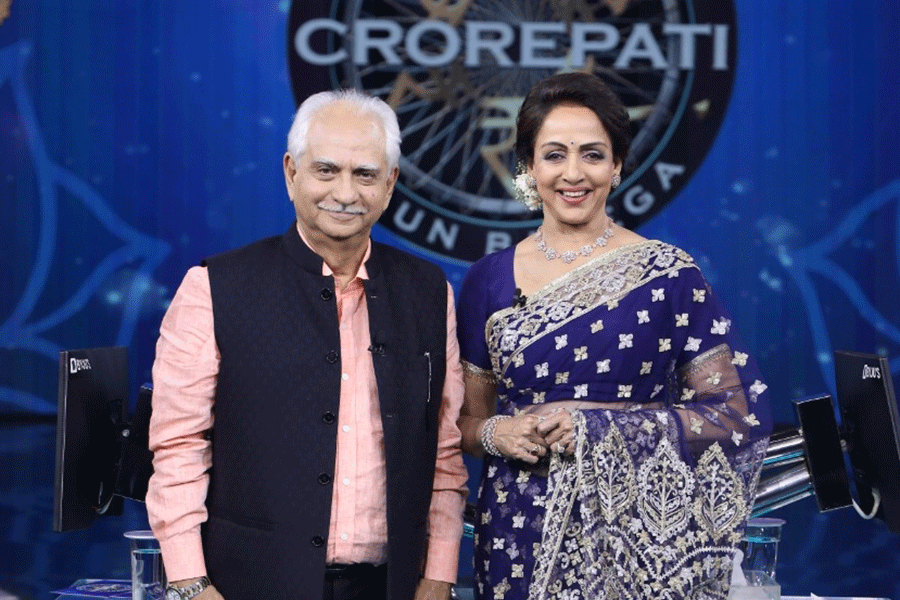 Renowned director Ramesh Sippy shares with 'KBC 13' host Amitabh Bachchan as to why he chose Hema Malini as 'Basanti' and how did he think about 'Jai-Veeru'. Sippy will appear as a special guest along with Hema Malini on 'Kaun Banega Crorepati 13's 'Shaandaar Shukravaar' episode.
Both will be talking about the iconic blockbuster 'Sholay' as the movie celebrates 46 years of its release.
Replying to Amitabh, Ramesh Sippy shared: "See, Hema ji in her first film with me had portrayed the role of a young widow and in the second film, 'Seeta aur Geeta', she surprised us. So, for the role of 'Basanti' I felt that no one can do it apart from her. Also, there was one more thing. When we completed 'Seeta aur Geeta' and it became successful, it is then when we decided whatever I make after this, Dharam ji, Hema ji and Sanjeev ji must be there. And as the script of 'Sholay' was shaping up, it was fitting perfectly."
When asked about how he thought of 'Jai-Veeru', Sippy replied: "We had 'Veeru', he was there in the last film, too. So, there was one thing that I had thought about is that we have three superstars and if I get one more superstar, it would be difficult for me, only. So, then I thought I need a good actor, who does good work and becomes a team. Because when Salim-Javed suggested Amit ji for this role, saying there's one 'Amitabh Bachchan' who's doing good work and is working with us in 'Zanjeer'. I said ok, that's good."
"And, then I thought that he's not a star at the moment so I won't have that problem that there's one more star on the set. But, there are two things that I remember about you. You did a great job in the film 'Anand', a very serious role and then in 'Bombay to Goa' you did a light role with Mehmood Saab. In that bus, you were this tall man and the way you danced gracefully. I felt this seems to be an actor who can do anything. So, he will be able to give us what we want. That's how the casting was done," he added.
To all that Sippy said, Amitabh acknowledges and responded: "Thank you very much, Sir". Replying to this, Sippy shared: "You proved it. And by the time the film released, you became the biggest star."
Nawazuddin says good people are needed for making good content
Actor Nawazuddin Siddiqui, who has been nominated in the Best Actor category at the International Emmy Awards for the Netflix film 'Serious Men', says for that making good content, good people are also needed.

Talking about what's more important according to him – content of a project or who all are starring in it, Nawazuddin in a conversation with IANS said: "I think both are important."

"A lot of content is being made but it will not come out and shine till the time the directors, actors and their performance isn't there."

He says if the actor or the maker are not good then there is no meaning to the content.

"No matter how good the content is, if the actor or the director is not good then there is no meaning to the content. For making a good thing, good people are needed," he concluded.

'Serious Men' is based on Manu Joseph's book of the same name. The film, directed by Sudhir Mishra, is a sharp take on ambition and caste politics, put in perspective in the Indian context.