Pinarayi Vijayan's Kannur to host party meet, fate of Sitaram Yechury uncertain
With Chief Minister Pinarayi Vijayan's home town, Kannur, to be the venue for the 23rd Party Congress next year, it clearly shows the sway he has over the party, which could well spell trouble for General Secretary Sitaram Yechury, whose third term hangs in the balance.
Yechury is in his second term and according to the party Constitution, he can get one more term, but as is known to all both Vijayan and Yechury at times are not on the same page when it comes to issues and it's here that Vijayan's absolute control of the party, by virtue of winning the Assembly polls in Kerala, despite a few scams and other issues, could well affect Yechury's third term.
A media critic on condition of anonymity said as things stand now, Vijayan's unquestionable grip over the party is going to be his forte and with the Party Congress to be held in his home turf, it could well be another advantage for him to further consolidate the party.
"Then comes the issue — whether Yechury needs to continue, and in all likelihood, Vijayan would like to have one of his handpicked persons to the top post and veteran leader M.A. Baby, who has had terms in the Upper House and also a former State Minister, is in his mind. It remains to be seen, will Vijayan be able to get away from any opposition which might come from the West Bengal wing of the party.
"But, Vijayan who is a master in tactical moves, could give Yechury another term, to see that there is no animosity, which could well be the clincher for Vijayan to keep Yechury under his leash," said the critic, who did not wished to be identified.
Incidentally with Kannur hosting the mega event, it could well be Vijayan's show. He for sure would like the event to go without any unnecessary discussions in the media and would like to stamp his authority that he is not just the last word in Kerala but nationally also, and hence Yechury could well have his third and final term.
Moreover, with a big team of his aides like State Minister for Local Self Government M.V. Govindan, former Minister's E.P. Jayarajan, K.K. Shailaja, P.K. Sreemathy — all members of the present central committee of the party besides politburo member Kodiyeri Balakrishnan, all hailing from Kannur, Vijayan will ensure that there is not going to be any sort of hiccups, which could well be flared up by media.
The last time this mega event was held in Kerala was at Kozhikode in 2012 when Vijayan was the state party secretary and his tirades with then Chief Minister V.S. Achuthanandan was at its peak and yet he managed to keep Achuthanandan quiet.
So irrespective of which position Vijayan holds, when he runs the show, he is the final word in the party and one will have to wait to find out which way Yechury will be going.
Congress damaged interests by not trusting me: Amarinder
Two days after announcing to launch his own political outfit to serve the interests of the people, two-time Punjab Chief Minister Amarinder Singh on Thursday slammed AICC general secretary Harish Rawat, saying the party has damaged its own interests by not trusting him and giving the party into the hands of an 'unstable person' like Navjot Sidhu.
"Your apprehension is that I'll damage @INCIndia interests in Punjab…. Fact is @harishrawatcmuk ji, the party has damaged its own interests by not trusting me and giving @INCPunjab into the hands of an unstable person like @sherryontopp who's only loyal to himself: capt_amarinder," media advisor Raveen Thukral quoting Amarinder Singh as saying in a tweet.
In a series of tweets, Amarinder Singh asked Rawat, who is Punjab affairs in-charge, "Today you're accusing me of helping my rival @Akali_Dal for 4 and a half years @harishrawatcmuk ji. Is that why you think I've been fighting court cases against them for the last 10 years? And why I've won @INCIndia all elections in Punjab since 2017?"
Asking Rawat to stop talking about secularism, the former Chief Minister said, "Don't forget @INCIndia took in @sherryontopp after he was with @BJP4India for 14 years. And where did Nana Patole and Revnath Reddy come from if not RSS? And Pargat Singh was with @Akali_Dal for 4 years!"
Amarinder Singh further asked Rawat, "And what are you doing with @ShivsenaComms in Maharashtra? Or are you saying @harishrawatcmuk Ji that it's ok to join forces with so-called communal parties as long as it suits @INCIndia purpose.
"What's this if not sheer political opportunism?" he asked.
The former Chief Minister's reaction came a day after Rawat said Amarinder's announcement of floating a new party will not hurt the Congress in Punjab.
It will actually divide the votes of Congress' rivals in the state, Rawat said, adding, "Our votes will depend on the performance of the Charanjit Singh Channi government. The way Channi has started, it has created a good impression before Punjab and the entire nation."
Meanwhile, state party President Navjot Singh Sidhu blamed Amarinder Singh the architect of three black farm laws.
"The Architect of 3 Black Laws… Who brought Ambani to Punjab's Kisani… Who destroyed Punjab's Farmers, Small traders and Labour for benefiting 1-2 Big Corporates!!" Sidhu said in a tweet with photos of the former Chief Minister meeting Union Home Minister Amit Shah and others.
100cr vaccination milestone belongs to Indian citizens: Modi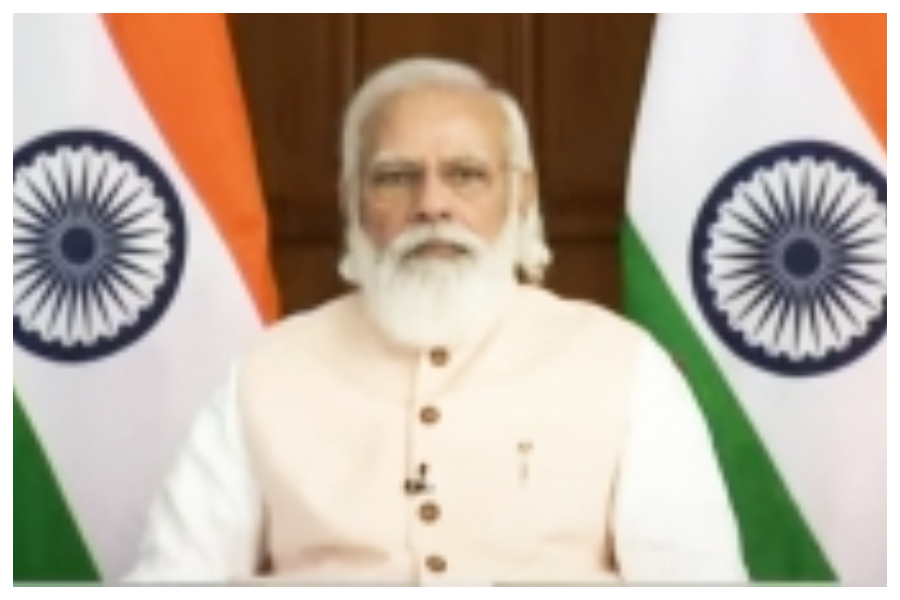 Prime Minister Narendra Modi on Thursday said that the 100 crore vaccination milestone belongs to India and its citizens.
"Today is a historic day as India has crossed the 100 crore vaccine dose mark. To counter the largest pandemic in 100 years, the country now has a strong protective shield of 100 crore vaccine doses. This achievement belongs to India and its citizens," the Prime Minister said.
India achieved the 100 crore vaccination milestone on Thursday morning.
Modi also inaugurated the Infosys Foundation Vishram Sadan at the National Cancer Institute in the Jhajjar (Haryana) campus of AIIMS New Delhi through a video conference on Thursday.
The Prime Minister expressed his gratitude on this occasion to all the vaccine manufacturing companies of the country, workers engaged in vaccine transportation and the health sector professionals engaged in vaccine development.
This Vishram Sadan, built in the National Cancer Institute, will reduce the worries of patients and their relatives, he said.
The Prime Minister praised Infosys Foundation for constructing the building of Vishram Sadan and AIIMS Jhajjar for providing the land, electricity and water. He expressed his gratitude to the AIIMS management and Sudha Murthy's team for this service.
He said when the patient gets free treatment under the Ayushman Bharat scheme, an act of service is accomplished. It is this service motive that has made the government take steps to reduce the prices of about 400 cancer medicines, the Prime Minister said.
'Pak playing T-20 in J&K': Owaisi slams Modi govt over match
AIMIM President Asaduddin Owaisi on Tuesday slammed the Narendra Modi government for allowing the Indian cricket team to play a T20 match with Pakistan at a time when "our soldiers are being killed in Kashmir".
India is scheduled to play the first match of T20 World Cup against Pakistan in Dubai on October 24.
Addressing a public meeting on the eve of Eid Milad-un-Nabi at AIMIM headquarters Darussalam, he said: "Pakistan is playing T20 with Indian lives in Kashmir. How can we play a match against them amid regular terror attacks there?"
He recalled how Prime Minister Modi had criticised then Prime Minister Manmohan Singh "for sharing biryani with the Pakistan PM when Indian jawans were being killed on the borders".
Owaisi also alleged that the targetted killings in Kashmir were a result of lack of policy of terrorism by the Modi government, and questioned the government's claim that problems in Kashmir have ended with the repeal of Article 370.
Referring to the death of labourers from Bihar in Kashmir, he wondered what the intelligence agencies and Home Minister Amit Shah were doing.
The AIMIM leader also lashed out at PM Modi for his silence on petrol and diesel prices.
"He is silent on skyrocketing fuel prices. The cost of petrol and diesel have hit the century mark, yet he has not commented on it."
Owaisi also questioned the Prime Minister on his silence over Chinese Army entering and occupying the Indian territory. "Why is he afraid of even taking the name of China," he asked.
The AIMIM also voiced concern over the situation faced by Muslims in the country.
Quoting a 27-year-old lawyer to describe the current situation, he said: "A Muslim is living under the threat of someone attacking his shop or a mob lynching him. He feels helpless. They (the government) have criminalised triple talaq, they have criminalised religious conversions and they are trying to bring Citizenship Amendment Act (CAA) through backdoor. If I protest, they book me under UAPA or NSA."
At the press meet, he also discussed how there are lack of opportunities and no inter-mobility among Muslims. According to him, because of Hindutva, his Hindu friends and business partners have distanced themselves from him.
Owaisi, however, advised Muslims not to lose hope. He said they should keep their spirits up and face the situation with courage.
He also urged the youth to self-introspect and keep themselves away from all societal evils by offering prayers, building character, desisting from taking dowry and helping the poor and needy, irrespective of their community.