Petrol and diesel price rise paused, retail rates unchanged
After a longer break, the oil marketing companies have kept the retail prices of petrol and diesel unchanged for the second consecutive day on Thursday.
Accordingly, petrol continues to be priced at Rs 98.81 a litre and diesel at 89.18 a litre in the national capital on Thursday.
Across the country as well the fuel prices remained unchanged. Fuel prices were last revised on Tuesday.
The price rise pause has come not before the fuel rates have reached new highs across the country through numerous increases in the last two months.
Starting from a price line of Rs 90.40 a litre on May 1, petrol is now priced at Rs 98.81 a litre in the national capital, rising by a sharp Rs 8.41 per litre in the last 60 days. Similarly, diesel price in Delhi also rose by Rs 8.45 per litre in the past two months to reach Rs 89.18 a litre.
Though, oil companies gave respite to consumers on Thursday, keeping fuel prices unchanged, the price pause has come after rates have been revised upwards in 32 out of 61 days between May and June to take retail rates to new highs across the country.
Officials in oil companies put the consistent increase in fuel prices to development in global oil markets where both product and crude prices have been firming up for past couple of months on demand rise amidst slowing of pandemic. However, closer look at fuel retail prices in India gives a picture that it is high level of taxes that is keeping fuel rate higher even in times when global oil prices are firm.
Global crude oil price is now hovering around $75 a barrel. It was over $80 a barrel in October 2018 but even then the petrol prices hovered around Rs 80 a litre across the county. So, even with lower oil prices now, petrol prices have hit century and crossed it by a wider margin now in several parts of the country.
Officials said that fuel prices might again rise in coming days and the only way retail prices could be brought down in this period is by way of tax cuts by both the Centre and the States.
Fuel prices are already touching new highs everyday. Petrol is most expensive in Rajasthan's Sri Ganganagar where it is now retailing at Rs 109.67 a litre. Even diesel in the city is priced at a high of Rs 102.12 a litre.
In the city of Mumbai, where petrol prices crossed Rs 100 mark for the first time on May 29, the fuel price reached new high of Rs 104.90 per litre on Tuesday. It remained at the same level on Thursday. Diesel prices also increased in the city to reach Rs 96.72 a litre, the highest among metros.
With global crude prices also rising on a pick up demand and depleting inventories of the world's largest fuel guzzler – the US, retail prices of fuel in India is expected to firm up further in coming days. The benchmark Brent crude reached multi year high level of over $75 on ICE or Intercontinental Exchange.
Airtel showcases 5G ambulance, smart agri 5G solutions to PM Modi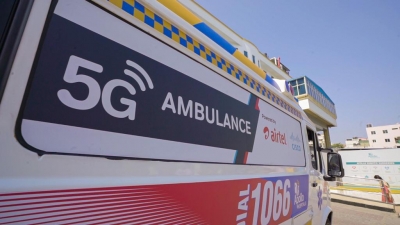 Bharti Airtel on Saturday showcased a 5G-connected ambulance to transform primary health care in emergency situations, along with smart farming solutions to Prime Minister Narendra Modi at the 5G official launch in the country.
The 5G ambulance, that can be built for around Rs 7-7.5 lakh, brings a hospital's emergency care to the patient.
Airtel, Apollo Hospitals and Cisco have joined hands to build the 5G-connected ambulance.
The state-of-the-art 5G ambulance is equipped with the latest medical equipment, patient monitoring applications, and telemetry devices that transmit the patient health data to the hospital in real-time.
In addition, it is also equipped with onboard cameras, camera-based Headgear, and 'Bodyc Cams' for paramedic staff — all connected to the ultra-fast and low latency Airtel 5G network.
It will be further enabled with technologies like AR/VR, said the company.
"Healthcare is one of the most promising use cases for 5G, and we are delighted to deepen our partnerships with Apollo Hospitals and Cisco to bring some innovative use cases for the Indian market," said Ajay Chitkara, Director & CEO, Airtel Business, Bharti Airtel.
With real-time camera feed available, the paramedics in an ambulance can use the cameras to collaborate with the ER doctors at the hospital who are equipped with technologies like AV/VR to undertake basic procedures, if necessary.
The doctors can virtually guide the paramedic to carry out the procedure and save precious lives.
The Airtel's 'Ambupod' technology provides health testing, immunisation and the doctor's connectivity in difficult-to-reach areas.
"Doctors can do a virtual examination of the patient through a video call and view their reports. Medical services can be provided to many villages at the same time," according to the telecom provider.
The company also showcased smart farming solutions to Modi during his visit to the Airtel pavilion.
Airtel, along with its partners L&T and CDAC, has made an effort to make the agriculture sector more productive with the help of 5G technology.
"If every farmer in the country gets the necessary information like soil moisture, atmospheric moisture and temperature information in advance to improve the productivity of agriculture, then he can make a better decision," the company said.
Camera-based analytics can suggest to the farmer according to the colour and nature of the crop, at what time and how much pesticide to use.
Vi to introduce 5G mobile cloud gaming service in India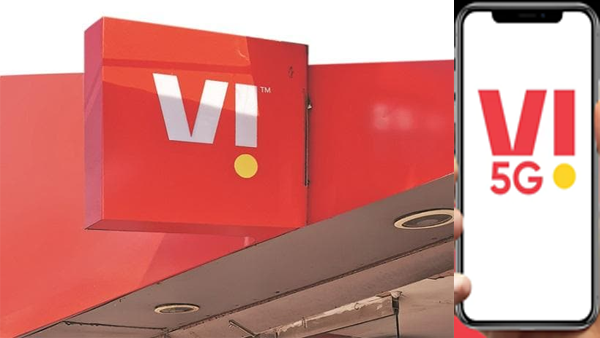 Telecom operator Vi (Vodafone Idea) on Friday announced its partnership with gaming platform CareGame to offer 5G Cloud gaming experience to its users in India.
The company said that with 5G's low latency technology, the cloud gaming industry is expected to democratise even further.
"The online gaming industry is among the fastest growing entertainment segments in India and with the advent of 5G it is expected to grow many folds. Mobile gaming is a key agenda for us to drive engagement with our consumers", Avneesh Khosla, Chief Marketing Officer, Vodafone Idea, said in a statement.
As per a report by Boston Consulting Group (BCG), India currently has a user base of 300 million mobile gamers. Growing at a CAGR of 38 per cent, the Indian mobile gaming industry is expected to triple in size to a $5 billion market by 2025.
"Our unique Mobile Cloud Gaming technology lifts all these barriers up so that all mobile gamers can enjoy all these great mobile games, whether being RPG, MOBA, Battle Royale, Strategy, Simulation, FPS, Racing or in any other genre", said Benjamin Athuil, Co-founder and President of CareGame.
The company will showcase the service at the India Mobile Congress (IMC), being held from October 1-4 at Pragati Maidan in New Delhi.
JioPhone 5G price leak stirs controversy, research firm clarifies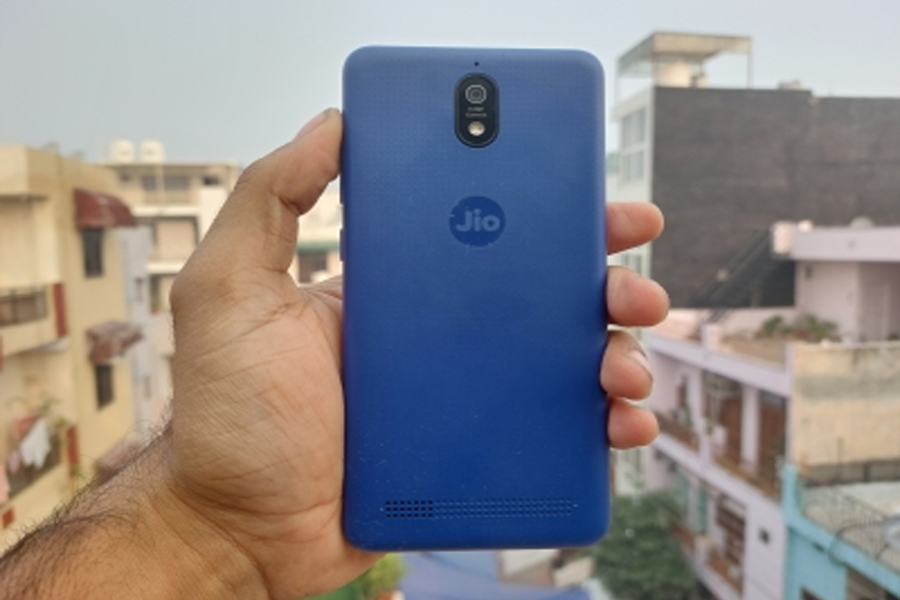 Leading market research firm Counterpoint Research has refuted certain reports that used its findings to convey that Reliance Jio is set to launch the 5G version of its JioPhone Next affordable smartphone around Rs 8,000-Rs 12,000.
In a clarification posted on Twitter, Counterpoint said that "some comments from our research note dated 26th September 2022 on the JioPhone Next BoM have been taken out of context".
"This is leading to misquotes and misrepresentations of our intent. In our research, we speculate about the possible pricing of a 5G phone from Jio, but we have no specific knowledge of any possible or exact pricing plans for 5G products or the potential timing of any 5G products from Jio," said the research agency.
In its report, the industry report touched upon the JioPhone Next 4G, saying it is a unique smartphone for its price segment, retailing at around $55-$80 (Rs 4,400-Rs 6,400) depending on the seasonal/regional/buyback offers, supported by a compact design.
"The device rounds up Jio's strategy well — first, to use the JioPhone Next 4G to attract hundreds of millions of 2G feature phone users to its 4G network and second, to aim to deliver a $100 to $150 (Rs 8,000-Rs 12,000) affordable 5G smartphone once the coverage has reached a good threshold to attract the mass-market 4G smartphone users to its 5G network," the bill of materials (BoM) analysis said.
"This two-pronged strategy will be the key to Jio's growth and extend its leadership to the 5G era as well," it added.
Further, at some point in 2024, Jio will also be compelled to launch an affordable 5G mmWave + Sub-6 GHz smartphone as the cost deltas between the two would have narrowed significantly from the BoM perspective.