Nobody could have imagined me as Beena in 'Mirzapur': Rasika Dugal
As the web series 'Mirzapur 2' wins the 'Best Series' at the ongoing Indian Film Festival of Melbourne (IFFM) 2021, actress Rasika Dugal recalls how, post the release of the show everyone told her that it was hard to imagine her in the character of Beena Tripathi.
Rasika Dugal bagged two nominations for her work in the film 'Lootcase' and the web series 'Mirzapur 2'.
Talking about her characters in both the projects, Rasika told IANS: "I must say these two women in 'Lootcase' and 'Mirzapur' are so different. In a way, it was an opportunity for me to be versatile as an actress. Since I am a little introverted, shy and clumsy in real life, which is just the opposite of who Beena Tripathi is, in Mirzapur, nobody could have imagined me as Beena in 'Mirzapur'. She walks her way and carries herself with a sense of dignity and there is a sense of sensuality in her personality. It was an interesting character because she is firm and fearless. On the other hand, in 'Lootcase' which was a comedy, Lata is a simple, God-fearing woman, morally upright and always walks the line. So as an actress for me receiving nominations for both the work was very special."
The new season of the web series 'Mirzapur' was released on Amazon Prime Video. The show also features Pankaj Tripathi, Ali Fazal, Divyendu Sharma, Vijay Varma, Shriya Pilgaonkar and Shweta Tripathi Sharma.
Since most of her work, especially cinema be it 'Qissa', 'Tu Hai Mera Sunday', 'Hamid', 'Manto' travelled to film festivals and the actress received a lot of accolades, for that Rasika believes that thanks to the OTT platforms, such films are not niche anymore and actresses like her are gaining great visibility.
"It really feels great when our works get viewed by the universal audience. The audience who comes and watch films at the festival are pure cinema lovers. They watch and analyse our work with great detail and they also draw parallels from other international cinemas. That is great. But because of OTT platforms when these films are getting released and viewed by a larger audience on OTT it gives a different sense of satisfaction. Every now and then we get feedback from the audience on social media because someone somewhere watched 'Mirzapur', 'Lootcase', 'Manto' for the first time! Another way for us to know how curious the audience is, when they ask, 'when is the new season coming?'" shared Rasika.
Tara Singh Returns: Sunny Deol and Ameesha Patel start filming 'Gadar 2'
Sunny Deol and Ameesha Patel from 'Gadar: Ek Prem Katha' have reunited for the film's sequel, 20 years after the blockebuster.
The two will be reprising their roles in the film which has flagged off its shooting schedule. The pictures from the film's 'muhurat' have gone viral.
Ameesha took to her Instagram to share an image from the film's set, she captioned the picture, "Gadar 2. Muhurat shot. The General was kind enough to grace the occasion (sic)."
In the image, Sunny can be seen sporting a turban and red kurta, while Ameesha has donned an orange Patiala suit. Pictures from the 'muhurat' shot show that the styling is in line with where the first film ended. It'll be interesting to see how the story progresses.
Sunny Deol too shared an image on his Instagram, he wrote, "We started filming of Gadar 2. Will post Tara Singh soon (sic)."
Earlier, Sunny had shared the film's motion poster as he captioned it, "After two decades the wait is finally over! On the auspicious day of Dusshera, presenting to you the motion poster of Gadar 2. The Katha Continues…"
Anil Sharma is directing the sequel under the Zee Studios production. The film is scheduled for a 2022 release.
Dakota Johnson says 'no one acts normally because of Covid-19'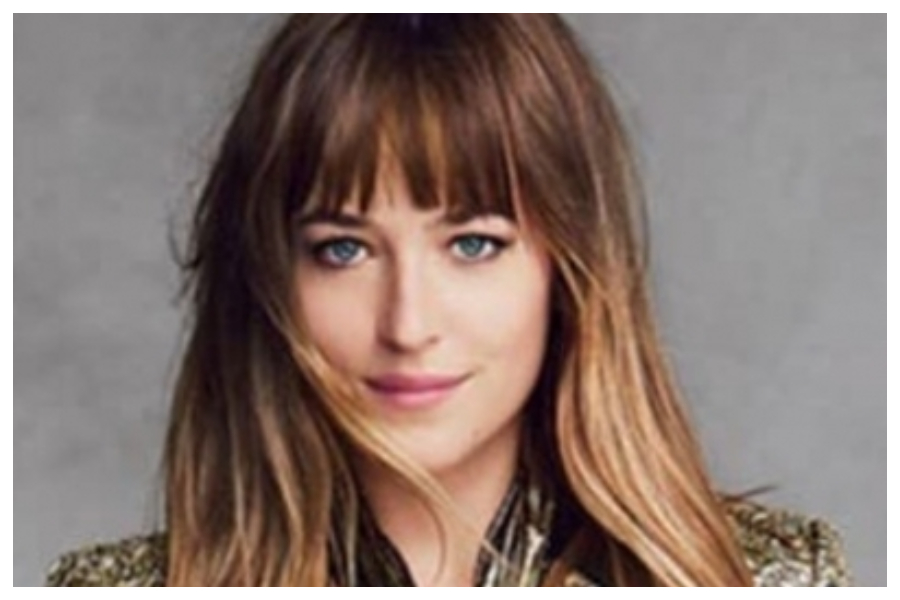 Actress Dakota Johnson says her professional life has been transformed by the ongoing health crisis.
Johnson, who is best known for starring in the 'Fifty Shades' film franchise, said: "The thing is, people are not behaving normally. If you go to a party, you f****** rage."
Johnson currently has a number of projects in the works, including her directorial film debut.
The movie will take place on a mythical island, but the actress won't give away too many other details for the time being, reports femalefirst.co.uk.
She told Town and Country magazine: "We talked about someone else directing, but then I was dreaming about it, having ideas all the time. It's in my bones, this story. I'm like, 'Is this too soon?' But it's happening. I'm gonna do it."
Johnson previously co-directed Coldplay's 'Cry Cry Cry' music video, which featured her boyfriend Chris Martin.
Her dad, Don Johnson, recently said he would be "happy" if his daughter married the music star.
Don said: "I don't think much further than about the next seven or eight seconds. But listen, if she's happy, I will be happy, and he's a lovely guy. And if she decides to get married, I would imagine that there would be grandchildren not too far out for that. I'd be pretty excited about that part."
Ekta Kapoor has her plate full with 24 projects lined up for 2022
After a successful 2021 marked by a string of interesting projects and a Padma Shri win, Ekta Kapoor is all set to crank it up a notch in 2022 with more than 24 projects in the pipeline.
Some of the projects have been shot and are ready to release while some are still at the development stage.
Talking about the 2022 content calendar, Ekta says, "I am very excited to announce that my team and I are all set to release more than 24 projects in 2022. We have some amazing content ready to release across various platforms be it theatres, web shows or TV channels."
Commenting about her production house's tryst with experimentation, she adds, "We at Balaji have always believed in experimenting when it comes to providing entertainment to the audiences and with our upcoming projects we have tried to take the level a notch higher."
ALTBalaji, which is the digital arm of Ekta's production house will dole out projects like '#hashtagwarss', 'Verdict 2', 'Mentalhood S2', 'Apharan 2', 'Bois Locker Room', 'Class of 2021', 'Baarish 3', 'Band aid', 'Paurashpur Season 2', 'Bank Heist', 'A Cold Mess' and 'Farrey'.
In the TV space, shows like 'Naagin 6', 'Kasam Tere Pyaar Ki 2', 'Kahan Hum Chale', 'Itna Karo na mujhe pyaar 2' will be broadcast soon.
Coming to films, Balaji Motion Pictures's slate looks packed with interesting projects like 'Ek Villain Returns', 'Freddy', 'U turn', Hansal Mehta's untitled thriller, 'Jersey', 'Goodbye', 'KTina', 'Shehzada', 'Shootout at Byculla', 'Dobaara' and 'LSD 2'.
Ekta is set to work with some of the biggest names in the industry like Amitabh Bachchan, John Abraham, Neena Gupta, Disha Patani, Kareena Kapoor, Hansal Mehta and many more in the coming year.