Newly elected village head in UP booked for sedition
A newly elected village head and his four associates who were arrested last week for breaching Covid protocols were booked under sedition laws on Thursday for allegedly raising anti-India slogans and praising Pakistan.
The village head of Belauta village, Aslam Khan, and his four associates, were arrested last week by Sitapur police.
Superintendent of police (SP), Sitapur, R P Singh, said that a preliminary probe was initiated and the video/audio footage of Khan's remarks were analyzed.
"He was clearly heard raising pro-Pakistan slogans and the sedition charge was added to the FIR on basis of evidence. We had arrested the accused on May 8," he said.
The accused pradhan's elder brother, Shakeel Khan, alleged the rival candidate had 'planted' youngsters in the crowd, who raised pro-Pakistan slogans.
"He (rival) videographed the procession and used the footage to frame my brother," he said.
Shakeel said, the video circulated on social media showed children raising slogans and neither his brother nor any adult was part of the procession.
"A right-wing outfit had mounted pressure on police to add sedition charges in the FIR. He was initially booked only for violating Covid guidelines," he said.
Station house officer, Thanagaon, Anil Singh said, "Aslam and his associates, Salman, Atiq, Farid and Arif, had come out on the streets to celebrate the victory.
"Beating drums, Aslam and his supporters raised pro-Pakistan slogans, which could have triggered a communal clash. A police team reached the spot after complaints from residents," Singh said.
He added that Aslam and his supporters also flouted Covid-19 guidelines.
Ankita Bhandari's body found from Uttarakhand's Chilla canal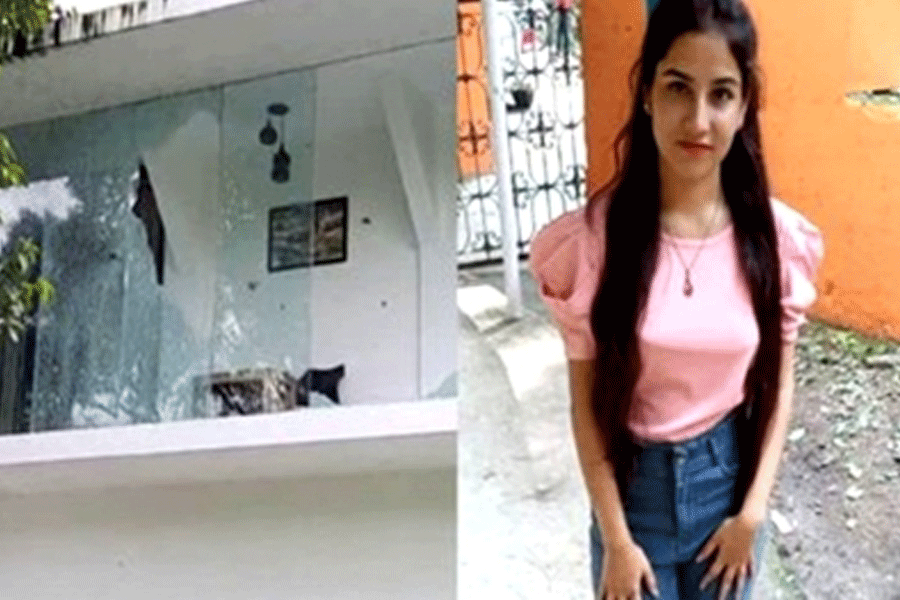 The body of Ankita Bhandari, a 19-year-old staffer at a resort in Uttarakhand who went missing a few days ago, was recovered from the Chilla canal in the state on Saturday and Chief Minister Pushkar Singh Dhami has ordered an SIT probe led by DIG P. Renuka Devi to probe the murder.
The prime accused in the case is BJP leader Vinod Arya's son Pulkit Arya.
Ankita, a resident of Dobhin Srikot, who used to work in the Vantara resort in Uttarakhand's Pauri Garhwal. She went missing on September 18.
The BJP has removed Vinod Arya as well as his other son Ankit following the incident.
Taking to Twitter, Dhami poste:, "Today morning, daughter Ankita's body was recovered. Heart-broken with this heart-wrenching incident."
On directions of the Chief Minister, the JCB razed to ground accused's illegal resort on Friday night.
Strict action will be taken against the officers who were involved in the illegal construction of the resort, Dhami said.
"It is our resolve that the those guilty of this heinous crime will bot be spared," he added.
Ankita's family had lodged a missing complaint on September 21 with the revenue police and on the District Magistrate's direction, the matter was trasferred to regular police the next day.
Taking cognisance of the incident, Ashok Kumar, Director General of Police, Uttarakhand, had directed the Superintendent of Police, Pauri for a speedy investigation into the incident.
Following their arrest, they told the police that after murdering Ankita, they threw her body in Chila Shakti canal.
Under the guidance of DGP Uttarakhand, the SDRF started search for Ankita in Shakti Canal, Chila Power House.
SDRF rescue team has been searching the spot and the deep divers were also looking for the body in the bottom of the canal.
The search operation had resumed this morning during which the body was found.
The body has been handed over to the district police.
Dozens of Palestinians injured in clashes with Israeli soldiers in West Bank
Dozens of Palestinian protesters were injured during clashes with Israeli soldiers in several West Bank cities and villages.
Among the injured were three shot by live ammunition and nine by rubber bullets, while the others inhaled teargas fired by Israeli soldiers, the Palestinian Red Crescent Society said in a statement on Friday.
In the village of Beita, south of the northern West Bank city of Nablus, two Palestinians were injured by rubber-coated metal gunshots, and 28 others inhaled teargas, said the statement, adding Israeli soldiers opened fire at the medical crews in the area, reports Xinhua news agency.
Since May 2021, the village of Beita has been witnessing daily clashes between the two sides over the establishment of Israeli settlement outpost near the village and the confiscation of Palestinian land.
Fierce clashes also broke out in the villages of Beit Dajan and Kafr Qaddum.
Israeli authorities have not commented on the incidents yet.
Israel occupied the West Bank and East Jerusalem, both claimed by the Palestinians, in the 1967 Middle East war, and has controlled them ever since.
Official Palestinian reports said more than 700,000 Israeli settlers live in 151 settlements established on Palestinian lands in East Jerusalem and the West Bank since 1967.
Tension in the West Bank has been mounting over the past few days after the Israeli army intensified its military actions against Palestinian militants and activists.
Mob attacks Muslim family after man elopes with Hindu girl in MP's Chhindwara
The members of a Muslim family have been brutally beaten up by a mob in Madhya Pradesh's Chhindwara district allegedly in what is being considered as "an act of revenge".
Wajid Ali and his family members were attacked as he had eloped with a 23-year-old Hindu woman almost a month ago.
The incident which happened on September 15 came to light after a video surfaced on the social media late on Tuesday.
In the video, several people including women could be seen beating a Muslim man and his parents mercilessly.
Those attacked have been identified as Wajid Ali, 35; his father Sayed Ali, 52, and mother Sameena Ali, 48 — all residents of Lalgaon village named located around 35 km from Chhindwara.
On September 15, when Wajid and his parents were on their way to meet a relative in Auriya village, they were noticed by the villagers and were attacked.
The Chhindwara police claimed to have registered a case against the Hindu family, and also arrested four persons.
"The act came as revenge after Wajid Ali had eloped with a Hindu woman of the same village. The girl, however, was brought to her family later. When the Muslim family was noticed, some people cornered them and later attacked. An FIR has been registered and at least four persons have been arrested so far. Further investigation is underway," a police officer said.
The police further said that Hindu woman who was brought from Hyderabad few days ago was reunited with her parents in Chhindwara.