NCB arrests Mumbai's celeb 'Muchhad Paanwala' in drugs case
The Narcotics Control Bureau (NCB) has arrested one of the owners of Mumbai's famed 'Muchhad Paanwala' early on Tuesday morning in connection with the investigations into the drug mafia-celebrities nexus, a top official said.
Confirming the development NCB Zonal Director Sameer Wankhede said the current owner of the shop, Ramkumar J. Tiwari has been charged under NDPS Act Sec 8, read with Sec 20(b)(ii), pertaining to manufacture, possession, buying-selling, transporting, inter-state import-export of contraband.
The son of one of the four siblings and co-owners Jayshankar Tiwari, Ramkumar J. Tiwari was summoned to the NCB on Monday and subject to a long grilling session before he was arrested.
The developments came on the heels of revelations alleging 'Muchhad Paanwala' as a customer for narcotics during the interrogation of an arrested British national Karan Sajnani in a drugs case.
Sajnani, residing in the country since over a year, was nabbed along with Rahila Furniturewala, a former manager of a Bollywood actress and her sister last week.
Ranked among the top paan vendors in Mumbai, 'Muchhad Paanwala' – named after its founder Panditshree Shyamacharan Tiwari of Tiwaripur, Allahabad in Uttar Pradesh – is currently run by his four sons, including Ramkumar Tiwari.
The landmark shop at Kemps Corner, near Malabar Hill, running for past nearly four decades, is known by the ear-to-ear bushy handlebar moustaches of the founder, his sons and even grandsons.
Over the years, the outlet became a rage among the people, attracting top film stars, businessmen, politicians, and other celebs who thronged there for his lip-smacking post-meal munchies.
In fact, in 2016, it became the first paanwala outlet to host its own website to take online orders from his discerning customers on its huge variety of mouth-melting preparations in Kolkata, Banarasi or Maggai paans, or several types of paan-masalas, whipped up with specially-sourced ingredients.
Kerala HC allows to re-examine new witnesses in actress abduction case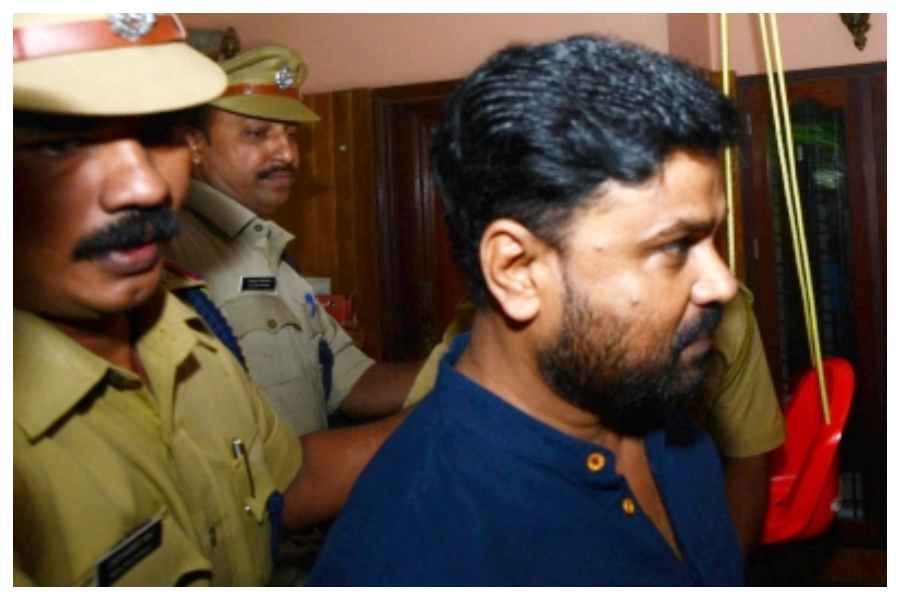 In a further setback to actor Dileep, an accused on bail in the actress abduction case, the Kerala High Court on Monday allowed to re-examine three and summon 5 new witnesses in the ongoing trial.
The plea to this effect was filed by the state against the trial court's order rejecting its request to re-examine witnesses after film director Balachandra Kumar made fresh statements related to the case, early this month.
The court on Monday asked to see that the entire exercise of adducing additional evidence be concluded in 10 days.
Besides, it also directed the Director General of Prosecution to see that a new Special Public Prosecutor is deputed or some other alternative arrangement is made to conduct the case on behalf of prosecution and ensure that the examination of the witnesses and production of the documents is done within a period of 10 days.
Incidentally, the trial in the case suffered a jolt when the special public prosecutor relinquished his post and this was the second time that such a thing has happened and now with a fresh order, a new counsel is expected to take over.
Things when it appeared to go smoothly for Dileep in the trial, turned topsy turvy when Kumar made an appearance and spilled the beans when he said that Dileep soon after being released on bail saw the visuals which showed the beleaguered actress who was kidnapped being physically attacked by her tormentors, while she was abducted.
Until this time it was only the trial court which had seen this and by now Kumar who made this and more disclosures has testified before the police and also a magistrate.
And based on these disclosures, the police probe team registered a fresh case and Dileep sensing that he might be arrested sought anticipatory bail, which will be heard on Tuesday and the state informed the court last week, that until this is heard, they will not arrest the actor.
Dileep was arrested in 2017 and lodged in prison in a case related to a gang sexually assaulting a frontline heroine of South Indian movies and filming the scenes.
After two months in jail, he was released on bail.
3 killed as truck hits bike in Patna
Three persons, including a woman, died after a speeding truck hit a bike in Patna on Monday morning.

The deceased were identified as Rita Devi (55), Pankaj Raut (25) and Sudama Raut (15). All of them were returning on the bike from Gaurichak to their native place in Fatuha. The victims had gone to Gaurichak on Sunday evening to fix the marriage of Rita's son.

The accident took place due to low visibility in the Aman Bigha village under Shahjahanpur located on state highway 78. The impact of the accident was such that the bike tossed in the air and fell around 30 meters away from the spot.

"We have sent the dead bodies for the postmortem in Nalanda Medical College and Hospital. The errant driver managed to escape from the spot. We are making efforts to arrest the accused," said an official of the Shahjahanpur police station.

Following the incident, local villagers blocked the road for two hours, which led to huge traffic snarls on state highway 78.


Depressed IIT Bombay student from MP jumps to death from hostel
A postgraduate student of IIT Bombay in Powai jumped off the 7th floor terrace of his hostel and ended his life, officials said here on Monday.

The victim, identified as Darshan Malviya from Madhya Pradesh was said to be battling depression for long and was under treatment.

In a purported suicide message penned on a board in his fourth-floor hostel room, he said nobody should be blamed for his act before jumping off the terrace around 4.30 a.m.

A security personnel on duty heard the loud thud and ran to investigate and found Malviya lying there in a pool of blood, and alerted the concerned hostel authorities and co-students.

They immediately rushed him to the government-run Rajawadi Hospital where he was pronounced dead and informed the Powai Police who lodged an accidental death report.

As per preliminary investigations, Malviya was suffering from depression prior to getting admission in IIT-B in mid-2021 and had been under treatment from inhouse and external experts and doctors.