Mumbaikars raise Rs 2.50 lakh for family of Covid victim
Saddened to lose their favourite pani-puriwala to Covid-19, people from south Mumbai have joined hands to collect money and help his family, through a crowd-funding platform, raising over Rs 2.50 lakh so far, with a target of Rs 5 lakh.
Bhagvati Yadav, who ran a small pani-puri stall at the Rungta Lane near the posh Napean Sea Road, travelled from his tiny home in Mata Parvati Nagar at nearby Walkeshwar daily since the past nearly 46 years.
Known for his lipsmacking pani-puris, one of Mumbai's favourite street snacks, Yadav was a stickler for cleanliness who used only bottled mineral water, earning him the nickname of 'Bisleri Panipuriwala'.
"He was very popular in the area. We have all been savouring his pani-puris and other snacks since years," said a resident Girish Agarwal, who launched the crowd-funding drive to Yadav's family comprising wife and a daughter who is a Maths teacher.
"So far, there are contributions of around Rs 2.53 lakh from some 125 plus of his patrons in India and abroad, on the platform, www.ketto.org fundraiser for the panipuriwala," Agarwal told IANS.
"While we can try to find another snacking spot, his family will gravely miss a loving father, husband, and provider. They need our support. That's why we've created this page to contribute whatever you feel fit. And will make sure your generosity reaches his wife and his daughter Kusum," he said in the appeal.
Another resident A. Shah said that he had been frequenting Yadav's stall for over three decades for the hygiene and "unchanged taste" he always maintained, and he was sad to learn of his passing.
Many of his regular patrons were not even aware of his name, but over a couple of months ago, started missing him when his stall did not open for days in the evening.
Enquiries revealed that he was a diabetic and had been admitted to a hospital and in the third week of May, succumbed to Covid-19, shocking the local residents.
It also transpired that he was the sole breadwinner for his family and the crowd-funding initiative is intended to help them after his sudden demise, added Agarwal.
2 held, 6 cops suspended after clash with 'job aspirants' in Prayagraj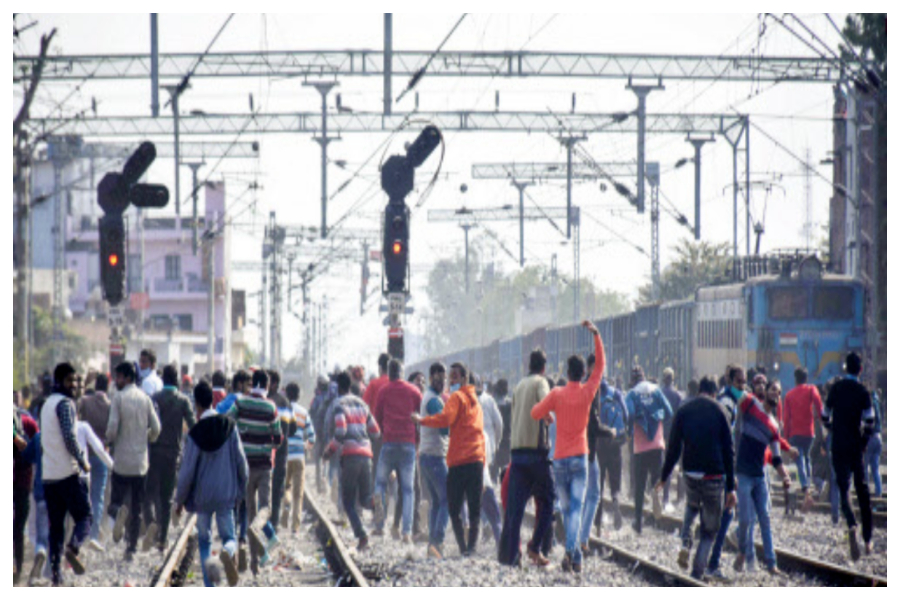 Two persons have been arrested and a case has been lodged against around 1,000 unidentified persons in connection with the alleged rioting and blocking of the rail track at the local railway station by some job aspirants.
Scores of students preparing for competitive exams had made an abortive bid to stop a passenger train. However, alert GRP and RPF personnel foiled their attempt to stop the train.
Six policemen have also been suspended with immediate effect for using unnecessary force during the incident which took place on Tuesday.
A letter petition has been filed in the Allahabad High Court by five lawyers, seeking a judicial probe in the lathi charge on students.
Meanwhile, the search is on for another accused who allegedly made provocative remarks on social media.
A senior police official told reporters that it appears that the accused had taken 'money from some political parties' to create unrest. A police team has been constituted to probe the incident from this angle.
A video of the incident had surfaced on social media, following which Congress general secretary Priyanka Gandhi Vadra had condemned the use of force against job aspirants, who had gathered there in protest against alleged irregularities in a railway recruitment exam.
The two people arrested in connection with the case have been identified as Pradeep Yadav and Mukesh Yadav while the search for another suspect, Rajesh Sachin, is on, the police said.
Rajesh Sachin had made "inflammatory remarks" on social media.
Senior Superintendent of Police (SSP) Ajay Kumar said a video of the incident had surfaced on social media, in which some policemen were seen using unnecessary force.
Those policemen have been identified as sub inspectors Rakesh Bharti, Shailendra Yadav, Kapil Kumar Chahal and constables Mohammad Arif, Achhe Lal and Durvesh Kumar.
They have been suspended with immediate effect and departmental action is being taken against them, he said.
The SSP said there is no quarrel between police and students and those who play with students' future will not be spared.
He said that they have registered a case against 1,000 unidentified people under 13 serious sections.
Meanwhile, a Congress candidate from Prayagraj, Anugrah Narayan Singh, condemned police action against students.
Singh said the unemployed youth are demanding their rights and seeking one's rights is not crime.
Around 1.24 lakh students had applied for railway jobs under Group D since March, 2019. The government suspended recruitment for three years and in such a situation, their anger is justified, the Congress leader said.
A large number of students had gathered on the railway track but were chased down by police. During this, some students allegedly pelted stones on policemen.
Imam held for raping 8-yr-old girl in UP district
An eight-year-old girl was allegedly raped by the Imam of a mosque in Mainpuri district.
After committing the crime, the accused made the victim swear by the Quran that she would not tell anyone about it.
When the girl reached home, profusely bleeding, her family members came to know of the incident and lodged a case with the police.
The police arrested the Imam on Wednesday night and sent the girl for treatment and medical examination.
The Incident took place in a village in Kisni police circle of Mainpuri.
Jamal Ahmed, 52, has been in charge of the mosque since the past ten years and also teaches children here. The girl used to go to the mosque to study.
She used to return home by 4 p.m but on Wednesday, she reached home late crying. Her clothes were stained with blood and when her mother asked her, she narrated her ordeal.
Two injured after drone falls on them during R-Day celebration
Two persons were injured after a drone camera fell on them during the Republic Day celebrations in Madhya Pradesh's Jabalpur on Wednesday.
A large number of people had gathered to witness the Republic Day function at Pandit Ravi Shankar Shukla stadium. While the programme was underway, a drone camera fell on two spectators.
Those sustained injuries during the event have been identified as Indu Kunjam (38) and Gangotri Kunjam (18). They have been admitted at local district hospital for medical assistance, the police said.
The injured individuals had come to participate in a tribal dance in the Republic Day function when the incident occurred at the stadium.
"They have received minor injuries and are undergoing treatment at a hospital," said Additional Superintendent of Police Rohit Kashwani.
Both belong to the tribal community from Dindori district, and had travelled to Jabalpur to participate in the Republic Day function.