Mumbai Police haul banned gutka worth Rs 1.22 crore
In a major swoop on New Year, the Mumbai Police raided a godown in south Mumbai and seized banned gutka and paan masala products worth Rs 1.22 crore besides recovering cash of Rs 1.22 lakh, an official said here on Saturday.
Based on a tipoff to the Crime Intelligence Unit (CIU) official Sachin Waze of a huge stockpile of banned gutka and paan masala, a team raided the premises in Bharat Bazar area of Nagpada locality on Friday.
Two persons involved in the racket have been arrested and they were produced before the Sewri Magistrate Court which remanded them to police custody till Monday.
Simultaneously, the CIU has also lodged offences against the manufacturers, suppliers, stockists and sellers of the contraband stuff and further probe is underway by the Nagpada Police Station, said Joint Police Commissioner (Crime) Milind Bharambe.
Among the earliest states to prohibit these products, Maharashtra had banned manufacture, sale and consumption of gutka, paan masala containing tobacco and certain other flavoured products in July 2012.
Later another 14 other states followed suit in view of the serious health hazards associated with their consumption and addiction, though the products are reportedly in heavy demand from its connoisseurs in the gray markets.
K'taka Police deny permission to stand-up comedian Kunal Kamra shows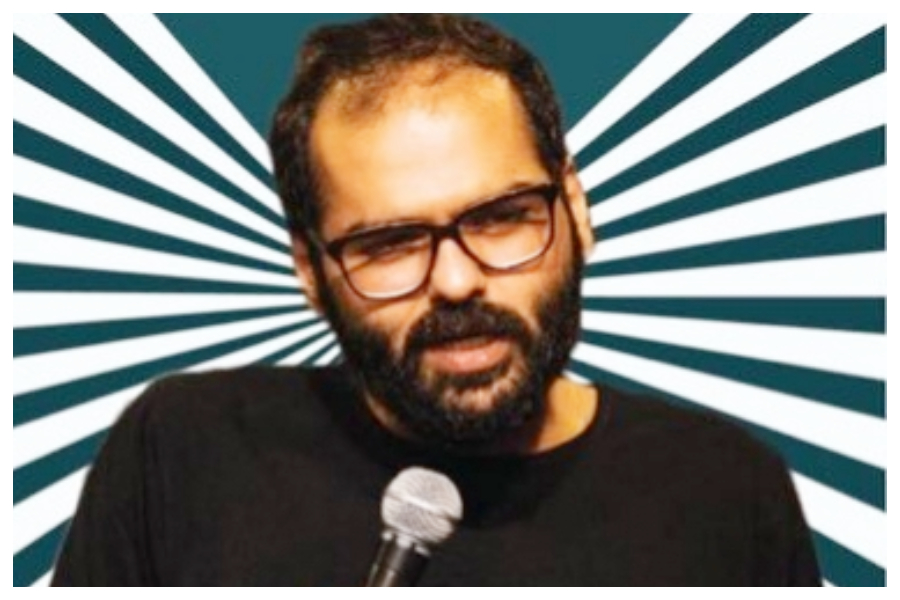 Close on the heels of denying permission to stand-up comedy show of Munawar Faruqui citing law and order problems, the Karnataka Police have denied permission to yet another stand-up comedian Kunal Kamra to stage his shows in Bengaluru.
Kunal Kamra, a vocal critic of the present ruling establishment has stated that the shows scheduled for 20 days have been cancelled in the backdrop of threats and denial of permission by the police.
However, the act of Karnataka Police denying permission for the stand-up comedy shows of Kunal Kamra and Munawar Farooqui has drawn sharp criticism on social media.
Kunal Kamra wrote on his Twitter, "Hello Bengaluru People. I am happy to inform that my shows in Bengaluru scheduled over the next 20 days have been cancelled. They have been cancelled for two reasons. Firstly, we didn't get special permission to seat 45 people in the venue that seat more. Secondly threats have been made to shut down the venue if I were to perform.
"I guess this is also part of the Covid protocol and new guidelines. I suppose I am seen as a variant of the virus now. For those who were wondering how 'A Kamra' goes on the perform while a Faruqui has had to quit comedy' we can find solace in the fact that the ruling class is at least trying to oppress with equality," he stated with irony.
"May be if we continue down the road of equal oppression, we would get to a point of equal liberation, in a post climate change era," he opined.
He has also put up five steps to get the show cancelled and ridiculed the ruling establishment.
The police earlier in the case of Munawar Faruqui stated that the stand-up comedian is a controversial figure as he has made controversial statements on other religions and gods. The police also cited examples of cases registered against Munawar in Tukoganj police station of Indore in Madhya Pradesh and other states. They also claimed that many states have banned his shows.
Munawar Faruqui had tweeted, "Nafrat jeet hai, Artist haar gaya. I'm done! Goodbye! INJUSTICE". (victory of hatred, defeat of an artist)
DIG rank officer suspended on extortion charges in Bihar
A DIG rank officer has been suspended on charges of extorting money from his juniors, a Home Ministry official said here on Thursday.
A notification in this regard was issued by the ministry on Wednesday night holding Shafi-Ul-Haq guilty of alleged involvement in corruption.
The notification was based on a report of the state's Economic Offence Wing (EOW) submitted on Tuesday.
As per the EOW report, Haq was deployed as DIG of Munger range before June this year. During his tenure in Munger, he was involved in extortion with junior officers of police department. He was also having a trusted officer named Mohamad Umran, a sub-inspector of Munger police. Umran had hired an agent to extort money from junior personnel of the department.
On the basis of several complaints against him, an investigation was conducted which found the charges to be true. Accordingly, he was transferred to police headquarters in Patna on June 19, 2021. The department also initiated EOW inquiry against him.
Haq, after the transfer from Munger on June 19, he was waiting a posting until the suspension of his notification was not issued.
The Home Ministry has directed him to report before Patna range IGP office during suspension period.
Cyclonic circulation brings copious rainfall in western India
Due a cyclonic circulation off the western coast, several districts of western Maharashtra, parts of Gujarat and central India received widespread heavy to very heavy rainfall with multiple stations recording more than 60 mm rains in the 24 hours ending at 8.30 a.m. on Thursday.
The India Meteorological Department (IMD) said the unseasonal rainfall was because of a cyclonic circulation that lay over southeast and adjoining east central Arabian Sea and a trough in lower levels ran from this cyclonic circulation to Kutch in Gujarat coupled with the Western Disturbance that lay as a trough in mid upper tropospheric westerlies in northwest India.
"Today, the cyclonic circulation is still persisting at east Central Arabian Sea and a trough NE Arabian Sea across Kutch along with the Western Disturbance. It is the combination of mixing of these two systems that has brought more than normal rains for this time of the year in Western Maharashtra, Gujarat and southern/western Madhya Pradesh," IMD's senior scientist from Pune, K.S. Hosalikar said.
The IMD has already forecast the probability of light to moderate rainfall for Mumbai for Thursday and rest of the places in interior Maharashtra would continue to be cloudy and there could be fog like conditions, especially at places along the Western Ghats.
Rainfall recorded for 24 hours ending at 8.30 a.m. Thursday:
Mumbai and suburbs: Santa Cruz – 91.2 mm, Colaba – 90.2 mm, Byculla 100.5 mm, CSMT 94.5 mm, Juhu Airport 93 mm, Matunga 94.5 mm, Sion 92.5 mm, Vikhroli 88.5 mm, Thane-Belapur 90.2 mm and Dahanu 114.4 mm.
In and around Pune too there was copious amounts of rainfall recorded. For the same duration of 24 hours, Pune 75.4 mm, Ballalwadi recorded 56.5 mm rainfall, Pashan 105.5 mm, Chinchwad 103.0 mm, NDA 43.0 mm, Bhor 73.5 mm, Indapur 63.5 mm, Dudulgaon 79.5 mm, Ambegaon 55 mm, Dhamdhene 84.5 mm, Lavale 75 mm, Khed 87 mm, Magarpatta 65 mm, Wadgaonsheri 127.5 mm, Malin 84.5 mm, Purandar 72.5 mm, Shivaji Nagar 75.4 mm, Rajgurunagar 64.5 mm, Talegaon 64 mm, Haveli 115 mm, Daund 52 mm, Nimgiri 67.5 mm, Baramati 50.8 mm.
Several other areas of western Maharashtra too received similar amounts of rainfall. Nasik 63.8 mm, Matheran 71 mm, Kolhapur 69 mm, Solapur 115.6 mm, Sangli 57.8 mm, Malegaon 55 mm, Ahmednagar 20 mm, Harnai 40.4 mm and Goa: Marmugao 62.4 mm.