Mahaparinirvan Diwas: Mumbaikars, here are the traffic diversions in Dadar area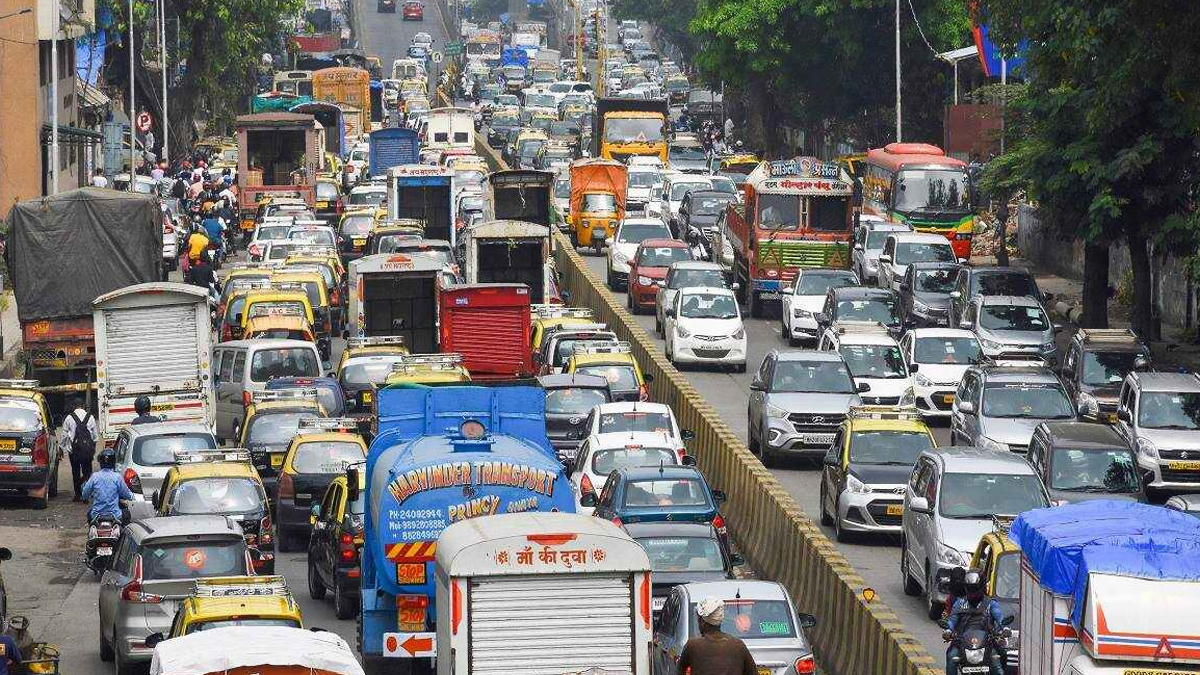 On the occasion of the death anniversary of Bharat Ratna Dr Babasaheb Ambedkar, Mahaparinirvan Din, celebrated on December 6, a very large number of his followers visit Chaityabhoomi to pay tribute to him every year.
As a result, the Mumbai Traffic Police Unit has shared a traffic diversion advisory on its Twitter handle giving a detailed information about the road closures and diversions of traffic in Dadar and its surrounding areas.
The diversion shall be implemented from the morning 06.00 hrs of December 5 and shall be followed until 24.00 hrs of December 7. The Swatantraveer Savarkar Road shall be completely closed for any vehicular movement from the Siddhivinayak Junction to Hinduja Hospital. However, for the local residents there are suitable measures given to be followed.
Dnyaneshwar Mandir Road, Ranade Road, Jambhekar Maharaj Road, Keluskar Road and M. B. Raut Road will all be closed for any type of vehicular movement. Heavy vehicles shall not be allowed to enter the vicinity of Dadar to avoid traffic issues.
With the motive to ensure smooth flow of traffic in Dadar along with the ease of movement for the people who would visit Chaityabhoomi within those days, the Traffic Police Unit has taken every possible measure in that way. However, even the citizens are appealed to follow the advisory and travel accordingly to avoid getting into unnecessary traffic.
Maharashtra: BJP MLC Gopichand Padalkar Hits Back At NCP MLA Rohit Pawar Over Maratha Reservation; Targets Party Supremo Sharad Pawar
BJP MLC Gopichand Padalkar criticised NCP MLA Rohit Pawar for his allegations against Deputy Chief Minister Devendra Fadnavis. Rohit Pawar made the comments against Fadnavis while on his Maharashtra tour and alleged that the deputy chief minister was responsible the current political turmoil in the state. Countering Rohit Pawar's statement, Padalkar held NCP chief Sharad Pawar responsible for the withdrawal of the Maratha reservation. The back and forth happened on social media amid the ongoing Maratha agitation for reservation.
Attributing to the current agitation by the Maratha community, Rohit Pawar said, "Maratha empire was ruined by one Anaji Pant in the past. The modern Anaji Pant is ruining Maharashtra Dharma." Pawar started Yuva Sangharsh Yatra from earlier this month and going to different districts.
'Your grandfather withdrew reservations'
In a strong reply, Padalkar said, "Different communities formed the Maratha empire. But people like Suryaji Pisal and Ganoji Shirke ruined it." He pointed out that Fadnavis had given reservations to the poor in the Maratha community. "However, your grandfather Sharad Pawar withdrew it," Padalkar said. Furtheremore, Dhangar leader Gopichand Padalkar has demanding his community's inclusion into Scheduled Tribes. The community has been protesting across the state. They had also given a deadline to the government to take a decision regarding the same. The community is now protesting in different districts to intensify the demand for inclusion in the ST community. 
Maha Govt rejects MSRDC MD Mopalwar; Jt MD Anil Gaikwad takes charges
Mumbai : In an unexpected move, the Maharashtra government has removed Hyderabad Mopalwar, vice-chairman and managing director of the powerful and controversial Maharashtra State Road Development Corporation (MSRDC), and appointed him secretary. MD Anil Gaikwad, official sources from here on Sunday. The incident astounded and astounded political circles as Mopalwar – who retired in 2018 – was consistently sought after for his slave skills in state governance, and during the past six years he was given a record number of seven terms of service. These were the details found. The high-profile Mopalwar's most prestigious work post-retirement was the implementation of the ambitious 701 km long Mumbai-Nagpur Samriddhi Super Expressway, which is now nearing completion in the third and final phase. However, after the inauguration of its first phase by Prime Minister Narendra Modi in December 2022, the reputation of Samriddhi Hostel among many small and big businesses got tarnished, with over 150 people losing their lives in the last 12 months.
Many business and non-governmental organizations like the rights-seeking Bharati Sanrakshan Parishad and others provided essential medicines and medicines for the passengers en route, partly without full consultation, without heavy criticism. Barrister Vinod Tiwari, Chairman of CPR, said, "To achieve the feat, Aishwarya's showroom was inaugurated in Exports and has now been named 'Killer Expressway', where drivers are affected by single-track and highway hypnosis. That's why accidents happen almost every day." Therefore, he said that it was necessary to leave Mopalwar and wondered why it was delayed when so many poor people lost their lives on the expressway. "We hope that the new VC-MD Anil Gaikwad will take genuine corrective measures to make the expressway safe for commuters," he said. During his long tenure, Mopalwar held five key positions – Ashok Chauhan, Prithviraj Chauhan (Congress), Samajwadi Nationalist (Bharatiya Janata Party), Samajwadi Party (Maha Vikas Aghadi) and Eknath Shinde (Mahayuti). was appointed. Several high-ranking key positions in the administration.
Thane: 4 Arrested For Cheating Builder Of ₹40 Lakh; Complainant Held For Unlicenced Weapon Possession
Thane: The Thane Anti-Extortion Cell have arrested four persons for cheating a builder of Rs 40 lakh and arrested the complainant for possession of firearms, said a police officer from AEC on Tuesday.
The cheating incident came to light after the officials of the anti-extortion cell (AEC) intercepted the car of builder Surendra Patil (50) on November 25 and recovered two unlicensed pistols and seven cartridges, informed Deputy Commissioner of Police (crime) Shivraj Patil.
Builder Booked For Possession Of Unlicenced Weapons
Patil said, "The builder Surendra Patil had gone to a farmhouse in Dombivili after four persons allegedly promised to give him counterfeit notes with a face value of Rs 1.6 crore if he gave them Rs 40 lakh. Patil claimed that he had carried the unlicensed weapons with him for protection. A case under the Arms Act was registered against the builder. At the farmhouse, some accused posing as policemen "raided" the farmhouse and snatched the bag containing Rs 40 lakh from Patil before fleeing the scene."Shekhar Bagde, senior police inspector said, "Police teams were formed, and four accused who fled with the cash were apprehended from Bhiwandi on November 26. We have managed to recover Rs 14.35 lakh from the accused. We have arrested Swapnil Dashrath Jadhav (26), Adesh Motiram Bhoir (35), Sachin Baban Jadhav (35) and Akshay Tukaram Gaikwad (30) in the cheating case."