Justin Langer defends Paine, Smith amid criticism over SCG conduct
Australia head coach Justin Langer has termed allegations against Steve Smith for wiping out Rishabh Pant's guard marks during the third drawn Test against India as 'absolute load of rubbish'.
Smith was caught on stump camera trying to remove Pant's guard during the fifth day of the third Test at the Sydney Cricket Ground (SCG) as Australia tried hard to get rid of the left-handed wicketkeeper-batsman who went on the counter-attack.
The Pant-led Indian resistance forced the Australian team into some desperate acts, including Smith removing guard and skipper Tim Paine indulging in on-field chatter with Ravichandran Ashwin. However, Langer backed both Smith and Paine.
"I literally cannot believe some of the rubbish I read about Steve smith. It's an absolute load of rubbish. If anyone knows Steve Smith — he is a bit quirky, he does some weird stuff. We have all laughed about it for the last couple of years. I have spoken about it publicly and I have spoken about it privately that he is a bit quirky. What Smith does at the crease, he does at most games," said Langer while speaking to the media during a virtual interaction on Wednesday morning.
"Anyone who suggests for one millisecond he was doing anything untoward, they are way out of line. Absolutely out of line. That wicket was so flat…it was like concrete. You need 15 inch spikes to make an indent on the crease," he added.
Off-spinner Nathan Lyon also defended Smith and said he was disappointed with the way people have jumped on the latter's back.
"Obviously we had a chat with him. We are in the bubble together. I see him everyday. But I am really disappointed with the way everyone's jumped on the back of him. He has played close 80-odd Test matches and he has done that every Test match. To be honest, I have done it every Test match as well. There is nothing wrong with it," said Lyon in another presser.
"Smithy loves batting. We all know that. And even know that though we weren't batting in the rest of the Test match, he is still thinking about batting. He does that to help me as well. He is looking at where I should look to pitch the ball. What pace I need to bowl on that wicket. It is all about conversation. He is going okay. He has got everyone's support in the Australian change room. We are really disappointed with everyone coming out and saying things about Smithy because none of it is true," he added.
Langer added that Smith has ensured that his bat does the talking ever since he has returned from the ball-tampering scandal.
"Seriously, I thought that was absolutely ludicrous. In the last couple of years since he's been back, he's been exemplary on and off the field. He has let his bat do the talking, he was abused like anything in England, but he kept smiling and let his bat do the talking. Give me a break."
The former Australia opener, who took over from Darren Lehmann as coach after the ball-tampering scandal and has initiated an image makeover along with Paine, backed the team skipper after the wicketkeeper-batsman's on-field chatter with Ashwin was caught on stump mic and became a subject of controversy in mainstream media as well as social media.
"You have no idea how much faith I have got in Tim Paine. He didn't have his best day, no doubt about that. After three years he has hardly put a hair out of place. He has been outstanding as the Australian captain in everything he does. He had a frustrating day, we've got to cut him some slack surely. But having said that, when you set a standard as high as he does and as we do, we understand that we get criticised when we fall below that. But Tim Paine is an outstanding leader and will continue to be for some time to come. So he has my 100 per cent support," said Langer.
Lyon, on his part, also backed Paine to come out with an improved performance behind the stumps in the fourth and final Test.
"I think Painey showed a lot of humility and a great leader to come out after the game and put his hand up and play in the game he wanted to play, so I know playing under Tim Paine, bowling to Tim Paine is exceptional. I absolutely love him to death. He didn't have the game Australia wanted him to have. He owned that. He will make sure coming to Gabba. His preparation before the Test match started is on key. He got thrown captaincy in hard circumstances and he absolutely owned up. I think he has been brilliant for Australian cricket," Lyon said.
"He does provide a lot of banter behind the stumps which is absolutely brilliant in my eyes. He probably got a bit more emotional, but he has owned that. I am expecting him to be no different and be as clinical as he has been behind the stumps. He said after the game that he doesn't hate anything more than dropping the catch. And for him to drop three catches behind the stumps is unheard of. He will be raring to go 100 per cent in the last Test match and hopefully wrap up the series for Australia…," he added.
With the series tied at 1-1, the two teams will now face each other in the final Test beginning Friday at The Gabba.
I think England will win the Ashes 2-1, says Monty Panesar
Former England spinner Monty Panesar believes that the Joe Root-led side is favourite to win the upcoming Ashes series against Australia.
England are due to open their Ashes campaign against Australia on Wednesday morning, with the first Test to be played at the Gabba in Brisbane.
The visiting side is bidding to win the Ashes Down Under for the first time since claiming the famous 3-1 victory in the 2010/11 edition.
"Everyone's talking about Australia, but I really think England are favourites to win the Ashes," Panesar told thecricketpaper.
"I think if we get some sort of play (in the first Test), which at the moment we just don't know with the forecast, as it appears the first four days could be a washout, then a draw would be like a win for England.
"If they go to Adelaide for the pink (ball second) Test, I think that's where England have the upper hand. England probably need to win that Test match to command their position on the tour and think that they are serious contenders to win this (series). I can see England winning the series, with the emergence of Ben Stokes being back in the team. Joe Root will want to taste that victory."
"It's going to be a lot closer than you think, I think England will win the Ashes 2-1," Panesar added.
Panesar further believes that all-rounder Ben Stokes can have a major effect on the series.
"The Superman of cricket (Ben Stokes) is going to be absolutely crucial, all aspects of his persona. There's going to be times when he's not bowling and he's helping others. It's just his presence on the field, it makes a huge difference," he added.
Four things we learned from Spain's Matchday 16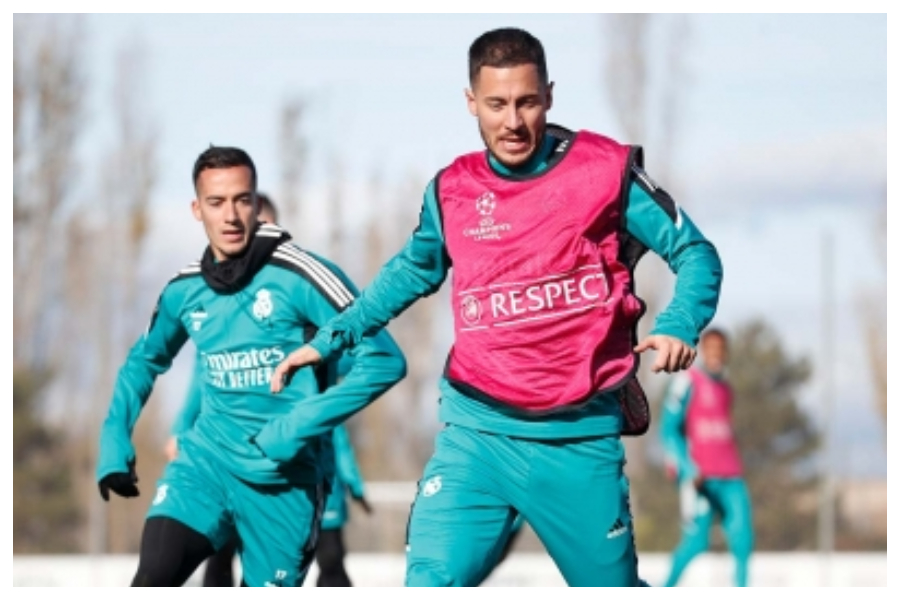 Real Madrid opened up an eight-point gap at the top of La Liga this weekend as both Atletico Madrid and FC Barcelona lost at home. Here are some things we learned in Spain over the past two days.
1. The title is Real Madrid's to lose.
Real Madrid were lucky to beat Sevilla and Athletic Bilbao in their two previous games, but they were clear winners away to Real Sociedad in San Sebastian on December 4 night, with goals from Vinicius Jr and Luka Jovic seeing them home against a disappointing rival that seemed to suffer big night nerves.
The win lifts Real Madrid 10 points above a side that only three weeks ago was top of the table, and puts them eight ahead of Sevilla who are second with a game in hand.
You could argue that for much of the season Real Madrid have not been brilliant and the goals of Vinicius and Karim Benzema have sustained them, but even if that is true, they have still been better than everyone else and the title is clearly theirs for the taking.
2. Sevilla quietly stake their claim
Sevilla's 1-0 win at home to Villarreal may have had a dose of fortune to it as Villarreal missed several chances to take a point, but it leaves Julen Lopetegui's men in second place and quite possibly as Real Madrid's main title challengers, Xinhua reports.
Lopetegui deserves credit as his side is without key players Youssef En-Nesyri and Jesus Navas, robbing him of his top goalscorer and right wing-back, but he has built a team based on a solid defense, with the 'triangle' of Fernando, Diego Carlos and Jules Kounde the foundation that allows others such as Lucas Ocampos, Joan Jordan and Ivan Rakitic to shine.
This is a decisive week for Sevilla with a Champions League visit to RB Salzburg followed by a league game in Bilbao, but for the moment they seem to be the most creditable of Real Madrid's rivals.
3. A reality check for Xavi
Barca rode their luck to beat Espanyol and Villarreal in Xavi Hernandez's first two league games in charge, but the 1-0 defeat to Real Betis on December 4 provided fans with a reality check.
Barca started brightly in the Camp Nou as they have done in Xavi's other games in charge, but once their initial burst ran out of steam, Betis were comfortable and controlled the game except for a brief spell when Ousmane Dembele came on as a second-half substitute.
Xavi's main problem is that without Lionel Messi, Luis Suarez or Antoine Griezmann and with Ansu Fati injured, he doesn't have the players to score the goals when they are on top, while the number of young players in his side means it is hard to keep their performances going for 90 minutes.
4. All credit to Betis
It would be unfair to focus just on Barcelona after Saturday's game. Betis produced an assured display in defense and even without key playmaker Nabil Fekir, they were able to dominate the ball for long periods of the game and create chances against Barca on the break.
Juanmi has gone from being a fringe player to the top-scoring Spaniard in La Liga, and much of the credit has to go to coach Manuel Pellegrini. The man nicknamed 'the engineer' is not a coach for a quick fix, but slowly and surely he gets his teams to win games with a mix of organization and individual talent. That's why Betis are currently third in La Liga.
Commit more time, money to develop spin bowling skills: NZ great to players
Former New Zealand skipper Jeremy Coney had demanded the Black Caps commit more time, energy and money to develop their spin bowling skills in the wake of the humiliating loss to India in the second and final Test at the Wankhede Stadium in Mumbai on Monday.
India thrashed the World Test champions by 372 runs to record their biggest victory by run margin. With this win, India also bagged 12 points in the World Test Championship 2021/23 standings.
The Indian spinners had reduced New Zealand to 140/5 in their second innings at stumps on the third day and they wrapped up victory in 43 minutes on the fourth morning, bundling out New Zealand for 167 runs in 56.3 overs to record a smashing win.
India's spin magic was not lost on the 69-year-old Coney, who played 52 Tests scoring more than 2,600 runs for the Kiwis. He urged New Zealand Cricket (NZC) to spend some time and resources to improve the Black Caps' skills at facing and bowling spin.
Though New Zealand spinner Ajaz Patel rattled India with his 10-wicket haul in the first innings, the visiting team batters were woeful against Indian spinners managing only 62 and 167.
"I think NZ Cricket need to be braver and believe in spin bowling and commit time and money to the development of that part of the game," Coney said on SENZ's post-Test coverage on Tuesday.
"We need a place to go where guys can practice facing spin and having a batting coach there, or we should try send guys to India. Another option is that we have a wicket in New Zealand that turns more than the others, so we get our keepers and fielders learning on these pitches. These are full-time players, and I think we can do more."
New Zealand earned the dubious distinction of losing the match by 372 runs, which is their biggest margin of defeat after their previous loss by 358 runs against South Africa in 2007.
New Zealand will now play a two-Test home series against Bangladesh from January 1.