J.P. Nadda to campaign for Tirupati bypoll today
Bharatiya Janata Party (BJP) national president J.P. Nadda will campaign at Naidupeta town in Andhra Pradesh's Nellore district on Monday to propel the chances of the saffron party in the forthcoming Tirupati Lok Sabha bypoll.
"After receiving a grand welcome by AP BJP at Tirupati, BJP president Nadda will travel to Tirumala hills to take holy darshan (visit) of swami Balaji," said BJP national secretary and AP co-incharge Sunil Deodhar.
Nadda will visit the temple at 2 p.m.
Deodhar said Nadda will address a BJP-Janasena rally at Naidupeta at 6 p.m., even as Coronavirus second wave is raging in the southern state.
On Sunday, the AP co-incharge took stock of the preparations being made for Nadda's rally along with AP BJP president Somu Veerraju.
However, Chief Minister Y.S. Jagan Mohan Reddy cancelled his election meeting scheduled on Wednesday worrying over the rising coronavirus infections.
Meanwhile, the AP BJP co-incharge trained his guns at the Yuvajana Sramika Rythu Congress Party (YSRCP) candidate's religion, alleging that he is a Christian.
"You can't cheat the people of AP like this. We will follow the matter even after polling. This is breach of Constitution which clearly says Christians can't contest from SC-reserved seats. You are backstabbing SCs. BJP-Janasena will expose your hidden agenda," he alleged.
Deodhar shared a few pictures of YSRCP candidate M. Gurumoorthy receiving blessings from a pastor in a church.
However, similar allegations have also been against BJP's candidate Ratna Prabha.
Despite these efforts, it was noticed in the recent rural and urban local bodies polls that religion and alleged temple attacks politics did not play any role and the ruling party went on to register landslide victories.
According to the BJP leader, people are not happy with the TDP and YSRCP because they did not fulfil their promises.
"Horrible roads too, like how they're across rural areas of AP," he said.
Meanwhile, people may look out for Nadda's speech if there will be any reference to delivering on the demands of special category status, railway zone, Visakhapatnam Steel Plant (VSP) and other bifurcation promises.
Tirupati bypoll will be held on April 17.
TV actress Kamya Panjabi joins Congress in Mumbai
The Congress got a fresh dose of glamour with well-known television actress Kamya Panjabi joining the party here on Wednesday.
Mumbai Congress President Bhai Jagtap and other leaders like Charan Singh Sapra welcomed Panjabi to the party fold.
Shooting to popularity with her appearance in the reality show "Bigg Boss-7" (2013), Panjabi has been working in the entertainment industry for over two decades and had expressed a desire to join politics and serve the masses.
Congress activist Niraj Bhatia and other leaders shared pictures of her joining the party on the social media.
Kamya, 42, has worked in several teleserials including "Banoo Main Teri Dulhann", "Maryada: Lekin Kab Tak", "Shakti – Astitva Ke Ehsaas Ki", "Rethi", Astitva… Ek Prem Kahani", "Piya Ka Ghar", and "Kyun Hota Hai Pyaar".
Besides, she has acted in Bollywood films like "Na Tum Jaano Na Hum", "Yaadein", "Phir Bhi Dil Hai Hindustani", "Koi.. Mil Gaya", and music videos like "Mehndi Mehndi" and a play "Pajama Party"
Amarinder to meet Shah on farmers' stir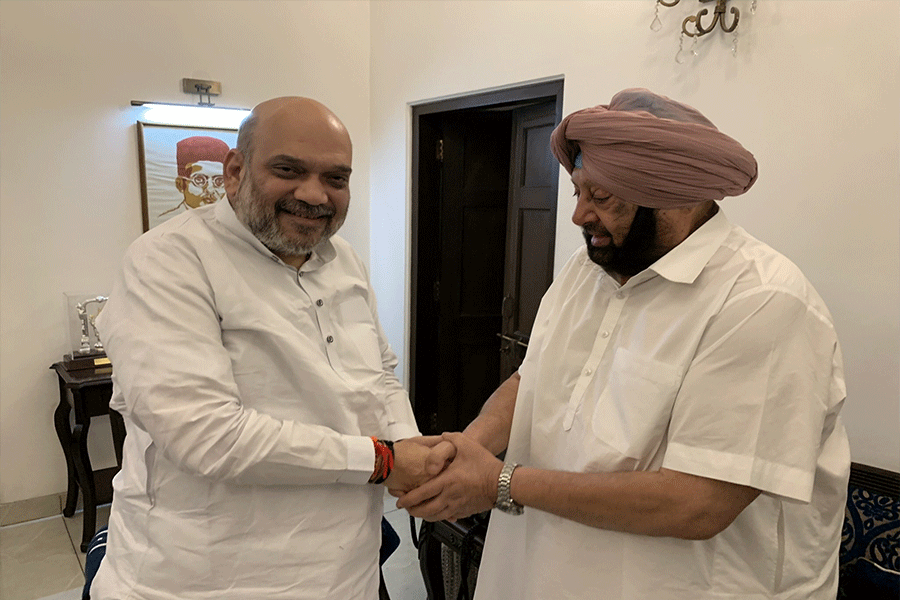 Former Punjab Chief Minister Amarinder Singh will lead a non-political delegation of agricultural experts to meet the Union Home Minister to discuss possible solutions to the ongoing farmers' agitation on Thursday.
Disclosing this here on Wednesday, Amarinder Singh, who announced to float a new political party with seat sharing with parties, including the BJP, said he had been discussing various options with Home Minister Amit Shah, whom he will be meeting in Delhi again on Thursday, and others.
"I think I can help in finding a solution as I have been the Chief Minister of Punjab and am also an agriculturist," Amarinder Singh told a press conference.
While there could be no pre-decided formula for resolution of the farmers' stir, something will emerge during the talks as both sides — the Central government and farmers — want a resolution to the crisis triggered by the farm laws, he said.
Making it clear that he had not met any farmer leaders, the former Chief Minister said he had deliberately not interfered in the matter as the farmers did not want politicians involved.
The farmer leaders had four inconclusive meetings with the Centre but back channel talks have been going on, he added.
Amarinder Singh had earlier said any seat arrangement he made with the Bharatiya Janata Party (BJP) would be subject to a resolution of the farmers' issue in their interest.
TN CM announces Rs 5L as relief to kin of victims killed in fire
Tamil Nadu Chief Minister M.K. Stalin announced a financial compensation of Rs five lakh to the family of all five persons killed due to an alleged fire in a firecracker shop in Kallakurichi district.
Eight others were reportedly injured in the incident, which occurred on Tuesday evening and are in a serious condition.
Stalin announced a relief of Rs one lakh to the injured persons admitted in the Kallakurichi government hospital.
The deceased victims include Khaleed (23), Shah Alam (25), Shaikh Basheer (67) and Ayyasamy (62). The police said it is yet to identify the fifth deceased victim.
Police sources told IANS that the mishap occurred due to a short circuit in an electric line and further investigation is on to ascertain the exact cause. A grocery shop was allegedly converted into a firecracker shop ahead of Diwali and was doing brisk business when the incident occurred.
The whole building was engulfed in fire and the police and fire personnel from Sankarapuram and Kallakurichi arrived at the spot to douse the fire.
Kallakurichi District Collector, P.N. Sridhar told media that the fire was doused after nearly three hours of intense efforts by the team of fire personnel and the police units that rushed to the spot.
The team cordoned off the area and started rescue operations as well as saved the grievously injured from the fire engulfed building.
State Minister, E.V. Velu reached the spot and visited the injured persons at the Kallakurichi government hospital on the same day of the incident.
The police said further investigation is on and whether the grocery shop that was converted into a firecracker shop had the mandatory license to conduct business. Whether the shop had the precautionary measures required to conduct a firecracker business, the police added.
The state government had issued warnings to the people and the firecracker manufacturers and traders to be safe during the Diwali season.