It is something that is definitely our strength: Matthew Wade on spinners
Australian wicket-keeper Matthew Wade has said that spinners will be their biggest strength at the T20 World Cup in UAE in October and November. The slow wickets of Dubai, Abu Dhabi and Sharjah will be helpful for spin bowlers.
Australia have two spinners, leg-spinner Adam Zampa (8th) and left-arm spinner Ashton Agar (7th), among the top 10 in bowlers' rankings. Apart from the duo, Glenn Maxwell and Ashton Turner can also chip in with their off-spin.
"I think our spin bowling has always (been) one thing that we've been looking for and I think now in our current T20 team it is something that is definitely our strength with Zampa and Agar," Wade was quoted as saying on the International Cricket Council (ICC) website.
He also said that 10 years back, spin wouldn't have been seen as a point of strength in Australia.
"It's probably something that you wouldn't say Australia have had as a strength over the last 10 years in white-ball formats. But I think the experience those guys have got over the last 2-3 years — that is certainly a strength going forward for our team and they'll play a huge part in us going deep into that tournament."
Wade believes the time is ripe for Australia to add the men's T20 World Cup Trophy in their glittering cabinet. Australia has won the men's Cricket World Cup five times apart from two Champions Trophy wins. Their best-ever finish in the T20 World Cup has been as runners-up in 2010.
"As a team, we all know that is the one World Cup that Australia haven't won. So it'll be really nice to grab that trophy. I think we're ready to do it. We've got some good youth, some good experience, (we're) starting to get games into some players that we probably haven't done for a long time now, so it's going to be a really exciting opportunity for us."
Wade had recently captained Australia in the series against Bangladesh, which they lost 4-1 in regular skipper Aaron Finch's absence. They also lost 4-1 to West Indies. With recent results not in their favour, Wade believes that the 10 matches have allowed Australia to create depth ahead of the mega event.
"The guys that are going to come back in are some of the stars of the game with Smith and Warner and Glenn Maxwell, who is really dynamic for us in the middle order and plays as a left-hander and a right-hander against the spin. But then also the opportunity guys like Mitch Marsh have got on this tour, and Ashton Turner, the depth of our squad is something you need in a World Cup and something that we're really starting to get — 15 players that could come in and play a role at any time."
Australia begin their T20 World Cup campaign on October 23 against South Africa in Abu Dhabi.
Former Australia pacer Harris backs Starc for Ashes despite Warne criticism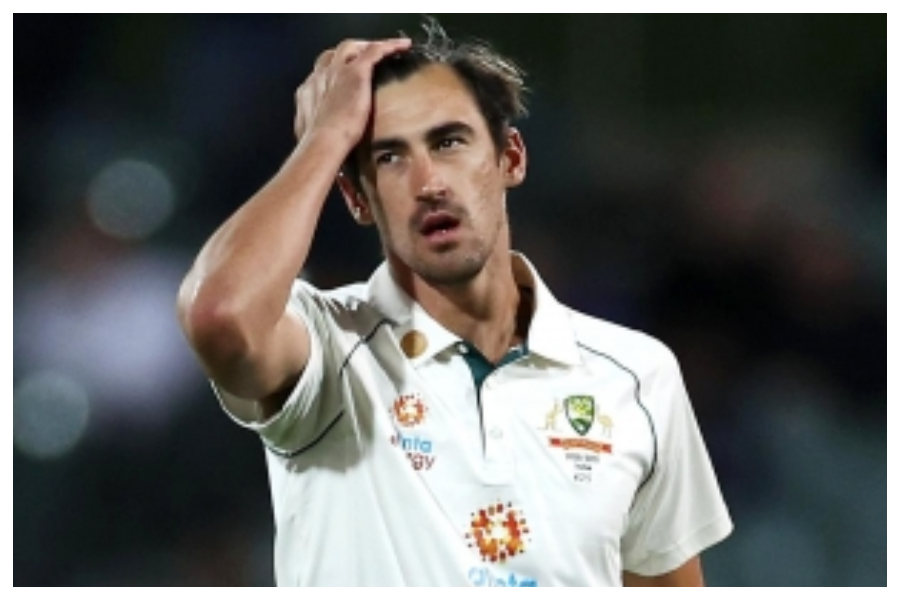 Former Australia pacer Ryan Harris has backed left-arm pacer Mitchell Starc to do well in the Ashes despite criticism from former leg-spinner Shane Warne. He feels that Starc should be in the first Ashes Test at The Gabba in Brisbane because he provides the left-arm variation as well.
Of late, Warne has been leading calls for Starc to be replaced by Jhye Richardson for the first Ashes Test in Brisbane, pointing to his fluctuating colours for Australia. In the Border Gavaskar Trophy this year, Starc picked only 11 wickets at an average of 40.72 and conceded 60 runs in the final of the Men's T20 World Cup against New Zealand.
"I don't know what Starcy (Starc) has done to Warnie (Warne). I'm backing him in. I thought he bowled okay at the World Cup. He did what he needed to do, he did his job. But the thing for me is if Mitchell Starc is swinging the ball, albeit a white one, it's a good sign, and he did that in just about every game in Dubai and Abu Dhabi," Harris told SEN SA Breakfast show.
"I'm keeping him in… he adds a bit of variation as well. Don't get me wrong, Jhye Richardson is bowling very well, we had a game against Queensland two weeks ago and the boys said he bowled very quick and swung the ball nicely. He's in good form as well, but I like Mitchell Starc for that variation of the left arm," added Harris, who picked 113 wickets in 27 Tests.
Harris proceeded to slam Warne for his criticism of Starc and thinks his ability to swing the ball in possibly overcast conditions in Brisbane will come handy for the first Test.
"I don't think he's far away, if Mitchell Starc is swinging the ball, it means he's getting a good position with his wrist, and that generally allows you to put the ball consistently in the right spot. So, I'd be backing him for the first Test, especially at the Gabba, he loves it there.
"But again, I don't know what he's done to Warnie. I'm a bit disappointed in that (criticism by Warne of Starc). I'm not a big fan of coming out and slaying in the media. I hope that Warnie had a phone call to Starc and explained what he's talking about."
IND v NZ: Dravid and Kohli have to make some tough calls, says Laxman
Former India batter VVS Laxman believes that head coach Rahul Dravid and captain Virat Kohli will have to make some tough calls in terms of how the batting order should be ahead of the second Test against New Zealand. He added that Dravid and Kohli shouldn't ignore the performances of Shreyas Iyer in his debut Test at Kanpur while taking the correct decision.
Iyer made an instant impact in his debut during the first Test at Kanpur, making 105 and 65 in both innings under pressure, leading to him bagging the Player of the Match award in a thrilling draw. He also became the first Indian batter to score a hundred and a half-century on his Test debut. Iyer's scintillating show on debut has raised a conundrum as with Kohli returning. Who drops out of playing eleven becomes the main question.
"Shreyas Iyer batted in both the innings and to get a hundred in his first Test series and then to follow it up with a fantastic half century. Both these innings, mind you, have come when the team was under pressure, so it was a fantastic performance from Shreyas Iyer," said Laxman on Follow The Blues show on Star Sports.
Laxman gave his opinion on how the Indian batting order could shape up for the second Test in Mumbai. "It will be difficult, but I believe that Mayank Aggarwal in both the innings gave an underwhelming performance and was uncomfortable at the crease. Cheteshwar Pujara has the ability to open, he has opened the innings previously. The No. 3 position can be filled by Ajinkya Rahane, Virat Kohli can come at number 4 and Shreyas can come in at number 5 because how can you ignore his performance. So, I think it's a tough call that Rahul Dravid and Virat Kohli have to take. I hope that they take the right decision and don't ignore the performance of Shreyas Iyer."
Laxman felt that Kohli will be his player to watch out for in the Mumbai Test. Kohli is making a return to competitive cricket after taking a break post India's exit in Super 12 stage of the ICC Men's T20 World Cup.
"I'm really looking forward to the return of Virat Kohli because we know that he missed the first Test and the T20 series. It has been some time since Virat Kohli got the three-figure mark in a Test match and we know what a quality player he is. So, I am expecting him to straight away come, and create an impact because we know whenever he plays to his potential, he poses a lot of threat to any bowling unit. So, the player to watch out for me will be Virat Kohli."
KS Bharat makes a strong case for himself as second 'keeper in future
They say, one man's loss in another man's gain. In Indian cricket, one player having neck stiffness becoming a blessing in disguise for another player has majorly set the stone for being a turning point. In 1994, Sachin Tendulkar's break as an ODI opener came after Navjot Singh Sidhu set the tone for him being an opener in the format. In 2021, Wriddhiman Saha, unable to keep wickets in the Kanpur Test against New Zealand, opened doors for KS Bharat to don the gloves.
Just before the start of day three, Bharat, an India A regular for the past three years, in his own words, had very little time to gather himself and be ready for keeping wickets in a Test match even before making his debut.
"I was doing my morning routine and then the support staff told me to get ready. I only had 12 minutes to get set for the game," he had said in a video posted by BCCI on its website.
Despite very little time for preparation, Bharat was like a student who was unsure of appearing for a surprise exam on a short notice but came out with flying colours. The 28-year-old gave a good account of himself on a Green Park pitch which had variable bounce with the odd ball keeping very low and one or two rare deliveries going a bit up and down.
In his stint behind the stumps, Bharat showed his keeping finesse while being a part of three dismissals in the first innings. A well-set Will Young, batting on 89, got a thickish edge to an outside the off-stump delivery from Ravichandran Ashwin while going for a cut on backfoot. Bharat stayed low as the ball kept really low and pouched a tough catch. But when the umpire gave not out, Bharat as well as Ashwin were sure of the dismissal, which led to the decision being reversed and breaking the 151-run opening stand.
Bharat went on to take a lovely catch of Ross Taylor off Axar Patel, catching the outer edge on time from a delivery which gripped and turned. But it was the stumping of Tom Latham that showcased his athleticism. Latham came down the pitch while trying to counter a wide delivery. But the ball turned big to bounce off his glove. Amidst all this, Bharat was alert to follow the deviation and then collect the ball to stump Latham short of his crease.
In between, Bharat was motivating the bowlers with one-liners, seamlessly switching between English, Hindi and Tamil (when bowling to Ashwin). In his unexpected stint as a substitute keeper, Bharat showed confidence and presence of mind.
Though bowling coach Paras Mhambrey didn't give a hint on whether Saha will be fit enough to play in the second Test in Mumbai, one won't be surprised if Bharat continues the good show with the gloves from Kanpur to Mumbai apart from getting a chance to show his batting prowess. For now, he has shown that he can be a great keeper-batter for India in Test cricket if Saha is not there or Rishabh Pant is rested.