#istandwithpearl: Pearl V. Puri gets support of TV frat
Soon after the news of actor Pearl V. Puri's arrest over alleged rape charges became public on Saturday, his colleagues and friends from the television industry took to social media to extend support for the actor. Several actors cannot believe such an allegation being levelled against a person like Pearl.
Nikki Sharma, Pearl' s "Brahmarakshas 2" co-star, wrote in an Instagram post: "Its absurd. absolutely absurd to see whats happening right now and the news thats doing the rounds. all I can say is @pearlvpuri is a good human, so humble and so kind to everyone thats around him. this is not him, its all lies. i hope the truth comes into light soon #istandwithpearl #justicewillbeserved."
Roma Bali, who also shares screen space with Pearl on "Brahmarakshas 2", posted: I can't believe the news about @pearlvpuri …since I know pearl personally this is not possible ..all this news is to tarnish his image …pearl was my hero he will always be my hero …he is the perfect gentlemen I have ever met…my personal view is that all this is to spoil his reputation..just impossible.#istandwithpearl
Pearl's "Naagin 3" co-star Surbhi Jyoti posted on Instagram: "Here's to one of the sweetest person I know. Let's wait for the truth to come out. #istandwithpearl I'm with you my friend. Stay strong."
Another "Naagin 3" co-star Nia Sharma shared: "Rape is not a joke, no excuse, no means to come at someone to satisfy a bruised ego. Rape and molestation stories are terrifying and far beyond imagination in India. The real victims die, their stories go unheard, their families are waiting for justice all their lives. Do not belittle them. Do not make a mockery of it. Rape allegations cannot fu**ing be used at will. It Cannot. It should not. @pearlvpuri sorry it happened to you."
Actor Aamir Ali wrote: "I can't believe.. I won't believe.. n I want u all to let de truth come out before believing.. @pearlvpuri is innocent until proven guilty, n plz wait till the truth comes out.."
Actor and reality show host Arjun Bijlani expressed: "I stand with @pearlvpuri . I doubt he can do something like this ever … he is a soft spoken well behaved guy. The truth shall be out .. till then stay strong Pearl. #istandwithpearl."
Actress Krystle Dsouza shared: "I know @pearlvpuri and he is one of the nicest boys I've met in our tv industry. A thorough gentleman. Please don't jump to conclusions on baseless allegations. Let's wait for the truth to come out. #istandwithpearl #PearlVPuri."
Actor Shalin Bhanot posted: "Hearing all sorts of crappie news about @pearlvpuri .. I know him very well.. we all know him, he is such a lovely boy. He cannot do wrong. I am so surprised how can a persons Achievements and stardom become his nightmare. Its So unfair. I am with Pearl . Pearl I love you bro. All will get fine. I have full faith in the law. #truthwillprevail
#ihavefaith."
Actor Adhvik Mahajan posted in his Instagram story: "Gem of a person @pearlvpuri. You just CANNOT. #istandwithpearl."
Actress Sheetal Dabholkar shared: "Pearl is such a pure soul. I know him since long. This cannot be true. All fake allegations. Truth will be out soon. Lot of strength and love. I stand by you @pearlvpuri."
Earlier in the day, "Naagin 3" actress Anita Hassanandani and her husband Rohit Reddy, "Phir Bhi Na Maane Badtameez Dil" actress Asmita Sood and producer Ekta Kapoor, who has backed the Pearl V. Puri starrer shows like "Bepanah Pyaar" and "Naagin 3", extended support for the actor.
This comes at a time when Pearl has been arrested by Palghar police in Maharashtra in connection with the alleged molestation and rape of a child.
The 31-year-old actor has been booked by Mira-Bhayander Vasai-Virar police for the alleged rape of the minor girl.
Samantha could simply seek apology rather than filing defamation cases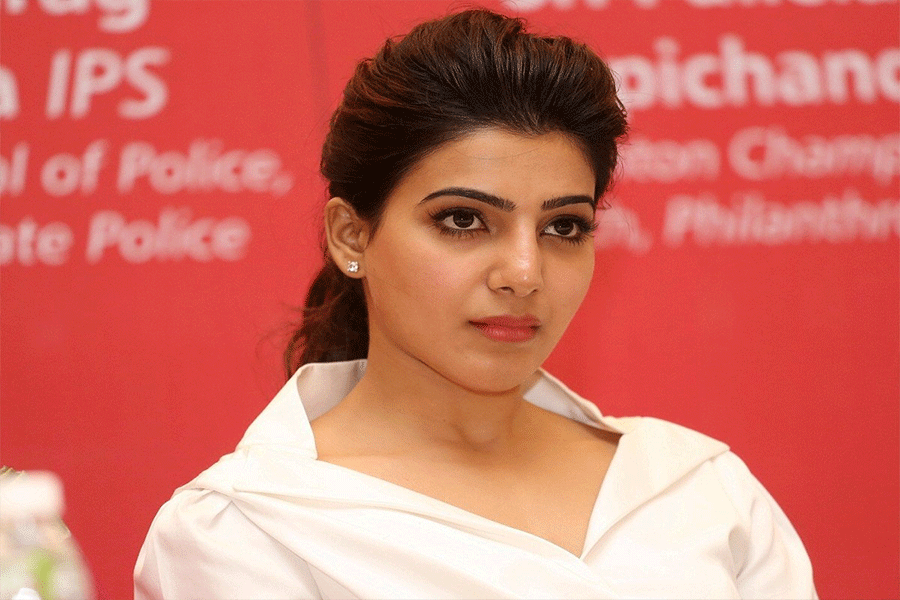 South India's most happening actress Samantha Ruth Prabhu, who recently filed defamation cases against a couple of YouTube channels and an individual for streaming malignant content about her, has apparently received a legal blow.
Samantha had filed legal cases, which come under Kukatpally court in Hyderabad. After listening to her side of the case, the court apparently ordered that the actress could simply seek an apology from her opponents, rather than filing defamation cases.
"The actress can seek a word of apology from the content owners of the concerned YouTube channels, individuals and media outlets, rather than filing defamation cases on them," the court suggested, as per reports.
The court went on to school the actress and apparently indicated that celebrities share personal details on public domain and then file defamation suits.
"In court, everyone is equal before the law. There is no sense of some being high and others being low. We will hear Samantha's case as per the procedure," the court concluded.
Samantha's announcement about her divorce from Naga Chaitanya had invited unwanted comments and speculation about their relationship, and some channels went forward and linked her up with random colleagues.
NCB 'visits' SRK, Ananya Pandey's homes; conducts raids in Andheri
In a major development, teams of Narcotics Control Bureau (NCB) paid a formal 'visit' to the residences of Bollywood megastar Shah Rukh Khan in Bandra west, and actress Ananya Panday in Khar west, and raided a location in Andheri on Thursday as part of the ongoing probe into the October 2 luxury cruiser rave party.
"The NCB Mumbai Zonal Unit officials visited 'Mannat', the residence of Aryan Khan in connection with the (Cr.94/21 case) for seeking certain material related to the investigation of the case from Shah Rukh Khan, by following due procedure of notice, etc.," said NCB Zonal Director Sameer Wankhede in a statement later.
He also dismissed reports in sections of the media dubbing the NCB trip to the superstar's sea-facing bungalow as a 'raid'.
The development, which grabbed national attention, came shortly after the Bombay High Court this morning decided to take up his son Aryan Khan's bail plea on next Tuesday, October 26.
Simultaneously, Ananya Panday — daughter of Bollywood actor Chunky Panday and granddaughter of the renowned heart surgeon, the late Dr. Sharad Panday — has been summoned to the NCB offices this day for the probe and the actress.
The NCB has claimed that her name apparently figures in some WhatsApp chats of Aryan Khan recovered by the agency, along with others.
As part of its probe into the cruise ship party raids, the NCB has arrested a total of 20 persons so far, and more arrests are not ruled out.
It may be recalled that Nationalist Congress Party National Spokesperson and Minister Nawab Malik had last week claimed that among various Bollywood bigwigs targeted, Shah Rukh Khan was also on the radar of the central probe agency with sleuths keeping a watch on 'Mannat' in recent weeks.
Bombay HC to hear Aryan Khan's bail plea on Oct 26
The Bombay High Court on Thursday posted to October 26 the hearing of the bail application of Aryan Khan, arrested in a drugs case by the Narcotics Control Bureau.
The matter came up before Justice N.W. Sambre with Khan's lawyer Satish Maneshinde seeking urgent hearing on Friday or Monday.
However, Justice Sambre decided to take up the matter on Tuesday next, and Aryan Khan may have to spend five more days in custody.
Khan, the son of Bollywood superstar Shah Rukh Khan, has challenged a ruling of the Special NDPS Court on Wednesday, rejecting his bail plea, along with co-accused Arbaaz Merchant and Munmun Dhamecha.