IndianOil helps strengthen India's vaccination drive
Indian Oil Corporation Limited (IndianOil) has leveraged its expertise and reach to bolster India's Covid-19 vaccination programme by supplementing the available cold chain equipment (CCE) infrastructure in four states — Jammu & Kashmir, Tamil Nadu, Bihar and Manipur — for the storage and transportation of vaccines.
IndianOil is procuring CCE equipment like ice-line refrigerator (ILR), deep freezer (DF), walk-in-cooler (WIC), walk-in-freezer (WIF) and refrigerated truck (RT) for handing them over to the respective state governments.
The IndianOil management has also asked the company's stakeholders to get vaccinated at the earliest to contribute to the success of the world's largest vaccination drive.
Shrikant Madhav Vaidya, Chairman, IndianOil, and Ranjan Kumar Mohapatra, Director (HR), IndianOil, were among the first few to get the indigenous vaccine shot to allay the apprehensions among the stakeholders.
Speaking about IndianOil's focus on employee welfare, Vaidya said, "An inspired, agile and resilient team of employees enabled IndianOil to fuel the economy and keep the kitchen fires burning, even during the most difficult phases of the pandemic. We are committed to ensuring the employees' welfare at all times".
During the countrywide lockdown, IndianOil ensured the supply of petroleum products, including delivering on an average of 25 lakh cylinders every day to its customers' doorsteps. India's largest energy company also extended medical insurance coverage and ex-gratia payment in case of death for its over 3,23,000 frontline workers.
The company also formed a high-powered committee for on-ground situation assessment and deployment of measures to contain the threats, even before the countrywide lockdown was announced. Presently, the empowered committee continues to meet on alternate days.
IndianOil is also contributing to the resurgent economy and is well on track to achieve its capital expenditure target of Rs 26,000 crore in the current fiscal.
Since the easing of the lockdown from April 20, 2020, IndianOil has commenced work on around 2,800 projects worth about Rs 2 lakh crore across the country.
Maruti Suzuki's Q3FY22 net profit down 47.90%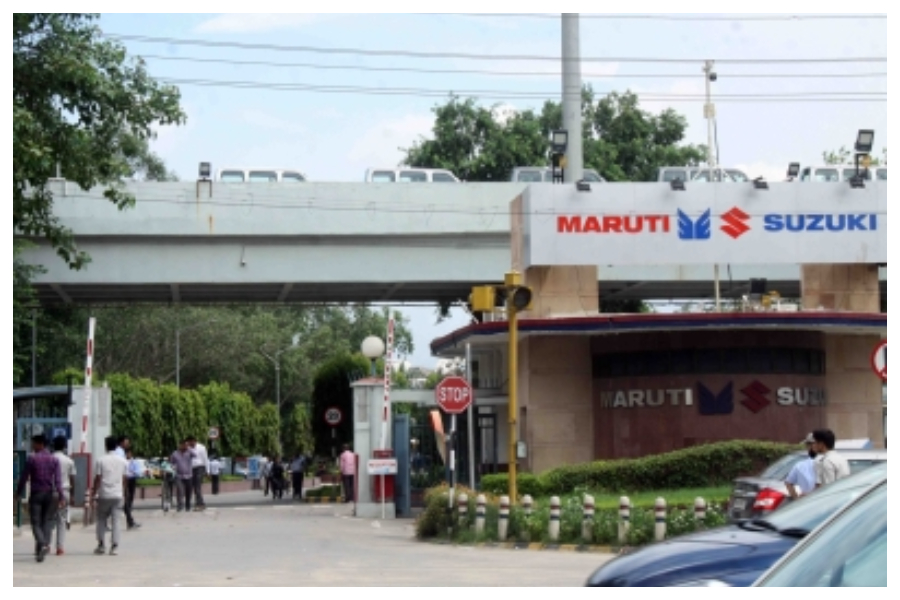 Automobile major Maruti Suzuki India's Q3FY22 net profit declined by over 47 per cent on a year-on-year basis, falling to Rs 1,011.3 crore from Rs 1,941.4 crore in Q3FY21.

The automobile major cited lower sales volume along with high commodity prices and lower non-operating income on account of mark-to-market impact as factors behind the net profit decline.

Net sales for the quarter under review fell to Rs 22,187.6 crore from Rs 22,236.7 crore earned in Q3FY21.

"The company sold a total of 430,668 units during the quarter, lower than 495,897 units in the same period, previous year," the auto major said in a statement.

"Production was constrained by a global shortage in the supply of electronic components because of which an estimated 90,000 units could not be produced.

"In the domestic market, the sales stood at 365,673 units in the quarter, against 467,369 units in Q3FY21.

"There was no lack of demand as the company had more than 240,000 pending customer orders at the end of the quarter. Though still unpredictable, the electronics supply situation is improving gradually. The company hopes to increase production in Q4, though it would not reach full capacity."

Besides, in the quarter under review, the company clocked its highest ever exports at 64,995 units as compared to 28,528 units in Q3FY21. "This was also 66 per cent higher than the previous peak exports in any Q3."


Hike in premium exemption, indication on GST cut on premium budget expectations of insurers
An indication on reduction in the Goods and Services Tax (GST) rate on health insurance, giving infrastructure status to healthcare facilities, hiking tax deduction for insurance premium are some the budget wishes listed out by the insurance sector.
Senior industry officials also urged the government to take steps to increase the insurance penetration in the country.
Even though the GST rates does not form part of the union budget, insurers want an indication towards slashing of the rates on insurance premium in the Finance Minister Nirmala Sitharaman's budget speech.
"Health insurance is an essential commodity and needs to be slotted in the five per cent GST tax slab to make it more affordable to access quality healthcare," said Anup Rau, MD & CEO, Future Generali India Insurance
A significant reduction in the GST on all personal lines of products-from the existing 18 per cent to five per cent will encourage more people to buy health insurance. For senior citizens, it should be exempted.
According to Rau, increasing the tax deduction limit in Section 80D of the Income Tax Act – from Rs 25,000 to Rs 150,000 – can further help in penetration of health insurance.
"The rising medical costs and the increase in the incidence of critical illnesses make it an unmanageable expense for middle-income and lower-income groups. So, a higher tax deduction limit for health insurance plans is the need," he argued.
Given the under-penetration of insurance in India and the need to bring a wider gamut of population under the safety net, small ticket size insurance products like micro-insurance, sachet products, etc. can be exempted from GST, Rau added.
The services by the healthcare providers don't fall under the GST radar while at the same time buyer of the health insurance product pays the same given a large portion of the coverage is directed towards the cost of hospital bills, remarked Yogesh Agarwal, Founder & CEO, Onsurity, an insurance-health tech startup.
"In the upcoming union budget, we request the Government to intensify steps towards increasing insurance penetration in the country, since even today a large part of the population in the country still remains underinsured or uninsured," Roopam Asthana, CEO & Whole-Time Director, Liberty General Insurance said.
Citing the 2020-21 annual report of the Insurance Regulatory and Development Authority of India (IRDAI) Asthana said, the insurance penetration in India stands at 4.2 per cent of the gross domestic product (GDP) as against a global average of 7.4 per cent.
Asthana said as of March, 2021 the non-life insurance penetration in India stood at barely one per cent and urged the government to slash the GST from 18 per cent.
"Further even though GST is not covered under budget, however policy makers' should also look towards exempting or lowering GST rates on life insurance products and these should ideally be classified under essential product category," Tarun Rustagi, Chief Financial Officer, Canara HSBC Oriental Bank of Commerce Life Insurance said.
According to Rustagi, life insurance premium should be given a separate deduction limit of Rs 100,000 under Section 80C of the Income Tax Act.
Also, pension products should be given parity with NPS in tax incentives.
Further, for annuity products, deduction for principal component should be allowed and only the interest accretion should be taxed similar to fixed deposits.
Suitable changes should also be made under section 10(10D) to allow exemptions for all Life Insurance products where life insurance coverage is present which may be on the basis of policy term and sum assured ratio.
Xiaomi loses huge 8% market share in India in 2 years
Global smartphone brand Xiaomi which has maintained top position in the smartphone shipments in India for 17 consecutive quarters, is fast losing market share in India and since Q1 2020, it has shed 8 per cent market share amid rising competition and supply chain constraints.
In Q1 2020, Xiaomi registered a solid 29 per cent market share in the highly-competitive India market, according to Counterpoint Research data.
Since then, the graph is spiralling downwards, slowly but steadily, and in Q4 2021 (the festive quarter), Xiaomi logged 21 per cent market share — according to latest data coming from market research firm Canalys — which is a massive 8 per cent decline from Q1 2020.
The company, however, still maintained the lead in Q4 2021 with shipping 9.3 million units in the country, said Canalys.
According to industry analysts, Xiaomi has been hit by component shortage in the mass-market, entry-level segment where its rival brands are rapidly gaining with riding on a new chipset player called Unisoc.
In the premium segment where Xiaomi is aiming to gain footprint with launching top-of-the-line devices, Apple doubled its market share in India in 2021, on the back of increased share of domestic manufacturing, aggressive retail initiatives, and robust consumer demand.
Certain brands which picked entry-level chipset provider Unisoc in the mass-market affordable segment amid the global chip shortage were able to meet the demand in the mass-level market, while Xiaomi lost on the opportunity as it was hit by supply issues in the all-important festive quarter (October-December).
According to market research firm Techarc, entry-level chipset provider Unisoc saw two out of six smartphones launched in the entry segment (up to Rs 6,000) for 2021.
On the other hand, Apple doubled its market share in the premium segment in India in 2021, selling 5-6 million units last year, thus narrowing the margin for other smartphone players in the premium category.
Apple shipped a record 5.4 million iPhones to India in the entire year, and 2.2 million in the festive quarter (Q4) alone, according to Gurugram-based market research firm CMR.
On the quarterly basis, the Cupertino-based giant registered 34 per cent growth in the October-December period.
Prabhu Ram, Head-Industry Intelligence Group, CMR, said that Xiaomi has had to face tough headwinds in Q4 2021 owing, among others, to the prevailing supply side dynamics.
"As the brand pegs its future growth on the premium smartphone segment, it will face-up to increased competition from its closest rivals. While doing so, Xiaomi will need to drive its brand salience among premium smartphone buyers to attain sustainable market gains," Ram told IANS.