In veiled reference to RS, Om Birla talks about Dignity of Chair
Dignity of the House and its Chair is an important aspect of the parliamentary system, said Lok Sabha speaker Om Birla as he stressed that it is the duty of all members to respect the highest values that our democracy represents.
Birla's observations come close on the heels of eight opposition members creating an unprecedented ruckus in Rajya Sabha following which they were suspended. The opposition had also brought a no-confidence motion against RS Deputy Chairman Harivansh Narayan Singh.
Birla said that both Lok Sabha and Rajya Sabha are the images of India's democracy and extensive debates and discussions were held in both the Houses of Parliament during the session.
He added that with the help of all political parties and Members, the productivity of Lok Sabha was at a historic 167 per cent. He also informed that despite the threat of COVID-19, the average attendance of Members of Parliament, during this Session was very high, which sends a very positive message and strengthens peoples' faith in the democratic institutions.
Birla proudly asserted that the Lok Sabha sat for 60 hours instead of the allotted time of 37 hours. In fact, despite the curtailment of the Session due to COVID-19, the Lok Sabha was able to function optimally with minimal loss of productivity.
Referring to recent reports on Question Hour, Birla said that members were given regular opportunities to raise matters concerning peoples' welfare. Birla also informed that 2,300 answers to Unstarred Questions were tabled in the Lok Sabha and 25 Bills were passed.
On a query on the demands of Members for the restoration of the MPLAD Scheme, Birla said that the matter was raised by Members across the political spectrum and hoped that the Government and other stakeholders would examine the issue as per merit.
Birla, while answering a question said that the work on the construction of the new Parliament building has started and that it would be completed within 21 months.
'Pak playing T-20 in J&K': Owaisi slams Modi govt over match
AIMIM President Asaduddin Owaisi on Tuesday slammed the Narendra Modi government for allowing the Indian cricket team to play a T20 match with Pakistan at a time when "our soldiers are being killed in Kashmir".
India is scheduled to play the first match of T20 World Cup against Pakistan in Dubai on October 24.
Addressing a public meeting on the eve of Eid Milad-un-Nabi at AIMIM headquarters Darussalam, he said: "Pakistan is playing T20 with Indian lives in Kashmir. How can we play a match against them amid regular terror attacks there?"
He recalled how Prime Minister Modi had criticised then Prime Minister Manmohan Singh "for sharing biryani with the Pakistan PM when Indian jawans were being killed on the borders".
Owaisi also alleged that the targetted killings in Kashmir were a result of lack of policy of terrorism by the Modi government, and questioned the government's claim that problems in Kashmir have ended with the repeal of Article 370.
Referring to the death of labourers from Bihar in Kashmir, he wondered what the intelligence agencies and Home Minister Amit Shah were doing.
The AIMIM leader also lashed out at PM Modi for his silence on petrol and diesel prices.
"He is silent on skyrocketing fuel prices. The cost of petrol and diesel have hit the century mark, yet he has not commented on it."
Owaisi also questioned the Prime Minister on his silence over Chinese Army entering and occupying the Indian territory. "Why is he afraid of even taking the name of China," he asked.
The AIMIM also voiced concern over the situation faced by Muslims in the country.
Quoting a 27-year-old lawyer to describe the current situation, he said: "A Muslim is living under the threat of someone attacking his shop or a mob lynching him. He feels helpless. They (the government) have criminalised triple talaq, they have criminalised religious conversions and they are trying to bring Citizenship Amendment Act (CAA) through backdoor. If I protest, they book me under UAPA or NSA."
At the press meet, he also discussed how there are lack of opportunities and no inter-mobility among Muslims. According to him, because of Hindutva, his Hindu friends and business partners have distanced themselves from him.
Owaisi, however, advised Muslims not to lose hope. He said they should keep their spirits up and face the situation with courage.
He also urged the youth to self-introspect and keep themselves away from all societal evils by offering prayers, building character, desisting from taking dowry and helping the poor and needy, irrespective of their community.
Priyanka announces 40% tickets to women in Uttar Pradesh polls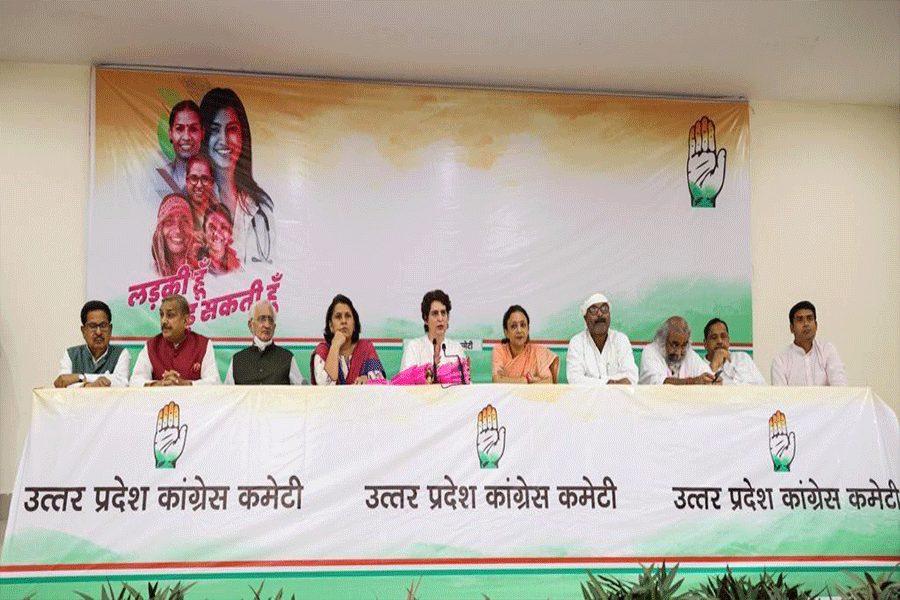 In a major decision that could prove to be a game-changer for the Congress, in particular, and, Indian politics, in general, Congress General Secretary Priyanka Gandhi Vadra, on Tuesday, announced that her party would give 40 per cent tickets to women in the upcoming Assembly elections in Uttar Pradesh.
She said that all women who want to bring about a change in the system, are welcome to come forward and contest elections.
"Any woman who wants to contest can give an application till October 15," she announced at a press conference.
Priyanka said the decision was for the woman named Paro, who had held her hand in Prayagraj and had said that she wanted to join politics.
"This decision is for Vaishnavi in Chandauli and the sisters-in-law of two rape victims of Hathras and Unnao, who are fighting for justice and against the system.
"This is for every woman who wants to be heard — whether it is Laxmi Valmiki of Lucknow who wants to be a doctor, the daughter of journalist Raman Kashyap who was killed in Lakhimpur Kheri violence.
"This is also for two women constables — Madhu and Pooja, who arrested me in Sitapur and were with me till 4.a.m. Power today amounts to trampling over the weaker sections of society, primarily women," Priyanka said.
She said that women were not only stronger but more compassionate and sensitive and could bring a change in the political system.
Asked whether the same formula of 40 per cent reservation for women would be extended to the Congress-ruled states, including Punjab, Priyanka said, "I am in charge of UP and we have taken this decision here. If they (Punjab), they are welcome to implement the formula."
She said that women were being divided on the basis of caste which weakened their battle for justice.
"A woman's struggle is not limited to a gas cylinder or Rs 2,000. It goes beyond that. We have to rise above the shackles of casteism and communalism and come together as a group," she said.
Priyanka, when asked whether wives and daughters of leaders would not take advantage of this reservation, said, "What is wrong with that if it leads to empowerment. In Amethi, a village pradhan's wife contested and won elections. After some months, he met me and said that his wife has started making decisions in the house as well. This is empowerment."
She said the Congress would help women fight elections and next time, they will be stronger. She further said that the candidates would be decided on the basis of merit.
Priyanka, however, parried questions about the chief ministerial candidate of the Congress in Uttar Pradesh and whether she would contest elections.
"These issues will be decided later and we will let you know," she stated.
Talking about the opposition onslaught on her, Priyanka said, "The other parties should get more creative when they attack me. Political tourist and Twitter leader have become stale," she said.
Babul Supriyo resigns as BJP MP after meeting LS Speaker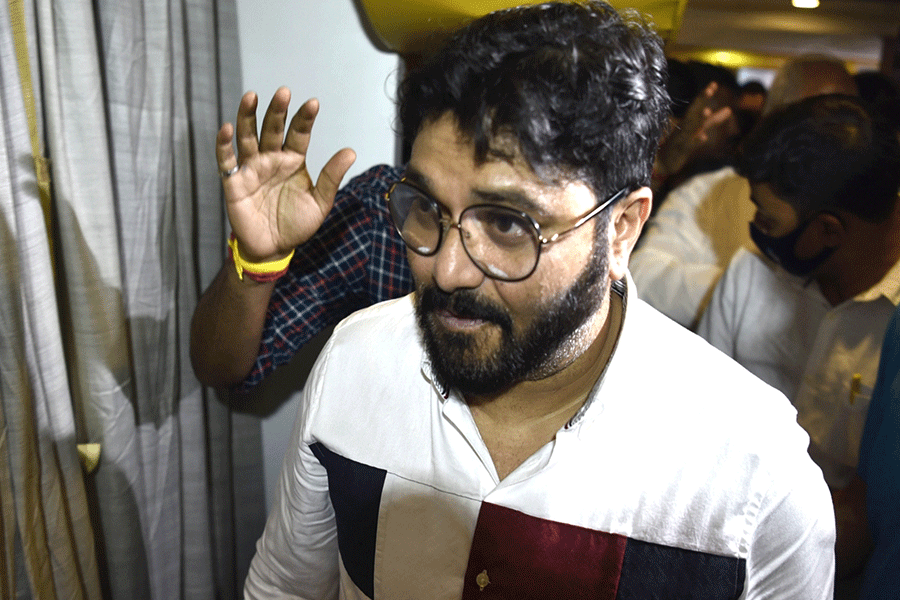 Former BJP leader Babul Supriyo met Lok Sabha Speaker Om Birla here on Tuesday and submitted his resignation.
After meeting the speaker, Supriyo said, "I thank the Prime Minister Modi, Amit Shah and party chief for the confidence shown in me. I thought that if I am not a part of the party, I shouldn't keep the seat for myself."
He also attacked BJP leader Suvendu Adhikari and said that he was an integral part of the Trinamool Congress till a few months ago, "but apart from politics, he has been a friend. He obviously has to say very harsh things about me politically, but he should advise his father and brother to resign from MP seats as they are not with Trinamool anymore."
Supriyo praised Chief Minister Mamata Banerjee for his induction in the party.
After joining Trinamool Congress on September 18, Supriyo had made it clear that he would not hold the MP seat as "it would be immoral" since he was elected MP of Asansol on a BJP ticket. He had said that he would resign after he meets with the Speaker.
Supriyo won from the Asansol parliamentary constituency twice — in 2014 and in 2019. He also became a Union Minister-of-state in the Narendra Modi cabinet, but was dropped from the cabinet during a reshuffle.
After that he announced to quit politics but within a few days, joined the Trinaool Congress.