ICC to identify Delhi-based fixing kingpin
The International Cricket Council's (ICC) anti-corruption unit (ACU) is hoping to publicly identify a corruption mastermind in New Delhi soon, based on pieces of evidence gathered from players and officials.
The ACU believes that most cricket corruption cases around the world can be linked back to 10 or 12 individuals working as bookies in India, according to The Telegraph report.
Once the unit identifies the fixer, the ICC will use article 2.4.9 of the code of conduct under which known corruptors will have their names and mugshots along with their aliases uploaded on the ICC's website. It will then become a punishable offence for any player or official covered by the ICC's code to associate with that individual.
"Most of these jobs will be started by 10 or 12 corruptors we know very well. Even though at the start of an investigation those people will not feature, and there will be a new person acting as an intermediary making approach to a player, when we dig into it we will find it is one of that group of corruptors using a different name or new phone," ACU general manager Alex Marshall told The Telegraph report.
"We will look to have that person named as an excluded person and then anyone in cricket who has had fair warning and associates with him will be in trouble. That is not the purpose of it but if we have a number of allegations identifying one person we will start the process of excluding them. We are doing the first one or two right now," he further said.
Fixers are now thinking imaginatively amid the Covid-19 pandemic. The pandemic has forced corruptors to think imaginatively, notably faking a tournament, the Uva T20 League, in Sri Lanka which was actually being held in Sawara Village in Mohali.
"They said it was in Sri Lanka but it was in India and they tried to run an entire cricket tournament that did not actually exist by publishing pictures of a ground the dressed up as if it was in Sri Lanka with advertising and everything, but was in India and was raided by the police," Marshall said. He said that players who are from poorer countries and whose wages have been affected by the pandemic are the chief targets.
"If you are offering a Zimbabwe player $10,000-30,000 — and by the way almost always the young poor black Zimbabwe players report immediately to us — that is the equivalent of buying a house," said Marshall.
Marshall said that he is delighted with the number of players coming forward with evidence. The ACU is currently investigating 42 live cases around the world.
"We are the only global sport to go after the corruptors outside our code. We will pursue all the corruptors we come across and we are interviewing people not covered by our code. When we come to publicising details of excluded people we will have to decide what we make public. I will be asking for mugshots, a good clear recent picture, full name and all their aliases but I will have to put that through the lawyers about how much information can go out," said Marshall.
"The first ones going through the system now are the most persistent corruptors we have been dealing with over the past few years. The purpose is to out these people and make their lives very difficult because they will get lots of publicity about being a cricket corruptor and hopefully that will stop them," he said.
Laxman finally agrees to head NCA: Sources
The Board of Control for Cricket in India (BCCI) has managed to convince former cricketer VVS Laxman to head the National Cricket Academy (NCA) in Bengaluru, sources said.
After Rahul Dravid took over the post of Indian team's head coach, there were reports that Laxman might be appointed as a new head of NCA.
However, later it was said that the former batter "is uninterested". But now he is ready to take the charge after the BCCI officials held a meeting with him in Dubai.
"There were some issues and it has been sorted out. The board wanted him to take the reponsibility and he is the right man to come in place of Dravid," sources said.
It is also learnt that Laxman has also agreed to leave the lucrative commentary career for the NCA.
"Laxman is currently mentor of IPL team Sunrisers Hyderabad, apart from being a commentator and cricket analyst. And he will leave it all for NCA now."
Everyone had written us off; we are here to rectify that: Finch
Australian captain Aaron Finch has conceded that not winning the ICC T20 World Cup title so far has been a sore point with the Kangaroos and the final against New Zealand later on Sunday is the "best opportunity to rectify that".
The closest Australia came to winning the T20 World Cup was during the 2010 edition held in the West Indies, where they lost to England by seven wickets.
"It's one that's eluded us in the past, and the fact that we are here in the final gives us the best opportunity to rectify that. Yeah, I think it will be a great game against New Zealand. They are a great side and they have been in all the finals over the last six years. Looking forward to it," said Finch ahead of the title clash.
Finch added that despite critics writing his team off, the way the players had gone about their business was heartening.
"Everyone had written us off but we had a lot of confidence within. We're really confident the way that we were preparing, the way that our strategy was coming together. Yeah, I think it hasn't defied expectation. I think we came here with a really clear plan to win the tournament, and we still feel as though we've got the squad to do that.
"Well, I think the spirit among the team… and that's been really impressive the way we've gone about our business. Everyone has prepared really well. Everyone has had a really defining match or match-defining performance at some point. The guys are really up and about for the final," said Finch.
Finch added that batting stalwart Steve Smith's form wasn't a concern despite the fact that the former skipper has been unimpressive so far in the tournament, and the team management has drawn flak for persisting with him.
"No, not concerned one bit about his (Smith) form. He's a world-class player and he's someone in big games has showed how valuable he is. He's been hitting the ball as well as I've seen for a long time, so no, no concerns there whatsoever."
It's been happening for long; India don't have mental strength: Gambhir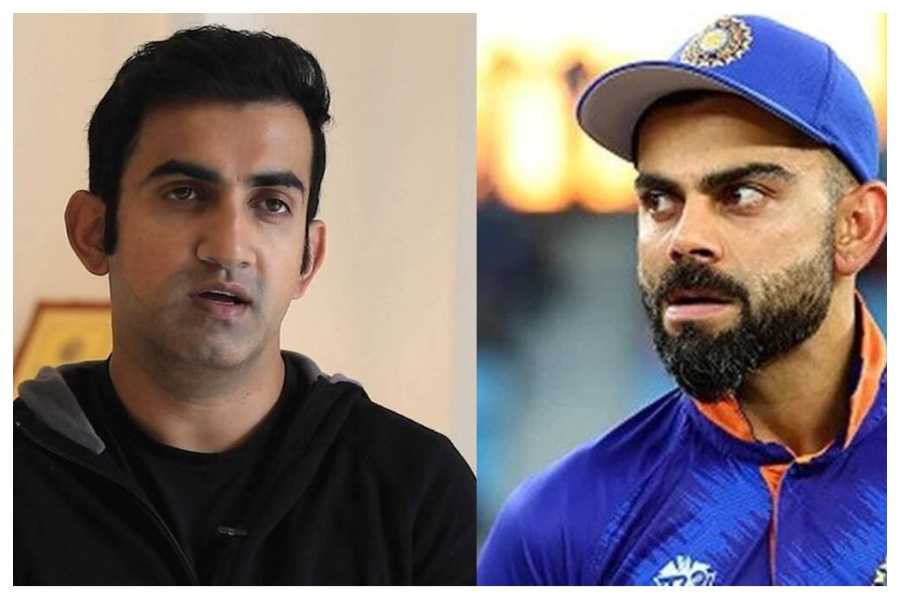 After the crushing eight-wicket defeat against New Zealand, former India opener Gautam Gambhir has slammed the Virat-Kohli-led side, saying that they have the skills but lack the much-needed mental toughness to win big knockout games in ICC tournaments.
India have succumbed to pressure and lost two successive matches, against Pakistan and New Zealand, in the ongoing 2021 Men's T20 World Cup.
According to Gambhir, the Indian team has the skills but they lack the mental strength to win important games in ICC events.
"Yes talent is one thing; you've got all the skills and do really well in bilaterals and stuff. But when it comes to these kinds of games and tournaments, this is when you have got to stand up and perform," said Gambhir on ESPNCricinfo.
"This game was literally like a quarterfinal. The problem is with the mental toughness of the side. Suddenly when you know you have got to win the game and can't make mistakes, in bilaterals it's different because you can make mistakes there. But in these kinds of games, I don't think India has got that mental strength," he added.
The former opener, who is often remembered for his two match-winning knocks for India in the finals of the 2007 T20 World Cup and 50-over mega-event in 2011, felt that someone should have put his hand up when it mattered most for the team.
"They have the skill and are a very dangerous side. But, unfortunately, we can keep talking about it that we need to stand by our team when it's not doing well but it's been a trend and it's been happening for a very long time in most of these ICC tournaments, whether it's the semifinals or the game (against New Zealand on October 31) as well. When it mattered the most for someone to put his hand up, they just couldn't," said Gambhir.
Meanwhile, Gambhir's opening partner Virender Sehwag mentioned that India's body language wasn't great in the game against New Zealand and they need some serious introspection.
"Very disappointing from India. NZ were amazing. India's body language wasn't great, poor shot selection and like few times in the past, New Zealand have virtually ensured we won't make it to the next stage. This one will hurt India and time for some serious introspection #IndvsNZ, " Sehwag said in a tweet.
India have three matches remaining in the tournament and another loss will confirm their early exit from the competition. The Men in Blue will have to win their remaining matches by big margins to ensure their net run rate can be improved and they stand a chance at qualifying.
They will next face Afghanistan in their third match on November 3 in Abu Dhabi in the hope of turning their campaign around in the mega event.