IAF plane evacuates 150 plus Indians from Kabul
An Indian Air Force airplane arrived at the Jamnagar Air Force Base station in Gujarat on Tuesday bringing more than 150 Indians from Afghanistan, including the Indian Ambassador Rudrendra Tandon to Afghanistan.
The IAF plane arrived at Jamnagar around 11.30 a.m. after taking a long route flight from the Hamid Karzai Airport Kabul airport, avoiding the skies of Afghanistan and neighbouring Pakistan. The plane took off from Kabul at around 8 a.m. in the morning.
These passengers include the employees of Indian Embassy and other working professionals in many projects in Afghanistan.
Passengers were extended warm greetings by Gujarat government's minister of state, Dharmendrasinh Jadeja, Jamnagar Mayor, the Jamnagar district collector and other officials. All the passengers were taken to an accommodation where they were served lunch. After the refueling of the plane and further check ups, the plane will take off at around 1 p.m.
"The plane arrived at 11.30 a.m. at the Jamnagar airport. We welcomed them. Most of the passengers were terrified and they all thanked Prime Minister Narendra Modi for bringing them back. The state government has arranged for their lunch here at Jamnagar," said the minister of state, Dharmendrasinh Jadeja.
Indian Navy unveils world's largest national flag in Mumbai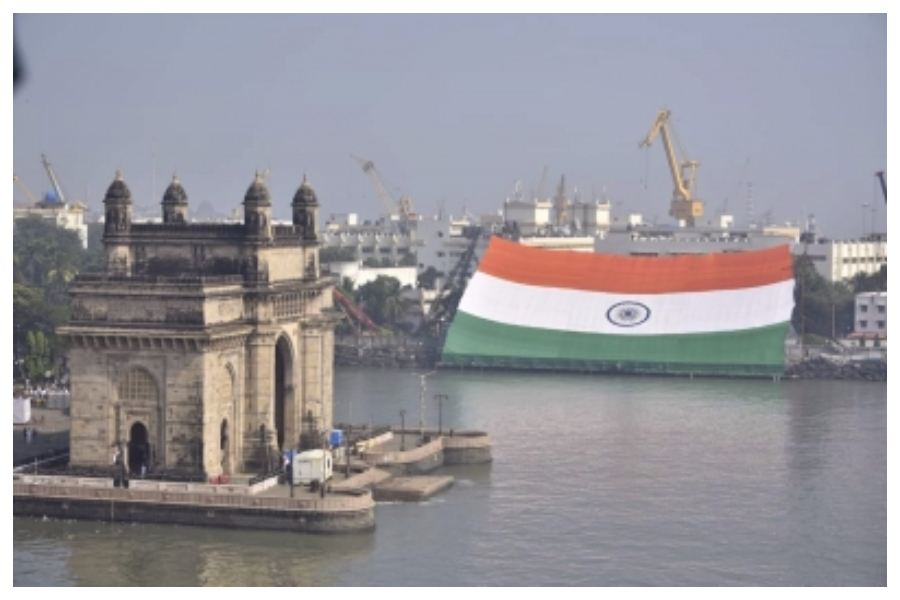 Marking the Navy Day 2021, the Indian Navy on Saturday exhibited the world's largest national flag at the Western Naval Command here, opposite the iconic Gateway of India, an official said.
The Indian Tricolour made of khadi, measures 225 in length and 150 feet wide, weighing a staggering 1.40 tonnes (around 1,400 kg).
It was designed and manufactured by the Khadi and Village Industries Commission as part of the 75th Anniversary of Indian Independence.
"As the Indian Navy re-dedicates itself to the service of the nation on Navy Day, it renews its pledge and commitment to protect and promote national interests and serve the people of India through this small but important gesture of exhibiting the monumental national flag," said an official.
Govt clears production of 5L AK-203 rifles ahead of Putin's visit
The government has approved the plan for production of over five lakh AK-203 assault rifles at Korwa in Amethi in Uttar Pradesh ahead of Russian President Vladimir Putin's visit to India, sources said.
The government is seeing it as an endeavour to provide a big boost to self-reliance in defence manufacturing in India.
The project, worth Rs 5,100 crore, is in partnership with Russia. Sources said that this endeavour reflects the deepening ties between the two countries in the defence sector.
The project will provide business opportunities to various MSMEs and other defence industries for supply of raw material and components, which will lead to generation of new employment opportunities.
The project marks a significant stride towards making UP a key contributor in the ascendent defence manufacturing prowess of India.
The 7.62 X 39 mm caliber AK-203 Rifles will replace in-service INSAS Rifle inducted over three decades back. AK-203 Assault Rifles, with an effective range of 300 meters, are light weight, robust and easy to use Modern Assault Rifles with proven technology that will enhance the combat potential of soldiers to adequately meet present and envisaged operational challenges.
"They will enhance the operational effectiveness of the Indian Army in Counter Insurgency/Counter Terrorism operations," the source said.
The project will be implemented by a special purpose Joint Venture called Indo-Russian Rifles Private Ltd (IRRPL).
It has been created with erstwhile OFB [now Advanced Weapons and Equipment India Limited (AWEIL) and Munitions India Limited (MIL)] of India and Rosoboronexport (RoE) and concern Kalashnikov of Russia.
At 8,603, India sees dip in Covid cases in a day
India on Saturday reported 8,603 fresh Covid-19 cases in the last 24 hours. In the same time span, a total of 415 deaths have also been reported across the nation, said the Ministry of Health and Family welfare on Saturday morning. With the addition of 415 new deaths, the death toll has climbed to 4,70,530.

The recovery of 8,190 patients in the last 24 hours has increased the cumulative tally of recoveries to 3,40,53,856. Consequently, India's recovery rate stands at 98.35 per cent, highest since March 2020.

India's Active caseload presently stands at 99,974. Active cases constitute 0.29 per cent of the country's total Positive Cases, which is lowest since March 2020.

Also in the same period, a total of 12,52,596 tests were conducted across the country. India has so far conducted over 64.60 crore cumulative tests.

Meanwhile, the weekly positivity rate at 0.81 per cent has remained less than 1 per cent for the last 20 days now.

The daily positivity rate stands at 0.69 per cent, which has also remained below 2 per cent for last 61 days and less than 3 per cent for 96 consecutive days now.

With the administration of 73,63,706 vaccine doses in the last 24 hours, India's Covid inoculation coverage has reached 126.53 crore as of Saturday morning. This has been achieved through 1,31,55,745 sessions.

More than 21.38 crore balance and unutilized Covid vaccine doses are still available with the states and UTs to be administered, according to the health ministry as of on Saturday morning. India has administered over 126.53 cr vaccine doses so far under Nationwide Vaccination Drive.